FCBD Comic Spotlight: Marvel's All-New Guardians of the Galaxy #2
May 24, 2017
On Free Comic Book Day 2017, Marvel released a look at All-New Guardians of the Galaxy timed to the release of Guardians of the Galaxy Vol 2. A rousing success with fans, the comic was a fun look at characters fans have grown to love, including Star Lord, Gamora, Drax, Rocket Racoon, and Baby Groot.
This week, on Wednesday, May 24, ALL-NEW GUARDIANS OF THE GALAXY #2 releases, continuing the story between the first issue and the Free Comic Book Day issue. If you enjoyed the Free Comic Book Day issue, this is the perfect opportunity to grab #1 and #2 this week!
"I love them all," said writer Gerry Duggan on the Guardians cast in an interview with Free Comic Book Day. "But the biggest surprise has been what I found myself bringing to the collaboration for Gamora. It's not what I imagined. She's going to be big trouble for the team...and the Marvel Universe"
"We'll quickly head into uncharted territories for these characters," Duggan continued. "The plots are ginormous. There are plenty of comics in which neighborhoods and cities that are threatened. When things go bad out in space -- entire worlds are at stake. I try to use comedy on one page to set up a gut punch on the next, and I think our Guardians will certainly have that, but in a good way I began outside my comfort zone a bit. The good news is I recently went to an editorial retreat in which some of our biggest and most dangerous ideas were met with enthusiasm. It's been a joy to wrench on these scripts and see the inspired come back from Aaron. He's such a wonderful creator. There are a lot of surprises ahead for Guardians readers. I can't wait to see the reactions to what we're doing."
ALL-NEW GUARDIANS OF THE GALAXY #2 is available in stores on Wednesday, May 24--make sure you stop by your local comic shop to pick up your copy before they run out!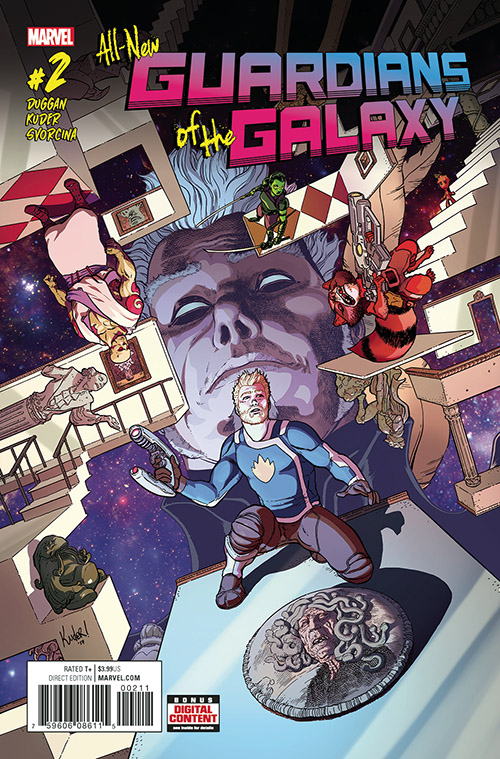 ALL-NEW GUARDIANS OF THE GALAXY #2
MAR170943
MARVEL COMICS
(W) Gerry Duggan
(A/CA) Aaron Kuder
A NEW ERA OF COSMIC ADVENTURE BEGINS HERE! The Guardians of the Galaxy have taken off into space once more, on their biggest and weirdest misadventures yet! Kicking things off with the biggest heist they've ever tried, we join Star-Lord, Rocket Raccoon and company as they blast their way through the galaxy, the peacekeepers of the Nova Corps hot on their tails. And once they find themselves caught in a war between The Collector and The Grandmaster, there will hardly be time to explain why Groot can't grow any bigger, what Gamora is searching for or why Drax has sworn off violence! But don't worry, we will - with a new twice-monthly schedule, All-New Guardians of the Galaxy has space for ALL your Marvel Cosmic needs!
Rated T+
---
You can find this and more at your local comic shop! If you're not sure where that is, you can use the Comic Shop Locator Service. Make sure you return to local comic shops on for events hosted by Marvel throughout the year including the launch party for PETER PARKER: THE SPECTACULAR SPIDER-MAN on 6/21. You can find out more about these events by checking out the What's @ Comic Shops 2017 Event Card.