FCBD Comic Spotlight: Marvel's Secret Empire #2
May 17, 2017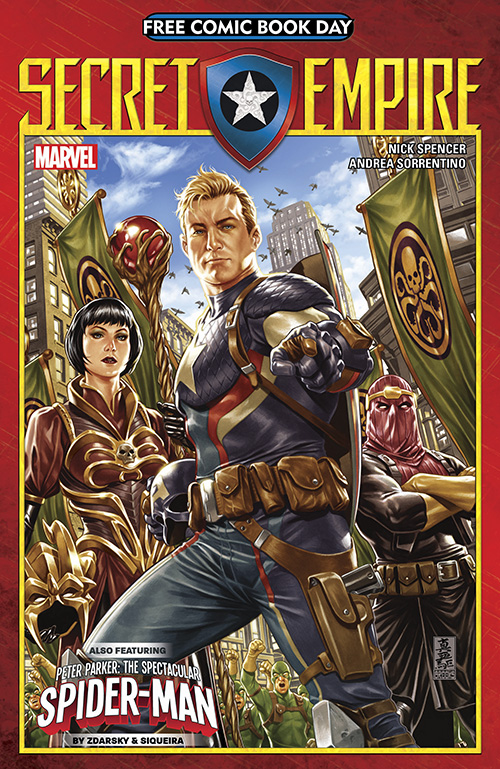 On Free Comic Book Day 2017, Marvel released a tie-in to SECRET EMPIRE,where famed hero Captain America reveals his true allegiance to the evil organization Hydra. The series, which has made headlines, is one of the most talked about series this year, especially from the moment in the Free Comic Book Day issue that changed everything.
This week, on Wednesday, May 17, the continuation of Marvel's series hits local comic shops with SECRET EMPIRE #2, where the Defenders and Doctor Strange struggle to break free from New York while Iron Man organizes the resistance.
"It's a big moment. It's a big, scary moment for the Marvel Universe," writer Nick Spencer told IGN in an interview on the big moment of the Free Comic Book Day issue. "We wanted an iconic image that would signify to the audience and to everybody in the Marvel Universe that the fight was sort of over before it began."
"Now you're going to see the world under Hydra rule," Spencer continued in that same interview. "You're going to see the United States under Hydra rule. So you're going to be introduced to a very new environment."
SECRET EMPIRE #2 is available in stores on Wednesday, May 17--make sure you stop by your local comic shop to pick up your copy before they run out!
SECRET EMPIRE #2
MAR170910
MARVEL COMICS
(W) Nick Spencer
(A) Andrea Sorrentino
(CA) Mark Brooks
Enshrouded in darkness, plagued by the minions of Baron Mordo and cut off from all assistance, The Defenders and Doctor Strange struggle to save the lives of the innocent people consigned to this hell on Earth. Will Dagger prove to be the key to stopping this nightmare? Meanwhile, will the appearance of a new hero provide Iron Man with the key to Captain America's startling change? THE SECRET EMPIRE WILL DEFEND YOU! Rated T+
---
You can find this and more at your local comic shop! If you're not sure where that is, you can use the Comic Shop Locator Service. Make sure you return to local comic shops on for events hosted by Marvel throughout the year including the launch party for PETER PARKER: THE SPECTACULAR SPIDER-MAN on 6/21. You can find out more about these events by checking out the What's @ Comic Shops 2017 Event Card.