FCBD Comic Spotlight: IDW's Star Trek: The Next Generation: Mirror Broken #1
May 16, 2017
On Free Comic Book Day 2017, IDW Publishing released the first look at STAR TREK: THE NEXT GENERATION: MIRROR BROKEN, featuring the first look at The Next Generation through the lens of the famous Mirror Universe. With 2017 celebrating The Next Generation's 30th anniversary since premiering in 1987, it was only fitting the series would get its first journey through the Mirror Universe. The only Star Trek franchises to make that journey have been The Original Series, Deep Space Nine, and Enterprise... until now.
This week, on Wednesday, May 17, the continuation of IDW's new series comes to local comic shops with STAR TREK: THE NEXT GENERATION: MIRROR BROKEN #1, where the crew of the I.S.S. Enterprise hunting a Cardassian ship to take its resources.
"At the beginning of Mirror Broken we see Picard as captain of the Stargazer, a ship that's seen better days. Bottled up by the Klingons and the Cardassians, what's left of the Terran Empire is in pretty bad shape. Picard is doing his best to maintain his ship in a situation that's looking increasingly grim for the Empire," said co-writer David Tipton in an interview with io9.
"They're sinister, yes, but they're still themselves. That's what we tried to keep in mind when we were writing. They're not opposites of the characters we know; they're the same people, but brought up in a much more abusive and vicious environment. How would that change them" asked co-writer Scott Tipton in that same interview.
MIRROR BROKEN #1 has already sold out at the shop level, so make sure you pick up your copy in stores on Wednesday, May 17 before they sell out! For those who miss out on a first edition and would like to collect this groundbreaking issue in print, a second printing has been issued to meet the demand of this highly anticipated debut.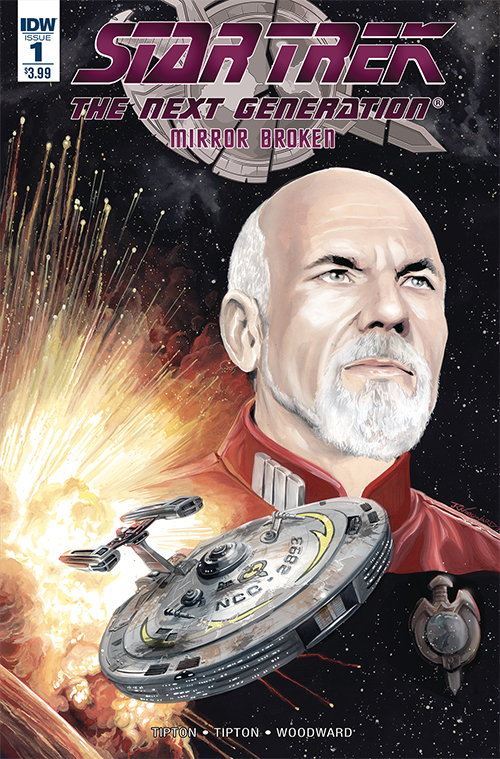 STAR TREK: THE NEXT GENERATION: MIRROR BROKEN #1
MAR170494
IDW PUBLISHING
(W) Scott Tipton, David Tipton
(A/CA) J.K. Woodward
The Star Trek mini-series event of the year kicks off! Captain Jean-Luc Picard will stop at nothing to get his hands on the Empire's newest warship, the ISS Enterprise, be it lies, deception...or murder. With enemies and allies around every corner, Picard's quest to help the Enterprise and restore the Empire to glory will not be an easy one. Good thing he has a crew onboard who will also stop at nothing to ensure total victory - at any cost.
---
You can find this and more at your local comic shop! If you're not sure where that is, you can use the Comic Shop Locator Service. Make sure you return to local comic shops on for events hosted by IDW throughout the year including My Little Pony Friendship Day on 7/30/17 and TMNT Day on 10/25/17. You can find out more about these events by checking out the What's @ Comic Shops 2017 Event Card.