Nicole D'Andria Tells How Marinette and Adrien are Characters "That People Can Relate to and Enjoy"
May 02, 2017
We sat down with writer Nicole D'Andria to talk about Miraculous: Tales of Lady Bug and Cat Noir FCBD 2017 Edition. She tells us how this comic is the first in a series coming out in July, so readers have a chance to jump on the Lady Bug and Cat Noir bandwagon early! Fans will be excited to know that Miraculous is giving Free Comic Book Day 2017 an original illustrated story, no reprints here!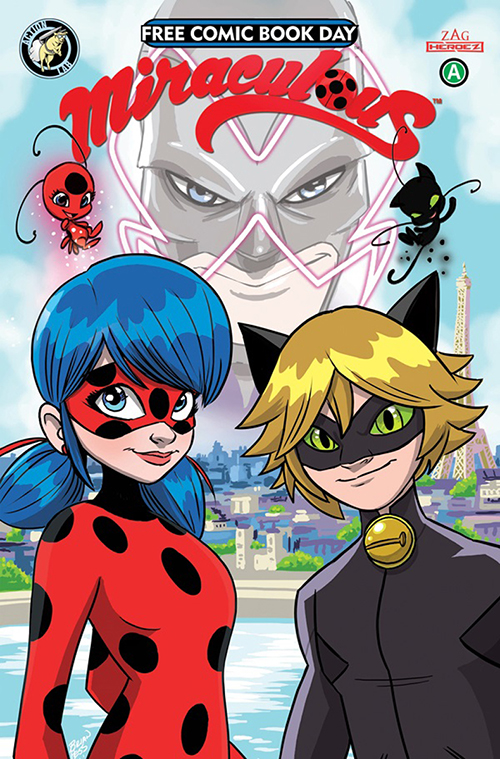 FCBD 2017 MIRACULOUS ILLUS TALES LADYBUG & CAT NOIR
JAN170013
ACTION LAB ENTERTAINMENT
(W) Bryan Seaton, Thomas Astruc, Nicole D'Andria
(A, CA) Brian Hess
An all-new, never-before-seen, original illustrated story, featuring Ladybug and Cat Noir! This is the start of the all new illustrated monthly series of
Miraculous
by Action Lab. [ALL AGES]
---
Free Comic Book Day: Miraculous has taken the US by storm—we've seen an uptick in cosplaying at conventions this year, as well. Why do you think this series is gaining so much traction?
Nicole D'Andria: The show has so much going for it that a lot of people can gravitate towards. There is a diverse cast of characters, so viewers can find at least one person they identify with and have fun with the rest of the cast too! Ladybug and Cat Noir are young, empowering heroes that people can look up to. Then there's the gorgeous CGI that makes this show standout among so many others. Plus there's that oh-so-catchy theme song! …can you tell I'm a big fan myself? The comics themselves are an extension of the show and I can't wait for fans to finally get their hands on an original Miraculous series in comics.
Why are Lady Bug and Cat Noir such compelling characters?
ND: There are so many facets to both characters that people can relate to and enjoy, both in and out of costume. Marinette is a kind, super clumsy girl with a crush on a guy she can barely string words together around. Yet she becomes extremely confident and agile when she transforms into Ladybug. She's not perfect, and I think this makes her more relatable and likable. Though I have to say another reason I enjoy her character is because she's awesome at video games! Adrien is a popular model but still a humble person who cares about other people. His strained relationship with his father can really make you want to give him a hug. And, of course, who doesn't enjoy his CATcophony of puns as Cat Noir?
Why should fans pick your book first on Free Comic Book Day 2017?
ND: There are so many good books out there to choose from, but if you pick this book up first, I think you'll really enjoy what you see! This is the first illustrated adventure of Ladybug and Cat Noir ever in comics, with an original story you won't be able to see on TV! If you enjoy superhero books that can appeal to all-ages and are filled with empowering characters and messages, I encourage you to try this book out for FCBD. Plus, if you like it, you can see more when the series starts coming out in July.
What got you reading comics? What are some series you're reading today?
ND: The series that made me a comic book fan was John Bryne's Alpha Flight. Like Miraculous, Alpha Flight had compelling characters that I wanted to see more of. Today I read a little bit of everything, though my favorite genres are superhero and horror stories. Some standouts include The Mighty Thor (I really enjoy books with empowering female leads), Detective Comics (I'm a big Batman fan and enjoy not just his villains but the teamwork in the series) and Nailbiter (a fantastic horror series with characters you care about and intriguing mysteries). And it goes without saying that I enjoy a lot of what Action Lab Entertainment is putting out!
What books would you recommend to new readers and why?
ND: There are so many options for every genre! There are a lot of great classic comics, but for new readers who want to be able to find these books in their local comic shops, I'll stick to some of the newer books that I would recommend (besides the ones I mentioned in the previous question). For horror fans, The Beauty is a fascinating series. Harrow County also has an interesting story and some nice, unique art to enjoy. Then there is Grimm Tales of Terror, which is great for Tales from the Crypt fans. If readers want a mini-series rather than an ongoing, Jeff Lemire's Plutona from last year was excellent. It has horrific elements, but I wouldn't strictly classify it as a horror book. Superhero fans may like this unique change of pace. For a good fantasy story with empowering female characters, you can't go wrong with Action Lab's Princeless. Or, if you prefer pirates, its spin-off series Raven: The Pirate Princess is great too. But if you're more interested in teen soap operas you can try out Archie Comics' rebooted Archie and Jughead books, which can actually be quite charming.
Why do you think Free Comic Book Day is important to the comic book community?
ND: FCBD is a great chance to go to your local comic shop and meet fellow comic book fans. Plus fans who have not tried out a particular book before have the chance to try something new for no cost. It's also a fantastic way to introduce new readers to comics. For anyone debating about trying out comics but not liking their price tag, they can get a taste of the comic book world with this event.
Why do you think local comic shops are important to the comic book community?
ND: Local comic shops are a great way to meet comic book fans, plus find all your nerd-related items in person rather than shopping impersonally online or trying to find them hidden among the shelves in places like Walmart. Chain stores also have an impersonal quality to them, while your local comic book shop fosters the comic book community in the area. And where else would you want to celebrate Free Comic Book Day?
---
For Free Comic Book Day 2017, Nicole D'Andria is planning on going to her local comic book store to sign some copies of Miraculous and enjoy the festivities! Plus she plans on checking out some of the other books being offered.