Scott Westerfeld Tells How a Ukrainian Photojournalist Gave Him the Inspiration For Spill Night
Apr 29, 2017
We sat down with writer Scott Westerfeld to talk about Spill Night. He tells us how one woman's journey through the Chernobyl Exclusion Zone was a big inspiration for his comic. In this issue, Lexa will be dealing with navigating the Spill with only her rag doll Vespertine by her side. Free Comic Book Day 2017 will be quite the event thanks to Spill Night!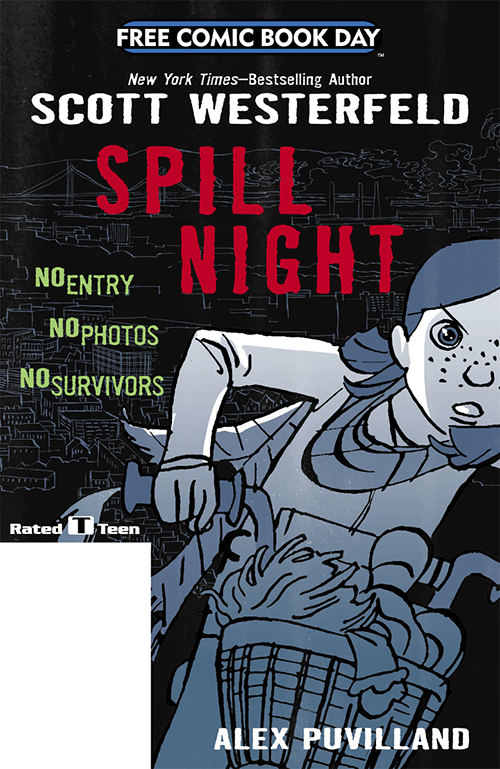 JAN170029
:01 FIRST SECOND
(W) Scott Westerfeld
(A, CA) Alex Puvilland

It's the night of the Po-town Spill, and things are getting weird. Strange lights fill the sky, the house across the street is melting, and the neighbors are turning into meat puppets. Lexa's big sister and parents are gone, and all she has for company in this calamity is her rag doll, Vespertine. Luckily, since the Spill began Vespertine can talk, and has plenty to say. [TEEN]
---
Free Comic Book Day: Where did the idea for Spill Night and Spill Zone come from?
Scott Westerfeld: Way back in 2004, a Ukrainian photojournalist blogged about her secret motorcycle journeys through the Chernobyl Exclusion Zone, the area blighted by history's worst nuclear accident. Her photos and writing evoked the otherworldliness of the forsaken city of Pripyat. But after the posts went viral, she admitted that her posts were "more poetry than reality." You see, she actually took a tour bus. It's pretty easy to get into the Exclusion Zone these days. But the poetic version stuck with me—a woman on a motorcycle, a camera, an empty and dangerous world! I wanted tell a story about exploring an abandoned community, capturing the beauty of a ruined city in graphic novel form.
Putting together Lexa and her rag-doll-come-to-life Vespertine sounds like the makings of great survival conflict: what are their personalities like and what can we expect from this duo's dynamic?
SW: Vespertine is a rag doll, but she's an old soul. She brings a salty humor to her job of being Lexa's mentor and protector, especially in Spill Night, when Lexa's home town is tearing open at the seams. Lexa might be a little kid, but she trusts her rag doll with child-like certainty, which makes her braver than most adults would be in all that chaos.
Why should fans pick your book first on Free Comic Book Day 2017?
SW: Spill Night is full of great art by Alex Puvilland and amazing colors by Hilary Smith. They render the essential weirdness (and horror) of the Zone in a way that doesn't look like much else out there. It will give you a hint of what the Spill Zone graphic novel holds, and provide some delicious prequel-ly context for those who've already read it online.
What got you reading comics? What are some series you're reading today?
SW: My first superhero crush was Daredevil in the 1970s. The way he perceived the world differently than everyone else has echoed throughout my writing career. I always try to give my characters unusual senses and sensibilities. These days, I'm reading Monstress for its depth and beauty, Plutona for its pitch-perfect kid reality, and The Wicked and the Divine for general mayhem. The next volume of The Nameless City is the straight-up story I'm looking forward to most. On the manga side of things, I love how Urasawa's Monster is always unexpectedly broad and discursive, giving side characters their own issues.
What books would you recommend to new readers and why?
SW: Of the above, I'd say Plutona is the friendliest for new readers, because it does weird new things with familiar superhero tropes. Compass South is a great all-ages comic (as in, adults will actually love it too), and Box Brown's Tetris and Andre the Giant comics are great for getting non-fic lovers into the field.
Why do you think Free Comic Book Day is important to the comic book community?
SW: It's always important to get people into their local brick-and-mortar stores. Online communities are great, but face-to-face interaction is key (also more polite). All art is a conversation, and most conversations are better when we're in the same room.
Why do you think local comic shops are important to the comic book community?
SW: Oops, I already answered this above. But I'll go onto add that both comic book stores and FCBD are essential for bringing in newer, younger readers. If you don't restock the pond, it eventually dies.
---
Where do you plan to spend Free Comic Book Day 2017?
SW: Galactic Quest in Buford, GA! I've never been there before, but I'm excited to hang out somewhere new and meet the local comics community. (I'll also be in tour for the rest of May, appearing in Athens GA, Los Angeles, San Francisco, and Santa Cruz. Also in Austin and Dallas, Rhinebeck and NYC, Washington DC, Cleveland OH, St. Paul MN, Coral Gables FL, and at TCAF!)