The Grimm Fairy Tales Creative Team Explain Why Grimm's FCDB Issue is "A Fresh Start With History"
Apr 27, 2017
We sat down with writer Joe Brusha, letterer Taylor Esposito, and assistant editor Dave Faranchini to talk about Grimm Fairy Tales. They tell us why, even though the series ended at #125, this is still a great jumping on point for readers to introduce themselves to the Grimm Universe! Grimm Fairy Tales is set to bring a twist to some classic adventures for Free Comic Book Day 2017!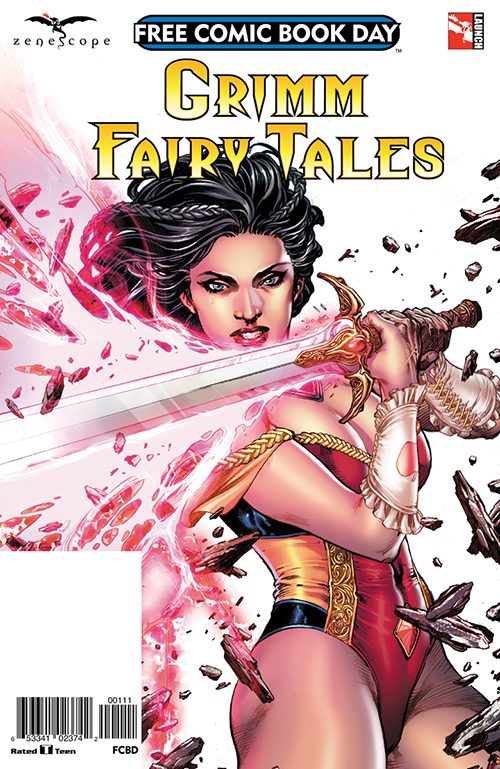 FCBD 2017 GRIMM FAIRY TALES #1
JAN170050
ZENESCOPE ENTERTAINMENT INC
(W) Joe Brusha
(A, CA) Anthony Spay
The world of humans has forever changed and the Grimm Universe has been shaken to its core. Now with the death of Sela Mathers, Earth's long time guardian, the Realms of Power have fallen into chaos. But Sela left behind one thing that may be able to save the world, her daughter Skye. Don't miss this new chapter in
Grimm Fairy Tales
that takes the series back to its roots. In this Free Comic Book Day special, Skye comes up against a power she has never faced before. A new evil is introduced to the Grimm Universe, a threat in which the Guardian of the Nexus might not be able to stop. [TEEN]
---
Free Comic Book Day: For those who are unfamiliar with Grimm Fairy Tales, what do they need to know before getting into Free Comic Book Day's issue?
Taylor Esposito: My best way to describe it, at least as I came into the series with issue #107, is that it was a New Mutants-style book with fairy tale characters. It's a great arc with kids learning their way, and of course everything got turned on its head. Now as we begin the relaunch one of the kids who made it out is now the lead protagonist, and protecting the realm of Earth.
Dave Faranchini: The great thing about Grimm Fairy Tales is it is really easy for new readers to jump on. And no, I don't want you to think I'm just saying that. With the new launch of Grimm Fairy Tales we have brought the series back to when it originally launched in 2005. Each issue is both a standalone story as well as slowly building an overall arc. This Free Comic Book Day issue contains a story we haven't touched on yet, and that is of Jasmine and the magic lamp she is connected to. This issue is also a tie in to our current Grimm Fairy Tales #3 issue which can be read separately but together has an added level of story to it.
Joe Brusha: The great thing about the way we're doing Grimm Fairy Tales now, much like we did back in the early days, is that each issue is stand-alone while maintaining a larger storyline. So to answer your question, we made sure that the FCBD issue is new reader-friendly. No previous knowledge of GFT is necessary to pick up our FCBD issue. The story itself takes place just before GFT #3, but there's bonus material that will get you caught up with what's going on in the series. There are even sneak peeks on the first few issues, as well as a reprint of how Skye, our protagonist, came into power.
With the series ended with #125 in August 2016, what's the draw to coming back to the Grimm Fairy Tales universe?
TE: A fresh start with history, and a great jumping on point for anyone interested in this type of genre and great storytelling.
DF: With the original series ending at #125, it helped tie up all loose ends and wrap up a huge chapter of our ever-growing Grimm Universe. Now with this new launch we are able to start fresh for new readers with a new main character, and new fairy tales to explore but also build onto the mythos long time readers have grown to love. So we get to go back to the self-contained fairy tales that our readers have been asking for a return to and make it easier for new fans to jump in at, but also build on the narrative that came before to keep everyone happy. Hoping that we can have our cake and eat it too.
JB: We closed a chapter with Grimm Fairy Tales #125, but a new one naturally opened up with Sela's daughter, Skye. If you've followed issues #100-#125 of GFT, it's pretty apparent that this whole new, young cast of characters started developing into their own. We wanted to see where their lives went and what struggles they would overcome after the devastating close of the first volume of Grimm Fairy Tales, so it only made sense to come back to the GFT universe.
Out of all the classic fairy tales, which was the best to adapt and are there any left to still explore?
TE: I can't even decide. I don't think Zenescope has even scratched the surface of Native American, Asian and Eastern European folklore, so there is still plenty to get to.
DF: Speaking for myself one of my favorite fairy tales we have adapted has been our Neverland series, which is the Peter Pan story where Peter Pan is the vampire-like being stealing the youth from children and Hook is our anti-hero set out for vengeance for a life ruined by our villain. There are still many we have only slightly brushed the surface of, which have been seeded to be addressed later on down the line, plus many others still to twist and bring into our universe of characters.
JB: As a company we're known for adapting classic fairy tales and putting a modern, dark twist on them. Out of all the ones we've published, I'd have to say Neverland is my favorite. As if there's any left to explore? Let's just say there are always more stories to tell…
What books would you recommend to new readers and why?
TE: All of mine. (haha) Since I've been working on a lot of the Zenescope titles lately, I've had the chance to see all the different styles and types of books that Zenescope has to offer. There is enough variety to appeal to everyone.
DF: Really, most of our titles are set to appease new readers. Grimm Fairy Tales #1 definitely for those who like the fantasy/horror genre. Neverland if you like vampires and action/adventure stories. Return to Wonderland if you love insane mind-bending horror. There is Cinderella Serial Killer Princess if you like smart mouthed, violent comedies. The Courier: From the Ashes for the post-apocalyptic action/thriller. The list is probably too long to put in this interview, but those are some to just get you started.
JB: I think it depends on what you're into as a reader. As we grow as a company, the more diverse our series get. So for the fantasy crowd, Grimm Fairy Tales is a great choice. For horror fans, we have an anthology series called Grimm Tales of Terror. We have a Robyn Hood short out and a show on SyFy inspired by our character Van Helsing, so if you like action, those are great starting points. We also have a brand new post-apocalyptic book coming out in April called The Courier which is shaping up to be something really cool for the company. And then for people who like off-the-wall, foul-mouthed black comedy full of death and destruction, definitely check out Cinderella Serial Killer Princess.
Why do you think Free Comic Book Day is important to the comic book community?
TE: It's a great event to get new readers, especially kids, into comics. Comics are a great source of entertainment, and a great way to teach kids to read. New and more readers is never a bad thing. There should be something for everyone in the industry.
DF: I think Free Comic Book Day is very important to this industry. Just seeing the amount of people coming into these stores, whether these are the shops regular weekly customers or someone who has never stepped into a comic shop before on a singular day is amazing. I go to my local comic shop every Wednesday and usually grab my same titles, with the slight new pick up here and there, funds permitting. Now with Free Comic Book Day and the ability it gives you to add more your reading selection is just an awesome opportunity for both the reader and the creators of these books, as well as me to expand my reading list.
JB: The main reason is because you have so many people coming to FCBD that might have never even given comics a shot. The potential for new fans is at its biggest point on that day. The way I see it, there isn't any other industry that invites people to be included into their community the way Free Comic Book Day does, and we're happy to be a part of it again.
Why do you think local comic shops are important to the comic book community?
TE: I am a huge fan of libraries, but some may not always be up on comics, so having good shops with staff who care about all readers are great to give people recommendations and help people find what they are interested in.
DF: Local shops are definitely important, not only are they the front line of the comic industry but also because they are the people taking the chances on the hard work that goes into comics, a lot of times even before there are fans for the series and characters. Without the local shops we wouldn't have the large reach into communities all over the world. Without the shops the comic community in general I feel wouldn't be as strong as it is. Yes, we have websites and message boards and conventions, but the shops are the weekly, monthly, even sometimes daily gateway to interact socially about our passion which is comics. Even with internet sites and digital sales, the comic shop is there for those not able to, or interested in paying for shipping a book, or for those who love the feel of holding and flipping through your favorite comic in your hand, to even something as small as overhearing someone talk about their favorite or new favorite comic, to peak your interest into your next adventure. Sorry got a little wordy there but really I do believe the local comic shop is one of the main pillars in the growth of this industry.
---
Where do you plan on spending Free Comic book Day 2017?
TE: East Side Mags in Montclair, NJ
DF: Me personally, I will be handing out and signing free copies of comics at The Comic Collection at 83 Bustleton Pike, Feasterville-Trevose, PA 19053.
JB: I plan to spend Free Comic Book Day 2017 at my daughter Alex's college graduation ceremony at Penn State. Congrats Alex, your mother and I are very proud of you!