Gene Luen Yang and Jorge Corona Talk About "The Family Dynamic" in Fresh Off the Boat
Apr 25, 2017
The Huang family are already dealing with a boat load of issues trying to find their way in a new place, but now they are doing it as superheros! To find out how they'll be dealing with that, we sat down with writer Gene Luen Yang and artist Jorge Corona to talk about Fresh Off the Boat's Free Comic Book Day 2017 issue! They tell us what "the Legion of Dope-itude" is bringing to Free Comic Book Day 2017!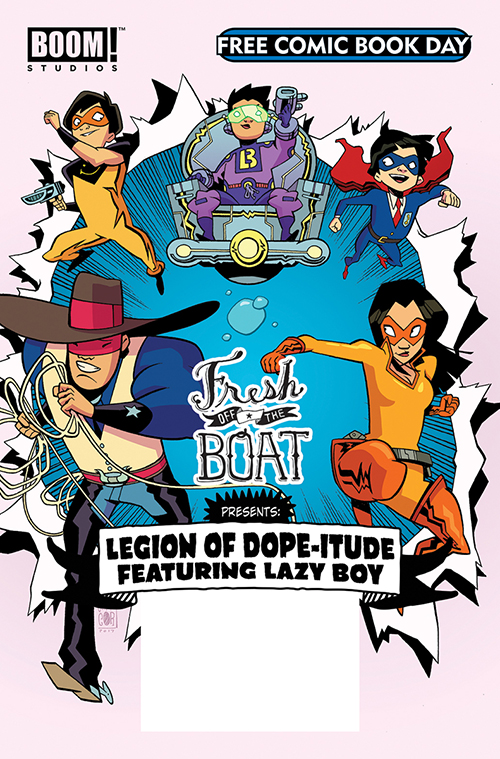 FCBD 2017 BOOM FRESH OFF THE BOAT
JAN170020
BOOM! STUDIOS
(W) Gene Luen Yang
(A, CA) Jorge Corona
Boasting 10 million viewers, the critically acclaimed family comedy series
Fresh Off the Boat
(Tuesdays at 9pm on ABC) comes to the world of comics for Free Comic Book Day 2017!
Fresh Off the Boat
is the story of a Taiwanese-American family living in Orlando in the 1990s and comically explores themes of immigration, assimilation, and identity. BOOM! Studios teams with producers 20th Century Fox Television and the creative team of
Fresh Off the Boat
to capture the show's authentic spirit and humor in comic form. Introducing the the
Legion of Dopeitude
! Tying into an episode of the television series airing in May, this Free Comic Book Day special reveals the characters created by Eddie and Emery for a comic book contest on the television show! Pick up a copy of this book on Free Comic Book Day and see what they created! [TEEN]
---
Free Comic Book Day: What are your favorite elements in "Fresh Off the Boat" and what about them makes you excited to draw a comic about the Huangs?
Jorge Corona: I think the thing I like the most about FOTB is the family dynamic. In a way, it reminds me a lot of my family and to see that play out in this superhero take of the characters was one of the things that really pulled me into the project.
Gene Luen Yang: "Fresh Off the Boat" is an historic show. In terms of Asian American representation, it's a leap forward. And maybe even more importantly, the Huangs are an average American family. They're funny and loving and a tad dysfunctional. I see a lot of my own life reflected in that show. When I was given the opportunity to do a comic book tie-in, I couldn't turn it down.
Out of all the heroes in the Legion of Dope-itude, who's your favorite and what kind of powers will they have?
GLY: My favorite has to be Lazy Boy. He's the best at what he does, which is sit on his easy chair and watch stuff. Also, Jorge Corona put a lot of Jack Kirby into his costume design. Basically, Lazy Boy is like a tween Asian Metron. (The real nerds know what I'm talking about.)
What got you reading comics? What are some series you're reading today?
JC: I did the process from TV to comics when I saw that some of my favorite characters from animated shows had their own books (little did I know back then that it was the other way around—ha!). I immediately fell in love with the medium and have never looked back. Batman is one of those that always stay with me, but there are so many titles nowadays. Some of the ones I keep up with are Black Science, Southern Bastards, Giant Days, among others.
GLY: I started in the fifth grade. I read a copy of DC Comics Presents #58 featuring Superman and the Atomic Knights and that was it. I was hooked. Right now, I love the Flintstones comic, which feels weird to say. I mean, Flintstones???!!! But it's amazing. I also love what Mark Waid is doing with Champions. And I'm a big Mariko Tamaki fanboy. I pretty much love everything she does, including that awesome new Supergirl series.
What books would you recommend to new readers and why?
JC: Every time I introduce someone to comics I always go to the same three: Bone, Corto Maltese, and Tin Tin. Depending on who the new reader is I feel like these books are great examples of what comics can do, the kind of stories and the kind of worlds you can escape to through them.
GLY: Anything of Raina Telgemeier's books. Meanwhile by Jason Shiga. One Hundred Demons by Lynda Barry. Ms. Marvel, of course. Hope Larson's Batgirl. And that Vision series by Tom King, Gabriel Walta, and Mike Del Mundo—that book will melt your mind.
Why do you think Free Comic Book Day is important to the comic book community?
JC: Like I said, there are so many stories and new titles in comics that I think it's sometimes daring to pick up a new book. FCBD helps bring people in and takes out the risks of committing to a new story and I think you end up discovering gems that you might've missed before.
GLY: It's a day when we can get outsiders to come inside. It's a day when we can make new fans.
Why do you think local comic shops are important to the comic book community?
JC: I think local comic shops serve an important function in the comic book community as the place where every area of the industry comes together. You can find everyone from the editors, to the artists, to the writers, down to the reader, the fans. All the levels from production to consumer merge in a comic book store, and every time you see the same wonder and passion for the books that are there. LCS and the people who work there are who make possible this convergence.
GLY: Just like local libraries, local comic shops are story hubs. Stories are how we as a species understand ourselves. Without stories, there is no community, comic book or otherwise.
---
Where do you plan to spend Free Comic Book Day 2017?
JC: Since I'll most likely be outside the States, I'm probably going to be in front of an in-progress comic page. Ha!
GLY: I'll be speaking at a young author's book fair in San Jose, California! Raina Telgemeier and I will celebrating elementary school kids in the area who created their own books! Afterwards, we'll be heading to the local comic shop as fans.