First Reactions to Guardians of the Galaxy 2 are Here!
Apr 18, 2017
The first reactions to Guardians of the Galaxy 2 are in! Here's what some of the critics had to say:
Guardians of the Galaxy Vol. 2 is filled with tons of surprises and an unexpected amount of emotion. Another Marvel winner.

— Germain Lussier (@GermainLussier) April 18, 2017
Had tons of fun with Guardians of the Galaxy 2. Incredibly funny, beautifully colorful, and great continuations of the heroes. Super happy!

— (((Eric Eisenberg))) (@eeisenberg) April 18, 2017
There's more beauty & depth & '80s love in GUARDIANS VOL. 2 than any of the Marvel movies. It's like a water-color acid trip full of awesome pic.twitter.com/m80OSUD31p

— ErikDavis (@ErikDavis) April 18, 2017
Don't think I've heard so much laughter at a press screening. People seemed to really be digging Guardians Vol. 2. Can't say more (yet)

— Aaron Couch (@AaronCouch) April 18, 2017
Just got out of seeing #GotGVol2 My goodness what an experience! Absolutely loved it & you guys will too! Can't wait to see again!

— Umberto Gonzalez (@elmayimbe) April 18, 2017
GUARDIANS OF THE GALAXY 2 kept a smile on my face from beginning to end. Funny, action packed, emotional, and tons of surprises. Thumbs up. pic.twitter.com/aIz7Redwin

— Steven Weintraub (@colliderfrosty) April 18, 2017
GUARDIANS OF THE GALAXY VOL 2. is very fun. Takes the EMPIRE "split up your characters" strategy. Drax is a hoot. Baby Groot steals the show

— Mike Ryan (@mikeryan) April 18, 2017
Going in with through-the-roof expectations, Guardians Vol. 2 still left me wishing it was never going to end. I seriously loved it. pic.twitter.com/kMvGQCeRiS

— Brandon Davis (@BrandonDavisBD) April 18, 2017
Starring Chris Pratt (Star Lord), Zoe Saldana (Gamora), Dave Bautista (Drax the Destroyer), Vin Diesel (Groot), Bradley Cooper (Rocket Raccoon), Michael Rooker (Yondu), Karen Gillan (Nebula), Pom Klementieff (Mantis) and Kurt Russel (Ego the Living Planet), Guardians of the Galaxy 2 premieres in theaters on May 5th, the day before Free Comic Book Day!
If you can't wait for Guardians of the Galaxy 2, you can head to your local comic book store to find these titles now.
---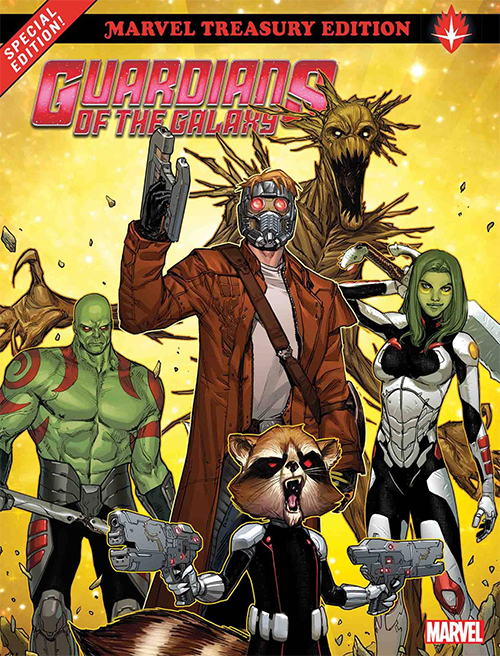 GUARDIANS OF THE GALAXY: ALL NEW MARVEL TREASURY EDITION
JAN17171101
MARVEL COMICS
(W/A) Various
(CA) Sara Pichelli
The galaxy is bigger than ever in this giant-sized treasury edition - and this bunch is just the team to guard it! In the wake of two Annihilation events that rocked the Marvel Universe, Peter Quill, the Star-Lord, unites a ragtag group of misfits and loners to stand as its protectors. Among them, the deadly Gamora, Drax the Destroyer, fiery furball Rocket Raccoon and the tree that walks, Groot! Prepare to learn plenty about them -along with the spacefaring Iron Man, who signs up as they renew their mission with a special focus on defending Earth! Plus: Join Rocket on the run when he becomes the galaxy's most wanted raccoon! It's a cosmic mix of action, adventure and fun! Collecting GUARDIANS OF THE GALAXY (2013) #0.1 and #1, GUARDIANS OF THE GALAXY (2008) #1, and ROCKET RACCOON (2014) #1.
Rated T+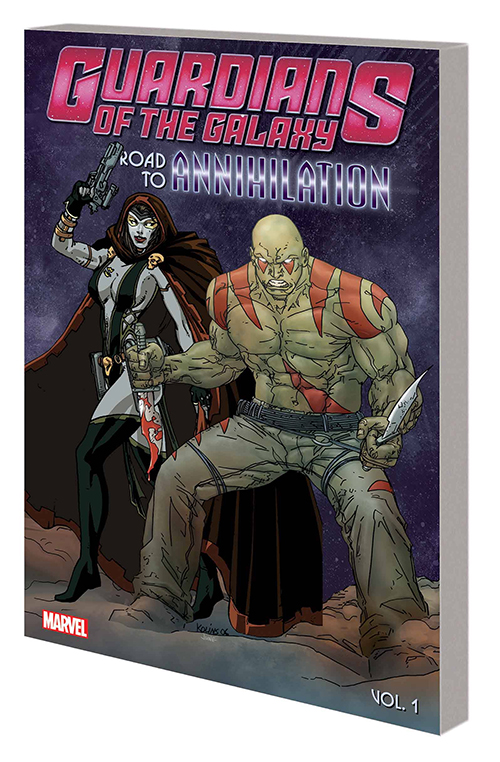 GUARDIANS OF THE GALAXY VOL 1: ROAD TO ANNIHILATION
OCT161025
MARVEL COMICS
(W/A) Various
(CA) Scott Kolins
She's the deadliest woman in the galaxy. He's the ultimate destroyer. Together, they're two of the Guardians' heaviest hitters. Now, find out what Gamora and Drax got up to in the years before the ANNIHILATION events united the team! Adam Warlock's latest resurrection brings his Infinity Watch allies back together - but will Gamora or Drax become an enemy? Drax's battle with a new Captain Marvel will plunge them both into the Microverse! When Thanos seeks to send all reality spinning into the abyss, Gamora joins an assemblage of heroes including Warlock, Spider-Man and Doctor Strange to stand in the Titan's way! And when She-Hulk takes on a case in space, Drax and Gamora are drawn into a trial of universal law! Collecting WARLOCK (1998) #1-4, CAPTAIN MARVEL (2000) #4-6 and #15-16, INFINITY ABYSS #1-6, and SHE-HULK (2004) #7-8.
Rated T+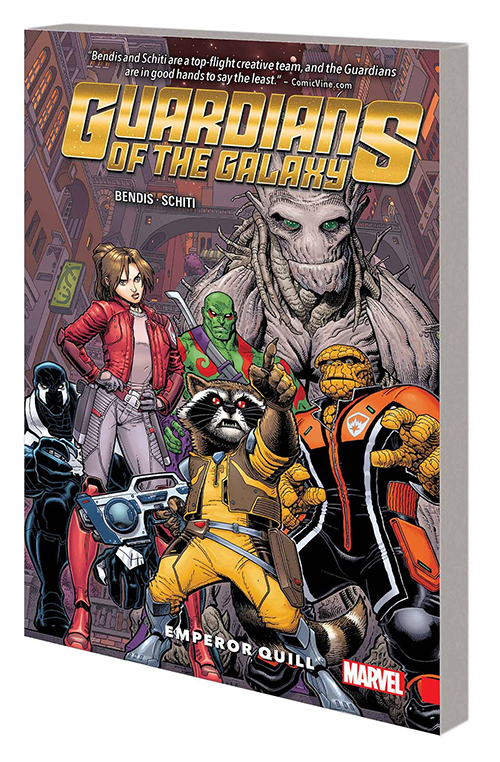 GUARDIANS OF THE GALAXY: THE NEW GUARD VOL 1: EMPEROR QUILL
SEP161124
MARVEL COMICS
(W) Brian MIchael Bendis
(A) Valerio Schiti
(CA) Arthur Adams
Peter Quill has abandoned the Guardians and his role as Star-Lord to be emperor of the Spartax, and Rocket has grabbed the reins as team leader - backed by Drax, Venom, Groot, Kitty Pryde and brand-new Guardian Ben Grimm, the ever-lovin' blue-eyed Thing! But what could put the team in the crosshairs of Emperor Quill and his Imperial Guard? Another old face is back, too, but is it a welcome return for Gamora, or have things changed in the eight months she's been away? When friends like these cause complications for Rocket and the gang, who needs enemies? They don't, but they seem to attract them anyway. And the newest threat to the galaxy is a doozy. His name is Yotat the Destroyer - and he will have blood. Collecting GUARDIANS OF THE GALAXY (2015) #1-5.
Rated T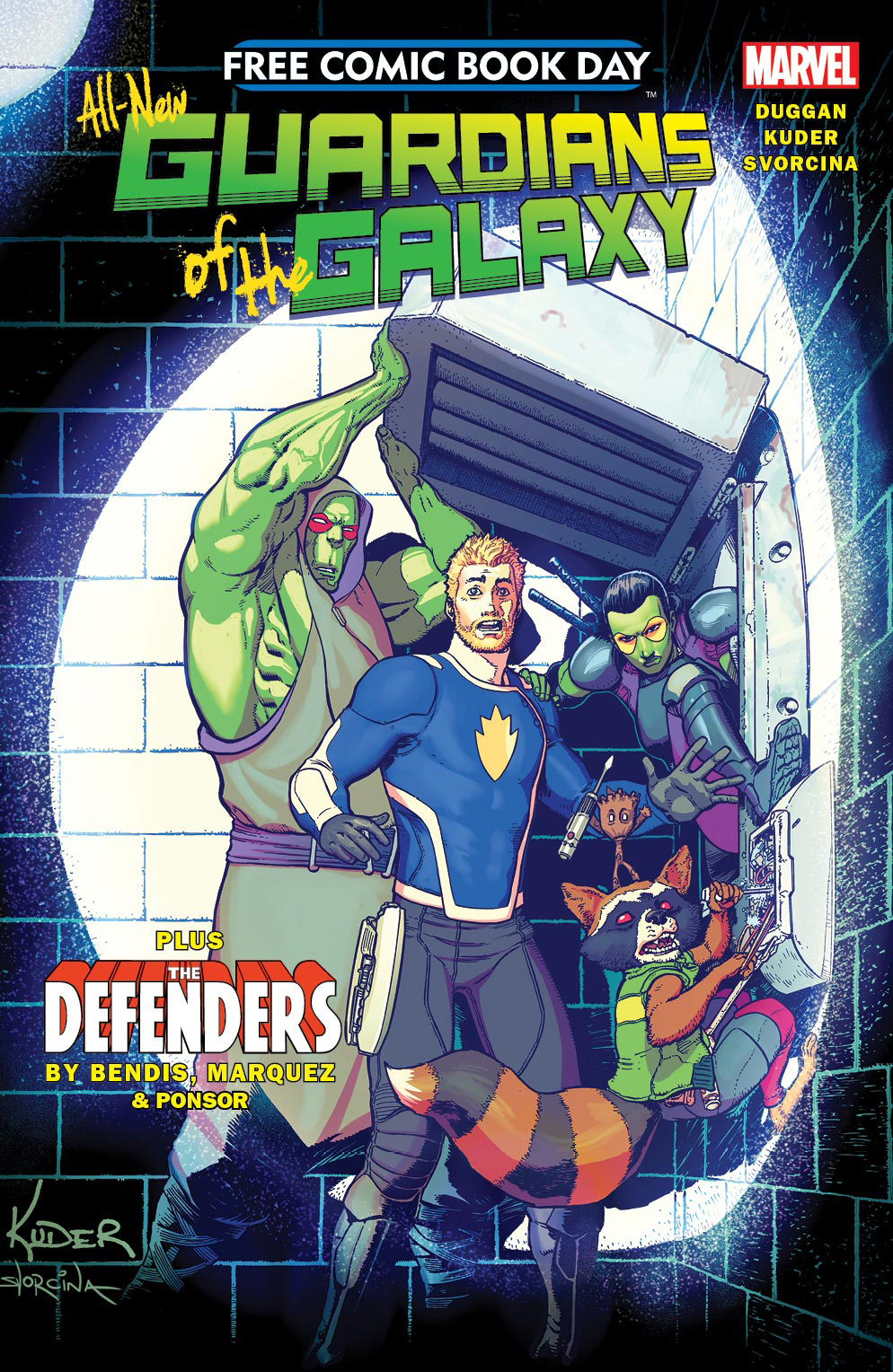 FCBD 2017 ALL NEW GUARDIANS OF THE GALAXY #1
JAN170036
This comic is available on Free Comic Book Day, Saturday, May 6th.
MARVEL COMICS
First, blast off with Star-Lord, Gamora, Drax, Rocket Raccoon and Groot as they head for the stars and right into an all-new ongoing series! Creators Gerry Duggan, Aaron Kuder and Ive Svorcina bring you over-the-top action and out-of-this-world adventure as the stage is set for May's highly anticipated All-New Guardians of the Galaxy #1! As this unlikely band of misfits returns to outer space once more, nothing will prepare them for their first run in with the new Nova Corps!

Then, head back down to Earth and the mean streets of Hell's Kitchen as the blockbuster creative team that brought you Civil War II, Invincible Iron Man and Ultimate Spider-Man bring you their next explosive epic in...The Defenders! Superstar creators Brian Michael Bendis, David Marquez and Justin Ponsor unite Daredevil, Jessica Jones, Luke Cage and Iron Fist as they go head-to-head with the new criminal element in the Marvel Universe. What new player is running things in the underworld? Find out here with a 10-page tale that leads directly into The Defenders #1 this June! [TEEN]
---
Be sure to find all of these at your local comic shop! If you're not sure where your local comic shop is, use the Comic Shop Locator Service.