Skottie Young Explains Why Gertrude Uses "Axes and Bombs to Achieve Her Goals"
Apr 22, 2017
We sat down with writer/artist Skottie Young to talk about I Hate Image Comics, his Free Comic Book Day 2017 expansion of I Hate Fairyland. I Hate Image Comics is a character vs. the universe story where Gertrude will be expanding her murderous rampage outside of Fairyland and into the world of Image Comics! I Hate Image Comics is a full-length addition to Free Comic Book Day 2017!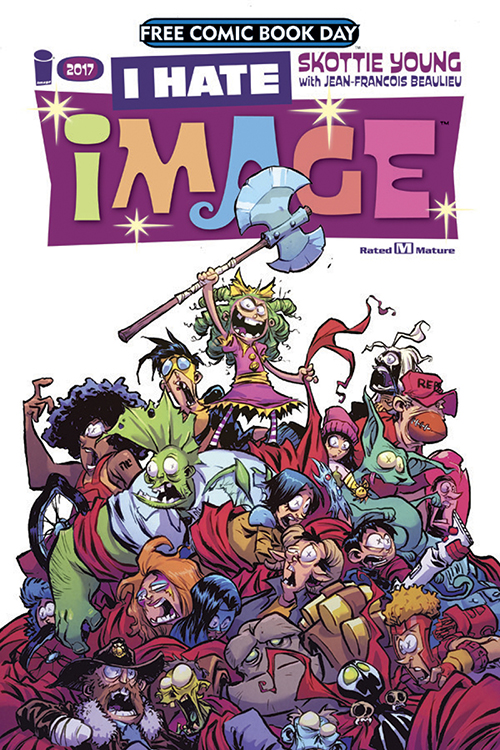 JAN170007
IMAGE COMICS
(W) Skottie Young
(A, CA) Skottie Young
Gertrude has been stuck in Fairyland for decades when she finally hears of a secret passage that may be her way back home. But reaching it is easier said than done as she crosses the border into IMAGE where she'll have to chop her way through you favorite characters from
Saga
,
The Walking Dead
,
Savage Dragon
,
Spawn
,
Descender
,
Black Science
,
Southern Bastards
, and any other character I can add to make sure the original art for this issue sends my children to college! [MATURE]
---
Free Comic Book Day: For those who might be unfamiliar with Gertrude and the I Hate Fairyland universe, can you tell us a bit about both?
Skottie Young: Gertrude is like all the other kids that every got the chance to explore a fantasy world, except she's really terrible at it. So instead of having a day or two of adventure, she's stuck there for decades. And fairyland being a world made for children, it's cute when your 8, but when your 38, it's maddening. Gert is on the MAD end of that spectrum so she uses axes and bombs to achieve her goals instead of using her wits to solve riddles.
Why do you think character vs. the universe stories are so popular? What does Gertrude and I Hate Image Comics bring to the table that's different than similar stories, aside from the different characters.
SY: Hmmm. That's a difficult question to answer. Maybe it's that everyone loves an underdog. As far as what IHF brings to the table, that's simple. It's blood. Lots of it. Oh, and guts. You won't find guts in Alice in Wonderland or Wizard of Oz.
Why should fans pick your book first on Free Comic Book Day 2017?
SY: It's a full length comic book created for FCBD. Not a preview, half issue, not a reprint. We made this just for free comic book day. Also, you may see some famous comic creators get the business end of Gert's Ax.
What got you reading comics? What are some series you're reading today?
SY: Mad Magazine. I loved buying Mad each month and eventually that led to me discovering Archie comics and after that gate was open. Now I read Black Science, God Country, Southern Bastards, Doctor Strange, Black Monday Murders, Descender, Royal City, Grass Kings, Invader Zim, Hillbilly, Paper Girls, Saga, Invincible… ok, I think I'm just listing all the comics now. I'll stop. I read COMICS! HAHA.
What books would you recommend to new readers and why?
SY: I always recommend I Kill Giants. It's one of my favorite books of all times. It's such a powerfully emotional book and that's all I'll say. I don't want to ruin it past that.
Why do you think Free Comic Book Day is important to the comic book community?
SY: Community is the reason. It's one day every year that all shops open the doors to the community and celebrate comics together. It's gets people in the door and reminds them they had always thought about reading Preacher and decide to buy the entire run that day. It lets you try various books for free and discover new creators. It's a great thing that I'm happy to be a part of each year.
Why do you think local comic shops are important to the comic book community?I
SY: A great comic shop is a place of discovery. You can shop online, order things, grab digital books, but there's something special about standing in from of a shelf and scanning the 100's spines of comic collections when you catch a glimpse of an interesting book the person next to you is holding. "What's that book?" Or when I see someone looking and I hunt down a copy of I Kill Giants and say "here, trust me. If you don't like it, I'll buy it from you." Sharing. Discovery. These things are fun to do out in the word in a great shop.
---
Where do you plan to spend Free Comic Book Day 2017?
SY: I'm not sure yet. Sometimes I like to just go shop at my local shops and just be a customer. I might do that this year. We'll see.