John Allison Tells Us How Bad Machinery Is "Half Internal Life, Half Mysteries"
Apr 18, 2017
We sat down with writer/artist John Allison to talk about his Free Comic Book Day 2017 issue of Bad Machinery. John Allison tells us how Bad Machinery is not like other mystery solver stories because the characters have much more depth and internal life struggles to go alongside their mysteries. John Allison's Bad Machinery will add "more comics gold" to Free Comic Book Day 2017!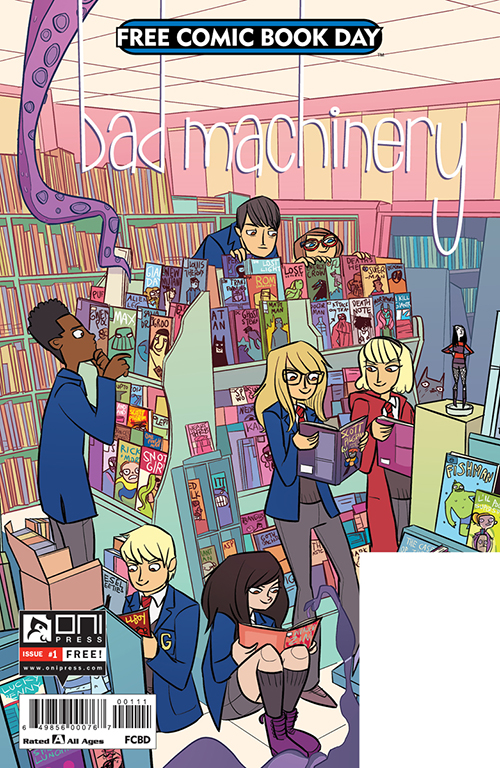 FCBD 2017 BAD MACHINERY
JAN170039

ONI PRESS INC.
(W) John Allison
(CA) Sarah Stern
(A, CA) John Allison

Catch up with the strange and delightful world of Bad Machinery for Free Comic Book Day 2017! Featuring an excerpt from The Case of the Forked Road, the seventh book in John Allison's award-winning Bad Machinery series, this issue introduces readers to the wonderfully surreal town of Tackleford and its resident adolescent mystery solvers. This story finds our young sleuths facing the intricacies of time and space itself. What is their science teacher hiding? Who is the mysterious Calvin, why is he dressed like it's 1960, and why is he obsessed with Communists? Can Shauna, Lottie, Mildred, Linton, Jack, and Sonny solve the case before time and the universe as they know it unravels? [ALL AGES]
---
Free Comic Book Day: For those who might be unfamiliar, what can you tell us about the characters and the world of Bad Machinery?
John Allison: Bad Machinery takes place in the English town of Tackleford, where a group of teen detectives try to solve a series of mysteries while dealing with growing up and the changes that involves. There are three girls—Charlotte Grote, a natural sleuth with great powers of deduction, Shauna Wickle, a fierce individualist from the wrong side of the tracks, and Mildred Haversham, a gadfly scientific mind raised on granola by her hippy parents. And there are also three boys—Linton Baxter, the justice-obsessed son of the local police chief, Jack Finch, a sensitive soul, and Sonny Craven, a wide-eyed optimist, beloved in the community. Sometimes the mysteries are supernatural, sometimes they're sci-fi, sometimes they're personal.
The book features a cast of adolescent mystery solvers—what do these characters bring to the table that other adolescent mystery solving teams don't?
JA: When I started to design the series, I looked at Nancy Drew and the Hardy Boys, and I was surprised by how dry they were, and how little internal life the characters had. I wanted Bad Machinery to be half internal life, half mysteries. I don't think there was another series like it at the time I started.
Why should fans pick your book first on Free Comic Book Day 2017
JA: I'm obsessed with value and getting as much as possible into my stories. The comic's already free, and it's got a copper-bottomed guarantee of 33% more actual content than any other book on the stands with a comparable page count. I'm not talking about more words per page. I'm talking about more comics gold.
What got you reading comics? What are some series you're reading today?
JA: Comics were bought for me when I was very young. I engaged with them straight away, read and re-read them. It was the early eighties and we didn't have a VCR, so I couldn't mainline the same shows over and over again the way other kids might have, but I could pound those comics. In the UK, comics tended to be weekly, which only helped feed the need. Today I'm reading Transformers: Lost Light, Snotgirl, Gwenpool, The Unbeatable Squirrel Girl, Rick and Morty, Michael DeForge's Lose, COPRA by Michel Fiffe, and Bakuman by Ohba and Obata.
What books would you recommend to new readers and why?
JA: I still think Achewood by Chris Onstad (Dark Horse) is an unimpeachable comic for any adult new to the form. It's endlessly well written, a perfect piece of world-building. Scott Pilgrim (Oni Press) is as good as it gets, an immersive experience that only gets better as the series goes on and Bryan Lee O'Malley grows as an artist. Anya's Ghost (First Second) by Vera Brosgol is a perfect piece of cartooning from someone I only wish had produced more comics work by now. In terms of superhero books, I still love 1980s Daredevil—Typhoid Mary and Born Again hold up very well, and I think Marvel keep both in print in trade paperbacks. They're the pinnacle of an eighties comic-making sensibility that got crushed by shiny paper and gradient colouring in the early nineties.
Why do you think Free Comic Book Day is important to the comic book community?
JA: To be frank, because comics don't sell in high enough numbers to have a cover price that reflects what they should be—a mental candy bar, a pocket money purchase. A comic book costs half what The New Yorker costs, for an experience that can be over in ten minutes. Comics are like theater, a form born of a simpler era, where people need to be reminded, or told for the first time, what makes the experience special, and important, now it has fallen back to take its place in a different time. That's what FCBD does.
Why do you think local comic shops are important to the comic book community?
JA: Go into any good comic shop and the answer is there. That's where the community is. It's not neckbeards complaining about sclerotic corporate characters not living up to their thirty or forty-year-old expectations. It's people actually interacting, engaged staff getting people to try something new, or revisit something they love. It's seeing your fellow travelers in the flesh and making friends. Comic shops ARE the community in almost every way that makes it worth preserving.
---
John Allison plans on spending Free Comic Book Day 2017 signing comics at Gosh! Comics in London with Marc Ellerby and Kieron Gillen.