The Marvel Universe Was Split In Two For FCBD 2016 With The Release Of Captain America: Civil War!
May 04, 2017
Everyone loves Free Comic Book Day! Who wouldn't? Awesome comics available free of charge provided by the best publishers in the business and the most incredible comic stores across the world make Free Comic Book Day a holiday like none other. This year, Free Comic Book Day celebrates its sixteenth year introducing millions of people to the wonders of comics!
It all started in 2002, where retailer Joe Field, owner of Flying Colors Comics & Other Cool Stuff, saw the success of other days like Free Cone Day and posed the question to other retailers and publishers: shouldn't we do this too? By having a day where publishers offered up their best and most accessible titles to retailers at a low price, comic stores could give away comics for free to the public and encourage those who loved superhero films and multimedia to pick up the comics! Sixteen years later, Free Comic Book Day has become one of the most beloved events in the entire industry!
Free Comic Book Day 2016 was just last year so readers are surely familiar with the release of Captain America: Civil War to go along with FCBD 2016! Fans were divided just like the Marvel Universe between picking between Team Captain America and Team Iron Man! Whose side were you on for Free Comic Book Day 2016?!
Here are the books and publishers that participated in the fifteenth Free Comic Book Day! Which one would you have picked up? Let us know on Facebook and Twitter--if you have any of these comics around, post them to social media with #FCBD2016 so everyone can take a look!
Free Comic Book Day 2016 Gold Sponsor Comics
---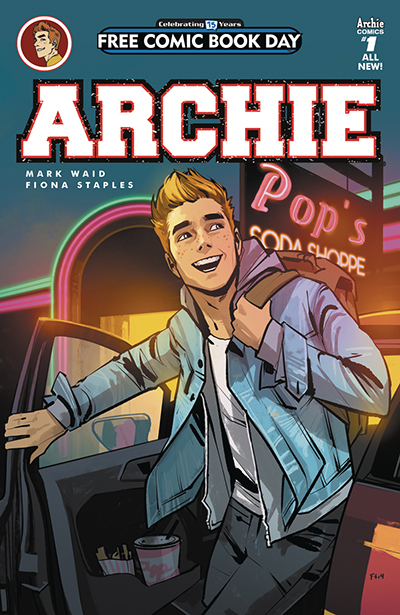 archie comics
(W) Mark Waid
(A, CA) Fiona Staples
Comic superstars Mark Waid and Fiona Staples re-imagine an icon in this special FCBD reprint of the best-selling first issue of Archie! Change has come to Riverdale in the can't-miss kick-off to Archie's new ongoing series! As the new school year approaches, you'd think Archie Andrews would be looking forward to classes and fun - but nothing is as it seems in the little town of Riverdale. Is this a one-off, or a sign of bigger changes awaiting America's favorite teens... and the entire town? Find out in this exciting, remarkable and critically acclaimed first issue!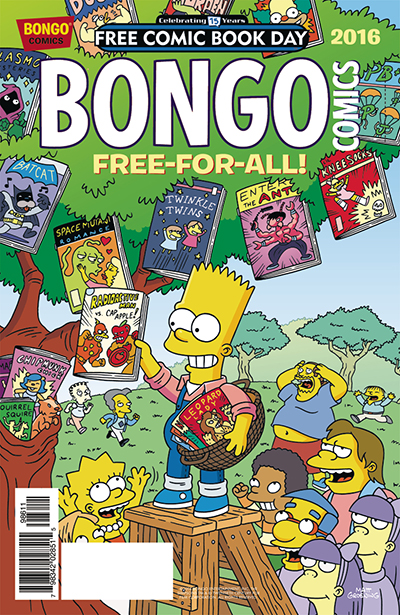 FCBD 2016 BONGO COMICS FREE-FOR-ALL
BONGO COMICS
(W) Matt Groening
(A, CA) Matt Groening

Get in line for the foremost Free Comic Book Day four-color giveaway of the year! Pieman and the Cupcake Kid take on a new crime team, Glutenus Maximus and his sidekick Gluten Tag, whose pastry-related misdeeds have led to a ban on all baked goods in Springfield! How will the heroic duo battle their foes without their arsenal of pies and cupcakes, and what's worse...what will Homer do without his daily dose of donuts? Then, after an unfortunate trip to the dentist, Principal Skinner is mistaken for a vampire. It doesn't help that Bart fuels the fire (and supplies the pitchforks) to an unruly mob uprising. All that and much, much more - and it's all free!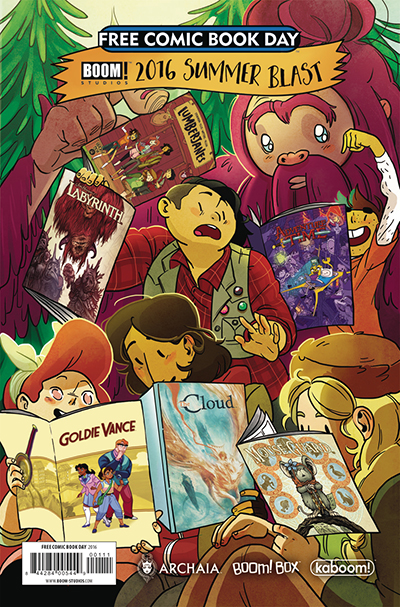 FCBD 2016 BOOM STUDIOS SUMMER BLAST
BOOM! STUDIOS
(W) Box Brown, David Peterson, Hope Larson, Kostas Zachopoulos, Jen Wang, Cory Godbey
(A) Box Brown, Christine Norrie, Brittney Williams, Vincenzo Balzano, Cory Godbey, David Petersen
(CA) Kat Leyh

In the BOOM! Studios 2016 Summer Blast, read all-new, original short stories of David Petersen's Mouse Guard and Jim Henson's Labyrinth. Plus, get sneak peeks of the upcoming new Adventure Time: Comics series, the Lumberjanes: Don't Axe, Don't Tale special, and this summer's highly anticipated original graphic novel from Archaia, The Cloud. As a bonus, we've included preview pages from Goldie Vance, our newest BOOM! Box debut. There's something in this Free Comic Book Day issue for everyone!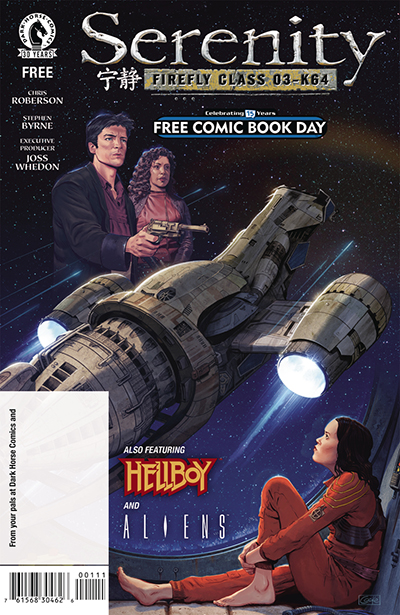 FCBD 2016 DARK HORSE SERENITY HELLBOY ALIENS
DARK HORSE COMICS
(W) Mike Mignola, Brian Wood, Chris Roberson
(A) Tristan Jones, Stephen Byrne, Richard Corben
(CA) Sean Cooke
Need a reason to pick up Dark Horse Comics' 2016 Free Comic Book Day offering? Here's three: From Mike Mignola and Richard Corben, a lesson from Hellboy's past is shared. From Brian Wood, a peek into the Aliens: Defiance series with an original tale. And from the world of Joss Whedon, a glimpse at the crew of the Serenity, following the film and the smash-hit series Leaves on the Wind! Rating: Teen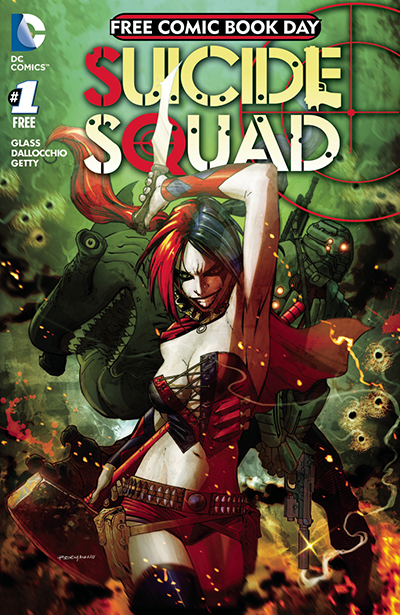 FCBD 2016 SUICIDE SQUAD #1
DC COMICS

Harley Quinn, Deadshot, and King Shark lead a lethal team of death-row Super-Villains recruited by the government to take on missions so dangerous - they're sheer suicide! Don't miss this first issue of the hit series before the upcoming major motion picture, SUICIDE SQUAD! Rating: Teen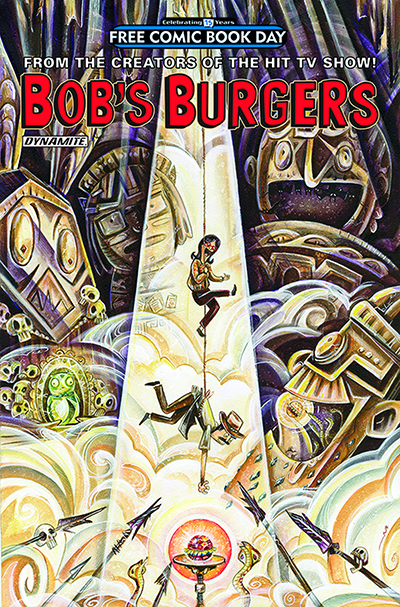 FCBD 2016 BOBS BURGERS


DYNAMITE ENTERTAINMENT
(W) Various
(A) Various
(CA) Sara Richard

The Belcher Family proudly celebrates this year's Free Comic Book Day event with three wild and zany adventures featuring those lovable scamps Tina, Gene, and Louise, plus guest stars Bob, Linda, and all your favorites from Bob's Burgers! It's the official Bob's Burgers comic book based on the fan-favorite (and Emmy Award-winning) Fox animated sitcom, jam-packed with the mouth-watering flavor that longtime fans and curious newcomers can enjoy!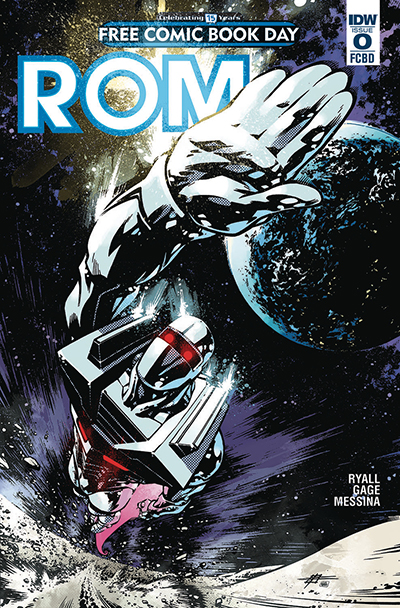 IDW PUBLISHING
(W) Christos N. Gage, Chris Ryall
(A) David Messina, Paolo Villanelli
(CA) Zach Howard

He strikes from outer space... hurtling Earthward on his dead mission of cosmic vengeance! Rom is back for the first time in decades, and nothing can stop him! This introductory story re-introduces the character and leads into July's all-new, ongoing series! Plus, in an exclusive prologue to June's debut issue, the U.K.'s greatest weapon is on the warpath-and the fate of the world is in Action Man's hands... as usual. Rating: Teen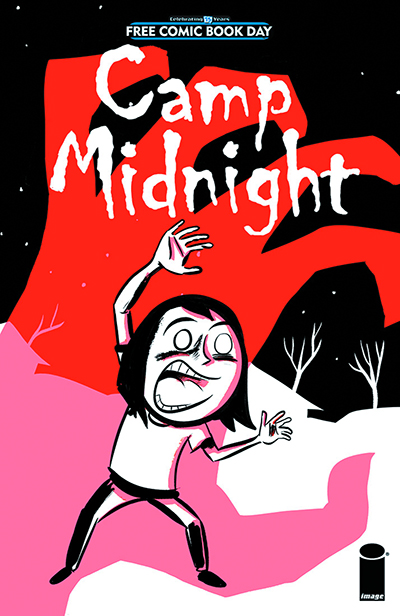 IMAGE COMICS
(W) Steven T. Seagle
(A, CA) Jason Adam Katzenstein

Add a touch of spooky to your Free Comic Book Day this year with the first chapter of Ben 10 and Big Hero 6 creator Steven T. Seagle and New Yorker Magazine cartoonist Jason Adam Katzenstein's Camp Midnight! Not wanting to please her "step monster," reluctant Skye is dead-set on not fitting in. But when she's accidentally sent to the wrong summer camp - Camp Midnight, where everyone attending is a full-fledged monster - Skye realizes that not fitting in will be the very least of her challenges! Camp Midnight is the perfect book for readers who love Raina Telgemeier's Smile but wish it had more bowls of gooey eyeballs in the lunch scenes. Rating: All Ages
FCBD 2016 CIVIL WAR II #1
MARVEL COMIC

Marvel peels back the curtain on their can't miss FCBD 2016 title, CIVIL WAR II #1! Before hero stands against hero, Brian Michael Bendis and Jim Cheung bring you a snapshot of the conflict that will split the Marvel Universe in two! But that's not all! Beware the sting of the All-New Wasp! FCBD CIVIL WAR II #1 will also feature a special second story from All-New, All-Different Avengers writer Mark Waid and legendary artist Alan Davis. Be there as this mysterious new character makes their big debut! Are they friend or foe? How will their coming impact on the lives of the All-New, All-Different Avengers? The answers may surprise you, True Believer! Not only do you get a lead in to the escalating conflict of Civil War II, but you'll also be introduced to a big new character as the All-New Wasp rockets into the Marvel Universe. Rating: T+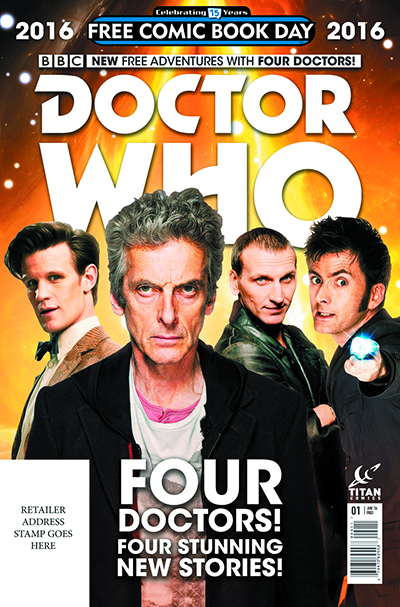 FCBD 2016 DOCTOR WHO SPECIAL

TITAN COMICS
(W) Nick Abadzis, Robbie Morrison, Cavan Scott, Simon Spurrier, Rob Williams
(A) Eleonora Carlini, Leonardo Romero, Simon Fraser, Mariano Laclaustra
Jump on board the TARDIS with FOUR all-new short tales of the Ninth, Tenth, Eleventh and Twelfth Doctors! Whether you're a whizz with a Sonic Screwdriver or completely new to
Who
, this is the perfect Free Comic Book Day adventure for SF fans of all ages! Written and illustrated by the creative teams of the regular comics, this is the ideal place to start reading!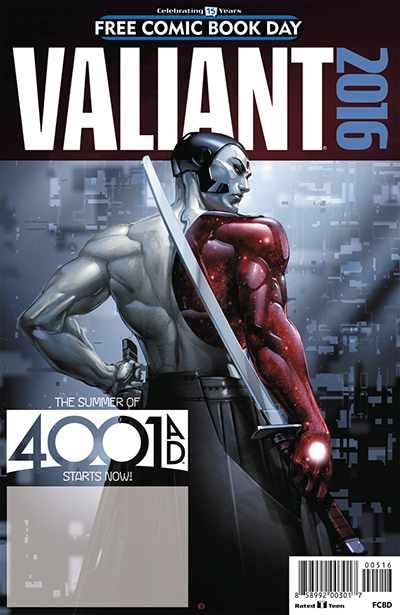 FCBD 2016 VALIANT 4001 AD SPECIAL

VALIANT ENTERTAINMENT LLC
(W) Matt Kindt, Jody Houser, Rafer Roberts
(A) Trevor Hairsine, David Lafuente, Various, Francis Portela, Clayton Henry
(A, CA) Clayton Crain


The most ambitious Valiant event yet starts right here on Free Comic Book Day with a shocking new vision of the future in
4001 A.D.
! The war for the fate of the 41st century begins here with an exclusive, never-before-seen prelude to the blockbuster comics event of the summer by
New York Times
best-selling writer Matt Kindt and superstar artist Clayton Crain.
Rai
!
Eternal Warrior
!
X-O Manowar
!
Bloodshot
!
Geomancer
!
Armstrong
! And more! The future of the Valiant Universe begins here! Plus: An all-new look inside Valiant's next hit ongoing series,
A&A: The Adventures of Archer & Armstrong
, from Rafer Roberts and David Lafuente;
Divinity II
from Matt Kindt and Trevor Hairsine; plus an all-new slate of top-secret teasers, special features, surprises, and a newly added excerpt from the series that has everyone talking - the one and only
Faith!
Rating: Teen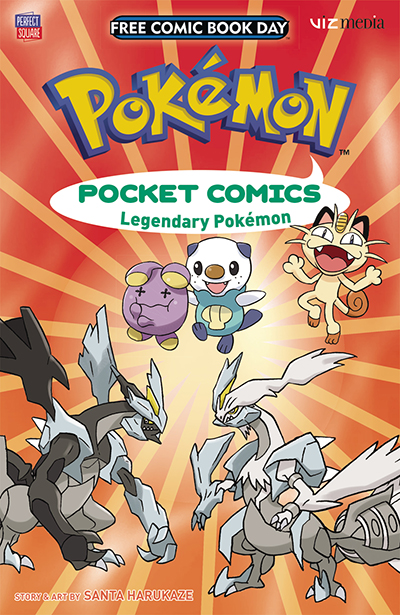 FCBD 2016 VIZ PERFECT SQUARE POKEMON POCKET COMICS
(W) Santa Harukaze
(A, CA) Santa Harukaze

To the forest! To the sea! To Legendary Island! Join our Pokémon pals on a quest through Unova for the Legendary joke - while testing your Pokémon knowledge and laughing all the way!
Free Comic Book Day 2016 Silver Sponsor Comics
---
FCBD 2016 SCIENCE COMICS

:01 FIRST SECOND

FCBD 2016 AWAKE

ACTION LAB ENTERTAINMENT

FCBD 2016 PINK PANTHER PARTY

AMERICAN MYTHOLOGY
PRODUCTIONS

FCBD 2016 STAN LEE
THE UNKNOWNS FROZEN KINGDOM

ARCANA STUDIO

FCBD 2016 SONIC SAMPLER

ARCHIE COMIC PUBLICATIONS

FCBD 2016 WORLDS OF ASPEN

ASPEN MLT INC

FCBD 2016 CON MANS SPECTRUM #0

AUTOMATIC PICTURES PUBLISHING

FCBD 2016 LADY MECHANIKA

BENITEZ PRODUCTIONS

FCBD 2016 WE CAN NEVER GO
HOME YOUNG TERRORISTS

BLACK MASK COMICS

FCBD 2016 CBLDF DEFEND COMICS

COMIC BOOK LEGAL DEFENSE FUND

FCBD 2016 BRUCE LEE
DRAGON RISES #0

DARBY POP

FCBD 2016 DARK HORSE ALL AGES KORRA TRAIN DRAGON PVZ

DARK HORSE COMICS

FCBD 2016 DC
SUPER HERO GIRLS #1

DC COMICS

FCBD 2016 MIXTAPE DEVILS DUE
1FIRST COMICS ED

DEVILS DUE /1FIRST COMICS, LLC

FCBD 2016 MOONCOP
A TOM GAULD SAMPLER

DRAWN & QUARTERLY
FCBD 2016 GRUMPY CAT
DYNAMITE ENTERTAINMENT


FCBD 2016 FANTAGRAPHICS
LOVE & ROCKETS

FANTAGRAPHICS BOOKS

FCBD 2016 OVERSTREET
COMIC BOOK MARKETPLACE

GEMSTONE PUBLISHING

FCBD 2016 GRANT MORRISONS AVATAREX DESTROYER OF DARKNESS

GRAPHIC INDIA PTE. LTD

FCBD 2016 GRAPHIX SPOTLIGHT
DREAM JUMPER NIGHTMARE ESCAPE

GRAPHIX

FCBD 2016 PHANTOM 80TH
ANNIVERSARY SPECIAL

HERMES PRESS

FCBD 2016 STRAWBERRY
SHORTCAKE #0

IDW PUBLISHING

FCBD 2016 MARCH
TRILOGY SAMPLER

IDW - TOP SHELF

FCBD 2016 ODDLY NORMAL CHAPTER ONE

IMAGE COMICS

FCBD 2016 ATTACK ON TITAN
ANTHOLOGY PREVIEW

KODANSHA COMICS

FCBD 2016 CAPTAIN AMERICA #1

MARVEL COMICS

FCBD 2016 THE TICK

NEW ENGLAND COMICS

FCBD 2016 HILDA & STONE FOREST

NOBROW PRESS

FCBD 2016 JUNIOR BRAVES
OF THE APOCALYPSE

ONI PRESS INC.

FCBD 2016 SANJAY AND CRAIG
& HARVEY BEAKS

PAPERCUTZ

FCBD 2016 2000 AD SPECIAL

REBELLION / 2000AD

FCBD 2016 DARK LILY & FRIENDS

SPACE GOAT PRODUCTIONS

FCBD 2016 STUFF OF LEGEND
PREVIEW

TH3RD WORLD STUDIOS

FCBD 2016 ASSASSINS CREED

TITAN COMICS

FCBD 2016 STREET FIGHTER
V SPECIAL

UDON ENTERTAINMENT INC

FCBD 2016 SPONGEBOB
FREESTYLE FUNNIES

UNITED PLANKTON PICTURES
FCBD 2016 VIZ ONE PUNCH MAN& MY HERO ACADEMIA

VIZ MEDIA LLC

FCBD 2016 COMICS LAB

Z2 COMICS
---
Make sure to get to your local comic book shop on May 6, 2017 and participate in the exciting event that is FCBD!