Sam Sykes and Selina Espiritu Tell Us What Makes Brave Chef Brianna "The Good Stuff"
Apr 01, 2017
We sat down with writer Sam Sykes and artist Selina Espiritu to talk about Brave Chef Brianna a part of BOOM! Studios' Summer Blast. Sam and Selina tell us what influenced the style and humor of Brave Chef Brianna, plus they tell us about some of their personal favorite comics! BOOM! Studios' Brave Chef Brianna is bringing a lot of excitement and humor to Free Comic Book Day 2017!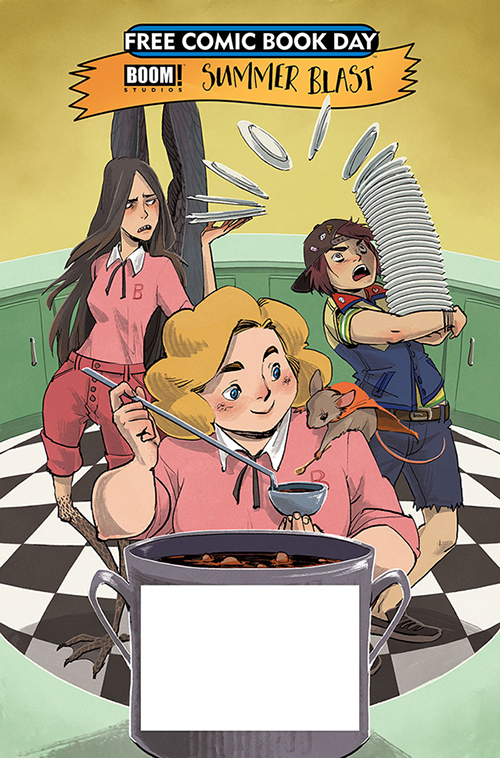 FCBD 2017 BOOM STUDIOS SUMMER BLAST
JAN170003
BOOM! STUDIOS
(W) David Petersen, Sam Sykes, Liz Prince
(A) David Petersen, Selina Espiritu, Amanda Kirk
(CA) Kyla Vanderklugt


BOOM! Studios Summer Blast
is jam-packed with three stories of mice, monsters, and one supernatural punk band. In an original Archaia short story of David Petersen's
Mouse Guard
, a pair of youngfurs learn a lesson from a grizzled guardmouse on what it means to be a hunter. Next, get a sneak peek of the upcoming KaBOOM! series
Brave Chef Brianna
. To prove herself as a great chef, Brianna starts her own restaurant... but the only town she can afford to set up shop in is Monster City! Finally, the Lumberjanes introduce your new favorite BOOM! Box series
Coady and the Creepies
. Coady and her sisters are members of a band heading for the gig of their lives... so long as no one realizes that Coady is actually a ghost! [ALL AGES]
---
Free Comic Book Day: Tell us about Brave Chef Brianna—what BOOM! series would you compare it to in tone and fell?
Sam Sykes: BOOM! has been knocking it out of the park with a genre that's kind of hard to define. One of the things that attracted me to the publisher was the strong emphasis on stories with emotional stakes, stories where figuring out how your life works with the people in it are more important end-of-the-world threats. Their stories focus on the personal world that exists just between a few people and how they define it. We were inspired by Steven Universe's aesthetics, the ultra-expressive faces and the high emotional octane visible in the characters, but in tone the comic might edge more toward Giant Days or The Backstagers, stories where character relationships and doing small, but difficult, jobs are key.
Selina Espiritu: Brave Chef Brianna follows the hijinks of the titular character, Brianna Jakobsson, who wants desperately to run a successful restaurant in a place called Monster City, with mixed success. It's a lot funny and a lot dramatic and it has a lot of moments that really isn't too far from real life. Sam's the creator and I'm the artist and Jasmine Amiri is the editor who herds us back on track. The series dialogue reminds me a lot of Giant Days because Sam has a knack for writing some hilarious interactions over deceptively mundane situations, and the over-the-top bits remind me of humor from Adventure Time or Bee and PuppyCat. Style-wise, the feel we tried to go for is between the cartoonishness of Steven Universe and the realism of Goldie Vance to make something unique for the series. What I'm saying is that it's a bit of everything and that I have no idea what I'm saying. In summary: This is the good stuff.
What got you reading comics? What are some series you're reading today?
SS: I was a huge Spider-Man nerd when I was about 12. I got into the Maximum Carnage arc and it defined my outlook (as much of an outlook as a 12-year-old can have, anyway). So I guess it wouldn't come as a huge surprise that I love stories with beleaguered, put-upon heroes. Gail Simone's run on Red Sonja is one of my very favorites and I can't get enough of Saga, like all sane human beings. Online, though, I keep abreast of webcomics like Unsounded and Star Power.
SE: I don't really remember if there was a moment or a person that triggered my love for reading comics—I've always just loved the art of storytelling and the way it could compel people to act or feel since I can remember. Unfortunately, I'm pretty (read: very) awful at creative writing, so the way I saw it, comics were the perfect way to tell stories without necessarily needing to know 500 ways to describe the color of someone's eyes, right? At the moment I'm (sort of) following the 2015 Doctor Strange: Way of the Weird run because he's one of my favorite Marvel heroes (heck, yeah!) and the art is AMAZING. I'm also always happy to see a new issue of Pugad Baboy by Pol Medina Jr., which is a long-running, Filipino-made, slice-of-life/humor/political satire/action comic!
What books would you recommend to new readers and why?
SS: I hate to sound like a broken record, but I kind of want everyone to experience Saga (at least, if they're adults). It was a series that solidified how characters should interact in comics, how to direct the emphasis onto interactions and relationships while still providing an exciting story. I began writing novels, so I found Saga to be an incredible bridge between what I knew fiction was and what I didn't know it was capable of.
SE: Well, if you're looking for a casual hook-up with a modern comic, I would recommend Hark! A Vagrant by Kate Beaton because it is hilarious and can be appreciated universally by those looking for high-ish brow humor and satire. At the risk of sounding super old school, I still love Archie and Calvin and Hobbes because they're classics and great bathroom companions. Oh! Adventures of TinTin by Hergé! Another classic. I can't in good faith not recommend Pugad Baboy, but it's really best appreciated by fellow Filipinos given the political subjects and language barrier!
Why do you think Free Comic Book Day is important to the comic book community?
SS: It's pretty cool that, even as comics become BIG business, that a lot of this industry is still determined by geeks. And one of the greatest things about being a geek is that wild rush of discovering something awesome and then screaming "I HAVE TO TELL SOMEONE!" into an empty house and then racing downstairs and pounding on your neighbor's door shrieking about this amazing book you've just discovered and how they have to take part of it but then they call the police. Free Comic Book Day is that same rush of discovery and sharing, but without the cops getting called. Expanding what we consume creatively and letting others in on the joy of it is a great thing I'm happy to take part in.
SE: It's just awesome to have a day to celebrate human creativity (and those creative humans behind every comic), isn't it? And for free, no less! It's like free food samples; you have nothing to lose and everything to gain. Whether you're a newbie or just a guy passing by seduced by the concept of something free, every free comic someone picks up is another chance to make a lover of comics, which is AWESOME. Sometimes you look at a comic and forget how many people are involved and how much mental and emotional effort goes into making each and every page, so having a day set aside for comic books? Pretty sweet.
Why do you think local comic shops are important to the comic book community?
SS: For much the same reason that Free Comic Book Day is important, local comic shops are a lynchpin for that feeling of geekiness. Amazon, ComiXology, and other digital distributors are great, especially since they help more people find more stories, but I think the goal of cultivating a local, physical place where people can gather and partake of that rush of sharing and excitement firsthand are what makes a community a community.
SE: I have a very specific notion of the importance of having local shops to fuel your hobby and it has a lot to do with accessibility. As a member of the community, I can say for certain that knowing that there are actual, physical stores for me to browse through helps a lot in helping maintain my interest in a series, as well as giving me a chance to give something back to the books I really like. Having local shops makes life easier for people like me who just want to find back issues of the original Young Avengers (side note to Jim Cheung if you're reading this: read Children's Crusade) or are terrified of online shopping (also me).
---
Where do you plan to spend Free Comic Book Day 2017?
SS: Well, immediately after I get my copies with Brave Chef Brianna previews inside, I will almost certainly be rushing to my neighbor's door and pounding on it to tell them all about how proud I am of this comic and all the good work that went into it but I'll be so excited that it'll be incoherent gibberish unable to be heard over my neighbor's terrified shouting as I try to crawl in through his window. So I guess I'll spend the first half of FCBD doing that and the second half being pulled out of a window by Fire and Rescue.
SE: In a perfect world, we would be lined up in the only decently stocked bookstore in the area to pick up our own free copy! Y'all should be, too!