Buffy Might Be Leaving Netflix, But the Scooby Gang Is Still at Local Comic Shops from Dark Horse!
Mar 24, 2017
This week, Netflix announced fan-favorites like Buffy: The Vampire Slayer and Angel would be leaving on April 1. While this news is tragic--what else are we going to binge watch?--it's great to know that you can still follow the Scooby Gang's adventures at your local comic shop!
Since 2007, Dark Horse Comics has published the continuation of Buffy the Vampire Slayer with Joss Whedon producing. With Joss involved, the series keeps everything we loved about the original series intact: witty dialogue, apocalypse-level challenges to overcome, and an assorment of major big bads to fight. Outlets like IGN called the series "immaculate."
With Buffy and Angel now leaving Netflix, it's time to start a new kind of binge with these comics available now at your local comic book store.
---
BUFFY THE VAMPIRE SLAYER SEASON 8 VOL 1: THE LONG WAY HOME
JAN120078
DARK HORSE COMICS
(W) Joss Whedon, Brian K. Vaughan
(A) Andy Owens & Various
(CA) Dave Stewart & Various
This deluxe, oversized hardcover edition contains the first two arcs of Season 8, plus two one-shots. After the destruction of the Hellmouth, the Slayers-newly legion-have gotten organized, but it's not long before new and old enemies begin popping up. Buffy, Xander, Willow, and a very different Dawn are introduced to the season's big bad, Twilight, and are only beginning to understand the incredible reach of this mysterious threat. Meanwhile, rebel Slayer Faith teams up with Giles to handle a menace on the other side of the Atlantic. It's a dirty job, and Faith is just the girl to do it!
BUFFY THE VAMPIRE SLAYER SEASON 9 VOL 1
SEP140091
DARK HORSE COMICS
(W) Joss Whedon
(A) Georges Jeanty
The world has lost its connection to magic, and a new breed of vampires has been born-zompires! Still, there's more trouble for Buffy the Vampire Slayer: a magic siphon is loose, student loans have to be paid, Willow goes walkabout, and Buffy finds herself pregnant while coming to terms with her relationship with Spike. Collects Buffy Season 9 Volume 1 and Volume 2.
BUFFY THE VAMPIRE SLAYER SEASON 10 VOL 1: NEW RULES
JUL140120
DARK HORSE COMICS
(W) Christos N. Gage, Nicholas Brendon
(A) Rebekah Isaacs
(CA) Steve Morris
While slaying a hoard of zompires, Buffy and her pals are shocked to discover a new kind of vampire: harder to kill, able to transform and walk in the light of day-like Dracula . . . The rules of magic are literally being rewritten . . . Collects Buffy the Vampire Slayer Season 10 #1-#5.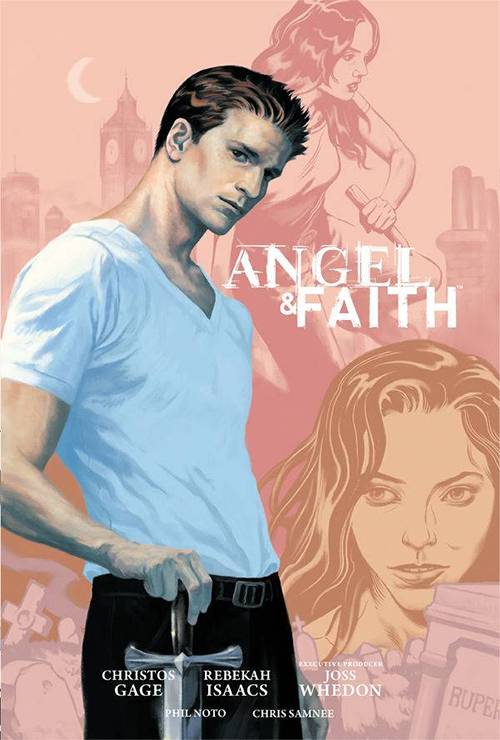 ANGEL AND FAITH: SEASON 9 VOL 1
NOV140026
DARK HORSE COMICS
(W) Christos N. Gage
(A) Rebekah Isaacs & Various
(CA) Steve Morris
The death of Buffy's mentor at Angel's (possessed) hand has the vampire looking to make amends by bringing the Watcher back to life. Faith, rebel Slayer, is helping, if only to keep Angel from going too far. But there's more keeping this duo's swords ready: demon twins, Angel's former guide Whistler, Faith's Slayer sisters, and vampire Drusilla! Collects Angel & Faith Season 9 Volumes 1-2.
---
Be sure to find all of these at your local comic shop! If you're not sure where your local comic shop is, use the Comic Shop Locator Service.