The Loud House Creator Chris Savino Talks on Why "Family is Most Important"
Mar 21, 2017
The Loud House is one of the newest shows on Nickelodeon and it's already making waves. It's garnered a B+ rating from The A.V. Club and has been called "surprisingly heartwarming." With three Nickelodeon titles in Free Comic Book Day, we took the opportunity to chat with The Loud House creator Chris Savino on the Free Comic Book Day issue.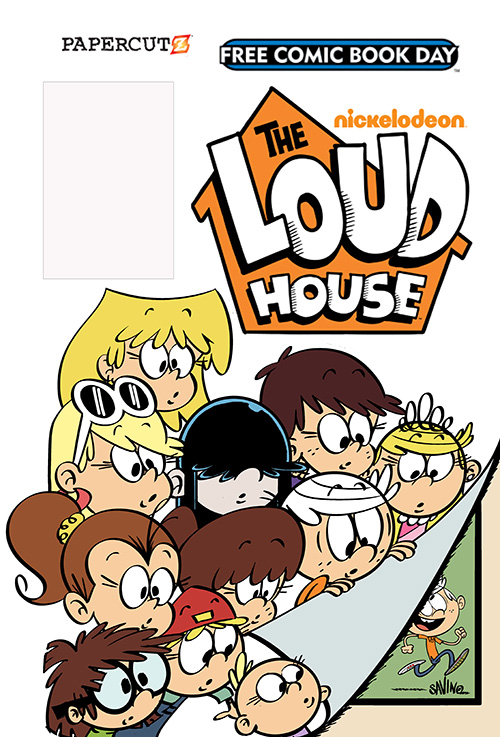 PAPERCUTZ
(W) Kevin Sullivan, David King, Jared Morgan, Miguel Puga, Ari Castleton, Jordan Rosato
(A) Jared Morgan, David King, Kevin Sullivan, Miguel Puga, Miguel Puga, Ari Castleton, Jordan Rosato


The Loud House is Nickelodeon's big, new, #1 hit animated show! Learn from Lincoln Loud the ins and outs of living in a huge household with 10 sisters! Lincoln will teach you important life lessons such as how to always get the last slice of pizza, how to restore law and order to the living room, and how to properly dispose of poopy diapers! All this and more from Nickelodeon's first family-Lincoln and his sisters Lori, Leni, Luna, Luan, Lynn, Lucy, Lisa, Lola, Lana, and Lily! Featuring stories by The Loud House animation crew and show creator Chris Savino! [ALL AGES]
---
Free Comic Book Day: For those who are unfamiliar, what's The Loud House about?
Chris Savino: The Loud House is about an 11-year-old boy named Lincoln Loud who has 10 sisters, and what it is like to grow up in such a big family. We like to tell all kinds of stories on The Loud House, but the ones that we like the most, and the ones that we feel resonate with the audience are character driven stories. Stories that come from the characters themselves and their personality rather than a plot. As for themes, family is HUGE for us. It doesn't matter what problems arise in an episode, but we always make sure that in the end, you know that family is most important. Love, understanding, equality, and honesty are other themes we explore.
What makes Lincoln Loud, the main character, an interesting and compelling character?
Although Lincoln has the odds stacked against him, he's always the man a plan. He's also man enough to admit when he's made a mistake and do what it takes to reset the balance in his household. He's a pretty good guy.
I think the thing that sets The Loud House apart is perhaps, that in a sea of funny animal cartoons, this is a human based show with kids that deal with relatable issues that perhaps the viewers deal with, as well. Not to say other cartoons do not deal with real and relatable issues, I think that because they are human it helps to identify with them more easily.
Why should fans pick your book first on Free Comic Book Day 2017?
It's a free taste of what's to come in the upcoming volumes of The Loud House graphic novels from Papercutz. Also, laughter is the best.
What got you reading comics? What are some series you're reading today?
I've always been attracted to printed comics over animated cartoons. Although I love both there is something satisfying and tangible in holding a comic and being able to read it anywhere I like.
There were ALWAYS MAD magazines around the house. Having older brothers who read it certainly got me exposed to them at an early age. We also had a lot of reprint books (Peanuts, Pogo, Dennis the Menace). When I finally had my own money to spend and go by comics, I always went for funny animal comics. I remember one called Space Ark (by Ken Mitchroney) and loved the style and humor of it. I still read a lot of reprints of older comics. I am especially into the EC Comics Library reprints.
What books would you recommend to new readers and why?
I've always been a fan of funny animal comics over super hero kind. I tend to look for old and vintage comics in that genre over new ones, but there are so many new and exciting artists out there it's hard to choose ones to recommend.
When I recommend comics, I listen to what types someone is interested in, and I will always suggest older comics to show what the newer generation of cartoonists were influenced by. I was go back to the source.
Why do you think Free Comic Book Day is important to the comic book community?
It reminds people that comics are still a viable source of great art and entertainment and they may the internet hasn't diminished the demand for physical printed comics. Comics are something that you can read alone, but also engage with friends as recommendations (or get recommendations). It's not that comics are just entertainment, but they are (hopefully) full of engaging characters that you can empathize and/or sympathize with and even relate to and root for on their adventures.
Why do you think local comic shops are important to the comic book community?
Not only are they convenient, but if one goes to them often one tends to gain a rapport with the people who run them and with the customers which leads to new suggestions to broaden one's choices in comics.
I don't go to comic shops as often as I would like. I love the tactile sense of picking up a book and the feel of it in my hands and discovering new titles. So, I go about once a month. It's such a great feeling to be in one place surrounded by so many excellent cartoonists' work. It's humbling and inspiring.
---
Chris plans to spend his Free Comic Book Day at the House of Secrets in Burbank, CA!