Jody Houser and Creative Team Tell Us How Different "Attack On Titan Feels From A Typical Manga"
Mar 21, 2017
We sat down with editor Ben Applegate, writer Jody Houser, and colorist Lee Loughridge to talk about the Attack on Titan: Truth comic for Free Comic Book Day 2017. This issue gives the reader a glimpse into the lives of the ordinary citizens living in the Attack on Titan world. With over 60 million issues sold, Attack on Titan: Truth will be a spectacular addition to Free Comic Book Day 2017!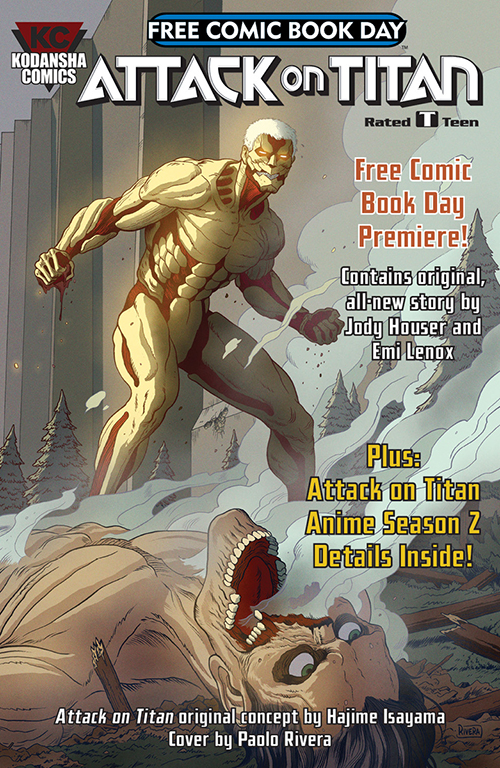 KODANSHA COMICS
(W) Jody Houser
(A) Emi Lenox
(CA) Paolo Rivera
A brand new, never-before-seen story set in the world of manga megahit
Attack on Titan
, written by Jody Houser (
Faith
,
Orphan Black
) with art by Emi Lenox (
Plutona
,
EmiTown
)! Plus, information about the highly-anticipated season two of the anime and more exclusives! [TEEN]
---
Free Comic Book Day: Attack on Titan has been wildly popular, with over 60 million issues of the manga printed—what about this series makes it popular enough to be included in Free Comic Book Day?
Ben Applegate: I think Attack on Titan has struck such a nerve, first of all, because it's a great example of the classic shonen manga formula – a young, impatient hero who can't wait to be free of the constraints in his life and a colorful supporting cast. But it also subverts a lot of readers' expectations of shonen manga. Anyone can die at any time. Heroes give inspiring speeches, then are immediately torn apart horribly. In a lot of these characteristics, I see the influence of American comics like The Walking Dead, and, in fact, io9 has called it "Japan's equivalent" of that comic. Its pacing is also totally explosive. All you have to do is read the first volume to see how different Attack on Titan feels from a typical manga.
Jody Houser: Aside from having a huge fanbase in the US, the Attack on Titan Anthology that was released last year by Kodansha was a unique experiment--American creators getting the chance to play in the world of a Japanese manga series. The FCBD story that I worked on with Emi Lenox and Lee Loughridge is very much a continuation of that experiment, as well as a celebration of the upcoming season two of the anime.
Lee Loughridge: I think you answered the question with your question, I would say 60 million issues warrants inclusion into FCBD
For those who might be unfamiliar, how is manga different from American comics? Why is manga something American comics fans should explore?
BA: In terms of stories and characters, there really isn't much of a difference between American comics and manga anymore. The main difference now is format: Most manga are black-and-white, published only as paperbacks in a smaller size than American comics, and, of course, most comics read right-to-left, the opposite of American comics. But the new generation of comics creators are very much influenced by manga, and I see younger fans reading and talking about Batgirl and Sailor Moon in the same breath. And both manga and American comics have benefited from that. There's never been a wider variety of manga coming out in English, or a better time to start reading it. You'll be in great company, with many of the greatest comics creators working right now. We demonstrated that in a small way with this story and the Attack on Titan Anthology, which featured Titan stories by people like Scott Snyder, Gail Simone, Evan Dorkin, Faith Erin Hicks, and Michael Avon Oeming. For our special editions of the manga, we've had variant covers enthusiastically drawn by Tony Moore, David Mack, and Cameron Stewart. It's a great convergence, and it's creating an explosion of creativity.
LL: Stylistically for me, is a huge reason to explore manga.
What are some of the challenges at making an original story within an ongoing series? How much input does creator Hajime Isayama give on these stories?
BA: The Japanese editors and Isayama were very interested in getting a new perspective of the world of Attack on Titan, so early on they were very hands-off in letting the writers push the boundaries of what could be done with the franchise. Of course, they offered input on pitches and details where it was appropriate, to make sure we were respecting the canon and tone that made Attack on Titan what it is. But I think it was a very collaborative and enjoyable process for everyone.
JH: As someone who has worked on a number of licensed books, I think it's both a challenge and a joy to explore portions of the world we may not get to see in in the main works. While I never spoke directly with Hajime Isayama, I know he approved the story, which is an incredibly cool feeling!
LL: I know on my end I just did what I felt was the best fit artistically.
Why should fans pick your book first on Free Comic Book Day 2017?
BA: This is a brand new, original, officially-authorized Attack on Titan story by the amazing Jody Houser and Emi Lenox, with colors by the great Lee Loughridge. We're premiering it on Free Comic Book Day. It's free (duh). If you're a fan of Titan, or a fan of Jody's comics, like Faith and Rogue One, or Emi's comics, like Plutona and EmiTown, why wouldn't you pick it up?
JH: If you're unfamiliar with Attack on Titan, this story should still work as a stand-alone peek into the world. And if you're a fan of either the anime or the manga, this story is a look at how ordinary citizens live their lives and the role art plays when people are just struggling to survive.
LL: It's Attack on Titan, no arm twisting there.
What got you reading comics? What are some series you're reading today?
BA: I was obsessed with Calvin & Hobbes as a kid, and got into longer comics through Will Eisner. Then I started getting into manga, since I was studying Japanese at the time, particularly classic artists like Osamu Tezuka, Moto Hagio, and Keiko Takemiya, though I also read my share of Love Hina and Great Teacher Onizuka. Today, I'm reading more American comics, including Descender, Paper Girls, Saga, and The Wicked and the Divine, plus some global comics. I'm just starting The Eternaut.
LL: Mad Magazine got me started. I read mainly creator owned comics.
What books would you recommend to new readers and why?
BA: If you mean manga, I think, for SF fans, the holy trinity of cyberpunk is a great place to start: Akira, The Ghost in the Shell, and Battle Angel Alita. If you're into superheroes, Sailor Moon and Attack on Titan will scratch that itch, as will Inuyashiki, which is about an old man with cancer who becomes a cyborg hero. If you prefer comics for adults with more of a Vertigo feel, I can't recommend the historical epic Vinland Saga highly enough. And the list goes on! Feel free to tweet at me with your tastes and I'm happy to give an individual recommendation.
LL: Creator owned because they have a new voice and don't have to exist in a pre-created world.
Why do you think local comic shops are important to the comic book community?
BA: They're more than just places to exchange money for comics. They're the soul that preserves the comics world's traditions. They're the engine of enthusiasm that brings exciting new ideas to readers. And they're one of the places left in a lot of neighborhoods where people who share a unique interest can actually get together, face to face, and talk in real life, free from Twitter trolls and Facebook flame wars!
JH: Comic shops are very much on the front lines of our industry. The books that they order and recommend to their customers determine what books succeed and fail in the market. Not to mention a good comic shop can make a newcomer a reader for life by making them feel welcome.
LL: Without comic shops the comics industry would collapse. We owe them everything.
---
Where do you plan to spend Free Comic Book Day 2017?
BA: I'll be starting at my local comic shop, Montasy Comics in Forest Hills, NY, then probably heading into the city to hit a few other spots. I hope everyone has a great time!
LL: Not sure yet, most likely Beach Ball Comics in Huntington Beach Ca.