Russo Brother to Produce Valiant's Quantum and Woody TV Series
Mar 17, 2017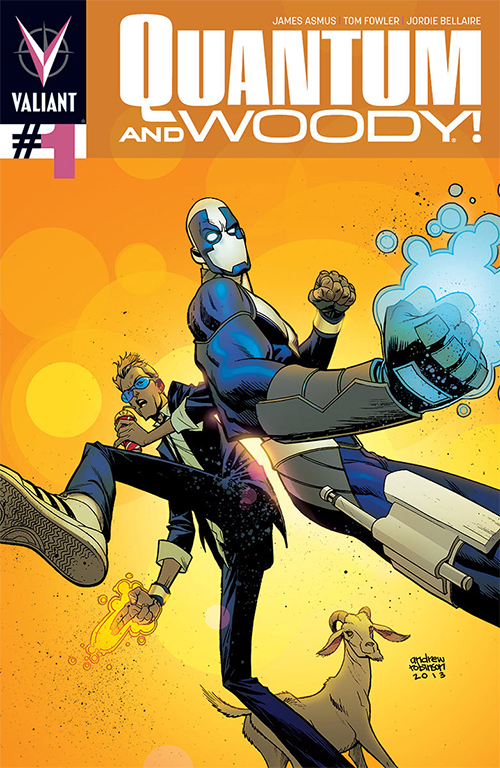 Valiant Entertainment's Quantum & Woody head to television shepherded by some of comics' greatest talent: the Russo Brothers, who were responsible for Captain America: The Winter Soldier, Civil War, and the upcoming Avengers: Infinity War. Along with the Russo Brothers, Mike Larocca and Valiant's Dinesh Shamdasani will be executive producers on the series, along with Ant-Man screenwriters Andrew Barrer and Gabriel Ferrari.
Quantum & Woody launched in 1997, created by Christopher Priest (Black Panther) and M. D. Bright (Power Man and Iron Fist), as a fun comedic superhero title. Following two estranged interracial brothers, the series picks up with the mysterious death of their father--when they're forced to work together to investigate, they're accidentally imbibed with powers, starting them off on their journey as "the world's worst superhero team."
Valiant's film and television slate continues to grow with Quantum & Woody now in play, which joins Harbinger and Bloodshot in development at Sony Pictures, along with feature films for Archer & Armstrong and Shadowman. Quantum & Woody relaunched in 2013 with James Asmus and Tom Fowler and was the most nominated series at the 2014 Harvey Awards.
To get ready for the Quantum & Woody television series, stop by your local comic store to get these comics available now!
---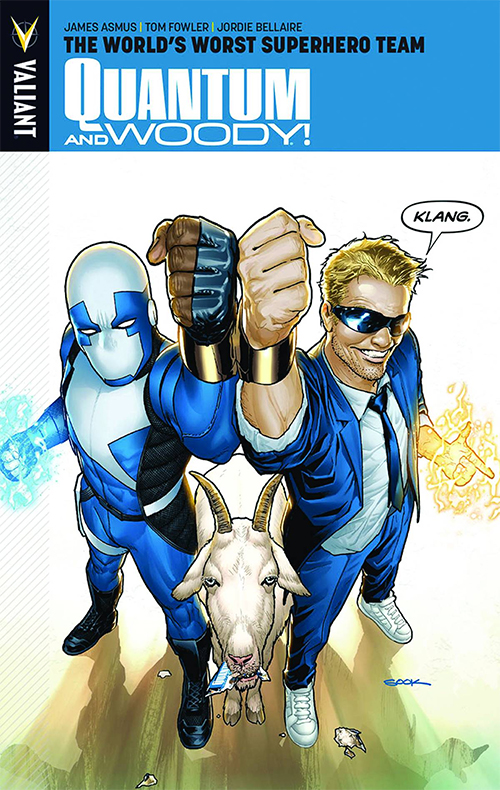 QUANTUM & WOODY VOL 1: WORLD'S WORST SUPERHERO TEAM
SEP131374
VALIANT ENTERTAINMENT
(W) James Asmus
(A) Tom Fowler
(CA) Ryan Sook
Those guys are the worst.

Once upon a time, Eric and Woody Henderson were inseparable. Adopted brothers. Best friends. Brilliant minds. Years later, they are estranged siblings, petty rivals, and washed-up failures. But when their father's murder leads them into the throes of a life-altering scientific accident, Eric and Woody will find themselves with a whole new purpose - and a perfectly legitimate reason to wear costumes and fight crime. Go big or go home, folks! Quantum and Woody are coming! (And, yes, there is a goat too.) Collecting QUANTUM AND WOODY #1-4 by creators James Asmus (Thief of Thieves) and Tom Fowler (Hulk: Season One), start reading here to jump into the action-packed, zeitgeist-shredding exploitation stunt comic that Comic Book Resources calls "yet another critically acclaimed hit for Valiant Comics."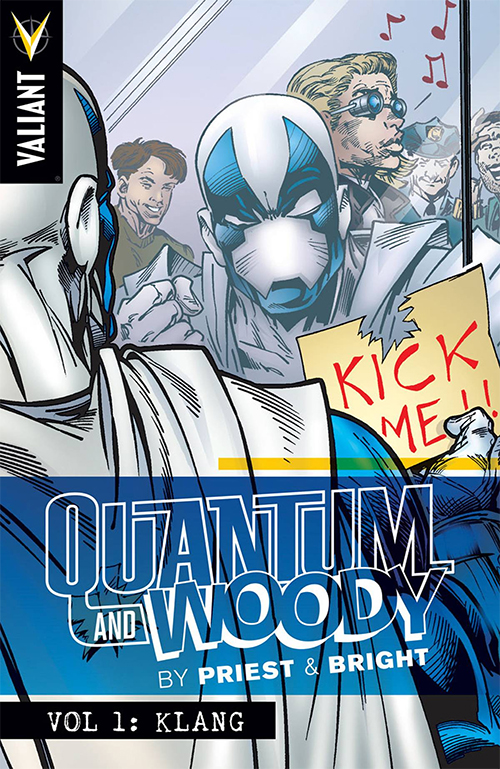 PRIEST & BRIGHT'S QUANTUM & WOODY VOL 1: KLANG
APR151788
VALIANT ENTERTAINMENT
(W) Christopher Priest
(A) MD Bright & Various
(CA) MD Bright, Greg Adams
The complete collected adventures of the original world's worst superhero team - now in trade paperback! Re-presenting the seminal series from legendary creators Christopher Priest (Black Panther, Deadpool) and MD Bright (Green Lantern, Iron Man) one volume at time, discover the groundbreaking series that Kotaku calls "one of the funniest superhero comics ever" with an all-new edition collecting Quantum and Woody's origin and disastrous early adventures!

Sometimes the best friends make the worst partners. Once inseparable, childhood friends Eric Henderson and Woody Van Chelton haven't seen each other in years. Reunited by the mysterious deaths of their research scientist fathers, the unlikely duo find themselves stuck together all over again when a catastrophic lab accident transforms their bodies into pure energy - energy that will completely dissipate if they don't "klang!" their control bands together every 24-hours! Now, armed with an array of high-tech gadgets...and two horribly mismatched personalities...and a goat for a sidekick...this pair of misfits has decided to set the world straight as the world's worst superhero team, Quantum and Woody...if they can manage to quit fighting each other first!

Collecting Quantum and Woody (1997) #0-7, plus rarely seen materials and extras from Quantum and Woody:The Director's Cut TP
Q2: THE RETURN OF QUANTUM & WOODY
FEB151679
VALIANT ENTERTAINMENT
(W) Christopher Priest
(A) MD Bright & Various
(CA) MD Bright
The most demanded return in comics is fi nally here! The original Quantum and Woody are back! Legendary creators Christopher Priest (Black Panther) and MD Bright (Iron Man) return to one of the most acclaimed series of the modern era for an all-new mini-series!

Whatever happened to the world's worst superhero team? Twenty years past their prime, the unlikely crime-fi ghting duo known as Quantum and Woody (not a couple) have long since parted ways...until a middle-aged Quantum suddenly reappears with a brand-new teenage partner. Now Woody is out to break up the all-new, all-different Quantum and Woody and put an end to Quantum's recklessness...just as Quantum takes on a life-or-death personal mission for national security. Can these former friends set aside their differences...and their age...and their numerous health difficulties...to join forces one last time without driving each other crazy?

Collecting Q2: THE RETURN OF QUANTUM AND WOODY #1-5 in a deluxe, oversized hardcover format for a perfect shelf companion to the QUANTUM AND WOODY: THE COMPLETE CLASSIC OMNIBUS!
---
Be sure to find all of these at your local comic shop and be sure to check out Valiant Entertainment's Free Comic Book Day comic on Saturday, May 6th! If you're not sure where your local comic shop is, use the Comic Shop Locator Service.