New American Gods Trailer Releases Same Day as Comic Book Adaptation
Mar 15, 2017
American Gods is a Hugo and Nebula Award-winning book by acclaimed author Neil Gaiman. The story pits the Old Gods of ancient mythology against the new gods that formed in modern society: Technical Boy and Media, among others. Shadow Moon, the protagonist, finds himself employed by an enigmatic man named Wednesday, who offers Shadow a job after being released from prison after Shadow's wife Laura is killed.
Gaiman's novel received critical acclaim, winning numerous awards and was chosen as the launch book for the "One Book, One Twitter" worldwide book club. In 2014, Starz announced they would be adapting the series to television, with Bryan Fuller (Hannibal, Pushing Daisies) and Michael Green (Logan, Alien: Covenant) leading development.
The series stars Ricky White (Shadow Moon), Ian McShane (Mr. Wednesday), Yetide Badaki (Bilquis), Bruce Langley (Technical Boy), Jonathan Tucker (Low Key Lyesmith), Crispin Glover (Mr. World), Peter Stormare (Cznerobog), Chris Obi (Mr. Jacquel), Gillian Anderson (Media), and Kristin Chenoweth (Easter)--it premieres on April 30th.
Fans of the book won't have to wait now for new material, however, as Dark Horse Comics publishes the comic book adaptation of this acclaimed series. March 15 saw the release of Neil Gaiman's American Gods: Shadows #1, available at your local comic store now.
---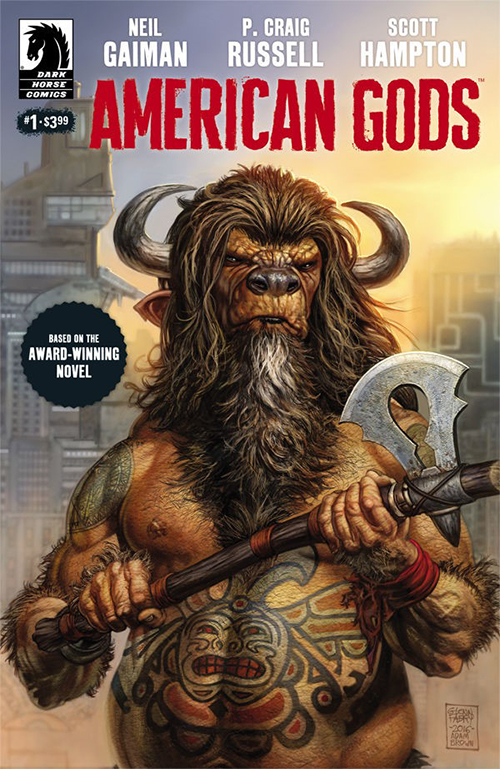 NEIL GAIMAN'S AMERICAN CODS: SHADOWS #1
JAN170096
DARK HORSE COMICS
(W) Neil Gaiman, P. Craig Russell
(A) P. Craig Russell
(CA) Glenn Fabry
NEIL GAIMAN! P. CRAIG RUSSELL! SCOTT HAMPTON! Shadow Moon just got out of jail, only to discover his wife is dead. Defeated, broke, and uncertain as to where to go from here, he meets the mysterious Mr. Wednesday, who employs him to serve as his bodyguard - thrusting Shadow into a deadly world of the supernatural, where ghosts of the past come back from the dead, and a brewing war between old and new gods hits a boiling point. The Hugo, Bram Stoker, Locus, World Fantasy, and Nebula award-winning novel and upcoming Starz television series by Neil Gaiman is adapted as a comic series for the first time!
---
Be sure to find all of these at your local comic shop! If you're not sure where your local comic shop is, use the Comic Shop Locator Service.