Wonder Woman Ends the Reign of Terror in New Wonder Woman Trailer
Mar 13, 2017
The new Wonder Woman trailer dropped during Nickelodeon's Kids Choice Awards, showing off the DC Universe's greatest heroine as she journeys to save man's world. Wonder Woman is the highly anticipated new film in DC's Extended Universe. It's a prequel of sorts, taking place well before Man of Steel, Batman vs. Superman, and Suicide Squad.
The trailer gives us our first in-depth look at Diana's home of Themyscira and her mother Hippolyta. The Spartan training Wonder Woman endures, the pivotal moment she brings her gauntlets together, and the display of Wonder Woman's equipment all showcase the "Origin" the trailer promotes. It's hard to tell which origin DC has chosen for Wonder Woman, but with her powers exhibited from the gauntlets, we're guessing this iteration of Wonder Woman will follow that she's the daughter of Zeus.
Though the big bad has yet to be revealed for the film, few details have emerged about General Erich Ludendorff, the ambitious WWI general, and Maru who appear to be on the forefront of biological warfare. Steve Trevor says the residents of Themyscira are in more danger than they realize and it's still unclear exactly why. Hopefully we'll get one more trailer before the premiere in June that'll illuminate more of the conflict. As it stands, we're incredibly excited for Wonder Woman!
Wonder Woman releases on June 2, 2017 after Free Comic Book Day and stars Gal Gadot (Diana Prince/Wonder Woman), Chris Pine (Steve Trevor), Connie Nielsen (Queen Hippolyta), Robin Wright (General Antiope), Danny Huston (General Erich Ludendorff), Elena Anaya (Maru), and Lucy Davis (Etta Candy). Directed by Patty Jenkins, the film is based on Wonder Woman from DC Entertainment.
Be sure to stop by your local comic shop to see all the amazing Wonder Woman comics available now to learn more about the character.
---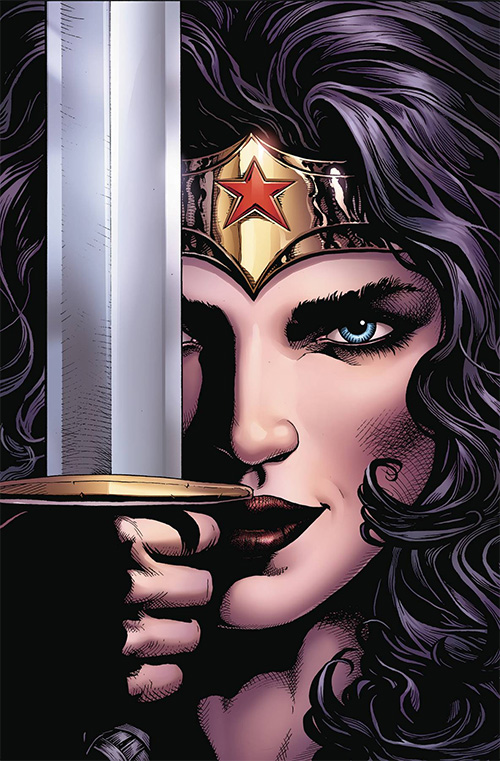 WONDER WOMAN VOL 1: THE LIES
NOV160320
DC COMICS
(W) Greg Rucka
(A) Liam Sharp & Various
(CA) Liam Sharp
New York Times best-selling writer Greg Rucka returns to WONDER WOMAN! After suffering an unimaginable loss, Diana must rebuild her mission as Earth's ultimate protector and champion. However, in the midst of her grief, her Lasso of Truth stopped working! Start down the rabbit hole as dark secrets from Wonder Woman's past unravel her present! This new title collects WONDER WOMAN #1, 3, 5, 7, 9 and 11, plus WONDER WOMAN: REBIRTH #1.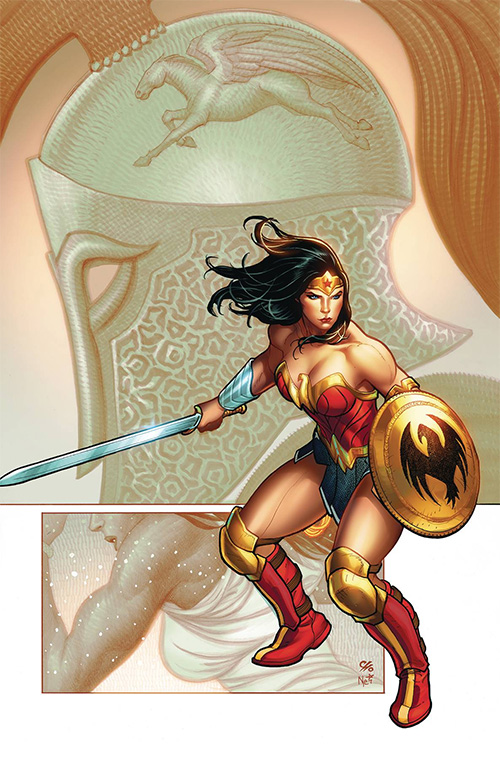 WONDER WOMAN: HER GREATEST BATTLES
NOV160343
DC COMICS
(W/A) George Perez & Various
(CA) Frank Cho
This new collection brings together the biggest and most unforgettable battles in Wonder Woman's history as a DC Comics superhero, as she battles Ares, Cheetah, Medusa and more!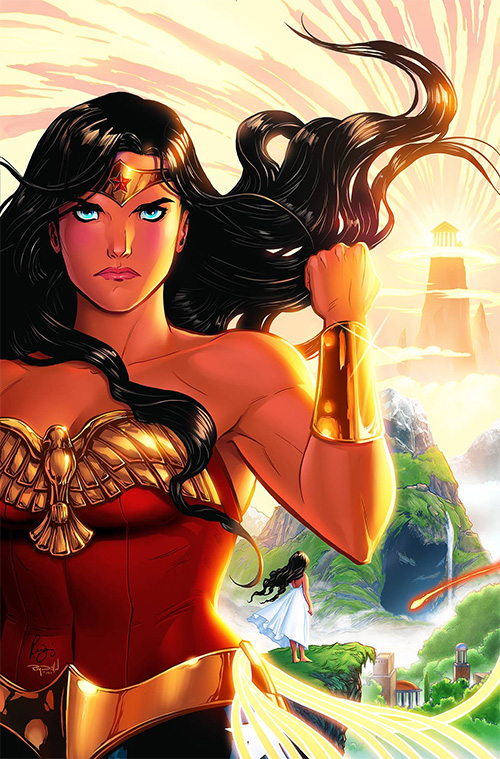 THE LEGEND OF WONDER WOMAN
AUG160332
DC COMICS
(W) Renae De Liz
(A/CA) Renae De Liz, Ray Dillon
The new WONDER WOMAN 9-issue miniseries written and pencilled by Renae De Liz is collected here! In the beginning there was only chaos. But Hippolyta, Queen of the Amazons, saw a better future-and eventually her daughter would be destined to bring that new world to life! Before her ultimate fate unfolds though, Diana of Themyscira must learn the important lessons of an Amazonian childhood!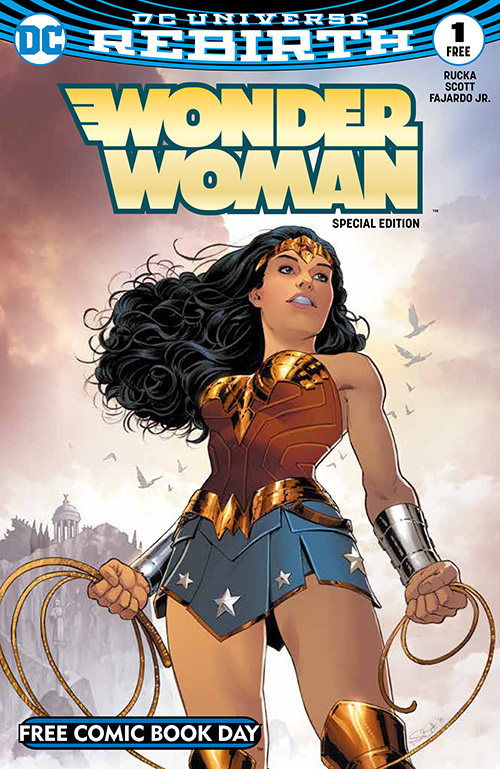 WONDER WOMAN #1 FCBD 2017 EDITION
JAN170005
This will be available on Saturday, May 6th, 2017!
DC COMICS
(W) Greg Rucka
(A) Nicola Scott
New York Times-bestselling writer Greg Rucka and fan-favorite artist Nicola Scott weave the definitive and shocking tale of Diana's first year as Earth's protector. Paradise has been breached, Ares stirs, and the Amazons must answer with a champion of their own... one who is willing to sacrifice her home amongst her sisters to save a world she has never seen. Wonder Woman's journey begins in this epic origin story! [TEEN]
---
Be sure to find all of these at your local comic shop! If you're not sure where your local comic shop is, use the Comic Shop Locator Service.