Scott and David Tipton Tell Us About The "Dark And Distorted" Mirror Universe
Mar 14, 2017
We sat down with writers Scott Tipton and David Tipton to talk about their Free Comic Book Day comic, Star Trek The Next Generation: Mirror Broken. This comic is based on the episode from Star Trek titled Mirror, Mirror in which the crew is stuck in another universe with dark versions of themselves! Star Trek The Next Generation: Mirror Broken is a classic addition to Free Comic Book Day 2017!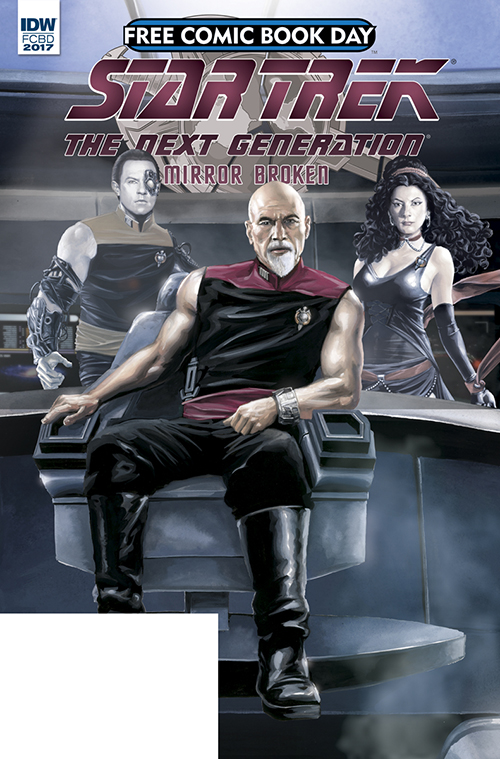 FCBD 2017 STAR TREK TNG MIRROR BROKEN
JAN170006
IDW PUBLISHING
(W) Scott Tipton, David Tipton
(A, CA) J. K. Woodward

Space... The Final Frontier. These are the voyages of the I.S.S. Enterprise. Its continuing mission: to conquer strange new worlds, to enslave new life and new civilizations... to boldly go where no one has gone before! Return to the Mirror Universe with the Next Generation crew in a way you've never seen them before in this prequel to the upcoming Star Trek: The Next Generation miniseries, Mirror Broken! Captain Jean-Luc Picard will stop at nothing to get his hands on the Terran Empire's newest starship, the Enterprise-D. And no one had better stand in his way! [ALL AGES]
---
Free Comic Book Day: For those of us who might be confused hearing about the "I.S.S. Enterprise," can you give us a quick rundown of what the Mirror Universe is and who we'll see in this comic?
Scott Tipton: In the original Star Trek series of the 1960s, in the episode "Mirror Mirror," Captain Kirk and his crew, following a transporter accident, find themselves trapped in a parallel universe, familiar, but very different. There they serve not in a peace-loving United Federation of Planets, but under a vicious, conquering Terran Empire, in which they explore the galaxy not in search of new life and new civilizations, but for resources to steal and planets to rule.
David Tipton: People in this parallel universe are typically more self-centered and aggressive. It's known informally as the "Mirror Universe" because the people there seem to be mirror reflections: not necessarily always exact opposites, but more like dark and somehow distorted versions of the people we know from our own universe. Even institutions are distorted in the Mirror Universe: the Federation there was an aggressive, expansionistic Terran Empire. That Empire collapsed after Mirror Spock tried to reform it. In the aftermath of that collapse, the Cardassians and Klingons are ascendant.
The Next Generation crew never got to experience the Mirror Universe on television—the Mirror Universe only appeared in Star Trek, Deep Space Nine, and Enterprise. Why bring the Mirror Universe to this crew?
ST: That's exactly the reason: The Next Generation cast is second only to The Original Series in terms of popularity, and yet we've never seen the Mirror versions of these characters and how they would interact. It's completely unbroken ground, and a real joy to figure out.
DT: "Mirror Broken" establishes that the Terran Empire survives in a small way, reduced in size and bottled up by the Cardassians and Klingons to the constraints of Earth's solar system. This series shows what happens to what remains of the Terran Empire during the time of Star Trek: The Next Generation. "Mirror Broken" provides an opportunity to show some of the continuity between the Original Series episode "Mirror, Mirror" and the later appearances of the Mirror Universe in Deep Space 9 and Enterprise, and to see what the Mirror versions of Next Generation characters were like.
Which character was your favorite to show in the Mirror Universe and why?
ST: We elected to use Dwight Schultz's hapless character Lt. Barclay as our way into the story in the FCBD story, and I'm so glad we did. Our Barclay being so opposite from his somewhat submissive parallel-universe counterpart was the perfect way to illustrate how different things are. It's also been very interesting to find ways for Data to function in this very different environment.
DT: The Mirror version of Data is a particularly unique character. While he shares much of the backstory and characteristics of the Data we're accustomed to, the Mirror version of Data has a different set of motivations that develop in interesting ways as the story progresses.
What got you reading comics? What are some series you're reading today?
ST: The first comic book I remember reading was Spidey Super Stories #6, featuring the Iceman, and not long after my parents bought me the Superman and Batman From the '30s to the '70s hardcover collections, and that was it for me; after that I was reading every comic I could get my hands on. These days my favorite series include Future Quest, Harley Quinn, and All-Star Batman from DC, Avengers, Champions and Amazing Spider-Man at Marvel, Saga from Image and Batman/Teenage Mutant Ninja Turtles Adventures, ROM and Jem and the Holograms: The Misfits at IDW. I tend to like comics that have a classic Silver Age style but also feel modern and current, and I'm a sucker for a slightly cartoony art style. Jenn St. Onge on The Misfits in particular is blowing me away these days.
DT: I love Bronze Age comics. All the Marvel, DC, and independent stuff from 1970 through the mid-1980s has been extraordinarily influential and echoes throughout popular culture today. Just a few books I might suggest right now; 1970s Dr. Strange…also The Defenders. Read some Steve Gerber! Read his Howard the Duck books. Steve Gerber, by the way, co-wrote one of my favorite Star Trek: The Next Generation episodes: "Contagion." Read some Bill Mantlo books: Micronauts, ROM, etc.
What books would you recommend to new readers and why?
ST: It really depends what their tastes are in books, television and film. Comics are like everything else; not everything is for everyone, but there's so much great work out there, there's definitely something for everyone. If someone likes fantasy or Harry Potter, I'll usually point them toward some Neil Gaiman. If they're more of a crime buff, then Ed Brubaker's work is a solid suggestion. And if they're drawn in by the Marvel Studios films, I tend to go right to the source: Lee, Kirby and Ditko, or Claremont, Byrne and Starlin.
Why do you think Free Comic Book Day is important to the comic book community?
ST: It's all about outreach; a chance to get our work in front of fresh eyes who may not have seen it, may not even know that comic books are still being published, and introduce these people to all the good work that's been published over the decades, and is still being created every day. It's our chance to put our best foot forward.
DT: I'm always impressed at how many people come out for it, and how it brings people together. It also brings out people of all ages. I especially like seeing how it brings in new readers.
Why do you think local comic shops are important to the comic book community?
ST: They're the most important thing of all: that direct line to your readers that keeps them coming back week after week. The best comic shops will not only make sure their customers get the books they're looking for, but also be continually exposing them to new voices, new ideas, broadening their tastes while they continue to cultivate the old favorites. The comic shop in your town is every comic-book creator's best friend.
DT: There is no other resource that compares to local comic shops. People make connections and learn about new books to read in local shops, and that doesn't happen anyplace else. They are typically communities themselves.
---
Where do you plan to spend Free Comic Book Day 2017?
ST: I'll be where I always am, at the shop I own in North Hollywood, California, BLASTOFF COMICS! Besides plenty of free comics both new and vintage, we'll be having our usual sale on all trades and hardcovers, the best cosplayers in town and plenty of creator appearances, including my Mirror Broken collaborators David Tipton and J.K. Woodward, just to name a couple!
DT: I'll be at Blastoff Comics in North Hollywood for Free Comic Book Day 2017!