Get Into Comics with Netflix's Iron First
Mar 13, 2017
Marvel's Iron Fist premieres on Netflix on Friday, March 17--are you ready?
In 1974, Roy Thomas and Gil Kane debuted the newest martial arts master to the Marvel Universe with Iron Fist! Thomas had said he and Kan "started Iron Fist because [he] had seen [his] first kung fu movie... and if had a thing called 'the ceremony of the Iron Fist' in it. I thought that was a good name." Iron Fist, or Danny Rand, debuted in Mavel Premiere #15 in May 1974 until he was "killed" in the September 1986 issue of Power Man and Iron Fist, before reappearing in Namor the Sub Mariner in December 1991.
Danny Rand is the son of New York entrepreneur and socialites Wendell Rand and Heather Duncan and comes upon the mystical city of K'un L'un after a tragic expedition with his parents that end in their death. The warriors of K'un L'un take Danny in and train him, until at age 19, he's given the chance to become Iron Fist by defeating the dragon Shou-Lau the Undying. The power of Iron Fist is the greatest source of Chi energy in the Marvel Universe, bestowing superhuman strength to its wielder.
In the Netflix series, Danny returns to New York amidst the changes from the previous Marvel series: Daredevil, Jessica Jones, and Luke Cage. Starring Finn Jones (Iron Fist), Jessica Henwick (Colleen Wing), David Wenham (Harold Meachum), Jessica Stroup (Joy Meachum), Tom Pelphrey (Ward Meachum), and Rosario Dawson (Claire Temple), this is the final solo series before Marvel's The Defenders, premiering later in 2017.
Before seeing Iron Fist--or even after you've seen the series!--make sure you check out all the Iron Fist titles available at your local comic book store to continue discovering the stories of your newest favorite Marvel hero.
---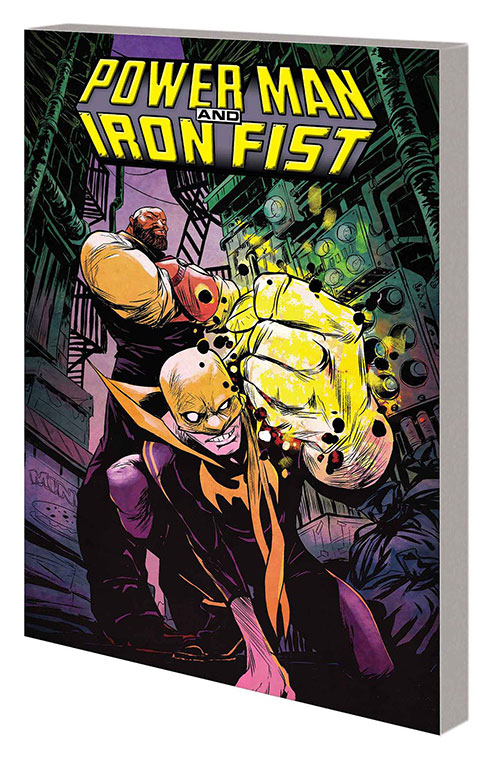 POWER MAN AND IRON FIST VOL 1: THE BOYS ARE BACK IN TOWN
JUN160961
MARVEL COMICS
(W) David Walker
(A) Sanford Greene, Flaviano
(CA) Sanford Greene
The best buddy team in comics, reunited at last! Luke Cage and Danny Rand, the Heroes for Hire turned Avengers, are going back to street-level basics - and there's a mystery to solve that will draw in crime lords, hired goons and old friends! But which of the three pose the most trouble? The Big Apple may end up poisoned by magic unless Luke and Danny can put a stop to whoever is wielding the mystical Supersoul Stone! Business starts to boom, with a flurry of big-hitting, kung-fu-fighting action. But when a second Civil War splits the Marvel Universe down the middle, will Power Man and Iron Fist be on the same side, or will a fine bromance end? Luke brings the power, Danny brings the fists - you bring the snacks!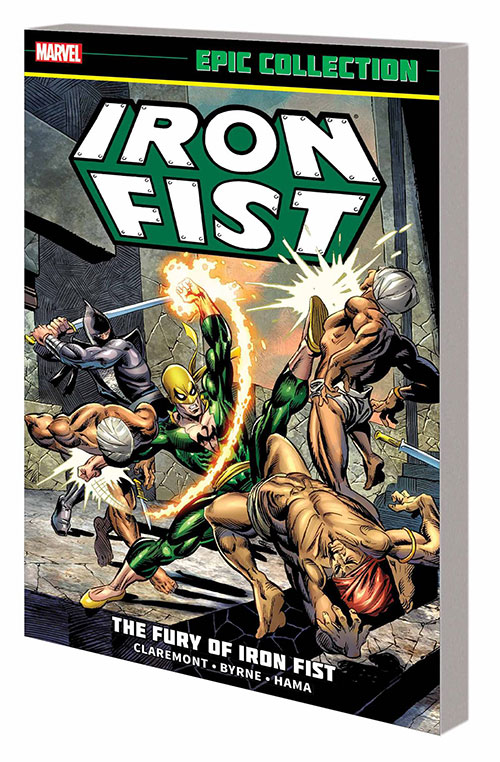 IRON FIST EPIC COLLECTION: THE FURY OF IRON FIST
APR150942
MARVEL COMICS
(W/A) Various
(CA) Gil Kane
A Himalayan expedition to find the mystical city of K'un Lun left nine-year-old Daniel Rand's parents dead, but Daniel found the path to K'un Lun and spent a decade there training under its immortal inhabitants. He became an unmatched master of martial arts and spiritual control; armed with the shattering power of the iron fist, Daniel left immortality behind to set out into the Western world and avenge his parents' deaths. In tales packed with wall-to-wall kung-fu action, Iron Fist runs a gauntlet through the Kara-Kai death cult, ninja adversaries and mystic dimensions - joined by Misty Knight and Colleen Wing. Iron Fist's skill in both mind and body will be tested - until his final showdown with the Steel Serpent! Collecting MARVEL PREMIERE #15-25, IRON FIST (1975) #1-15 and MARVEL TEAM-UP (1972) #63-64.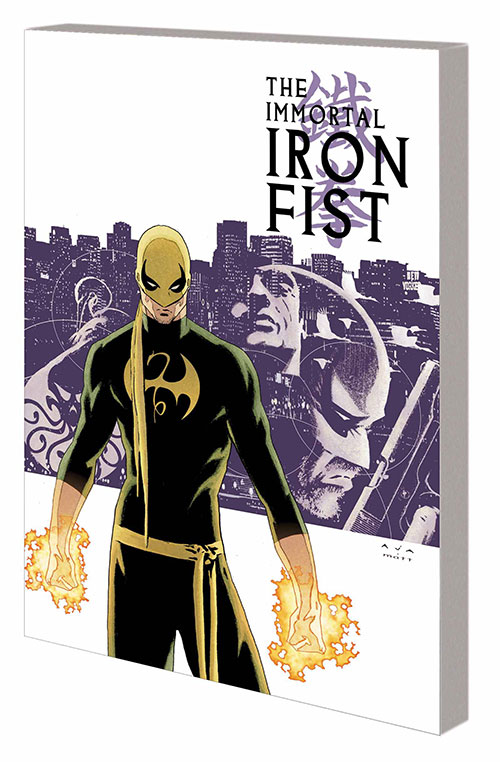 IMMORTAL IRON FIST COMPLETE COLLECTION VOL 1
SEP130808
MARVEL COMICS
(W) Ed Brubaker, Matt Fraction
(A) Various
(CA) David Aja
Experience a new kind of Iron Fist story, steeped in legends and fables stretching back through the centuries! Orphaned as a child and raised in the lost city of K'un Lun, Danny Rand returned to America as the mystical martial artist Iron Fist - but all his kung-fu skills can't help him find his place in the modern world. After learning the legacy of the Iron Fist holds more secrets than he ever dreamed, Danny is invited to fight in a tournament against the Immortal Weapons. At stake is the life of his friend, the legacy of his father and mentor - and the future of K'un Lun! Collecting IMMORTAL IRON FIST #1-16 and ANNUAL #1, IMMORTAL IRON FIST: ORSON RANDALL AND THE GREEN MIST OF DEATH #1, and material from IMMORTAL IRON FIST: THE ORIGIN OF DANNY RAND #1 and CIVIL WAR: CHOOSING SIDES #1.
---
Be sure to find all of these at your local comic shop! If you're not sure where your local comic shop is, use the Comic Shop Locator Service.