Class is Back In Session with New DC Super Hero Girls: Intergalactic Games Trailer
Mar 11, 2017
DC Entertainment released the trailer for DC Super Hero Girls: Intergalactic Games on IGN and we couldn't be more excited!
A sequel to the popular DC Super Hero Girls: Hero of the Year, Intergalactic Games features the adventures of Wonder Woman, Supergirl, and Batgirl as they navigate their way through Super Hero High. Our amazing heroes represent Super Hero High in the Intergalactic Games--a friendly competition created in an attempt to foster peace throughout the galaxy; however, when you have Super Heroes competing against the likes of Kroguar Academy and the Female Furies, things can get more than a little heated. Even as our heroes battle to come out on top, one of the teams has a sinister ulterior motive for joining the festivities.
The trailer shows off both of the opposing teams. Led by Sinestro and featuring the crest of the Sinestro Corps, the Kroguar Academy has a lineup of our favorite Green Lantern villains, including Bleez and Razer. More fearsome than the delegation from Kroguar Academy is the one from Apokalips led by none other than Granny Goodness.
DC Super Hero Girls: Intergalactic Games releases on May 9, 2017 after Free Comic Book Day and stars Grey Griffin (Wonder Woman), Anais Fairweather (Supergirl), Mae Whitman (Batgirl), Tara Strong (Harley Quinn), and Teala Dunn (Bumblebee). Directed by Jennifer Coyle, the film is based on the popular DC Super Hero Girls franchise from DC Entertainment aimed at giving young girls role models they've never had before.
Before checking out DC Super Hero Girls: Intergalactic Games, stop by your local comic shop to see all the amazing DC Super Hero Girls comics available now.
---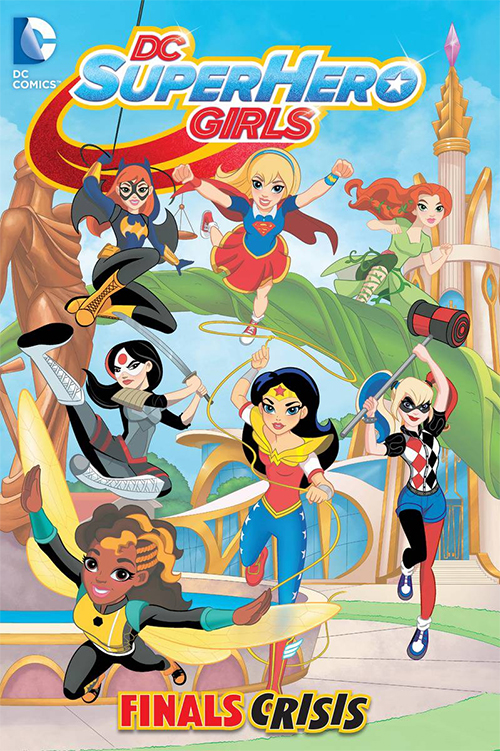 DC SUPER HERO GIRLS VOL 1 FINALS CRISIS
APR160322
DC COMICS
(W) Shea Fontana
(A/CA) Yancy LAbat
Preparing for high school exams is hard enough, but at Super Hero High, even the tests are super-tough! Principal Waller keeps an eagle eye on her students, drilling them in math, science, literature-and other subjects like flying and powers! And no one wants to fail, because Principal Waller hands out detention faster than a speeding bullet. In the first-ever all ages DC Super Hero Girls original graphic novel, Supergirl, Wonder Woman, Bumblebee, Batgirl, Harley Quinn, Katana, and Poison Ivy are studying hard-well, maybe not Harley Quinn- when they are each abducted by a mysterious villain! Will the students outsmart their captor, save Gotham City, and still pass their finals?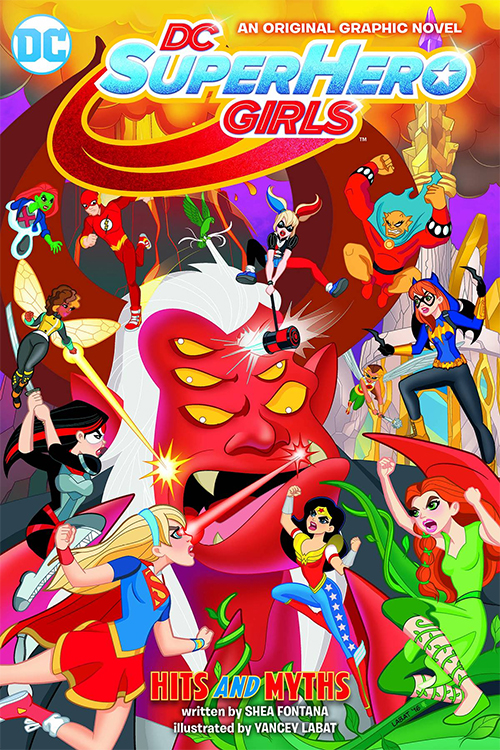 DC SUPER HERO GIRLS VOL 2 HITS AND MYTHS
AUG160270
DC COMICS
(W) Shea Fontana
(A/CA) Yancy Labat
"Intro to Epics" is one of Wonder Woman's favorite classes at DC Super Hero High, but even for an overachiever, balancing high school literature assignments with learning to be a superhero can be tough. But you know what they say about learning-experience is the best teacher! So when Wonder Woman, Batgirl, Supergirl, Bumblebee, Poison Ivy, Katana, and Harley Quinn fight a cyclops, a witch, and a bevy of sirens, they're sure to learn a thing or two about The Odyssey-if they survive their epic battle in the underworld!
DC SUPER HERO GIRLS: SUMMER OLYMPUS #1 FCBD 2017 EDITION
JAN170023
This issue releases on Free Comic Book Day--Saturday, May 6.
DC COMICS
(W) Shea Fontana
(A/CA) Yancy Labat
DC Super Hero Girls is an exciting new universe of superhero storytelling that builds character and confidence and empowers girls to discover their true potential. This special FCBD issue features an exciting, action-packed story from the upcoming original graphic novel DC Super Hero Girls: Summer Olympus that readers of all ages will enjoy. [ALL AGES]
---
Be sure to find all of these at your local comic shop! If you're not sure where your local comic shop is, use the Comic Shop Locator Service.