Steven Universe Coming to Consoles with a New Video Game
Mar 10, 2017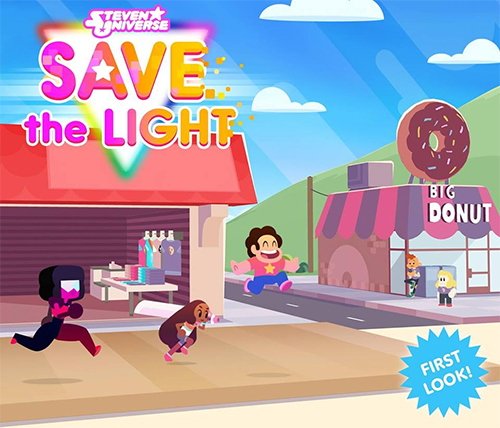 Cartoon Network announced in a Facebook post on March 9 that the fan-favorite Steven Universe would premiere with an all new console video game called Save the Light! The game, produced by Grumpyface Studios, is a sequel to the mobile game Attack the Light and will feature a new story from creator Rebecca Sugar.
In an interview, Grumpyface's Founder and Creative Director Chris Graham said, "This time around we're featuring an updated battle system with fully customizable character selection, more emphasis on exploration and puzzle-solving in 3D environments, and an all-new story from the brilliant Rebecca Sugar and her Steven Universe show team. Best of all: Save the Light has been designed to serve as an entry-point for players unfamiliar with Steven Universe, while also giving super-fans new surprises and insights into the show's captivating world and lore."
Steven Universe follows the adventures of Steven Universe and the Crystal Gems, extraterrestrial warriors dedicated to protecting the Earth. Joined by his father Greg and his human friend Connie, Steven sets out to learn to become a part of the team and protect his friends and family as he discovers the secrets of his late mother, the Crystal Gem Leader: Rose Quartz.
Attack the Light is a tactical mobile game, also produced by Grumpyface Studios with an original story by Sugar. When the Crystal Gems return from a mission with a Light Prism--an ancient Gem weapon where Gems could control soldiers made of solid light. Seven lights break free from their prison and Steven and the Crystal Gems must work together to collect them. Along the way, they discover that the light was actually fighting for Steven all along, thinking he was their master.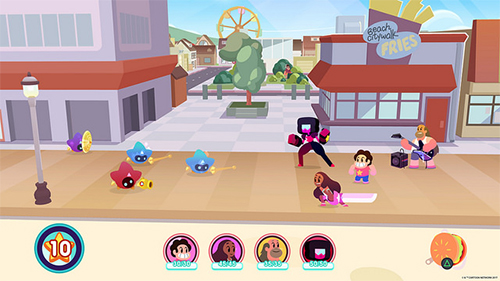 From the stills released, it's hard to see more on the plot, but fans can get excited for Greg and Connie to join the battle. They were previously unavailable in Attack the Light. Pearl and Amythest--two of the Crystal Gems--are also absent from the stills, as are Gems Peridot and Lapis Lazuli. At the time of Attack the Light's release, Steven Universe just concluded its second season, when Peridot and Lapis Lazuli had yet to join the Crystal Gems.
Fans won't have to wait for new Steven Universe stories before Save the Light releases this summer! You can check out all-new Steven Universe stories from BOOM! Studios in comic shops today.
---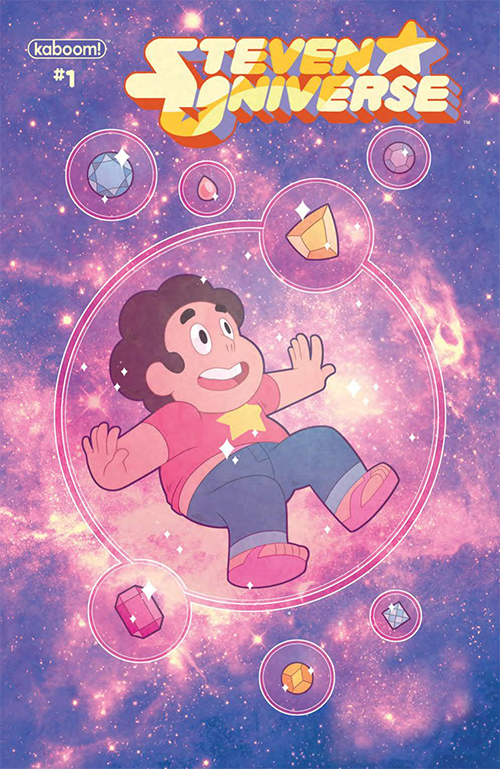 STEVEN UNIVERSE #1
DEC161362
BOOM! STUDIOS
(W) Melanie Gillman
(A) Katy Farina
(CA) Missy Pena
We're bringing Steven Universe back to comic books with more Steven, more gems, and more of the characters we all love in an all-new ongoing series! Writer Melanie Gillman (As the Crow Flies) and artist Katy Farina (The Amazing World of Gumball) are teaming up for the start of a new adventure for the entire gang. Based on Cartoon Network's Emmy-nominated series, created by The New York Times best-selling author Rebecca Sugar, Steven Universe follows Steven, the "little brother" to a team of magical guardians of humanity-the Crystal Gems. The show is currently in its fourth season and has earned millions of fans of all ages worldwide. In this kickoff issue, Steven, Lapis, and Peridot rescue a baby songbird on the ground outside the barn and work together to reunite it with its mother.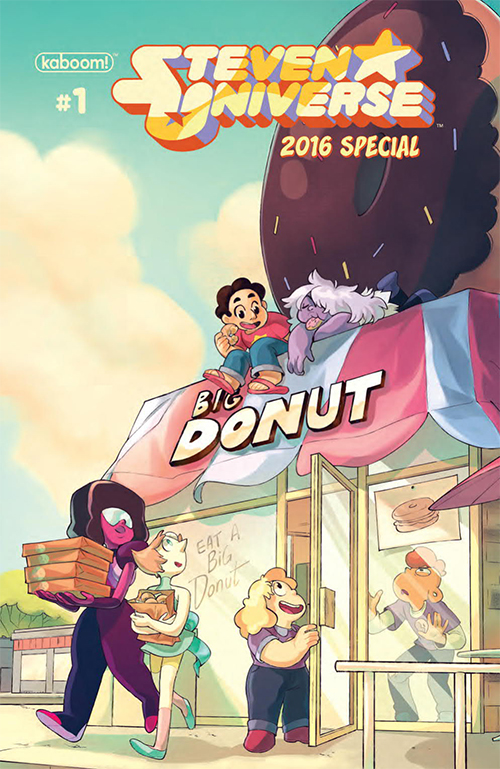 STEVEN UNIVERSE 2016 SPECIAL #1
OCT161288
BOOM! STUDIOS
(W) Ayme Sotuyo, T. Zysk, Queenie Chan, Sara Talmadge, Katie Jones, Nicole Andelfinger
(A) T. Zysk, Queenie Chan, Sara Talmadge, Katie Jones, Cara McGee
(A/CA) Ayme Sotuyo
This is it! The Big Donut Special! This special one-shot focuses on Lars, Sadie, the citizens of Beach City, and the Crystal Gems as they hang out at their favorite donut place. Featuring off-model stories, and alternative portrayals of Steven and the entire gang. 40 pages of story and art!
STEVEN UNIVERSE AND THE CRYSTAL GEMS
AUG161334
BOOM! STUDIOS
(W) Josceline Fenton
(A) Chrystin Garland
(CA) Kat Leyh
An all-new Steven Universe adventure! The Gems tell Steven a spooky story about a monster who turns bad Gems into glass and shatters them. Pearl assures a terrified Steven that it's just a story, but suddenly people around Beach City start turning up frozen in glass... Collects the complete four-issue limited series.
---
Be sure to find all of these at your local comic shop! If you're not sure where your local comic shop is, use the Comic Shop Locator Service.