Logan Takes Liberties from the Comics and Creates a Thoroughly Enjoyable Film
Mar 10, 2017
Warning! Spoilers ahead.
Here at Free Comic Book Day, we're all about the comics! We wouldn't have all the amazing films and television shows we have today without the original sources of inspiration: the printed comics slaved over by the creators and publishers. For Logan, we can thank Marvel Comics' Mark Millar and Steve McNiven for the 2008 series Old Man Logan.
It was from that script that James Mangold began writing a treatent for the last standalone filme featuring the incredible Hugh Jackman as, arguably, the X-Men's greatest and most famous character Wolverine. Jackman is one of those few rarities in comics where, even though he's not physically like the character (Wolverine's fairly short), he brings the feral temperment and softened interior to beautifully portray Wolverine.
Here are some of the major differences between Logan and the comics and how those changes impact the film: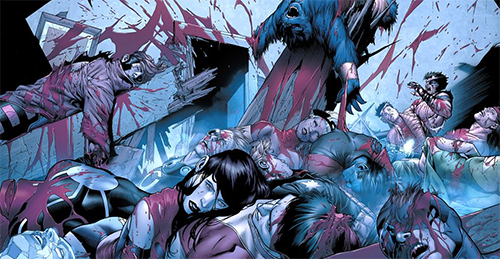 1. Logan isn't the one that kills the X-Men.
In Old Man Logan, the future United States is ruled over by a cabal of "supervillain landlords" including the Abomination, Magneto, Doctor Doom, and Red Skull, though the Hulk and Kingpin overthrow Abomination and Magneto respectively. This happens after nearly all the heroes on the planet are killed within a short period of time as supervillains work together to weed out their adversaries.
For the X-Men, Wolverine awakes to find a group of 40 supervillains attacking the mansion--when he can't find his teammates, he resolves to do what he does best to ensure the safety of the children in the mansion and kills them all. It isn't until after he's finished that he discovers it was an elaborate ruse by Mysterio and Wolverine actually murdered his comrades. It's the consuming guilt after this tragic turn of events that causes Logan to hang up his claws and asset over and over again that "Wolverine died that night."
In Logan, we're never shown completely what happens to the X-Men. It's clear from the brief mention of the "Westchester Incident" and the destructive nature of Professor X's ailing mind in the casino, along with his heartfelt realization before being killed that he did something terrible, that Professor X was the one who secured the end of the X-Men. By choosing not to show what happened, we're left wondering how it would be possible for the Professor to cause such devastation when the likes of Jean Grey are alive again after the events of Days of Future Past.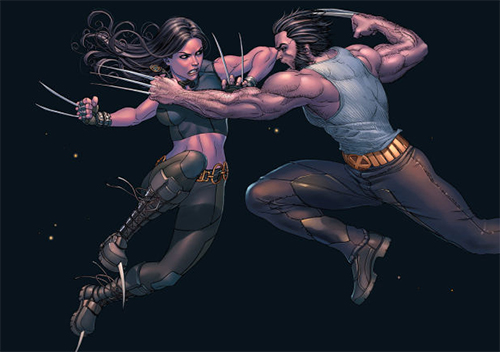 2. Laura Kinney and Weapon X changes.
The original Weapon X Program was an offshoot of the Weapon Plus program, a United States super-soldier program trying to recreate the success of Captain America. With Weapon X, heroes like Wolverine, Sabretooth, and Silver Fox were used as test subjects to enhance their powers. Of the Weapon X successes, Wolverine was by far the most important, so much that afterwards they attempted to clone Wolverine and build on their initial success with him. This is where Laura Kinney gets her name as X-23 in the comics: she's the 23rd attempt to successfully clone Wolverine, created in "The Facility" run by Dr. Zander Rice. Laura doesn't end up meeting Wolverine until she's a young adult in the comics.
In Logan, Laura's origin is fairly similar, except there are multiple other X-23 mutant projects. In this future, Transigen controlled mutation by adding chemicals to corn syrup and then made new mutants using genetic matierals from previously deceased mutants. This overly complicated scientific explanation for why there are so few mutants left raises more questions than it answers, along with the fact that a Nurse was able to successfully stage an escape for the kids while documenting what was going on on her smartphone. Another experiment of the X-23 project in the film is Rictor, who wasn't a part of Weapon X in the comics.
3. Mixing supervillain teams and allies.
Donald Pierce is a formidable enemy of the X-Men as the leader of the Reavers, a private military organization created and managed by the Hellfire Club. The Hellfire Club is the secret society from X-Men: First Class, led by Sebastian Shaw (Kevin Bacon). Other memebers of the Reavers included Lady Deathstrike and assorted minor characters, all of whom had fallen at the hands of Wolverine and the X-Men.
In Logan, the Reavers have little to no backstory, except backing Transigen's campaign against mutants. Pierce is the only one that gets a real spotlight in the film and, even then, we don't learn much about the villain.
In the film, Professor X and Wolverine are also joined by the mutant Caliban. In the comics, while Caliban is an ally of the X-Men, he primarily operated on the X-Factor and X-Force teams. Caliban's appearance in Logan was unexpected and, seeing as he had only appeared as an underground broker in X-Men: Apocalypse, served only to give the Reavers a means to track Logan, the Professor, and Laura.
All things considered, Logan did a fair job at taking inspiration from the comics and adapting the history for its own narrative. The action scenes throughout the film were well coreographed and the heartfelt emotional development between Logan, Laura, and Professor X was well worth the wait. We thoroughly enjoyed the film and, if you did too, make sure you check out the comics that helped inspire Logan!
---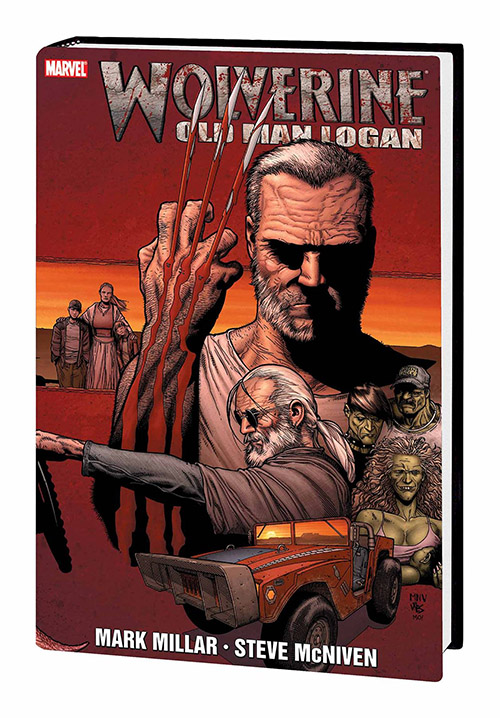 WOLVERINE OLD MAN LOGAN
JUL100692
MARVEL COMICS
(W) Mark Millar
(A/CA) Steve McNiven
Millar. McNiven. Wolverine. It doesn't get any better than this. The only way writer Mark Millar (Wanted, Kick-Ass) could top his all-time classic Wolverine tale "Enemy of the State" was to take it to the future -his Civil War brother in arms, Steve McNiven, handling the art duties! Fusing the dystopian super-hero elements of the X-Men's "Days of Future Past," the wild and wooly futurescapes of Mad Max, and the tragic pathos of Clint Eastwood's archetypal Western heroes, Millar's tale finds Wolverine at a crossroads with who he really wants to be and who he really is. Collecting WOLVERINE #66-72 and WOLVERINE GIANT-SIZE OLD MAN LOGAN.
224 PGS./Parental Advisory
WOLVERINE: OLD MAN LOGAN: WARZONES
SEP150862

ARVEL COMICS
(W) Brian Michael Bendis
(A/CA) Andrea Sorrentino

Enter the Wastelands: a Battleworld realm where heroes have been wiped out and villains rule with an iron fist. In the midst of this dystopian chaos, one man may make a difference. A reluctant warrior who was once the greatest mutant of all. A man known as Old Man Logan. Never before has the former Wolverine been needed as much as he is now, but even the best there was at what he did may be outmatched by the evil lurking in nearby realms! Now, Logan must battle the horrors of mutantkind unleashed, the sins of genocidal machines and the rampaging hordes of the undead. And as Logan traverses Battleworld and learns its secrets, he must face the patchwork planet's thundering police force! He may be old, but Logan's job is far from finished. Collecting OLD MAN LOGAN #1-5.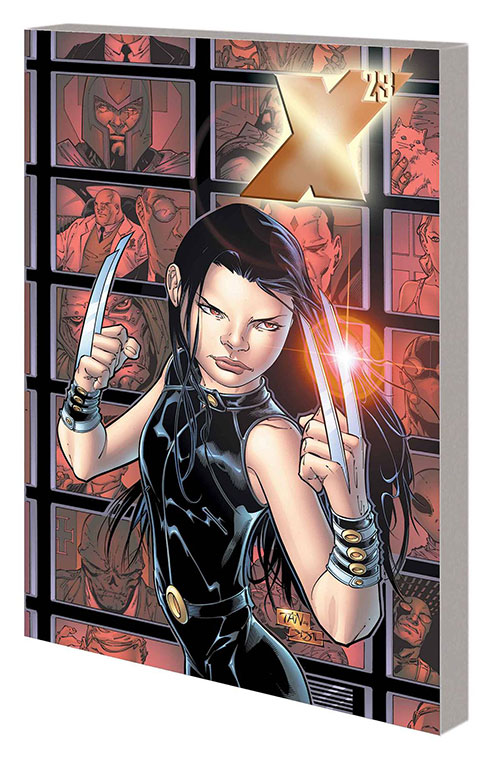 X-23 COMPLETE COLLECTION VOL 1
MAY160942
MARVEL COMICS
(W) Various
(A) Various
(CA) Billy Tan
The origin of X-23! Cloned from Wolverine's cells and raised to be the perfect killer, young Laura Kinney never knew a life free from the harsh masters at the Facility. But now she's broken loose at last and must forge her own path in the world! Free of her chains and determined to live, Laura will write the next chapter of her story herself. But can X-23 escape her training and her instincts, or will the gallons of blood spilled in her violent past drag her down? And can she truly begin a new life until she faces the man whose shadow has loomed over her for years? Enter: The Wolverine! Collecting X-23 (2005) #1-6, X-23: TARGET X #1-6, CAPTAIN UNIVERSE/X-23, X-23 (2010) ONE-SHOT and #1-3, and material from X-MEN: TO SERVE AND PROTECT #2.
Parental Advisory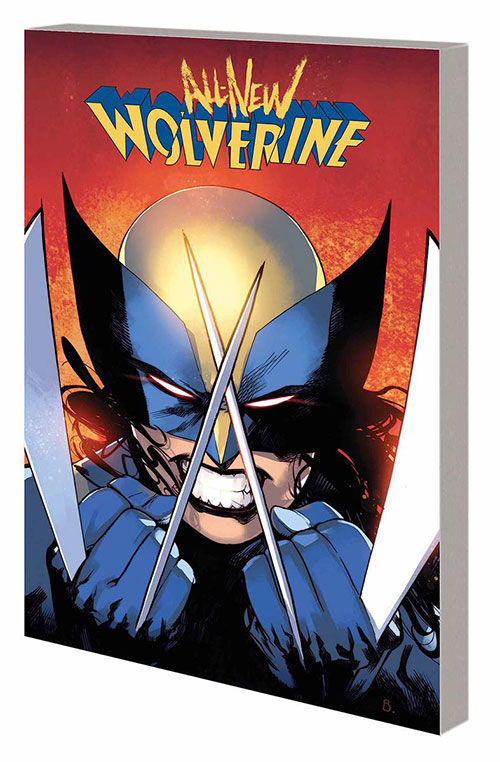 ALL NEW WOLVERINE VOL 1: FOUR SISTERS
FEB160955
MARVEL COMICS
(W) Tom Taylor
(A) David Lopez, David Navarrot
(CA) Bengal
She's the best there is! X-23 was created to be a weapon; for a time, that's all she was. But with the help of her mentor, Logan - the original Wolverine - she escaped that dark past. Now, the man she knew has fallen, but Laura will honor his memory as the All-New Wolverine. But with the famous cowl comes a world of misery and mystery - like the devastating secret of the Sisters. Uncovering it will involve new friends Doctor Strange and the Wasp, and lethal new enemies like the Taskmaster! But after recent events, Laura is growing used to doing everything in her power to save those around her from forces hell-bent on destruction. If anyone can stop them, it's Laura. After all, it's what Wolverine does. Collecting ALL-NEW WOLVERINE #1-6.
Parental Advisory
---
Be sure to find all of these at your local comic shop! If you're not sure where your local comic shop is, use the Comic Shop Locator Service.
Logan premiered on March 3 and stars Hugh Jackman (Wolverine), Patrick Stewart (Professor X), Richard E. Grant (Zander Rice), Boyd Holbrook (Donald Pierce), Stephen Merchant (Caliban), and Dafne Keen (Laura/X-23). The film was directed by James Mangold and is based on Old Man Logan from Marvel Comics by Mark Millar and Steve McNiven.