The First Words from Luke to Rey and More from The Last Jedi's New Footage
Mar 09, 2017
It really does pay to be a Disney shareholder, it seems. This week, Disney CEO Bob Iger presented the very first footage from Star Wars: The Last Jedi to shareholders. Luckily, Los Angeles Times writer Daniel Miller was at the meeting in Denver and tweeted out sparse details of the new Star Wars entry directed by Rian Johnson (Looper).
The clip starts with Luke (Mark Hamill) saying his first words to Rey (Daisy Ridley): "Who are you?" Considering all the fan speculation at his and Rey's connection, it doesn't seem like this is the interaction we'd see if Luke was the one who left Rey on Jakku. Rey proceeds to "deftly handle a lightsaber" while she hands him the lightsaber.
The footage also showed off Chewbacca (Peter Mayhew), General Leia Organa (the late Carrie Fisher), and Finn (John Boyega). Noteably absent were any of the major villains, especially Kylo Ren (Adam Driver). With how much anguish Kylo caused Luke in his betrayal, it's surprisng Disney didn't want to hint at the powerful story there for the shareholders.
Iger reportedly said before the screening that Disney makes "a point of revealing very little from our upcoming Star Wars films. We want to keep them secret. But we're making an exception today. We're going to show you an exclusive first look at what happens right after that scene, and that lightsaber being handed to its rightful owner."
Shareholders also spared a moment to pay tribute to Fisher, whose impact on the series and on fans worldwide was immeasurable. Iger said, "We all miss her. She had great talent and wit. We're proud that this movie coming up is part of her legacy."
Star Wars: The Last Jedi is set to release on December 15, 2017 and stars Mark Hamill (Luke Skywalker), Carrie Fisher (General Leia Organa), Adam Driver (Kylo Ren), Daisy Ridley (Rey), John Boyega (Finn), and Oscar Isaac (Poe Dameron) as the Resistance continues their fight against the First Order and Supreme Leader Snoke (Andy Serkis).
---
If you're like us and you can't wait for the film, here are Star Wars comics available at local comic shops now to hold you over unti December: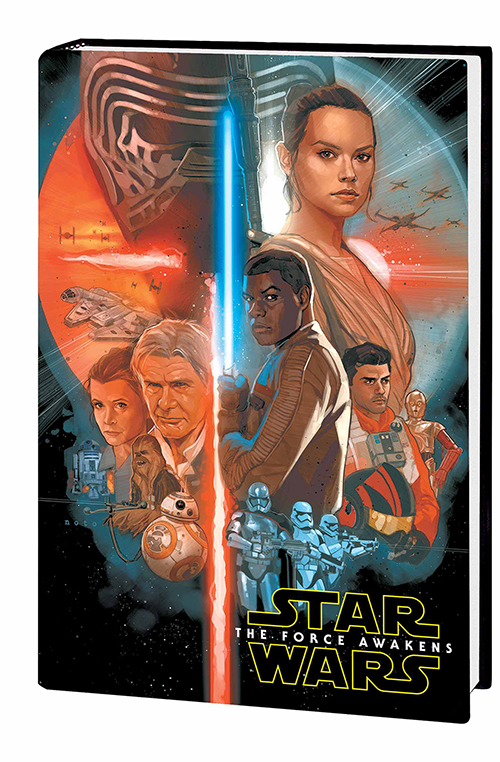 STAR WARS: THE FORCE AWAKENS
AUG160995
MARVEL COMICS
(W) Chuck Wendig
(A) Luke Ross
(CA) Phil Noto
It's true - all of it! The blockbuster movie jumps from the big screen to the comic-book page! It's been three decades since the Rebel Alliance destroyed the Death Star and toppled the Galactic Empire - but now, on the remote planet Jakku, there is a stirring in the Force. A young scavenger named Rey...a deserting Stormtrooper named Finn...an ace pilot named Poe...and a dark apprentice named Kylo Ren... Their lives are about to collide as the awakening begins. Writer Chuck Wendig (Star Wars: The Aftermath Trilogy) and artist Luke Ross (HERCULES) take us back into the saga of a lifetime! Collecting STAR WARS: THE FORCE AWAKENS ADAPTATION #1-6.
STAR WARS: POE DAMERON VOL. 1 BLACK SQUADRON
AUG160999
MARVEL COMICS
(W) Charles Soule, Chris Eliopoulos
(A) Chris Eliopoulos
(A/CA) Phil Noto
Poe Dameron, former Republic flyer turned Resistance fighter, is the best pilot in the galaxy. Hand-picked for the resistance by General Leia Organa to lead a squadron on a top-secret and vital mission, Poe sets off to investigate sites of historical importance to the Force - revealing backstory leading directly into The Force Awakens! Follow Poe and his X-Wing squadron on covert missions against the First Order, brought to you by writer Charles Soule (STAR WARS: LANDO, DAREDEVIL) and artist Phil Noto (STAR WARS: CHEWBACCA, BLACK WIDOW)! Collecting POE DAMERON #1-6.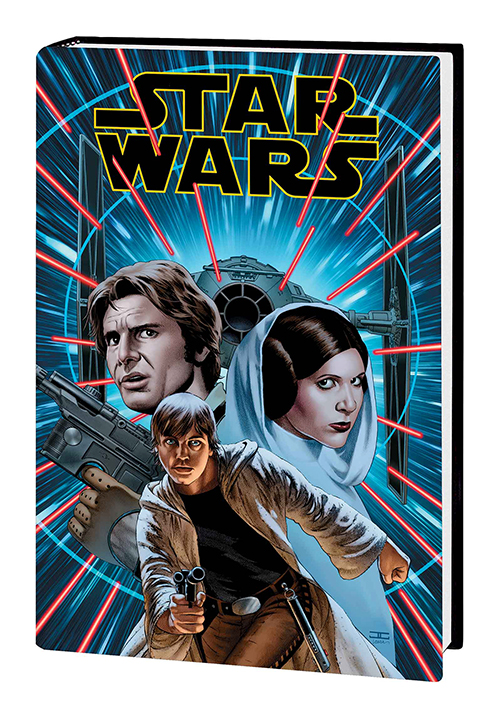 STAR WARS VOL. 1
MAR160910
MARVEL COMICS
(W) Jason Aaron
(A) Simone Biachi, Stuart Immonen
(A/CA) John Cassaday
The greatest space saga of all returns to Marvel! The ragtag Rebel Alliance has just destroyed the massive Death Star - but the Galactic Empire is not toppled yet! Join Luke Skywalker, Princess Leia, Han Solo, Chewbacca, C-3PO and R2-D2 as they continue the fight for freedom against Darth Vader and his evil master, the Emperor! But when a rebel assault goes wrong, Luke comes face-to-face with the Dark Lord himself! The young Jedi's quest to learn more about the ancient order will lead to an uncanny encounter with Boba Fett and land him in the middle of the Arena of Death. Meanwhile, Han and Leia face a mysterious woman from the charming smuggler's past - one with a very personal grudge! Plus: Discover a secret chapter of Obi-Wan Kenobi's story! Collecting STAR WARS (2015) #1-12.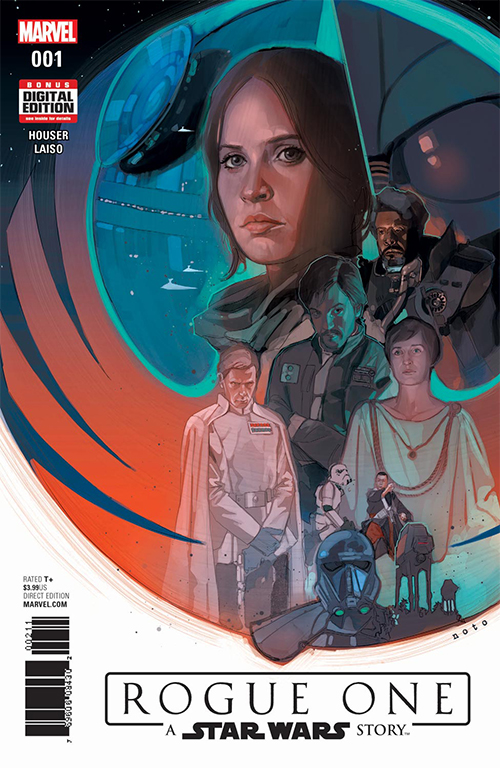 STAR WARS: ROGUE ONE #1
FEB170948
Releases April 5, 2017
MARVEL COMICS
(W) Jody Houser
(A) Emilio Laiso, Oscar Bazaldua Nava
(CA) Phil Noto
The Rebellion is here! The biggest movie of the year jumps from the big screen to the comic book page! All looks lost for the Rebellion against the Empire as they learn of the existence of a new super-weapon - the Death Star. New heroes Jyn Erso and Cassian Andor set out on a desperate mission to steal the plans to destroy the new super-weapon. Written by Jody Houser (MAX RIDE) and drawn by Emilio Laiso (STAR WARS ANNUAL; HERCULES), join as the story is set up for the epic saga to follow...
---
All of these comics are available at your local comic shop! To find a comic shop near you, visit Comicshoplocator.com!