Our First Look at Thor: Ragnarok and How It Compares to the Comics!
Mar 09, 2017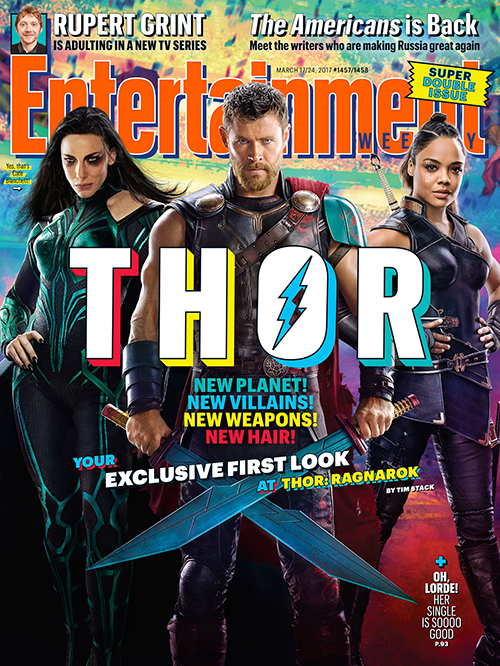 Marvel dropped the first images of Thor: Ragnarok this week through a stunning cover on Entertainment Weekly. Thor (Chis Hemsworth), Hela (Cate Blanchett), and Valkyrie (Tessa Thompson) stare us down amidst a colorful display. The most noticeable new features? How utterly amazing and fierce Cate Blanchett looks--Hela could give Lady Galadriel a run for her money and Thor's new shorter hair, along with the absence of Mjolnir (or, as Darcy affectionately calls it: MewMew).
While the new look comes as a surprise, in an interview with EW, Hemsworth notes the new film "felt like a rebirth for me as the actor, but also as the character."
Marvel Studios president and Marvel Cinematic Universe architect Kevin Keige said, "I have a belief that if you're luck enough to get to part 3 of a franchise, it is your obligation not to fall to threequel-itis." The only other films in the Marvel Cinematic Universe are Iron Man 3 and--if you count it--Captain America: Civil War, which was more of an ensemble film. While Captain America: Civil War received critical acclaim with a 90% approval rating, Iron Man 3 had a smaller impact on audiences, with outlets like The Star-Ledger saying there was "something empty about the film."
Thor: Ragnarok finds Thor battling the Goddess of Death Hela as he and the Hulk find themselves on the desolate planet of Sakaar after accidentally unleashing Hela from her prison. Considering the title references an end-of-days in North mythology and Hela is the Goddess of Death, we can only imagine the carnage that we'll find in the film.
So far, not much else is known about the film, other than that it will take elements from the Planet Hulk story line. The Illuminati--a hero cabal comprised of members like Iron Man, Reed Richards, Dr. Strange, Namor, and Charles Xavier--launch Hulk into space and out of Earth's way to ensure he can never hurt others again. Things go awry and Hulk lands on Sakaar and is forced into becoming a Gladiator; as he rises up the ranks, he's ultimately freed by the Silver Surfer and takes over the planet, making a new life for himself before its violently taken from him.
How does the new additions to the cast measure up to their comic book counterparts? Let's take a look!
In the comics, Hela is the alleged daughter of Loki himself and relies on her cloak to stay in her powerful form. Armed with her Nightsword and her powers over life and death itself, Hela has acted as a villain to Thor, Odin, and even X-Factor. Most recently, she appeared in Angela: Queen of Hel where Angela, the first born of Odin and Freya, invaded Hera's realm to save her lover Sera. Hela is played by Cate Blanchett, famous for playing the Lady Galadriel in The Lord of the Rings.
Valkyriein the comics is based on the Valkyrie from Norse Mythology, whose duty was to guide worthy souls to Valhalla. Her true name is Brunnhilde and has fought on both the Avengers and the Defenders. She was last seen in the comics after the Fear Itself story line, where the All Mother tasked Valkyrie to select a new group of Valkyries from the women of earth--she also briefly appeared in both the AXIS and Monsters Unleashed story lines.
For anyone concerned about Thor's new look, be rest assured it's something we've seen before. After Thor was deemed unworthy to wield Mjolnir, he donned this appearance in the series The Unworthy Thor. This could hint more at why Thor's missing his trusty hammer in the preview images from Entertainment Weekly's major reveal.
---
If you're like us and you can't wait for the film, you can check out these comics that relate to Thor: Ragnarok and are available now: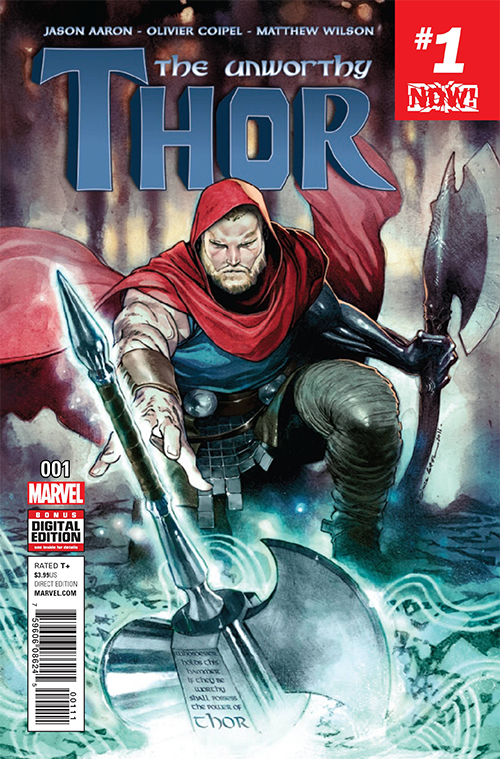 UNWORTHY THOR #1
SEP160900
MARVEL COMICS
(W) Jason Aaron
(A/CA) Olivier Coipel
Odinson's desperate search to regain his worthiness has taken him out into the cosmos, where he's learned of the existence of a mysterious other Mjolnir. This weapon of unimaginable power, a relic from a dead universe, is the key to Odinson's redemption - but some of the greatest villains of the Marvel Universe are now anxious to get their hands on it as well. Can The Odinson reclaim his honor, or will the power of thunder be wielded for evil? The quest for the hammer begins here.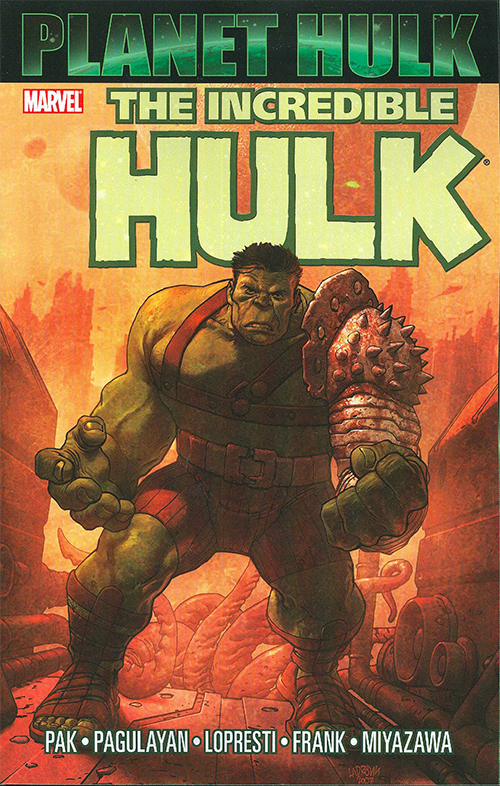 HULK: PLANET HULK
FEB082298
MARVEL COMICS
(W) Greg Pak
(A) Michael Avon Oeming & Various
(CA) Jose Landronn
A whole new world of hurt! Betrayed by Earth's heroes and exiled into outer space, the man-monster Hulk has landed on the distant planet Sakaar, ruled by the tyrannical Red King. Sold into slavery, Hulk becomes the Green Scar, the planet's mightiest gladiator - but his new masters get more than they bargained for when he forges a bond of brotherhood with his fellow fighters: crafty insectoid Miek, the horrific Brood, wise rock-man Korg, shadow warrior Hiroim, noble-born rebel Elloe and her loyal guardsman Skee. Together, these gladiators start a revolution that could change their entire world - or destroy it. It's savage sci-fi fantasy by award-winning writer Greg Pak, guest-starring the Silver Surfer! Collecting INCREDIBLE HULK #92-105, PLANET HULK: GLADIATOR GUIDEBOOK, and material from AMAZING FANTASY #15 and GIANT-SIZE HULK #1.
---
You can see the full gallery of Thor: Ragnarok images here and you can check out some of the comics tied to the film at your local comic store now! If you're unsure where your local comic store is, you can use the Comic Shop Locator.
Thor: Ragnarok will premiere on November 3, 2017 and stars Chris Hemsworth (Thor), Tom Hiddleston (Loki), Mark Ruffalo (Bruce Banner/The Hulk) Cate Blanchett (Hela), Tess Thompson (Valkyrie), Idris Elba (Heimdall), Karl Urban (Skurge), Anothy Hopkins (Odin), and Jeff Goldblum (Grandmaster). Benedict Cumberbatch will reprise his role as Stephen Strange, as shown in the after credits scene of Doctor Strange.