Ken Siu-chong and Jeffrey Cruz Explain The Similarities Between Wrestling and Comics
Mar 07, 2017
We sat down with writer Ken Siu-chong and artist Jeffrey "Chamba" Cruz to talk about their Street Fighter comic for Free Comic Book Day. They tell us about the similarities between wrestling and comic books, and they give us some details about the characters and storylines that will be in their Free Comic Book Day issue! Street Fighter V Wrestling Special is going to lay the smack down on Free Comic Book Day 2017!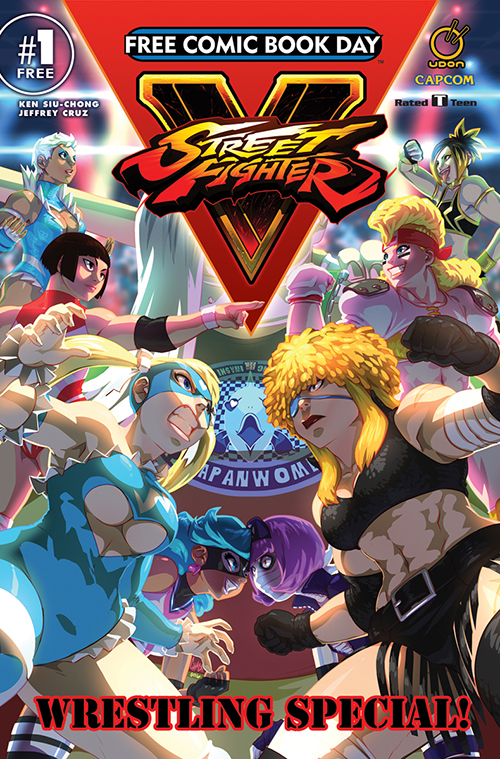 FCBD 2017 STREET FIGHTER V WRESTLING SPECIAL
(W) Ken Siu-Chong
(A, CA) Jeffrey Chamba Cruz

Let's wrestle! Street Fighter superstar Rainbow Mika and the ferocious femmes of the Iwashigahama Japan Women's Pro-Wrestling league headline the main event in this all-new story! Expect plentiful clotheslines, elbow drops, headlocks, and divebombs as these legendary ladies show why they're the queens of the ring! [TEEN] T
---
Free Comic Book Day: Why the overlap between the wrestling and comic book fandoms? How are they similar?
KEN: As someone who grew up as a comic and professional wrestling fan, the similarities are striking. Wrestlers might be called babyfaces instead of superheroes or heels instead of villains, but wrestling story lines are essentially the same tales of good vs. evil that take place in comic book pages—their athletic abilities are just slightly less super-human than mutants or gamma-irradiated scientists. With both, you also have a similar suspension of disbelief, accepting wrestling's insane internal logic and over-sized personalities just like you accept physics-defying comic book super powers so that you can maintain the fantasy and enjoy the ride.
JEFF: How I see it, Street Fighter is a 'Fighting' comic (like the title states, heh) and since Wrestling is about fighting too, it kind of makes sense.
Who are some of the characters fans will get to know from your Free Comic Book Day comic?
KEN: Readers will get to see fan-favorites Rainbow Mika, Sakura and Dan Hibiki at his pathetic-but-resilient best, but the real fun begins with the introduction of the new all-female wrestling squad that Capcom created for Street Fighter V. It was a complete blast getting to flesh out their personalities and my personal favorite is Maple Storm, but I might be biased since I'm Canadian! The backup story also features the tragically under-used Haggar from Final Fight in a Cold War-era wrestling story vs. Zangief.
What got you reading comics? What are some series you're reading today?
KEN: My first proper comics were from a grab bag of Spider-Man comics my parents got me from a grocery store. I wish I could recall which issues they were, but all I can remember is that my favorite one was a post-Secret Wars Spider-man comic with his black symbiote costume.
As for what I'm reading, I don't know if it's just me showing my age, but I recently picked up Wonder Woman '77 and thought it was such a clever idea. I'm a child of the 80's who grew up watching Wonder Woman and Superfriends re-runs, so it really tickled my nostalgia.
JEFF: The artwork in the pages and the subjects touched in the themes. As I child I didn't know there were stories about space and monsters etc, so that really captured my interest. Currently I'm reading (but unfortunately not up to date with) Invincible and TMNT, but am reading (and up to date) with One Piece and One Punch Man.
What books would you recommend to new readers and why?
KEN: As a father of young kids who are beginning to read on their own, my strategy has been to embrace their addiction to cartoons and video games by getting them adaptations of their favorites. I've started them on "gateway" comics based on Sonic the Hedgehog, Teen Titans Go! and Pokemon. After waking up one Saturday morning and finding the kids reading comics on the couch, I think my plan is working!
JEFF: In all honesty, I would recommend Akira Toriyama's first creation 'Dr. Slump'. It's funny, the art is great and it's a complete run. I'd also recommend Invincible for fans of 'superheroes' with a different spin.
Why do you think Free Comic Book Day is important to the comic book community?
KEN: It's all about the kids and grooming them to be the next generation of readers. Free Comic Book Day is a really great way to get some exposure and lure some kids in who might not otherwise set foot in a comic store.
JEFF: It's family friendly event that could attract younger audiences. And people in general enjoy 'free'.
Why do you think local comic shops are important to the comic book community?
KEN: I hate to sound like a luddite, but I think it's important to still have brick and mortar stores where kids can go and explore. As convenient as downloading a digital comic is, I think there's still value in the tactile experience of walking up to a shelf and flipping through whatever catches your eye.
JEFF: If the shop is a good one, it is a place that can assist both new and older readers into the medium of comics, through the friendly suggestions and recommendations that the staff can make based on the interest of the customer.
---
For Free Comic Book Day 2017 Ken will be checking out Blue Moon Comics Strikes Back and Von's Comics in Lafayette/West Lafayette, Indiana, with kids in tow! While Jeff will be at Classic Comics in Melbourne, Australia. Doing a few free sketches before Lunch.