The #RoadToFCBD Continues!
Mar 04, 2017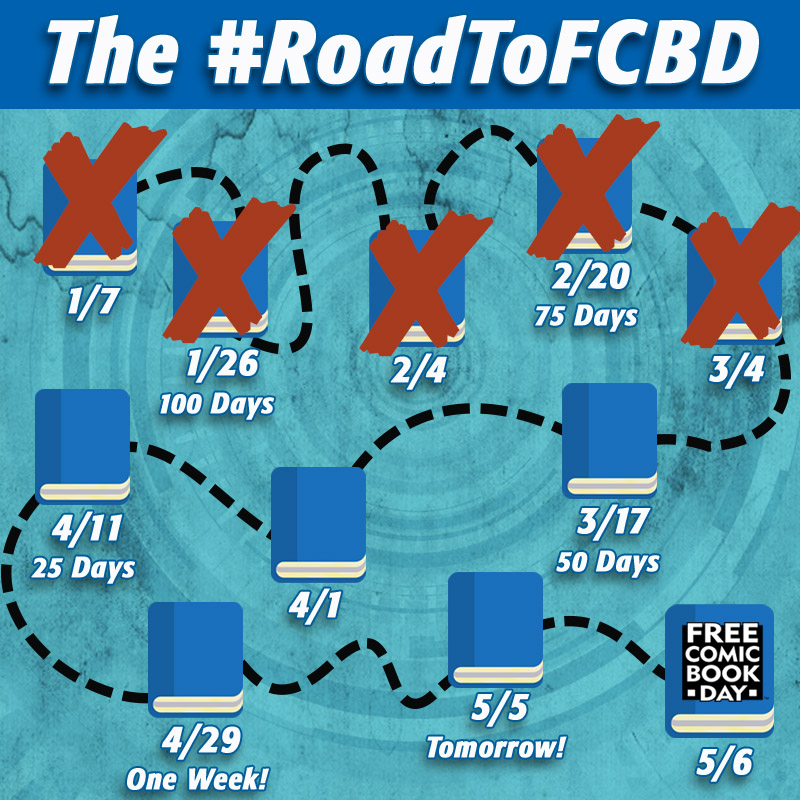 Free Comic Book Day 2017 is only a couple months away. We know everyone is excited for the industry's beloved annual event, so we want to take each first Saturday of the month between now and FCBD to celebrate you, the fans!
Without you, we wouldn't have the amazing industry we have today. There are so many awesome comics available at your local comic shops, we know it's hard to get everything you'd like.
On Saturday, March 4, take a selfie of yourself and a friend in front of your local comic shop. Post it to Facebook, Twitter, or Instagram and: tag Free Comic Book Day's social media handle (Facebook, Twitter, or Instagram), your local comic shop, and use #FCBD17 and #RoadToFCBD to be entered to win a $100 Gift Certiciate to your local comic shop.
See below for a full list of rules.
We can't wait to see everyone's photos across social media and--remember!--Free Comic Book Day is on Saturday, May 6, 2017. Have you checked out the comics that will be available?
---
The #RoadToFCBD17 Official Rules
One [1] Winner:
One winner will be randomly selected from all contest entries to win a $100 shopping spree at their local comic shop.
By entering the Contest, you agree to be bound by these Official Rules and to comply with all applicable laws and regulations.

NO PURCHASE OR PAYMENT OF ANY KIND IS NECESSARY TO ENTER OR WIN THIS CONTEST. A PURCHASE OF ANY KIND WILL NOT IMPROVE YOUR CHANCES OF WINNING. ODDS OF WINNING WILL DEPEND UPON TOTAL NUMBER OF ENTRIES RECEIVED.

THIS CONTEST IS VOID WHERE PROHIBITED BY LAW AND IS OPEN ONLY TO LEGAL RESIDENTS OF THE UNITED STATES (D.C.) AND CANADA WHO ARE THE AGE OF MAJORITY IN HIS/HER STATE/PROVINCE/TERRITORY OF RESIDENCE.

WITHOUT LIMITATION, THIS CONTRACT INCLUDES INDEMNITIES TO THE RELEASES FROM YOU AND A LIMITATION OF YOUR RIGHTS AND REMEDIES.

1. SPONSOR: The sponsor of the Contest is Free Comic Book Day and its affiliated company, Diamond Comic Distributors (the "Sponsor") with offices at 10150 York Road, Suite 300, Hunt Valley, MD 21030.

2. PRIZES: The prize of the Contest is a $100 shopping spree at their local comic shop. Diamond Comics Distributors is the "Prize Provider" for this contest.

3. HOW TO ENTER: There is one (1) way to enter the Contest during the Entry Period: (1) Online Entry: Take a selfie of yourself and a friend in front of your local comic shop. Post it to Facebook, Twitter, or Instagram and: tag Free Comic Book Day's social media handle (Facebook, Twitter, or Instagram), your local comic shop, and use #FCBD17 and #RoadToFCBD to be entered to win a $100 Gift Certiciate to your local comic shop.Entrant is allowed only one contest entry--multiple posts across all social media accounts does not impact probability of winning. Only eligible entries actually received in compliance with the Promotion Period, will be included in the drawing for prizes.

4. ELIGIBILITY: The Contest is open to all legal residents of the 50 United States (D.C.) and Canada who have reached the legal age of majority in their respective state/province/territory of residence as of January 7, 2017. Persons in any of the following categories are not eligible to participate or win a prize: (a) persons who from and after July 31, 2016 were or are employees or agents of Sponsor or its affiliates, parent, subsidiaries, or the service agencies or independent contractors of the above organization(s); (b) persons who are engaged in the development, production, distribution of materials, provision of prizes, or drawing of winners for this Contest; and (c) persons who are immediate family of or who reside in the same household as any person in either of the preceding categories.

5. WINNER NOTIFICATION; REQUIRED RELEASES: The winners will be selected and notified on or about and publicly announced January 9, 2017. The winner will be notified by social media message or tagged post. To claim the Prize, the winner must: (a) confirm receipt of the notice by return email or telephone call; and may be required to complete, sign and return a Winner Affidavit & Release form (to be provided by Sponsor).

6. ENTRY PERIOD: The Contest begins on March 4, 2017 at 8:00 a.m. Eastern Time ("ET") as submissions can be sent. The contest ends March 4, 2017 at 11:59 p.m. ET ("Entry Period"). All entries must be received online by 11:59 p.m ET on February 4th, 2017. Limit one (1) entry per person.

7. ADDITIONAL CONDITIONS: Sponsor reserves the right to terminate the Contest if fraud, technical failures or any other factor beyond Sponsor's reasonable control impairs the integrity of the Contest as determined by Sponsor in its sole discretion. At its sole discretion, Sponsor may disqualify any person whom it considers to have intentionally violated the Official Rules or any element of the Contest. By participating, entrants agree: (a) to be bound by the Contest Official Rules and the decisions of the person or persons who select the winners, and (b) to release, indemnify, and hold harmless Sponsor, and each of their respective affiliates, subsidiaries, and independent contractors, and their respective directors, officers, employees, and agents, including advertising and promotion agencies, (collectively, "Released Parties") from any and all liability with respect to acceptance, possession or use (or misuse) of the prizes or participation in the Contest.

8. USE OF NAME, LIKENESS, ETC.: By entering the Contest, you hereby acknowledge and agree that Sponsor and Prize Provider (each a "Sponsor Entity(ies)") shall have the unlimited right in perpetuity and throughout the world to use and publish your name, voice, city, state, likeness, photograph, video, biographical and prize information, and other elements of your persona and identity, in all media now known or hereafter developed, for all purposes of this Contest, as well as for all general marketing, advertising, promotional, commercial tie-in, merchandising, and other business purposes of Sponsor Entities, all without notice or compensation to you.

9. ENTRANT RELEASE: By entering this Contest, you forever release, indemnify, discharge, and agree to hold harmless, all Released Parties from any and all claims, causes of action, liabilities and damages: (a) for personal injuries, death, loss of or damage to personal property, and/or other harm or loss of any nature whatsoever sustained by anyone or anything in connection with your participation in the Contest;(b) for libel, defamation, invasion of privacy, violation of the right of publicity, infringement of copyright, or violation of any other personal or property right ; and/or (c) from any typographical, human or other error in the printing, offering, selection, operation or announcement of any Contest activity and/or prize. Without limiting the generality of the foregoing, entrants agree that Released Parties have neither made nor will be in any manner responsible or liable for any warranty, representation or guarantee, express or implied, in fact or in law, in connection with the Sweepstakes and/or with respect to prizes, including, without limitation, to any prize's quality or fitness for a particular purpose.

10. TAXES: Taxes (federal, state, and local) are the sole responsibility of the winner. Sponsor reserves the right to withhold and deduct such taxes and charges from the prize if and to the extent required by law.

11. APPLICABLE LAW: These Official Rules are governed by the laws of the State of Maryland without giving effect to conflicts of law rules.