FCBD 2010 Flying In With Iron Man 2!
Mar 23, 2017
Everyone loves Free Comic Book Day! Who wouldn't? Awesome comics available free of charge provided by the best publishers in the business and the most incredible comic stores across the world make Free Comic Book Day a holiday like none other. This year, Free Comic Book Day celebrates its sixteenth year introducing millions of people to the wonders of comics!
It all started in 2002, where retailer Joe Field, owner of Flying Colors Comics & Other Cool Stuff, saw the success of other days like Free Cone Day and posed the question to other retailers and publishers: shouldn't we do this too? By having a day where publishers offered up their best and most accessible titles to retailers at a low price, comic stores could give away comics for free to the public and encourage those who loved superhero films and multimedia to pick up the comics! Sixteen years later, Free Comic Book Day has become one of the most beloved events in the entire industry!
Free Comic Book Day 2010 shared the premier week with the movie Iron Man 2! There was also another figure included in the list of items you could pick up! It was a Marvel Heroclix: War Machine Figure! The movie and figure went along with the Free Comic Book Day comic, Iron Man and Thor!
Here are the books and publishers that participated in the ninth Free Comic Book Day! Which one would you have picked up? Let us know on Facebook and Twitter--if you have any of these comics around, post them to social media with #FCBD2010 so everyone can take a look!
Free Comic Book Day 2010 Gold Sponsor Comics
---

KIZOIC PRESENTS: SHREK/PENGUINS OF MADAGASCAR FCBD #1
APE ENTERTAINMENT
(W, A) Dan Parent

Ape Entertainment proudly offers KiZOIC Presents: Shrek & The Penguins of Madagascar! Featuring four stories by the artists and writers of the up-coming Shrek and Penguins of Madagascar comic books, these stories are guaranteed to tickle your funny bone and leave you begging for more! All-ages fun for everyone!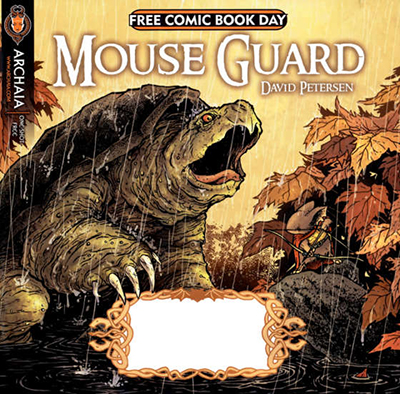 MOUSE GUARD/FRAGGLE ROCK FCBD 2010 EDITION
ARCHAIA ENTERTAINMENT
(W, A) David Petersen
Archaia is proud to present two amazing all-new stories in one fantastic flip-book! In the spring of 1153 the Mouse Guard deal with the onset of the spring thaw and the havoc it wreaks on their territories. Meanwhile, it's time to dance your cares away as Gobo, Mokey, Wembley, Boober and Red return for a brand-new series of hilarious and heartfelt Fraggle Rock adventures written and drawn by some of the most imaginative creators in comics!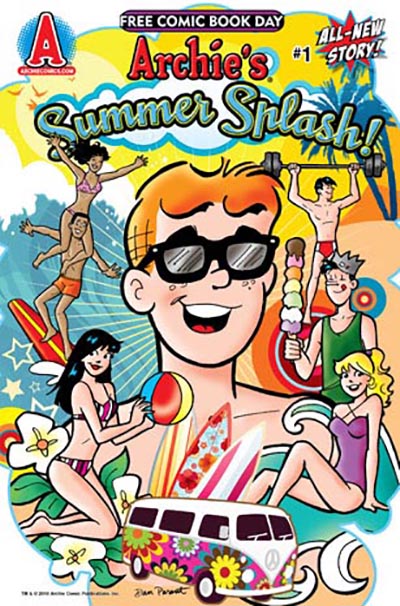 ARCHIE'S SUMMER SPLASH #1
ARCHIE COMICS
(W, A) Dan Parent
"Whose BEACH is it Anyway?": Sun, sand, swimsuits and cool rockin' tunes — no, it's not a cinematic "beach party" blast from the past, but a whole new summer splash from Archie and his friends! In this fun-filled free issue, Cheryl and her snooty friends from Pembrooke form an all-girl group to compete head on with the Archies at a summer beach music festival. Will Cheryl's group be a tuneful treat, or mistaken for bellowing whales?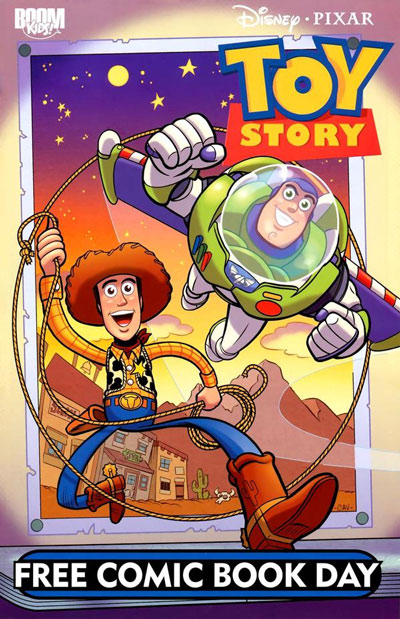 TOY STORY FCBD 2010 EDITION
BOOM! STUDIOS
(W) Jesse Blaze Snider
(A, C) Nathan Watson.
With Toy Story 3 hitting theaters this summer, don't miss this opportunity to get kids hooked on comics with a FREE issue from the ongoing Toy Story series from BOOM Kids! More all-new adventures featuring the world's favorite toys with Woody, Buzz and the gang!
DOCTOR SOLAR/MAGNUS
DARK HORSE COMICS
(W) Jim Shooter
(A) Dennis Calero, Various
(C) Raymond Swanland
The dawn of a new age of superhero excitement begins on Free Comic Book Day as Dark Horse Comics proudly presents the return of two of the most legendary characters in the annals of comics: Doctor Solar, Man of the Atom and Magnus, Robot Fighter — re-imagined for the 21st century by comics legend, writer Jim Shooter! This FCBD extravaganza offers all-new Solar and Magnus stories, each heralding new series launches in summer 2010, and featuring interior art by fan-favorite Dennis Calero (X-Men Noir) and cover art by Raymond Swanland!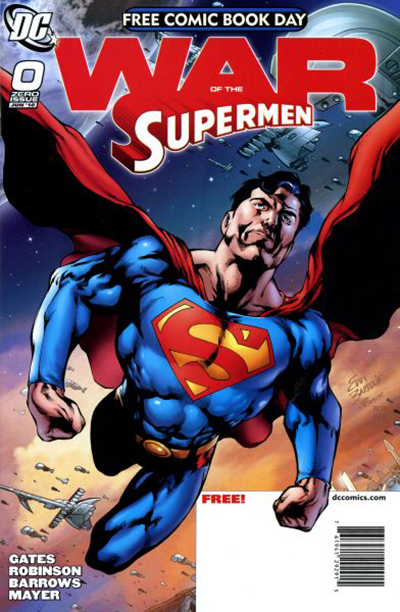 WAR OF THE SUPERMEN #0
DC COMICS
(W) James Robinson
(A) Eddy Barrows, Ruy José
(C) J.G. Jones
A war is coming, and all that stands between Earth and 100,000 vengeful supermen is one Superman! The conflict between Superman and General Zod erupts into all-out war this summer in a series that will shatter the worlds of Superman, Supergirl and the entire DC Universe — all brought to you by the hit creative team of James Robinson and Eddy Barrows! This special #0 issue featuring all-new material previews the conflicts to come while spotlighting a savage strike on Metropolis and the world — an attack that will shake Superman to his very core. After this, there's no turning back — the War of the Supermen is here!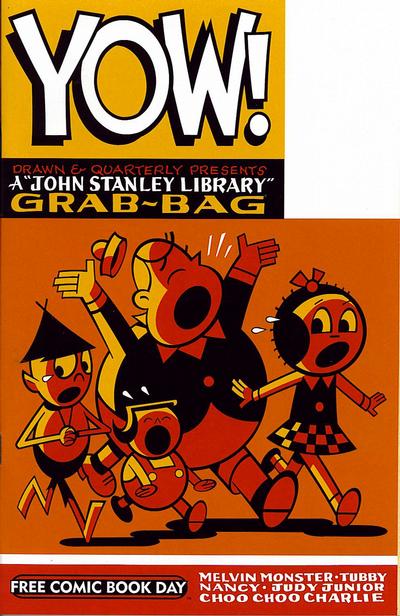 THE JOHN STANLEY LIBRARY
DRAWN & QUARTERLY
(W, A) John Stanley

D&Q delivers another wholly original and boisterous FCBD issue that will entertain readers of all ages! YOW! The John Stanley Library spotlights the world's greatest all-ages cartoonist, John Stanley, in a beautiful package designed by Seth. YOW! features new stories from the John Stanley Library: Melvin Monster, Nancy, and 13 Going On 18, plus a story from the legendary one-shot Choo Choo Charlie and a Tubby story!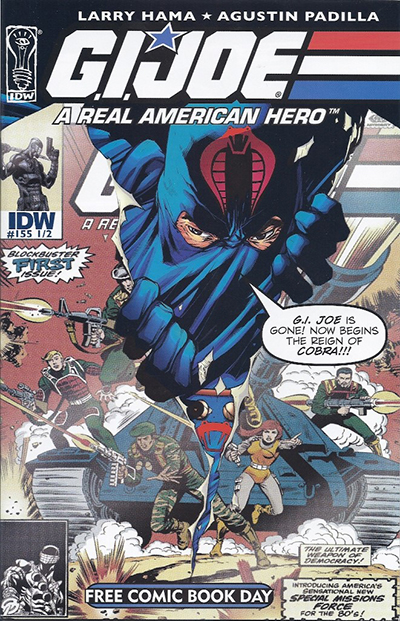 G.I. JOE: A REAL AMERICAN HERO #155½
IDW Publishing
(W) Larry Hama
This is what you really want! Larry Hama continues his original and ground-breaking G.I. Joe: A Real American Hero saga with the VERY NEXT ISSUE (but, you know, 15 years later). G.I. Joe has closed its doors, leaving COBRA to pillage, burn, and plunder!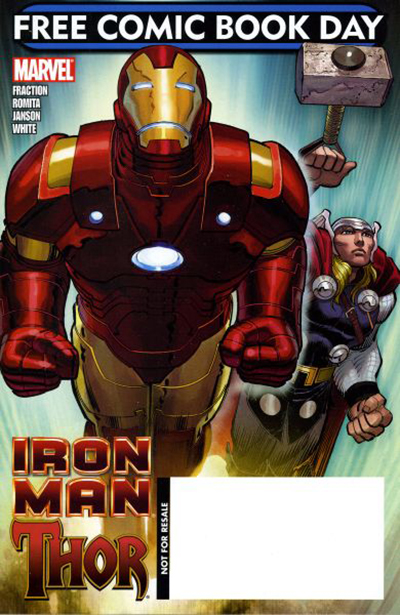 IRON MAN/THOR

MARVEL
(W) Matt Fraction
(A, C) John Romita, Jr.
The perfect jumping-on point for any and all readers...and it's FREE! When rogue mega-billionaires with world-destroying technology threaten the safety of the entire world...and the moon...Thor and Iron Man join forces! In time for the exciting launch of new stories and a bold new direction for Invincible Iron Man and Thor, superstars Matt Fraction and John Romita Jr. team up to bring you two of Marvel's heaviest hitters like you've never seen them before! A major new direction for the Marvel Universe kicks off HERE - on Free Comic Book Day!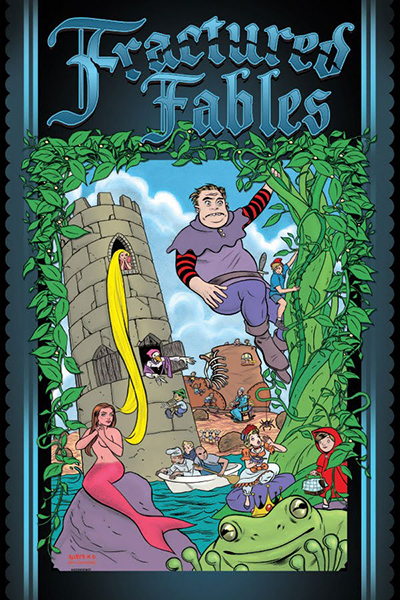 FRACTURED FABLES

SHADOWLINE (IMAGE COMICS)
(W) Bryan Talbot, Doug TenNapel, Alexander Grecian, Derek McCulloch, Ted McKeever
(A) Camilla d'Errico, Doug TenNapel, Christian Ward, Anthony Peruzzo, Ted McKeever
(C) Mike, Laura Allred
This special FCBD offers a small taste of the new hardcover anthology from Silverline Books due later in the year. An all-star cast of writers and artists have been assembled to turn familiar fairy tales and nursery rhymes on their ear to make kids LAUGH! These humorous interpretations will delight any reader, regardless of their age!
Free Comic Book Day 2010 Silver Sponsor Comics
---
SONIC: THE HEDGEHOG


ARCHIE COMICS



WORLDS OF ASPEN


ASPEN MLT COMICS



FEARLESS DAWN


ASYLUM PRESS



S/E HINTON FAME


BLUE WATER COMICS



BONGO FREE-FOR-ALL


BONGO ENTERTAINMENT, INC.



IRREDEEMABLE #1


BOOM! STUDIOS



DEL REY SHOWCASE


DEL RAY



GREEN HORNET #1
DYNAMITE ENTERTAINMENT
WEATHERCRAFT!
FANTAGRPAHICS BOOKS
DC KIDS MEGA SAMPLER


JOHNNY DC (DC COMICS)



LIBRARY OF AMERICAN COMICS #1
LIBRARY OF AMERICAN COMICS
(IDW PUBLISHING)

LOVE AND CAPES #13


MAERKLE PRESS

IRON MAN: SUPERNOVA


MARVEL



THE TICK #1


NEW ENGLAND COMICS



ONI PRESS FREE-FOR-ALL


ONI PRESS



THE SIXTH GUN #1


ONI PRESS



RADICAL: BIGGER BOOKS!


RADICAL COMICS



ATOMIC ROBO
RED 5 COMICS

STORM LION #0
STORM LION PUBLISHING
THE STUFF OF LEGEND/MORTAL
INSTRUMENTS PREVIEW
TH3RD WORLD STUDIOS
ARTIFACTS: FIRST LOOK
TOP COW PRODUCTIONS (IMAGE)


OWLY AND FRIENDS


TOP SHELF PRODUCTIONS





---
Make sure to get to your local comic book shop on May 6, 2017 and participate in the exciting event that is FCBD!