Luke Pearson Explains Why Readers Should Pick Up Hilda's Back to "Put Their Minds at Rest"
Mar 04, 2017
We sat down with Luke Pearson, the creator of Hilda, to talk about the continuation of last year's story. At the end of the previous story, Hilda woke up to find that she had become a troll! This year's comic will explore Hilda's adventures as she tries to live her normal life, while trying to turn herself back into a human! Hilda's Back will be an adventurous addition to Free Comic Book Day 2017!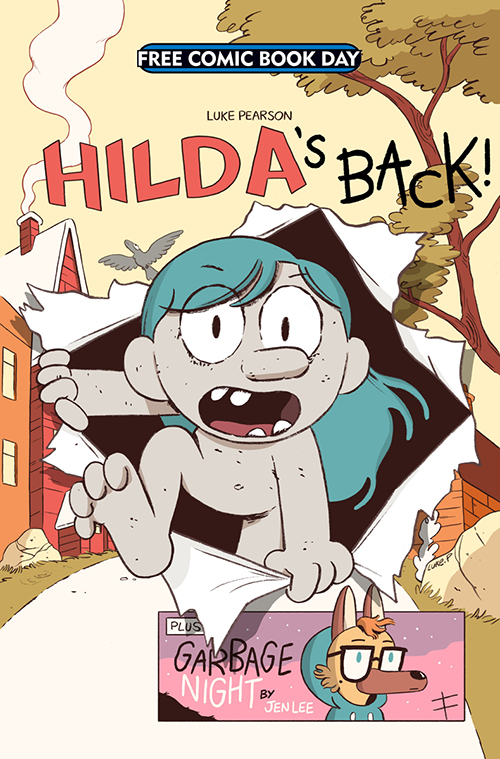 FCBD 2017 HILDAS BACK
JAN170038
NOBROW PRESS
(W, A, CA) Luke Pearson
The last time anyone saw Hilda, she had lost all her clothes, turned into a troll, and woke up in a cave! (Her hair, thankfully, is still blue.) And while our fearsome young adventurer loves a surprise, she's still got school to worry about! With the help of her mom, magic and some new friends, our young hero will be home and human before she knows it. Hopefully, that is! [ALL AGES] T
---
Free Comic Book Day: What kind of world does Hilda inhabit?
Luke Pearson: Hilda lives in Trolberg, a city surrounded by mountains and wilderness that's pretty normal in a lot of ways. But she shares her world with elves, trolls, giants, house spirits and plenty of other things.
Where does this book pick up from last year's Free Comic Book Day offering?
The previous offering featured the opening pages of her previous adventure. The new comic picks up directly after the climax of that story, in which Hilda awoke to find herself transformed into a troll.
Why should fans pick your book first on Free Comic Book Day 2017?
I know that people are quite concerned about Hilda being a troll now, so fans will definitely want to pick it first to maybe put their minds at rest about that.
What got you reading comics? What are some series you're reading today?
I've pretty much always read comics. Some early favourites were Asterix, the Beano and 2000 AD. I don't really follow any series'. I'm currently reading old Donald Duck and Mickey Mouse strips.
What books would you recommend to new readers and why?
For kids I would recommend Anna and Froga. Mainly I would recommend going to a comic shop and just picking something you think looks interesting!
---
For Free Comic Book Day 2017, Luke Pearson plans to spend his day at home, surrounded by his family.