FCBD 2009 Continues Its Way to the Top
Mar 16, 2017
Everyone loves Free Comic Book Day! Who wouldn't? Awesome comics available free of charge provided by the best publishers in the business and the most incredible comic stores across the world make Free Comic Book Day a holiday like none other. This year, Free Comic Book Day celebrates its sixteenth year introducing millions of people to the wonders of comics!
It all started in 2002, where retailer Joe Field, owner of Flying Colors Comics & Other Cool Stuff, saw the success of other days like Free Cone Day and posed the question to other retailers and publishers: shouldn't we do this too? By having a day where publishers offered up their best and most accessible titles to retailers at a low price, comic stores could give away comics for free to the public and encourage those who loved superhero films and multimedia to pick up the comics! Sixteen years later, Free Comic Book Day has become one of the most beloved events in the entire industry!
Free Comic Book Day 2009 had an all-star list of titles like Archie, Star Wars, the Green Lantern, Disney/Pixar's Cars, The Avengers, Sonic, and many more! This year's associated movie was X-Men Origins: Wolverine and there was a Silver Sponsor comic book to go with it! Free Comic Book Day continued to grow in 2009, taking on more famous titles and spreading the joy of comics to a larger audience!
Here are the books and publishers that participated in the eighth Free Comic Book Day! Which one would you have picked up? Let us know on Facebook and Twitter--if you have any of these comics around, post them to social media with #FCBD2009 so everyone can take a look!
Free Comic Book Day 2009 Gold Sponsor Comics
---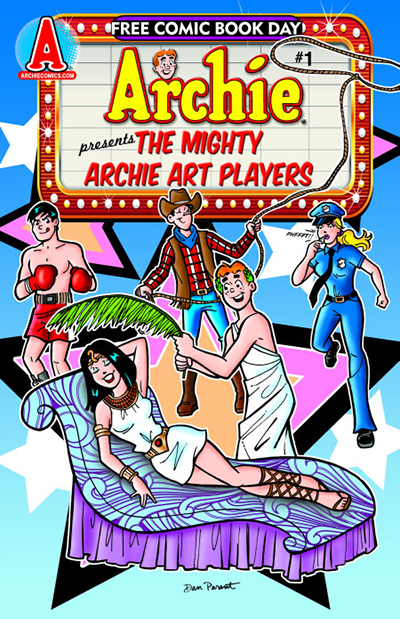 MIGHTY ARCHIE ART PLAYERS #1
archie comics
(W) George Gladir
(A) Stan Goldberg - 'Stan G.', Hy Eisman, Barry Grossman - 'B. Grossman', William Saburo "Bill" Yoshida, Rudy Lapick
(CA, A) Dan Parent

The "Mighty Archie Art Players" return! In this special FCBD09 edition, the Mighty Archie Art Players have a rip-roaring good time in the Old West, put a modern-spin on the classic Snow White fairy tale, tell a "big fish" story — literally! — with Betty as a mermaid, and cater to the whims of Veronica, transformed into the ancient Egyptian queen, Cleopatra. Their curtain-raising performances will leave you laughing in the aisles!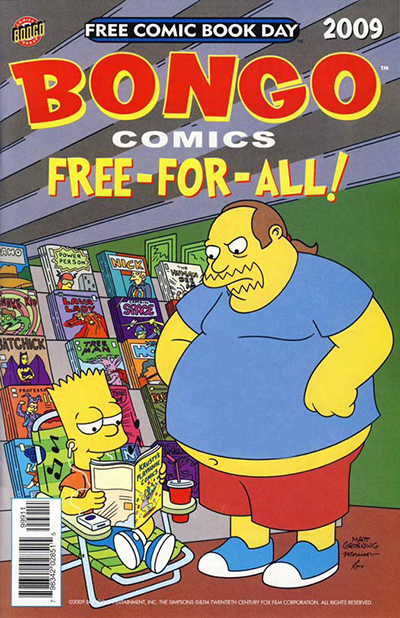 BONGO COMICS FREE-FOR-ALL!

BONGO COMICS
(W, A) Matt Groening
The comic company that brings you The Simpsons and Futurama in the fantastic four-color format joins with retailers to reel in new readers with a comic cornucopia of tantalizing tidbits and a spectacular sampling of the best in humor comics!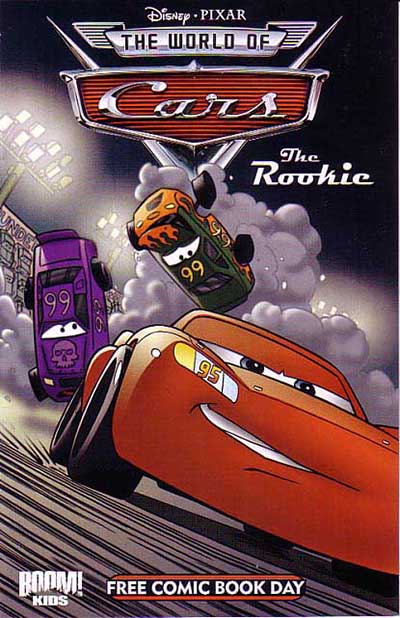 DISNEY/PIXAR'S CARS
BOOM! STUDIOS
(W) Alan J. Porter
(A) Albert Carreres
Take a peek under the hood of BOOM! Studios' line of Cars comics, based on the hit Disney/Pixar movie! This issue includes an exciting excerpt from Cars #1, revealing the plucky origin of Lightning McQueen! In addition, readers will be treated to never-before-seen sketches, character designs and script pages!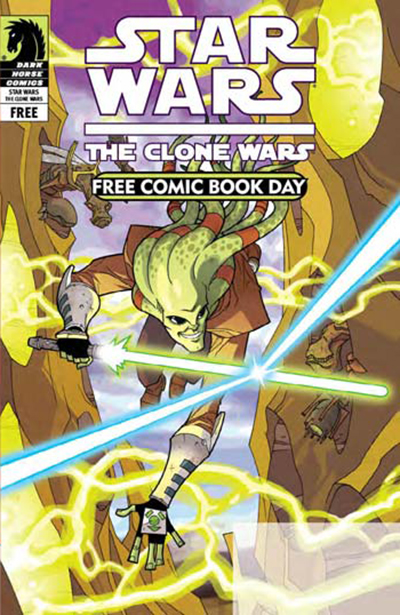 STAR WARS-THE CLONE WARS
DARK HORSE COMICS
(W) Henry Gilroy, Stan Sakai, Rob Reger, Larry Marder, Mark Evanier
(A) Stan Sakai, Larry Marder, Ethen Beavers, Ronda Pattison, Michael Heisler, Buzz Parker, Tom Luth, Ramón K. Pérez
(CA) Ethen Beavers, Larry Marder, Buzz Parker, Ramón K. Pérez, Stan Sakai
A special issue featuring the greatest heroes of The Clone Wars, plus Emily the Strange, Usagi Yojimbo, and other all-ages favorites! Packed with 28 pages of story, the book bears two covers, one with the Star Wars character, the other celebrating Dark Horse's best all-ages characters!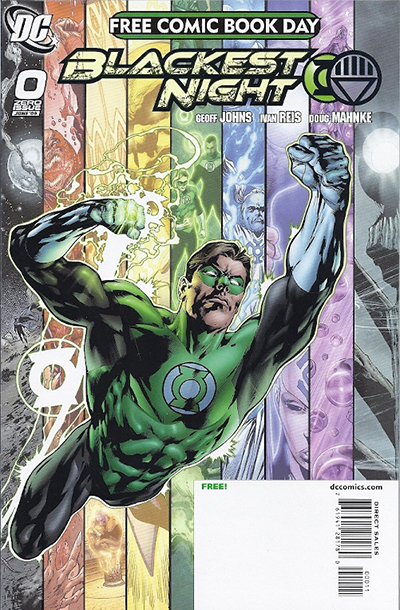 BLACKEST NIGHT #0
DC COMICS
(W) Geoff Johns
(A) Ivan Reis, Ethan Van Sciver
Across the universe the dead will rise! Prepare for the coming of "The Blackest Night" with this prelude to the biggest comic event of the year! This special edition recaps the key moments from "Sinestro Corps War" and "Rage of the Red Lanterns" that led to "Blackest Night," and will give readers everything they need to know about the Green Lantern universe, their ongoing War of Light, and their dark days ahead.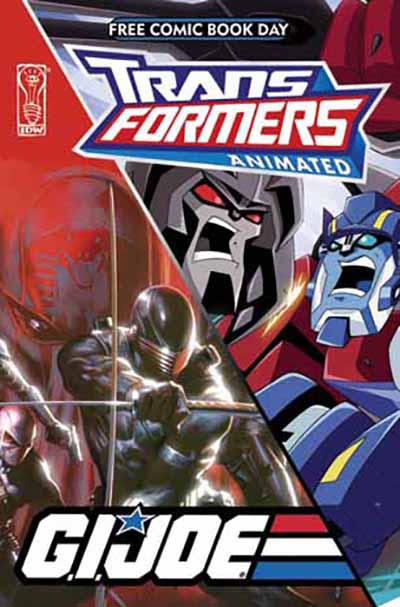 TRANSFORMERS ANIMATED/G.I. JOE
IDW PUBLISHING
(W) Chuck Dixon, Larry Hama, Marty Isenberg
G.I. Joe and the Transformers kick off IDW's FCBD09 promotional comic with three great stories! First up is an 11-page Transformers Animated tale that features a young Optimus Prime in his days at the Autobot Academy. Next is not one, but two great G.I. Joe stories — a six-page story written by the maestro behind-the-series today, and the second written by the maestro behind the series originally! Secrets are revealed and action abounds!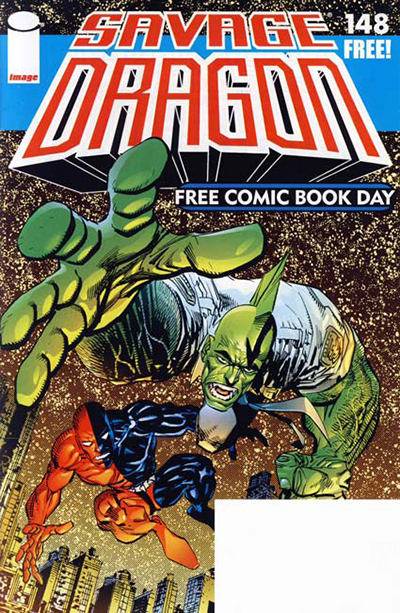 SAVAGE DRAGON #148
IMAGE COMICS
(W, A) Erik Larsen
All-new story and art from fan-favorite writer/artist Erik Larsen (Spider-Man, Wolverine)! There's a new vigilante in town: The Dynamic Daredevil! This recently resurrected hero from comics' Golden Age has made Chicago his new home and it pits him against Chicago's fin-headed finest! Plus a mysterious assassin from Dragon's past is introduced as Dragon's battle against the notorious Vicious Circle heats up! It's the ultimate introductory issue and fit for readers young and old!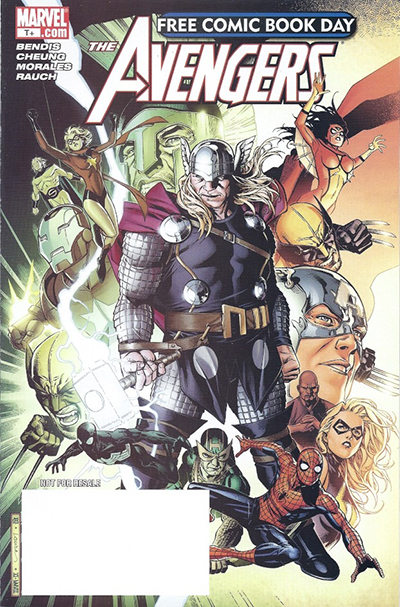 THE AVENGERS
MARVEL
(W) Brian Michael Bendis
(A) Jim Cheung
The mighty Thor and both the New and Dark Avengers join forces against the frost-giant Ymir in a battle that will have terrifying consequences for the Marvel Universe — and for these heroes — in the days to come! Top-flight creators Brian Michael Bendis and Jim Cheung combine talents to bring you an absolutely essential all-new touchstone story for what's coming up in the Marvel Universe — and it's yours, absolutely FREE!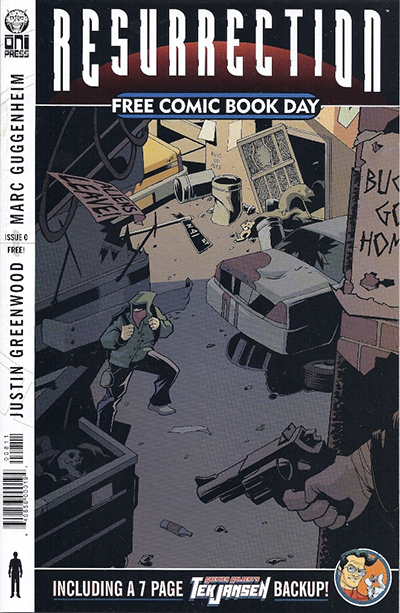 RESSURECTION #0
ONI PRESS
(W) Marc Guggenheim
(A) Justin Greenwood
From the writer of Marvel's Amazing Spider-Man comes a science fiction epic that explores the aftermath of Earth's most brutal conflict. For 10 years the alien invaders have laid waste to our planet, but now they've vanished, leaving the survivors with two questions: "Where did the 'bugs' go?" and "Where does humanity go from here?" Its existential questions, alien-fueled intrigue, and some of the biggest action in comics today! PLUS: A preview of Stephen Colbert's Tek Jansen!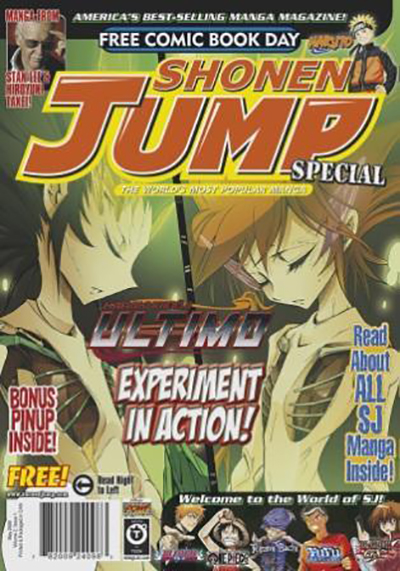 SHONEN JUMP
VIZ MEDIA
(W) Stan Lee
(W, A) Hiroyuki Takei
The Shonen Jump FCBD09 edition features 32 action-packed pages of manga fresh from Japan, featuring a new chapter of Ultimo, an exciting manga serial by legendary creators Stan "The Man" Lee and Hiroyuki Takei, creator of Shaman King!
Free Comic Book Day 2009 Silver Sponsor Comics
---
FCHS
ADHOUSE BOOKS


ATTACK OF THE ALTERNA-ZOMBIES
ALTERNA COMICS


GOLD DIGGER #101
ANTARCTIC PRESS


APE CARTOONAPALOOZA #2
APE ENTERTAINMENT


ARCANA STUDIOS PRESENTS
ARCANA STUDIOS


SONIC THE HEDGEHOG
ARCHIE COMICS


WORLDS OF ASPEN #4
ASPEN MLT COMICS


WILLIAM SHATNER PRESENTS #1
BLUEWATER COMICS

WARHAMMER ONLINE
BOOM! STUDIOS

DABEL BROTHERS SHOWCASE
DABEL BROTHERS


ALIEN V. PREDATOR
DARK HORSE


MERCY SPARX: UNDER NEW
MANAGEMENT
DEVIL'S DUE PUBLISHING


FIST OF JUSTICE #1
DIGITAL WEBBING


NANCY AND MELVIN MONSTER
DRAWN AND QUARTERLY


LOVE AND ROCKETS
FANTAGRAPHICS BOOKS


CONTRACT #1
A FIRST SALVO


IMPACT UNIVERSITY #5
IMPACT BOOKS


DC MEGA SAMPLER
JOHNNY DC (DC COMICS)

COMICS FESTIVAL
LEGION OF EVIL PRESS

LOVE AND CAPES
MAERKLE PRESS

WOLVERINE: ORIGIN OF AN X-MAN
MARVEL


TEENAGE MUTANT
NINJA TURTLES #1
MIRAGE PUBLISHING

THE MOTH: GREATEST HITS
RADICAL COMICS

ATOMIC ROBO AND FRIENDS
RED 5

NASCAR HEROES #1: ORIGINS
STARBRIDGE MEDIA GROUP

STUDIO 407 SAMPLER
STUDIO 407

THE STUFF OF LEGEND PREVIEW
TH3RD WORLD STUDIOS

CYBERFORCE/
HUNTER-KILLER PREVIEW
TOP COW PRODUCTIONS
(IMAGE COMICS)


OWLY AND FRIENDS
TOP SHELF PRODUCTIONS

THE WIZARD HOT LIST
WIZARD COMICS
---
Make sure to get to your local comic book shop on May 6, 2017 and participate in the exciting event that is FCBD!