Get Into Comics with Logan
Feb 27, 2017
Fans are excited for the premiere of Logan later this week and so are we!!
Logan is a loose adaptation of the Old Man Logan storyline by Mark Millar, which debuted in 2008. It follows an older Wolverine after a terrible series of events leading to the deaths of all the heroes on Earth. In the distant future, Wolverine lives in relative peace with his wife and two children as a warlord Hulk, Magneto, Doctor Doom, and Red Skull control what remains of North America.
Before going into Logan, make sure you get up to speed with the comics it's tied to: from the original story, to future appearances from Old Man Logan, to the stories featuring Laura Kinney (X-23). This is the perfect opportunity to see where it all came from and why these stories are the best to adapt to the silver screen! Logan hits theaters on March 3rd, but you can pick these up at your local comic shops now.
---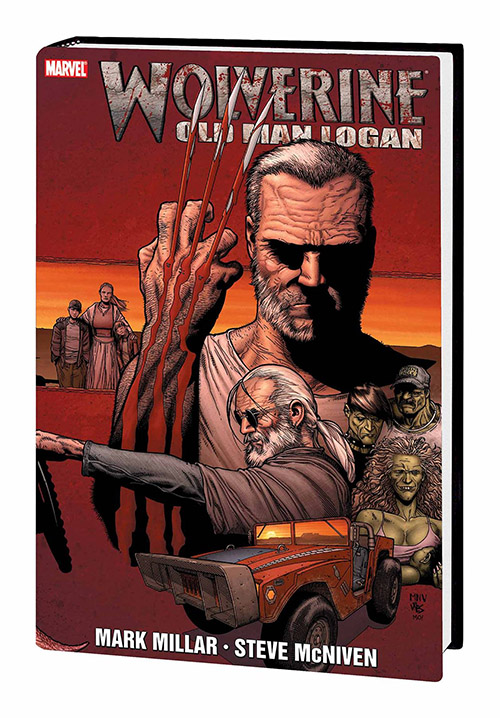 WOLVERINE OLD MAN LOGAN
JUL100692
MARVEL COMICS
(W) Mark Millar
(A/CA) Steve McNiven
Millar. McNiven. Wolverine. It doesn't get any better than this. The only way writer Mark Millar (Wanted, Kick-Ass) could top his all-time classic Wolverine tale "Enemy of the State" was to take it to the future -his Civil War brother in arms, Steve McNiven, handling the art duties! Fusing the dystopian super-hero elements of the X-Men's "Days of Future Past," the wild and wooly futurescapes of Mad Max, and the tragic pathos of Clint Eastwood's archetypal Western heroes, Millar's tale finds Wolverine at a crossroads with who he really wants to be and who he really is. Collecting WOLVERINE #66-72 and WOLVERINE GIANT-SIZE OLD MAN LOGAN.
224 PGS./Parental Advisory
WOLVERINE: OLD MAN LOGAN: WARZONES
SEP150862

ARVEL COMICS
(W) Brian Michael Bendis
(A/CA) Andrea Sorrentino

Enter the Wastelands: a Battleworld realm where heroes have been wiped out and villains rule with an iron fist. In the midst of this dystopian chaos, one man may make a difference. A reluctant warrior who was once the greatest mutant of all. A man known as Old Man Logan. Never before has the former Wolverine been needed as much as he is now, but even the best there was at what he did may be outmatched by the evil lurking in nearby realms! Now, Logan must battle the horrors of mutantkind unleashed, the sins of genocidal machines and the rampaging hordes of the undead. And as Logan traverses Battleworld and learns its secrets, he must face the patchwork planet's thundering police force! He may be old, but Logan's job is far from finished. Collecting OLD MAN LOGAN #1-5.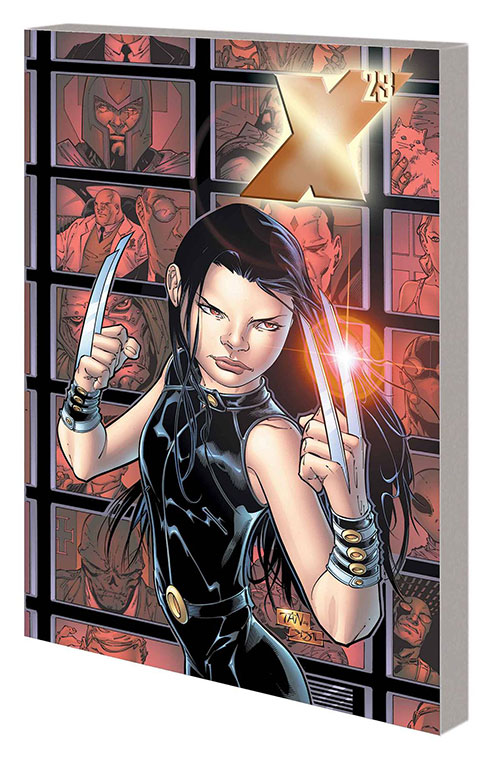 X-23 COMPLETE COLLECTION VOL 1
MAY160942
MARVEL COMICS
(W) Various
(A) Various
(CA) Billy Tan
The origin of X-23! Cloned from Wolverine's cells and raised to be the perfect killer, young Laura Kinney never knew a life free from the harsh masters at the Facility. But now she's broken loose at last and must forge her own path in the world! Free of her chains and determined to live, Laura will write the next chapter of her story herself. But can X-23 escape her training and her instincts, or will the gallons of blood spilled in her violent past drag her down? And can she truly begin a new life until she faces the man whose shadow has loomed over her for years? Enter: The Wolverine! Collecting X-23 (2005) #1-6, X-23: TARGET X #1-6, CAPTAIN UNIVERSE/X-23, X-23 (2010) ONE-SHOT and #1-3, and material from X-MEN: TO SERVE AND PROTECT #2.
Parental Advisory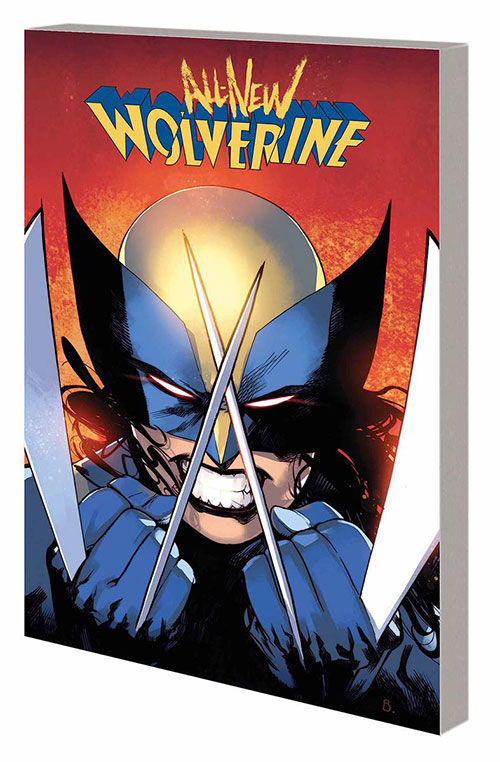 ALL NEW WOLVERINE VOL 1: FOUR SISTERS
FEB160955
MARVEL COMICS
(W) Tom Taylor
(A) David Lopez, David Navarrot
(CA) Bengal
She's the best there is! X-23 was created to be a weapon; for a time, that's all she was. But with the help of her mentor, Logan - the original Wolverine - she escaped that dark past. Now, the man she knew has fallen, but Laura will honor his memory as the All-New Wolverine. But with the famous cowl comes a world of misery and mystery - like the devastating secret of the Sisters. Uncovering it will involve new friends Doctor Strange and the Wasp, and lethal new enemies like the Taskmaster! But after recent events, Laura is growing used to doing everything in her power to save those around her from forces hell-bent on destruction. If anyone can stop them, it's Laura. After all, it's what Wolverine does. Collecting ALL-NEW WOLVERINE #1-6.
Parental Advisory
---
Be sure to find all of these at your local comic shop! If you're not sure where your local comic shop is, use the Comic Shop Locator Service.