FCBD 2007 Swung in With the Release of Spider-Man 3!
Mar 02, 2017
Everyone loves Free Comic Book Day! Who wouldn't? Awesome comics available free of charge provided by the best publishers in the business and the most incredible comic stores across the world make Free Comic Book Day a holiday like none other. This year, Free Comic Book Day celebrates its sixteenth year introducing millions of people to the wonders of comics!
It all started in 2002, where retailer Joe Field, owner of Flying Colors Comics & Other Cool Stuff, saw the success of other days like Free Cone Day and posed the question to other retailers and publishers: shouldn't we do this too? By having a day where publishers offered up their best and most accessible titles to retailers at a low price, comic stores could give away comics for free to the public and encourage those who loved superhero films and multimedia to pick up the comics! Sixteen years later, Free Comic Book Day has become one of the most beloved events in the entire industry!
Spider-Man 3 came out the day before Free Comic Book Day in 2007, which drove the hype for buying comics the next day! Of course there was more than Spider-Man that year. There was also Archie, Mickey Mouse, Transformers, and a new title by the My Chemical Romance front man, Gerard Way!
Here are the books and publishers that participated in the sixth Free Comic Book Day! Which one would you have picked up? Let us know on Facebook and Twitter--if you have any of these comics around, post them to social media with #FCBD2007 so everyone can take a look!
Free Comic Book Day 2007 Gold Sponsor Comics
---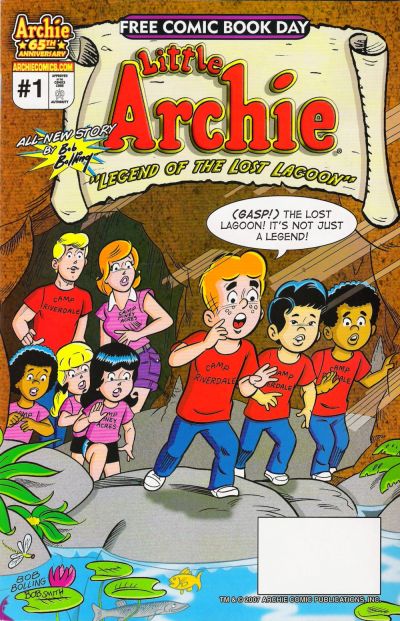 LITTLE ARCHIE "THE LEGEND OF THE LOST LAGOON" #1
archie comics
(W, A, CA) Bob Bolling
(A) Jim Amash, Barry Grossman - 'B. Grossman', Teresa R Davidson
(CA) Bob Smith

Little Archie, several campers and two counselors are boating on Loon Lake when they are suddenly caught in a dangerous storm. A golden owl, thought only to be a legend, directs them to the safety of a hidden tunnel that leads them to yet another legend, The Lost Lagoon!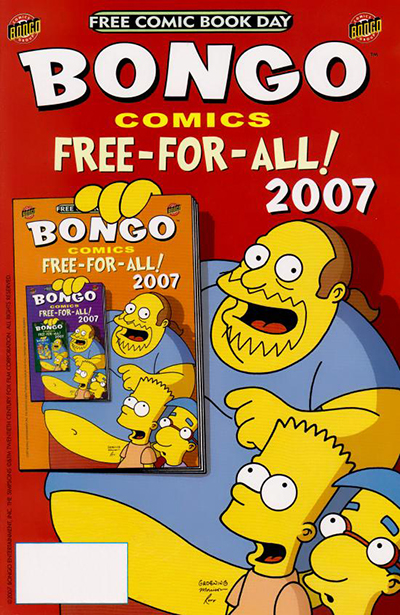 BONGO COMICS FREE-FOR-ALL! 2007
BONGO COMICS
(CA) Matt Groening, Bill Morrison, Mike Rote
The comic company that brings you The Simpsons and Futurama in the fantastic four-color format joins the ranks of promotion-seeking publishers on Free Comic Book Day by joining with retailers to reel in new readers, with a comic cornucopia of tantalizing tidbits and a spectacular sampling of the best in humor comics!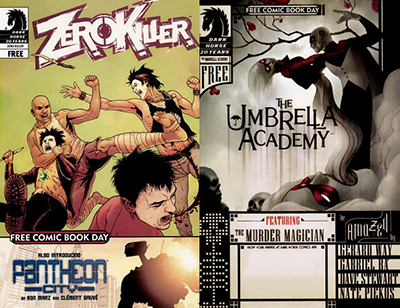 THE UMBRELLA ACADEMY / ZERO KILLER / PANTHEON CITY
DARK HORSE COMICS
(W) Gerard Arthur Way, Ron Marz, Arvid Nelson
(A) Gabriel Bá, Dave Stewart, Nate Piekos, Clément Sauvé, Stephane Peru, Serge LaPointe, Matt Camp, Dave Stewart, Arvid Nelson
(CA) Matt Camp, James Jean

Three for the price of… none? Conceived and written by My Chemical Romance front man Gerard Way, The Umbrella Academy features interior art by Gabriel Bá (Casanova) and Dave Stewart (Hellboy), and covers by multiple-Eisner-Award-winning artist James Jean (Fables). The Umbrella Academy debuts with a 12-page story set before the start of the upcoming series. This issue also features sneak-peeks of two other upcoming Dark Horse titles: Zero Killer, by Rex Mundi creator Arvid Nelson and Matt Camp (Shadows), and Pantheon City, written by Ron Marz (Samurai: Heaven and Earth) and drawn by Clement Sauve (Stormwatch)!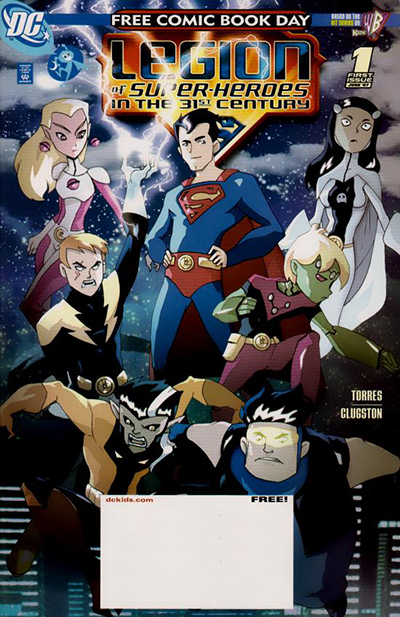 THE LEGION OF SUPER-HEROES IN THE 31st CENTURY #1
dc comics
(W) J. Torres - 'Joseph Torres'
(A) Chynna Clugston, Guy Major, Robert Clark
(CA) Steve Uy
An all-new, all-ages Johnny DC series spinning out of the smash-hit animated series on Kids WB! starring Superman and the Legion of Super-Heroes! In this debut issue, the Legion travels back in time for reinforcements to stop the Fatal Five from destroying Metropolis, because this looks like a job for… Clark Kent?! Can six teenagers from the future help a mild-mannered teenager become the Man of Steel, or will the Fatal Five determine his destiny before it's even begun?

THE LONE RANGER / NEW BATTLESTAR GALATICA FLIP BOOK
DYNAMITE ENTERTAINMENT
(W) Brandon Jerwa, Brett Matthews
(A) Stephen Jorge Segovia, Inlight Studio, Sergio Cariello, Dean V. White
(CA) Stephen Jorge Segovia, John Cassaday, Dean V. White

Dynamite Entertainment proudly presents their first FREE COMIC BOOK DAY comic featuring: Battlestar Galactica: Year One #0 beginning a brand new story from the creative team of Brandon Jerwa and Stephen Segovia! Taking place before the events of the now-classic SCI-FI series, Year One presents a "season zero" that introduces us to the cast and crew of the Galactica as they face new challenges and threats, all under the watchful eye of the Cylons! On the flip side, Lone Ranger: The Creed #0 presents a special tale in which the immortal words of the Lone Ranger's Creed help to narrate the story! PLUS: Previews of Red Sonja, Painkiller Jane, Highlander and Raise the Dead!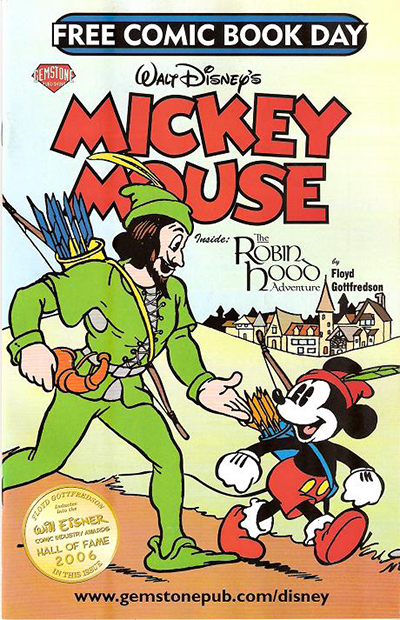 WALT DISNEY'S MICKEY MOUSE
gemstone PUBLISHING
(W) Ted Osborne
(A) Ted Thwaites
(CA, A, W) Floyd Gottfredson
2006 Eisner Award Hall of Fame honoree Floyd Gottfredson brings you the Mickey Mouse you love: a two-fisted scrapper in a jaw-dropping epic! "The Robin Hood Adventure" takes our hero to Medieval times, where he must prove himself a warrior — sword-fighting, jousting, and risking his life to rob the rich! And then there's that little matter of marriage to one of Minnie's ancestors… ods bodkins!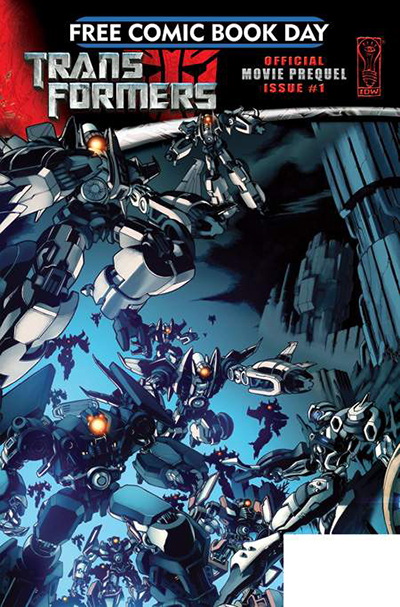 TRANSFORMERS: THE MOVIE PREQUEL
IDW PUBLISHING
(W) Simon Furman, Chris Ryall
(A) Robbie Robbins
(CA, A) Josh Burcham, Don Figueroa

Before the live-action Transformers movie spectacularly explodes onto theater screens in July, read the official beginning of the story right here! In this prequel to the film, "Prime Directive," travel from Cybertron to Earth to witness the events that lead to the Transformers bringing their war to our world! This special Free Comic Book Day edition features issue #1 of this prelude, as well as additional art from series artist Figueroa.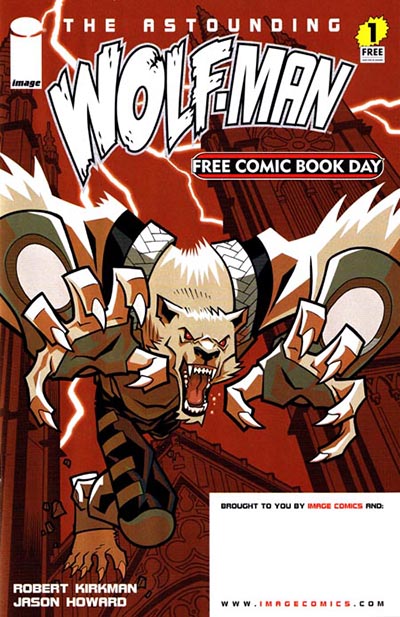 THE ASTOUNDING WOLF-MAN #1
IMAGE COMICS
(W) Robert Kirkman, Rick Remender, Joe Casey,Jay Faerber, Erik Larsen, Jim Valentino
(A) Jerome Opeña, Erik Larsen, Ron Riley, Jon Bosco - 'Bosco', Bill Crabtree, Ryan Ottley, Richard Alan Starkings - 'RS', Tom Scioli

When Gary Hampton is mauled and left for dead — his life takes a drastic turn. Gary is cursed — when the moon is full he transforms into a beast of the night — a werewolf! But this curse will not be used for evil — witness the birth of the world's most unlikely new superhero — The Astounding Wolf-Man! Don't miss Robert (Invincible, The Walking Dead) Kirkman's new series from Image Comics!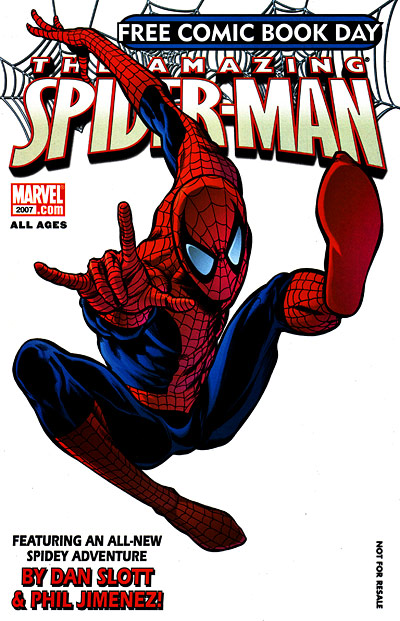 AMAZING SPIDER-MAN: SWING SHIFT
marvel comics
(W) Dan Slott
(A) Phil Jimenez, John Dell III, Andy Lanning, Jeromy N. Cox, Virtual Calligraphy, Chris Eliopoulos, Cory Petit
(CA) Phil Jimenez
All-New Story & Art by an All-Star Creative Team! Fan-favorite writer Dan (Civil War: The Initiative; She-Hulk) Slott and Superstar Artist Phil (New X-Men, Infinte Crisis) Jimenez bring you a brand new tale of danger and intrigue starring your favorite web-slinger... a tale that may just come back to haunt Spidey in the coming months!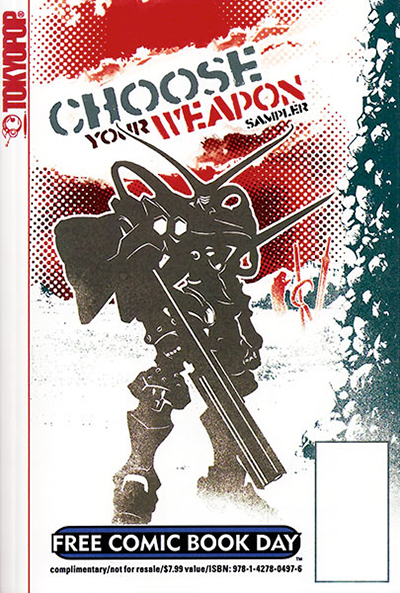 TOKYOPOP CHOOSE YOUR WEAPON 2007
TOKYOPOP
Need a little 'tude with your manga? Tokyopop is proud to present five titles for your fighting pleasure — Utopia's Avengers, Phantom, Gyakushu!, Archlord, and Warcraft:The Sunwell Triology—Ghostlands... series filled with bone-crushing art, mesmerizing action, and even exclusive downloads and contest at the Tokyopop website!
Free Comic Book Day 2007 Silver Sponsor Comics
---
Pirates vs. Ninjas #1

ANTARCTIC PRESS

APE ENTERTAINMENT's
COMIC SPECTACULAR
APE ENTERTAINMENT

ARCANA STUDIO PRESENTS
ARCANA STUDIO

sonic the hedgehog
ARCHIE COMICS

WORLDS OF ASPEN 2007
ASPEN MLT

LAST BLOOD #1
BLATANT COMICS


HUNTER'S MOON / SALVADOR
FLIP BOOK


BOOM! STUDIOS

JACK THE LANTERN: GHOSTS 2007

CASTLERAIN ENTERTAINMENT

COMICGENESIS 2007
COMIC GENESIS

COMIC SHOP NEWS 2007
FCBD Special
COMIC SHOP NEWS, INC


JUSTICE LEAGUE OF AMERICA #0
DC COMICS


FAMILY GUY / HACK/SLASH
FLIP BOOK


DEVILS DUE PUBLISHING




DIGITAL WEBBING JAM 2007
DIGITAL WEBBING

Lynda Barry Extravaganza
DRAWN & QUARTERLY


THE UNSEEN PEANUTS
FANTAGRAPHICS BOOKS


The Train Was Bang On Time


01: SECOND BOOKS


LIBERTY COMICS #0
HEROIC PUBLISHING

Impact University Volume 3




IMPACT BOOKS

Keenspot Spotlight 2007




KEENSPOT ENTERTAINMENT

COMICS FESTIVAL! 2007


LEGION OF EVIL PRESS

Love and Capes


Maerkle Press




MARVEL ADVENTURES
THREE-IN-ONE
MARVEL COMICS


WHITEOUT #1




ONI PRESS

Amelia Rules!: Hangin' Out




RENAISSANCE PRESS

NEXUS SPECIAL




RUDE DUDE PRODUCTIONS

Buzzboy / Roboy Red:
The Buzz & The 'Bot #0


SKY-DOG PRESS

WAHOO MORRIS #1




TOO HIP GOTTA GO PUBLISHING

O

WLY & KORGI




TOPSHELF PRODUCTIONS

COMICS 101: How-To & History
Lessons From The Pros


TWOMORROWS PUBLISHING

Viper Comics Presents:
JOSH HOWARD'S SASQUATCH
and More


VIPER COMICS

VIRGIN COMICS SAMPLER




VIRGIN COMICS

GUMBY SPECIAL


WILDCARD INK

Wizard's "How to Draw"
Sampler


WIZARD ENTERTAINMENT
---
Make sure to get to your local comic book shop on May 6, 2017 and participate in the exciting event that is FCBD!