Scott Chitwood On Why Keyzer Soze Is Always On "Lists Of All-Time Great Movie Villains"
Feb 18, 2017
We sat down with Scott Chitwood, Co-Owner of Red 5 Comics, to talk about "Keyser Soze: Scorched Earth". The focus of the comic is Keyser Soze, a crime lord whose influence and ruthlessness have earned him quite the reputation. The comic tells the story of Soze's early adventures when his boogeyman status was still being earned. "Keyser Soze: Scorched Earth" is a mysterious and thrilling addition to Free Comic Book Day 2017!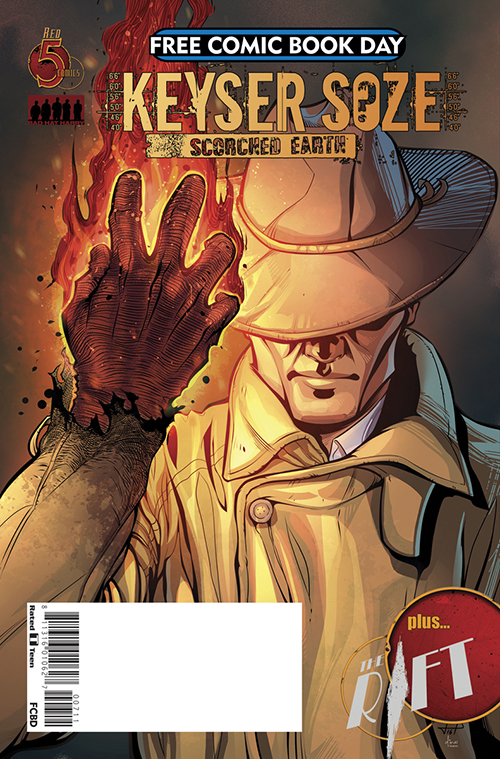 FCBD 2017 KEYSER SOZE THE RIFT
JAN170043
RED 5 COMICS
(W) Paul Ens, Don Handfield, Richard Rayner
(A, CA) Livia Pastore, Leno Carvalho
Red 5 Comics and Bryan Singer's Bad Hat Harry Productions present a tale featuring the early years of one of cinema's most mysterious villains, Keyser Soze. Also included is a new time travel adventure featuring a displaced WWII pilot entitled
The Rift
presented by Jeremy Renner. [TEEN]
---
Free Comic Book Day: Why bring back The Usual Suspects' famous antagonist Keyzer Soze to comics?
Scott Chitwood: If you look at lists of all-time great movie villains, you always see Keyser Soze on the list. Yet there has never been any sort of spinoff with Soze to further tell his story. Red 5 Comics was already working with Bryan Singer's Bad Hat Harry production company when they approached us about the possibility of doing a Keyser Soze comic. We of course jumped at the chance. The writer of "Keyser Soze: Scorched Earth" is Paul Ens and he is a major fan of "The Usual Suspects". Working on this title has been a opportunity of a lifetime for us.
What about him makes such a compelling villain?
I think the mystery surrounding Keyser Soze is a major part of his appeal. You know how in horror movies what you don't see is scarier than what you do see? I think it's the same with Soze. He's a boogeyman to criminals and his legend has been so embellished over the years that the thought of him is way scarier than the real story. When we first announced this series a lot of people thought we were telling the origin of Keyser Soze. That's actually not the case. This is more of an early adventure of the character as his legend is growing. It is set in the 80's against a backdrop of the Regan era, the war on drugs, the Iran Contra Affair, etc. Seeing such a cool movie villain in that time period opened up a lot of fun possibilities. We can't wait to share "Keyser Soze: Scorched Earth" with fans. And if you liked "The Usual Suspects", we have a few surprises in store for you. But keeping the mystery intact was one of our top priorities.
What can you tell us about the story of The Rift?
"The Rift" is a comic brought to us by The Combine which is a production company that Jeremy Renner co-owns. In this series, a rift in time and space opens up and a WWII plane comes though it and crash lands in the present day. A mother and her son find the pilot and get him to a hospital. But a secret organization quickly descends on the scene. It turns out that these rifts have happened at multiple times and at multiple locations all over the world and this organization has been tasked with dealing with them. And if they don't get the pilot back through the rift in time, the consequences could be catastrophic...and explosive. It's a fun series with elements of "Quantum Leap", "Close Encounters of the Third Kind", and more. If you love time travel stories, this is a new take on the genre that I think you'll love.
What got you reading comics? What are some series you're reading today?
I've read comics my whole life. Superman, Batman, and Spider-Man have been with me as long as I can remember. While I dabbled in comics as a young kid, I started collecting them and really following series at about age 12 with the first "Transformers" comic from Marvel. My family then moved overseas and I started following them more as they were some of the only English books that I could get. I read "Web of Spider-Man" during Kraven's Last Hunt and "Iron Man" during Armor Wars. From there on I was hooked. I've since been collecting comics for 33 years. I'm currently reading "The Walking Dead", Marvel's new "Star Wars" comics, Bendis' "Spider-Man" comics, Dark Horse's "Aliens", and much more!
What books would you recommend to new readers and why?
From Red 5 Comics', I'd recommend our "Neozoic" series from "Keyser Soze: Scorched Earth" writer Paul Ens. The art is fantastic and the setting in an alternate world where dinosaurs never died off is unique and fun. I'd also recommend "Haunted" which I wrote. It's set in a world where the barrier between our world and the ghost realm has been torn down. Ghosts overrun the Earth. Bryan Singer's Bad Hat Harry production company is working on adapting it for television. And if you like space opera, you may enjoy "Seven Percent". The art is stunning and the story is really interesting. I also really recommend "The Rift". The art and storytelling is amazing. We wanted to offer it on FCBD because we think when people get a small taste of it, they'll be hooked and want to pick up the trade paperback which will be available at the same time.
Why do you think Free Comic Book Day is important to the comic book community?
Every week there are a TON of comics that hit the shelves. A fan would break their bank account trying to buy them all. But FCBD allows fans to try out a wide variety of series for free and see what they might have been missing. For an independent publisher like Red 5 Comics, our titles often get lost amid the bigger publishers. FCBD allows us to shine a spotlight on our series and allow readers to sample our comics at no risk. We are confident that once comic readers get a chance to see our comics, they'll want to pick up more. FCBD is our biggest and best advertising effort for the year.
Why do you think local comic shops are important to the comic book community?
Comic shops are vital for independent publishers like Red 5 Comics. To have a retailer support your title is tremendously important. And if a comic shop owner recommends one of our titles to customers, that's huge for us. While I love superhero comics from major companies, I also want to see something new and different. Comic shop owners and employees can guide me and other readers on what all is out there. They also know your personal tastes and can recommend books specifically for you.
---
For Free Comic Book Day 2017, Scott Chitwood hopes to travel between all of the local shops that support Red 5 Comics in Houston where he lives. He intends to visit Bedrock City, Third Planet, and Pop Culture, along with various other local shops. Scott wants to surprise fans in stores with a few freebies too! He also intends to set up appearances for the creators of "The Rift" and "Keyser Soze: Scorched Earth" in comic shops in Los Angeles. Check for updates here.