FCBD 2006: The Fifth Anniversary! Including Star Wars, Transformers, and X-Men!
Feb 23, 2017
Everyone loves Free Comic Book Day! Who wouldn't? Awesome comics available free of charge provided by the best publishers in the business and the most incredible comic stores across the world make Free Comic Book Day a holiday like none other. This year, Free Comic Book Day celebrates its sixteenth year introducing millions of people to the wonders of comics!
It all started in 2002, where retailer Joe Field, owner of Flying Colors Comics & Other Cool Stuff, saw the success of other days like Free Cone Day and posed the question to other retailers and publishers: shouldn't we do this too? By having a day where publishers offered up their best and most accessible titles to retailers at a low price, comic stores could give away comics for free to the public and encourage those who loved superhero films and multimedia to pick up the comics! Sixteen years later, Free Comic Book Day has become one of the most beloved events in the entire industry!
Free Comic Book Day celebrated its fifth anniversary in 2006! With 2005 being its highest rated year yet, they had set the bar high. Never one to fall behind, publishers kept the ratings high with a long list of favorites such as Archie, The Simpsons, Star Wars, The Justice League, Donald Duck, Transformers, and Batman and Superman!
Here are the books and publishers that participated in the fifth Free Comic Book Day! Which one would you have picked up? Let us know on Facebook and Twitter--if you have any of these comics around, post them to social media with #FCBD2006 so everyone can take a look!
Free Comic Book Day 2006 Gold Sponsor Comics
---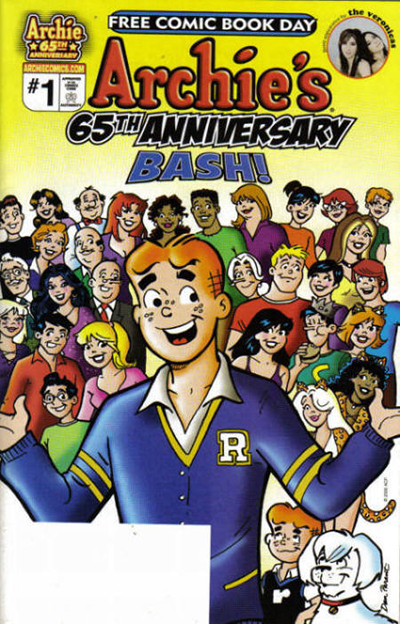 Archie's 65th Anniversary Bash
archie comics
(W, A, CA) Dan Parent
(A) Jim Amash, Barry Grossman - 'B. Grossman', Vickie Williams, Jack Morelli - 'John Morelli'

"Moving Forward": When Archie's dad is offered a lucrative job in another state, Archie reflects back on his Little Archie days, and sets off to tell his friends that he'll soon be moving. Along the way, he reminisces with Sabrina, Josie, "That Wilkin Boy," and more. He even runs into Katy Keene and The Veronicas! Breaking the news to his inner circle of friends — Betty, Veronica, Jughead, and Reggie — is toughest of all, but the gang relieves the sting by throwing Archie a mega going-away part at Pop's. Can Archie really be leaving Riverdale on the eve of Archie Comics' 65th anniversary?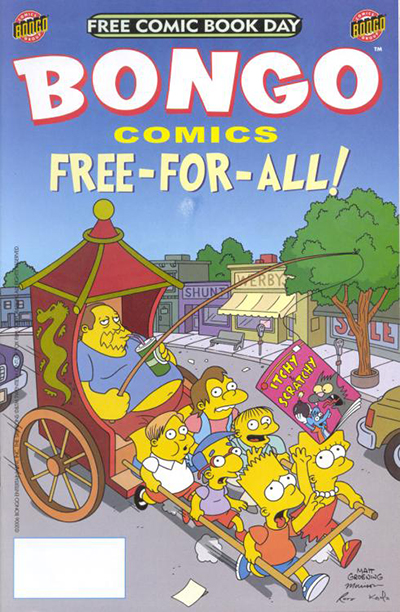 Free Comic Book Day Bongo Comics Free-For-All!

BONGO COMICS GROUP
(CA) Nathan Kane, Bill Morrison, Mike Rote
The comic company that brings you The Simpsons and Futurama in the fantastic four-color format joins the ranks of promotion-seeking publishers on Free Comic Book Day by joining with retailers to reel in new readers, with a comic cornucopia of tantalizing tidbits and a spectacular sampling of the best in humor comics!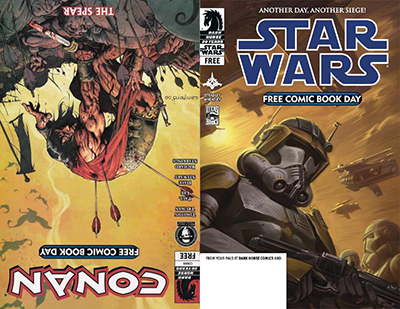 STAR WARS/CONAN FLIP-BOOK
DARK HORSE COMICS
(W) Randy Stradley, Timothy ''Tim'' Webster Truman
(A) Douglas 'Doug' Wheatley, Ronda Pattison, Michael David Thomas, Paul Lee, Dave Stewart, Comicraft, Richard Alan Starkings - 'RS'
(CA) Sean McNally, Cary Nord, Dave Stewart
Barbarians and Clone Troopers collide in this special Free Comic Book Day Edition flip-book! The Star Wars side features a Clone Troopers story. Far superior to the battle droid armies, the clone troopers formed the backbone of the Republic's new military initiative that battled against the forces of the Confederacy of Independent Systems. The Conan side serves as the perfect introduction to Conan and the Conan monthly series! Drawing on the original Robert E. Howard stories, the legend of Conan is brought to vivid life for the modern audience.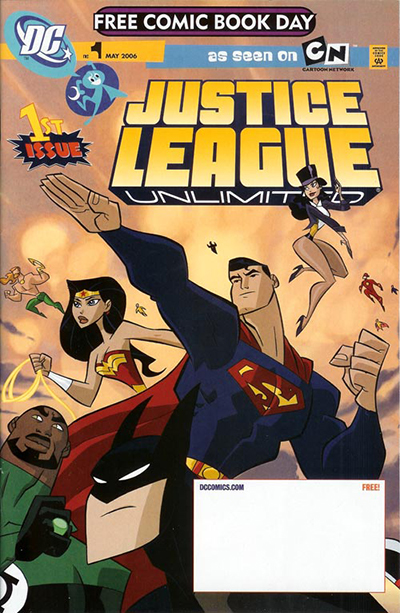 JUSTICE LEAGUE UNLIMITED #1

dc comics
(W) Adam Beechen
(A) Carlo G. Barberi, Walden Wong, Heroic Age, Nick J. Napolitano
(CA) Ben Caldwell
In this debut tale from the series based on Cartoon Network's Justice League Unlimited cartoon, the League bands together, only to witness it's most powerful members calling it quits! What enigmatic foe is responsible for Superman, Wonder Woman and Captain Atom throwing in the towel? Can Zatanna, Batman and The Flash pull it together before it's too late?

G.I. JOE: Sigma 6 #1
devil's due Publishing
(W) Andrew Dabb
(A) Chris Lie, Ramanda Kamarga, Capitaine Blitzkrieg, Brian J. Crowley

The Sigma 6 FCBD Edition reprints the action packed first issue of the series, based on the all-new hit Saturday morning animated series on FOX 4Kids TV! When a team of research scientists disappears, Duke is sent to Guam to investigate! What he finds leads him to all-out battle with robot soldiers, cybernetically-controlled sharks, and the international weapons designer, Destro! An all-ages book full of high-octane action!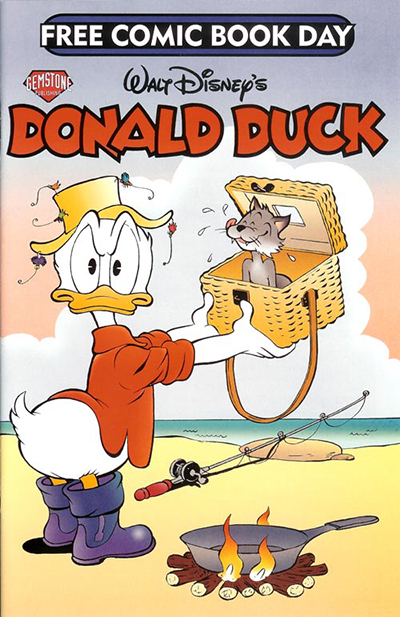 Disney Comics presents: Donald Duck
gemstone PUBLISHING/DISNEY COMICS
(CA) Carl Barks, Susan Daigle-Leach - 'Sue Daigle, Susan Leach'
This year's FCBD edition features three classic reprints by some of the most respected modern creators in the business: Don Rosa's "Metaphorically Spanking"; Pat and Shelly Block's "Queen of the Ant Farm"; and William Van Horn's "Their Loaded Forebear." A Carl Barks cover wraps the book.

The Transformers/Beast Wars Special
IDW PUBLISHING
(W) Simon Furman, Charles 'Chuck' Dixon
(A) E.J. Su, John Rauch, Guido Guidi, Jay Fotos, Don Figueroa, John Burcham

This special Free Comic Book Day issue celebrates the return of the Transformers! Fans can get a look at the Transformers revival, "Infiltration," courtesy of writer Simon Furman and artist E.J. Su. Then, on the flip-side, experience Transformers: Beast Wars—"The Gathering," also written by Furman and featuring the art of Don Figueroa. This special flip-book comes adorned with two covers by artist Don Figueroa, both of which pay homage to classic comic book covers. Two exciting stories, for the price of none!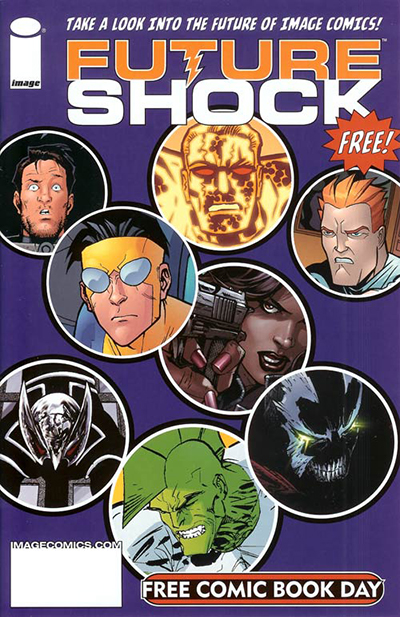 FUTURE SHOCK
IMAGE COMICS
(W) Robert Kirkman, Rick Remender, Joe Casey,Jay Faerber, Erik Larsen, Jim Valentino
(A) Jerome Opeña, Erik Larsen, Ron Riley, Jon Bosco - 'Bosco', Bill Crabtree, Ryan Ottley, Richard Alan Starkings - 'RS', Tom Scioli

Images of Tomorrow! Here are EIGHT brand-new, four-page scenes from eight, ongoing Image comics! Spawn! ShadowHawk! Invincible! Savage Dragon! Gødland! Noble Causes! Witchblade! Fear Agent! The creators of your favorite Image comics give you a compelling glimpse into the future of these popular ongoing titles... with Spoilers aplenty! This will be the Free Comic Book Day book everybody will be talking about!
X-Men / Runaways
marvel comics
(W) Brian K. Vaughan, Chris Eliopoulos - '(principally a letterer)', Marc Steven Sumerak, Jeff Parker, John Barber, Brian Michael Bendis
(A) Mark Bagley, Mark Brooks, Trevor Hairsine, Dave Sharpe, Val Staples - 'Enigma', Scott Koblish, Manuel Garcia, Chris Eliopoulos, Lovern Kindzierski, Virtual Calligraphy, Randy Gentile, Skottie Young
(CA) Jo Chen - '咎井淳 / TogaQ'
This 40-page spectacular is jam-packed with new material to keep fans coming back for more! In an all-new 11-page story, X-Men / Runaways, Marvel's most popular mutants meet the fan-favorite Runaways, written by Brian K. Vaughan and drawn by Skottie Young! Professor Xavier's original students are all grown up, and the X-Men are now looking to teach the next generation of heroes a valuable lesson. But will the anti-authority Runaways go to the head of the class, or straight to detention? Then, learn the secrets of Peter Parker's life as Ultimate Spider-Man as we walk you through the highlights from the first 90-some-odd issues! Relive— or, even better, witness for the first time-Peter's transition from bookish teen to Friendly Neighborhood Wall-Crawler! This special 11-page Ultimate Spider-Man Saga will help your customers get caught up with everything that's been happening to Spider-Man in the Ultimate Universe. The fun keeps coming, as Marc Sumerak and Chris Eliopoulos, creators of the sold-out Franklin Richards, bring you another adventure staring the "Son of a Genius" and his robotic counterpart, H.E.R.B.I.E. And, rounding out the all-new action, Marvel is pleased to present a 4-page preview of the upcoming Marvel Adventures series, Mighty Avengers, debuting this summer!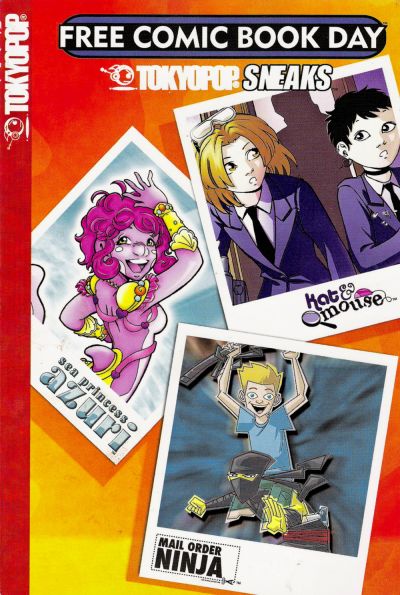 Tokyopop Sneak
TOKYOPOP
Three great new manga series — by American creators — are previewed in this Free Comic Book Day sampler! First up is Kat & Mouse! When Kat moves to a posh private school, things seem perfect. That is, until popular kids frame Kat's dad for stealing school property! Can Kat and the rebellious computer nerd, Mouse, prove who the real culprits are, before Kat's dad loses his job? Next is Mail Order Ninja! Meet Timmy McAllister — a normal kid who lives in the 100% pure vanilla town of Cherry Creek, where everyone and everything is... normal. Normal, until the day Timmy orders his very own ninja! Timmy, and the town, may never be the same! Finally, in Sea Princess Azuri, we meet Azuri, a mermaid princess and the only royal heir of the Orcans, a race of whale mer-people that live deep within the ocean. Azuri is betrothed to the leader the Eel people; their marriage was arranged as a means to bring peace to two kingdoms — and thus save the world. But when she falls in love with Thalo, a royal Orcan guard, her world begins to fall apart.
Free Comic Book Day 2006 Silver Sponsor Comics
---
The Preposterous
Voyages of IronHide Tom!
AdHouse BookS

Arcana Studio
Presents #3
arcanA studio

WORLDS OF ASPEN #1
ASPEN MLT INC.

JACK THE LANTERN: 1942




CASTLERAIN

SOULSEARCHERS & COMPANY
/ DEADBEATS FLIP BOOK
CLAYPOOL COMICS

Comic Genesis: Generations
2006


COMIC GENESIS



SUPERMAN/BATMAN #1
DC COMICS

Mr. Jean


DRAWN & QUARTERLY

FUNNY BOOK #2
FANTAGRAPHICS BOOKS

Impact University Volume 2
F&W PUBLISHING


Liberty Girl #0
HEROIC PUBLISHING


Keenspot Spotlight 2006


KEENSPOT

PUBLISHING




Bluff & Tales from a Forgotten Planet
NARWAIN SRL


FREE SCOTT PILGRIM #1
ONI PRESS


OWLY: BREAKIN' THE ICE
TOPSHELF PRODUCTIONS


Amelia Rules!


RENAISSANCE PRESS




Buzzboy: Sidekicks Rule! #1
SKYDOG PRESS

Viper Comics Presents:
Dead@17 & More
VIPER COMICS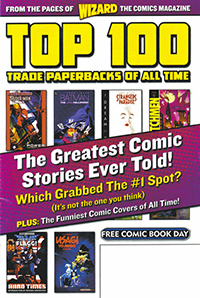 WIZARD PRESENTS: THE TOP 100
TRADE PAPERBACKS OF ALL TIME #1
WIZARD ENTERTAINMENT
---
Make sure to get to your local comic book shop on May 6, 2017 and participate in the exciting event that is FCBD!