FCBD 2005: Archie, The Simpsons, Batman, Star Wars, and Spider-Man With the Fantastic Four!
Feb 16, 2017
Everyone loves Free Comic Book Day! Who wouldn't? Awesome comics available free of charge provided by the best publishers in the business and the most incredible comic stores across the world make Free Comic Book Day a holiday like none other. This year, Free Comic Book Day celebrates its sixteenth year introducing millions of people to the wonders of comics!
It all started in 2002, where retailer Joe Field, owner of Flying Colors Comics & Other Cool Stuff, saw the success of other days like Free Cone Day and posed the question to other retailers and publishers: shouldn't we do this too? By having a day where publishers offered up their best and most accessible titles to retailers at a low price, comic stores could give away comics for free to the public and encourage those who loved superhero films and multimedia to pick up the comics! Sixteen years later, Free Comic Book Day has become one of the most beloved events in the entire industry!
In 2005 Free Comic Book Day got a new kind of attention from Mandy Amano, a cover model for Maxim, when she endorsed Free Comic Book Day and shared her love of comics! Now in its fourth year, Free Comic Book Day continued to exceed expectations and convert more of the public into comic book lovers!
Here are the books and publishers that participated in the fourth Free Comic Book Day! Which one would you have picked up? Let us know on Facebook and Twitter--if you have any of these comics around, post them to social media with #FCBD2005 so everyone can take a look!
Free Comic Book Day 2005 Gold Sponsor Comics
---
BETTY & VERONICA FCBD EDITION #1
archie comics
(W) Dan Parent
(A) Dan Parent, Jim Amash, Barry Grossman - 'B. Grossman', Vickie Williams
(CA) Jim Amash, Dan Parent

This special issue not only delivers the goods with appearances from Betty, Veronica, Midge, Cheryl, Maria, Brigitte, Ginger, and Veronica's cousin Marcy; it also reintroduces one of the most popular characters Archie ever published: Katy Keene! In "Model Citizen," Katy returns as Ginger's assistant at Dazzle Magazine. An aspiring model, Katy is hoping to learn the ropes… and when Archie's gal pals become involved in the magazine's fashion design and model contest, you know those ropes are sure to get tangled! Along the way, readers' fashions will be worked into the story in a tip of the designer hat to Katy tales gone by.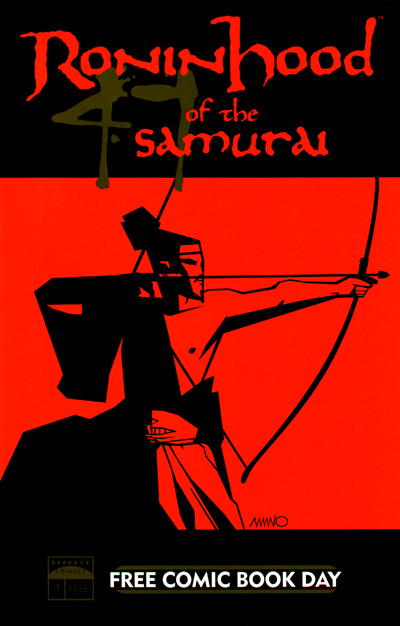 RONIN HOOD OF THE 47 SAMURAI ONE SHOT
Beckett COMICS
(W, CA) Jeff Amano
(A) Craig Rousseau, Wayne Faucher, Giulia Brusco, Omar Mediano
Masterless samurai because their Lord fell prey to treachery, Oishi of the 47 Ronin leads his men to regain their honor even though it will end in their inevitable death. Death by either the superior numbers of their enemy or death by their own blade if they should actually succeed. But first, they must plan. First, they must protect the have-nots from those that have too much. Before they die as samurai, they must fight…as Ronin.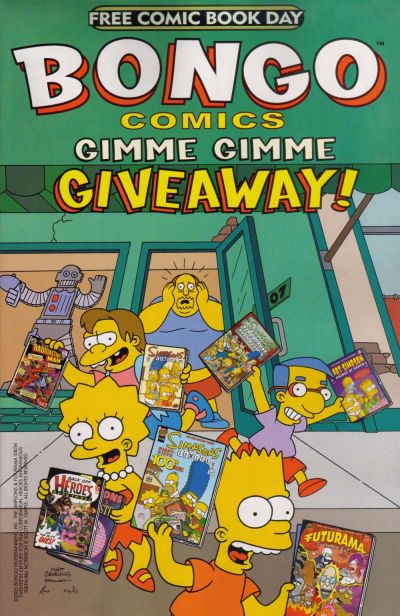 BONGO COMICS GIMME GIMME GIVEAWAY #1
BONGO COMICS
(CA) Matt Groening, Nathan Kane, Bill Morrison, Mike Rote
This year, the comic book company that brings you The Simpsons and Futurama in the fantastic four-color format jumps into the fray on Free Comic Book Day with a comic cornucopia of tantalizing tidbits and a spectacular sampling of the best in humor comics!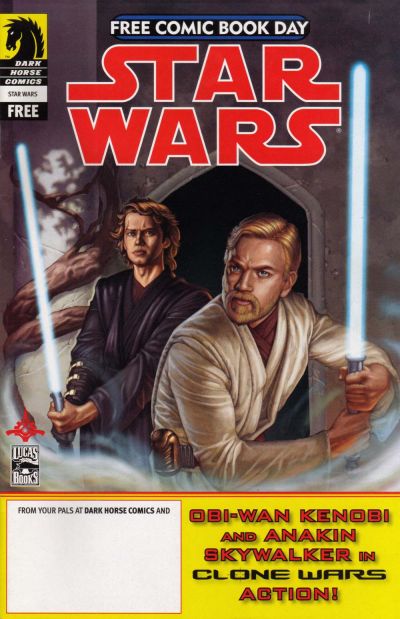 STAR WARS: FREE COMIC BOOK DAY 2005 SPECIAL ONE-SHOT
DARK HORSE COMICS
(W) Miles Lane
(A) Nicola Scott, Michael Atiyeh, Michael David Thomas
(CA) Dan Jackson, Michael Sutfin - 'Mike'
This comic ties in with the events of Episode III, as the action of the Clone Wars comes to a dramatic conclusion and events are put in place for A New Hope. Battles rage in space, armies clash on alien worlds, heroes become martyrs, and friends become enemies — all leading up to the biggest, longest, and most incredible lightsaber duel in Star Wars history! This is the film that answers the questions "How did Anakin succumb to the dark side?" "What happened to Luke and Leia's mother?" "And why are there no Jedi around in the original Trilogy?"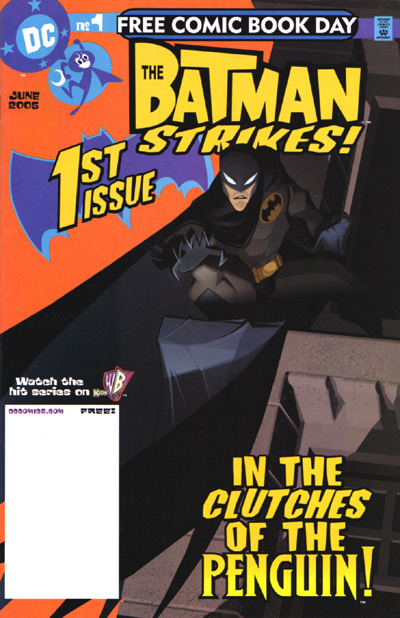 THE BATMAN STRIKES! #1
DC COMICS
(W) Bill Matheny
(A) Christopher A. Jones - 'Chris Jones', Terry Beatty, Heroic Age, Patrick Brosseau - 'Pat'
(CA) Jeff Matsuda
The Dark Knight stars in a fantastic all-ages comic based on the hot new animated series on Kids WB! In this debut issue, when the vengeful Penguin pulls a heist that could reveal Bruce Wayne's secret and destroy vast portions of the city, the Batman will have to use every resource at his disposal!

DEVIL'S DUE FREE COMIC BOOK DAY 2005/DARKSTALKERS #0
devil's due
(CA) Danimation, Mark Brooks, Stefano Caselli, Sunder Raj, Tim Seeley
For present and new readers alike, Devil's Due offers a sampling of our finest titles! Looking for a fresh, more realistic approach to super heroes? Curious about the buzz surrounding G.I. Joe? Obsessed with Capcom video games? Then this book is for you! Included in this special edition are tales featuring Defex, from the sell-out Aftermath line; G.I. Joe; and Udon's Darkstalkers! And the best part of all...? It's free! This flip book, features Udon's Dark Stalkers on one side, with G.I. Joe and Defex on the other.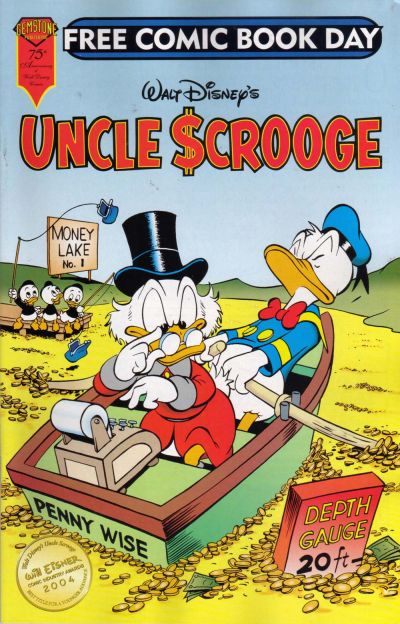 WALT DISNEY'S UNCLE SCROOGE - FREE COMIC BOOK DAY #1
GEMSTONE PUBLISHING
(W) Carl Barks
(A) Carl Barks, Susan Daigle-Leach - 'Sue Daigle, Susan Leach'
(CA) Carl Barks, Rick Keene
Carl Barks' "Only a Poor Old Man" has been chosen for Free Comic Book Day this year. Originally published in Dell's Four Color #386 (1952), this is the first feature-length adventure story starring Uncle Scrooge! A near mint copy of the original comic book lists in the 2004 Overstreet Price Guide for $1,600.00, but on May 7, the story is free! Wraparound cover.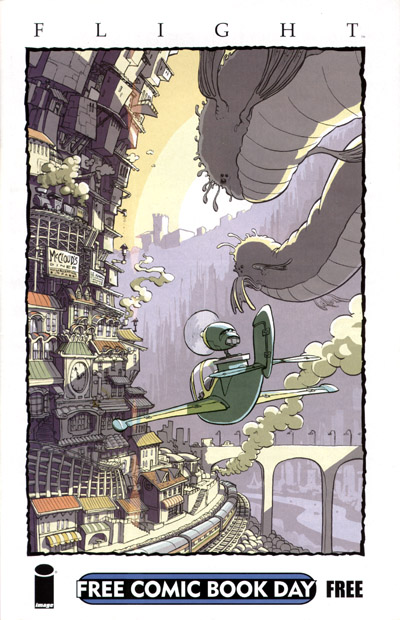 FLIGHT PRIMER
IMAGE COMICS
(CA) Kazu Kibuishi
Image Comics presents this compilation of stories from the first two volumes of the widely acclaimed Flight Anthology. In 2004, a collection of cartoonists and animators first come together to take the comic world by storm with the initial full color trade paperback collection which featured a dazzling array of short stories in a variety of styles. Many of the stories deal with themes of flying, but the title is also a metaphor for an anthology that displays an astonishing array of young talents truly taking flight for the first time.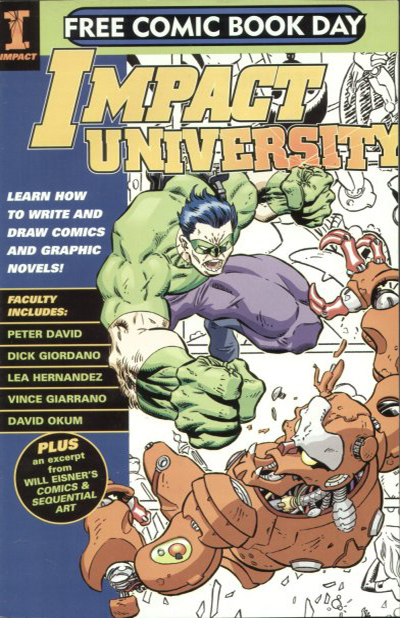 Impact University #1
impact books
(W) Peter Allen David - 'PAD', Vincent 'Vince' Giarrano, Dick Giordano, Lea Hernandez
This sampler contains standalone lessons from Comics & Sequential Art (by Will Eisner), Drawing Comics with Dick Giordano, Comics Crash Course (by Vincent Giarrano), Superhero Madness (by David Okum), Manga Secrets (by Lea Hernandez), and the upcoming Writing Comics with Peter David. It contains everything the aspiring pro needs to begin creating comics – an entire "university" between two covers!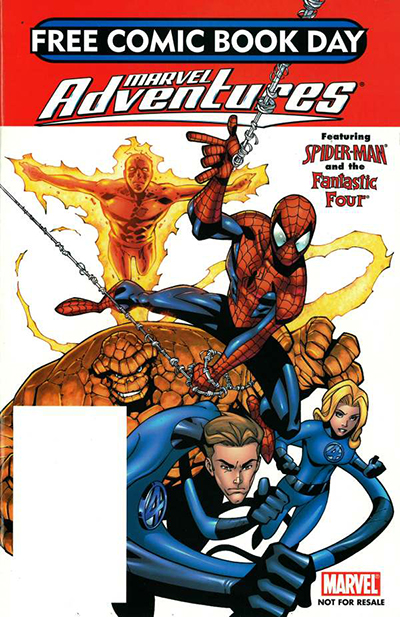 FREE COMIC BOOK DAY (MARVEL AGE SPIDER-MAN TEAM-UP) #4
MARVEL COMICS
(W) Todd Dezago
(A) Michael S. O'hare, Derek Fridolfs, Digital Rainbow, Dave Sharpe
(CA) Michael S. O'hare
Inspired by Stan lee and Steve Ditko! Spider-Man makes a bid to join the Fantastic Four – the hard way! The newest Marvel age title has our friendly neighborhood webslinger and New York's favorite super-team doing their best to put aside their differences in order to defeat the evil master of disguise – the Chameleon! (reprints Marvel Age Spider-Man team up #1.)
Free Comic Book Day 2005 Silver Sponsor Comics
---
SUPERIOR SHOWCASE #0
AdHouse BookS

ALTERNATIVE COMICS
PRESENTS FCBD ED
2005 EDITION
ALTERNATIVE COMICS


ARCANA STUDIO PRESENTS
#2 FCBD EDITION


arcanA

studio

MORTAL COILS PRESENTS
FREE BODIES FCBD EDITION


C

aption

Box

COMICS FESTIVAL! FCBD
EDITION
Comics Festival


THE ADVENTURES OF PAUL
FCBD EDITION


dr

awn

+

QUARTERLY

FUNNY BOOK FCBD EDITION


fantagraphics

Bone Sharps, Cowboys,
and Thunder Lizards: A T
ale of Edwin Drinker Cope,
Othniel Charles Marsh,
and the Gilded Age of
Paleontology FCBD edition


g.t. labs

FLARE FCBD EDITION
HEROIC PUBLISHING
JOHNNY RAYGUN FREEBIE
FCBD EDITION


Jetpack Press



KEENSPOT SPOTLIGHT 2005
FCBD EDITION


Keenspot



ONI PRESS'S FIST-FEST
FEATURING HYSTERIA &
SHARKNIFE! FCBD EDITION


Oni Press



AMELIA RULES #0 FCBD
EDITION


Renaissance Press



RUNNERS #1 REMASTERED
FCBD EDITION


Serve Man Press



BUZZBOY ROBOY MAJOR
DAMAGE TRIPLE FROSTED
FUN COMICS FCBD EDITION


Sky Dog Press



OWLY SPLASHIN AROUND
FCBD EDITION


top shelf productions



WIZARD PRESENTS THE TOP
100 TRADE PAPERBACKS OF
ALL TIME #1


Wizard



---
Make sure to get to your local comic book shop on May 6, 2017 and participate in the exciting event that is FCBD!