FCBD 2004: Spider-Man, Archie, Teen Titans, Mickey Mouse, and Star Wars!
Feb 09, 2017
Everyone loves Free Comic Book Day! Who wouldn't? Awesome comics available free of charge provided by the best publishers in the business and the most incredible comic stores across the world make Free Comic Book Day a holiday like none other. This year, Free Comic Book Day celebrates its sixteenth year introducing millions of people to the wonders of comics!
It all started in 2002, where retailer Joe Field, owner of Flying Colors Comics & Other Cool Stuff, saw the success of other days like Free Cone Day and posed the question to other retailers and publishers: shouldn't we do this too? By having a day where publishers offered up their best and most accessible titles to retailers at a low price, comic stores could give away comics for free to the public and encourage those who loved superhero films and multimedia to pick up the comics! Sixteen years later, Free Comic Book Day has become one of the most beloved events in the entire industry!
In 2004, Free Comic Book Day was held on July 3 instead of the usual first Saturday in May! Free Comic Book Day's popularity was growing, especially with new fans! Through store promotional work, 53% of the customers coming through on July 3 were new customers! With classics like Archie, Mickey Mouse, Spider-Man, and Star Wars who could be surprised at the popularity!

Here are the books and publishers that participated in the third Free Comic Book Day! Which one would you have picked up? Let us know on Facebook and Twitter--if you have any of these comics around, post them to social media with #FCBD2004 so everyone can take a look!
---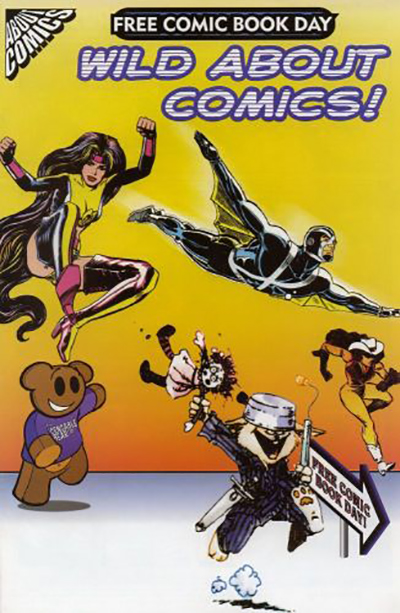 WILD ABOUT COMICS #1
ABOUT COMICS
(W) Kurt Busiek, Mark Evanier, Nat Gertler
(A) Lela Dowling, James W. Fry III, Rusty Haller, Will A. Meugniot, Dan Spiegle, Doug Hazlewood, Kurt Hathaway, Carrie Spiegle
(CA) Lela Dowling, James W. Fry III, Rusty Haller, Doug Hazlewood, Will A. Meugniot, Dan Spiegle
A compendium of complete, entertaining short stories. Includes super-hero tales of the DNAgents and Crossfire, a delightful adaptation of Lewis Carroll's Jabberwocky by the artist of the Alice graphic novel, and more, behind a new introduction by spokescritter Licensable Bear™!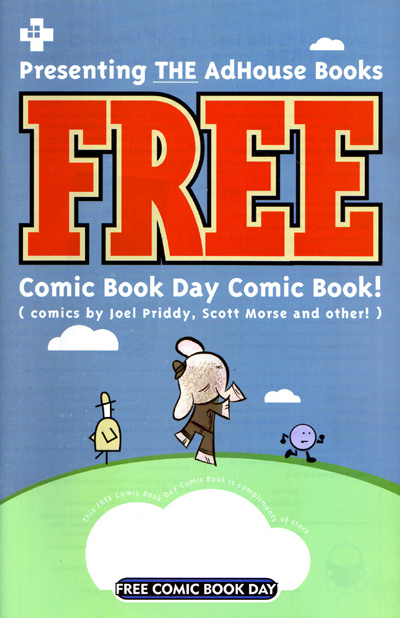 THE ADHOUSE BOOKS FREE COMIC BOOK DAY COMIC BOOK

ADHOUSE BOOKS
(CA) Scott Morse - 'C. S. Morse', Chris Pitzer, Joel Priddy
AdHouse Books jumps into the "floppy" market with its very first Free Comic Book Day comic book! We challenged some of the AdHouse artists to undertake the Scott McCloud 24-Hour Comic Book experiment, and the fruits of their labors are showcased within: Joel Priddy delivers an ambitious 279-panel story while Scott Morse delivers his painted answer to the challenge.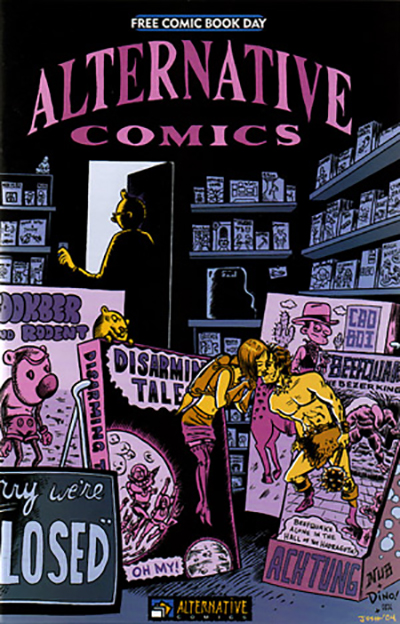 ALTERNATIVE COMICS #2
ALTERNATIVE COMICS
(CA) Nick Bertozzi, Dean Haspiel - 'Dino', Josh Neufeld - 'Josh'
A spectacular anthology of all-new material crafted by a stellar cast of award-winning cartoonists including Jed Alexander, Graham Annable, Gabrielle Bell, Nick Bertozzi, Leela Corman, Tom Devlin, Dean Haspiel, Sam Henderson, Thomas Herpich, Walt Holcombe, James Kochalka, David Lasky, Josh Neufeld, Matt Madden, Harvey Pekar, Greg Stump, Rich Tommaso, Robert Ullman, and more.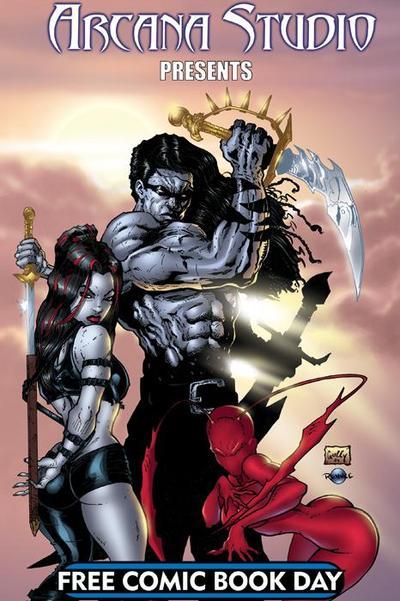 ARCANA STUDIO PRESENTS #1
ARCANA STUDIO
(W) Sean Patrick O'Reilly
(A) Allan Otero, Steve R. Cobb
(CA) Mario Gully
Arcana Studio Presents three all new stories of action, adventure and intrigue in the way that only Arcana can. All three of Arcana's sold out runaway hits are featured in this one book. Kade, the enigmatic warrior who doesn't feel, but always hurts. Ant, the greatest hero this world will ever know. Ezra, a medieval mercenary for hire.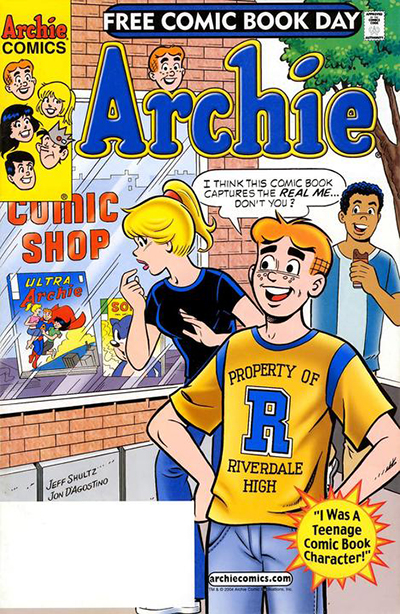 ARCHIE FREE COMIC BOOK DAY EDITION #2
Archie COMICS
(W) Craig Boldman
(A) Jeff Shultz, Rich Koslowski, Barry Grossman - 'B. Grossman', Vickie Williams
(CA) Jon 'John' D'Agostino, Jeff Shultz
A story that touches upon the magic of comic books and their ability to inspire imagination and creativity! Writer Archie and artist Chuck decide to pool their talents to create a comic book with the financial help of their local retailer. The trouble is, Chuck has most of the talent! When Archie is short on ideas, Chuck suggests simply following around his redheaded pal and sketching out the uproarious misadventures he gets himself into. By the time he's done chronicling Archie's antics, Chuck just may have stumbled upon what has kept Archie a comic book superstar for over 60 years!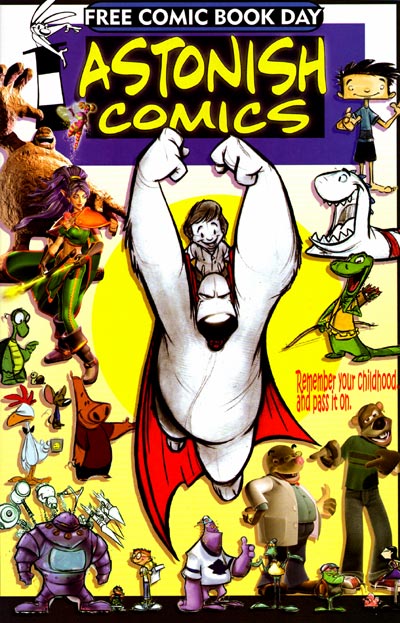 ASTONISH COMICS #1
ASTONISH FACTORY
(W) Ted Dawson, Mike Kunkel
(A) Mike Kunkel
Welcome to...Herobear and the Kid! The Lab! Awesome Man! Spooner! The Land of Sokmunster! Ham and Eggs! The Dreamland Chronicles! Come enjoy the best of award-winning publisher Astonish Comics, brought together for the first time in a fun new sampler filled with all the universal enjoyment that has made Astonish Comics one of the premier all-ages publishers. Don't miss out on this chance to "Remember your childhood…and pass it on."
BACK IN BLACK: BRIAN PULIDO UNLEASHED AT AVATAR
Avatar press
(W) Brian Pulido
(A) Eddy Barrows, Francisco Di Amorim - 'Di Amorim', Walter Geovani, Clint Hilinski, Paulo Vilarinho Siqueira - 'Paulo Siqueira'
(CA) Paulo Vilarinho Siqueira - 'Paulo Siqueira'
Brian Pulido is bringing an exciting new line of comics to Avatar Press this summer and this special features extensive previews of his first three titles: Belladonna, Unholy, and Gypsy. Written with his loyal Chaos! Comics and Lady Death fans in mind, these new books feature the same dark drama and powerful stories as Pulido takes the excitement to a whole new level as he is Unleashed at Avatar!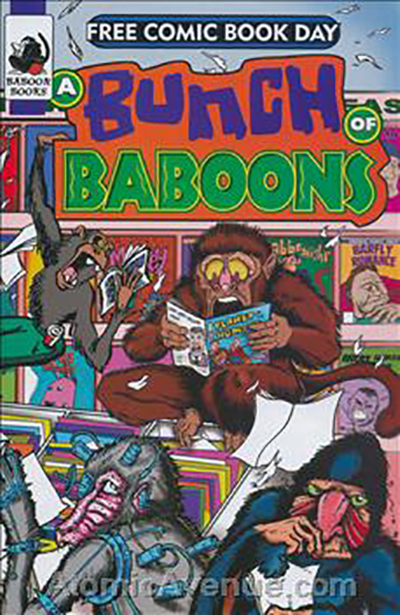 a bunch of baboons #1

Baboon Books
(W, A) Bob Dix, Andrew Hoffmann, Jeffro Kilpatrick, Jacob Lambert, Richard Marcej, Christian Patchell

A collection of six short stories, previewing six new titles from Baboon Books in 2004: "Greetings from Fishtowne" (stories from a small, working-class neighborhood), "Action Figure, The Life and Times of Rich Marzelak" (tales from the world's largest toy company), "Robotarama" (adventures of a cyborg sweetheart), "Hot Chick and A. Monster" (modern romance between a woman an eight-foot tall monster), "Cloverleaf" (by MAD Magazine's Jacob Lambert) and "Share Bears" (the demented lives of two marketing-created creatures).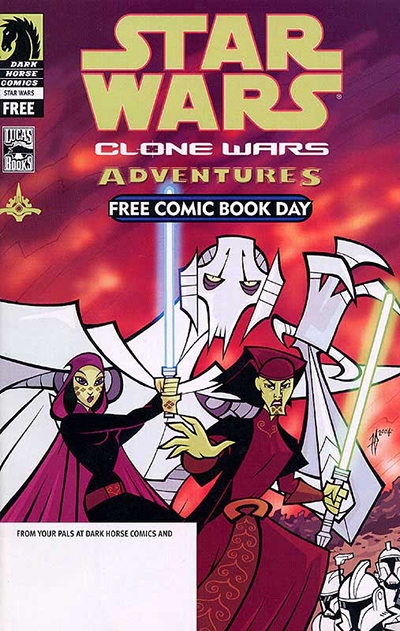 STAR WARS: CLONE WARS ADVENTURES
DArK HORSE
(W) Welles Hartley
(A) Matt and Shawn Fillbach - 'The Fillbach Brothers', Sno-Cone Studios, Michael David Thomas
(CA) Matt and Shawn Fillbach - 'The Fillbach Brothers'
Inspired by the Cartoon Network's Clone Wars cartoons, Dark Horse presents a Free Comic Book Day issue that uses the television show as a jumping-off point to tell an all-new story of heroism and villainy in the same back-to-basics visual style. Tying into the digest-sized Clone Wars Adventures that begin shipping in June, Star Wars – Clone Wars Adventures provides a perfect opportunity for readers of all ages to pick up their first Star Wars comic. Incredible action, hot art, and lightning-fast pacing are coming your way in this new take on the Star Wars galaxy!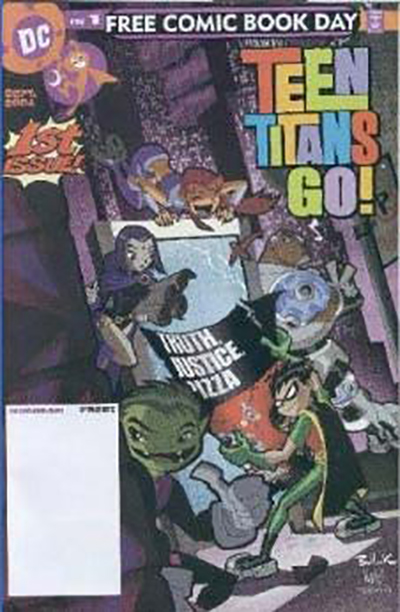 TEEN TITANS GO! #1
DC COMICS
(W) J. Torres - 'Joseph Torres'
(A) Todd Nauck, Lary Stucker, Brad Anderson, Jared K. Fletcher
(CA) Dave Bullock - 'David', Chu Hui Song, Derrick J Wyatt
Cartoon Network's hottest new super-team star in a fantastic all-ages comic! Join Robin and his band of teenage heroes – the brave Cyborg, funny guy Beast Boy, the naïve but seriously hot (and way powerful) Starfire, and the moody goth-girl Raven – as they battle for truth, justice and pizza! A great tie-in to the TV show and toy line!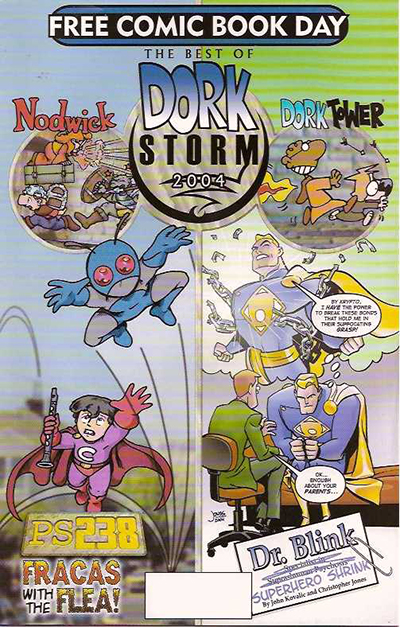 THE BEST OF DORK STORM #2
Dork Storm
(W, A) John Kovalic, Aaron Williams
(CA, A) Christopher A. Jones - 'Chris Jones'

Sample the comics that fans everywhere can't get enough of: Dork Tower, a geek-fest of gaming humor and nerdy narrative! Ps238, the adventures of students attending the nation's only public school for the children of super-heroes! Nodwick, the saga of a henchman and his less-than-epic adventuring employers! And DSP's newest addition, Dr. Blink, Superhero Shrink, about the case files of a psychologist to the cape-and-cowl crowd!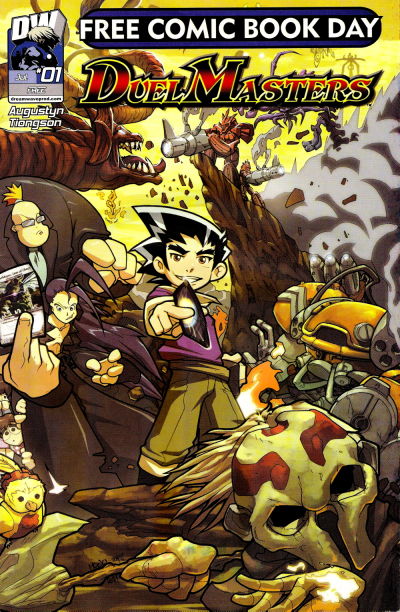 DUEL MASTERS #1
DREAMWAVE
(W) Brian Michael Augustyn
(A ,CA) Jeremy Tiongson

His name is Shobu, ordinary kid and Duel Master tournament champion. Thanks to his mysterious and missing father, Shobu has an unexpected edge in the card games, for he alone can directly access the "Zone," a dimensional realm where mythical and mystical battles are fought to the finish between wild beings. Plenty of would-be masters want to challenge Shobu and even stranger beings want his access to the Zone, but for now the champ stands tough. But a quest for his missing father will open even stranger and deeper mysteries than the boy could have expected. Featuring an all new cover by artist extraordinaire Pat Lee!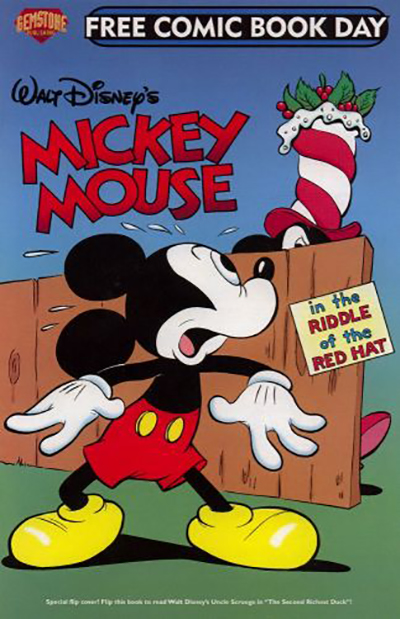 WALT DISNEY'S MICKEY MOUSE AND UNCLE SCROOGE - FREE COMIC BOOK DAY
Gemstone publishing
(CA) Carl Barks, Carl Gustaf Buettner Jr.
This Disney anthology book is a holiday special featuring Mickey, Donald, and Grandma Duck. The cover and lead story are reprinted from Mickey Mouse Four Color #79: "Riddle of the Red Hat." This was Carl Barks' one and only Mickey adventure! Also included is "The Second Richest Duck," Barks' introduction of Flintheart Glomgold from Uncle Scrooge #15.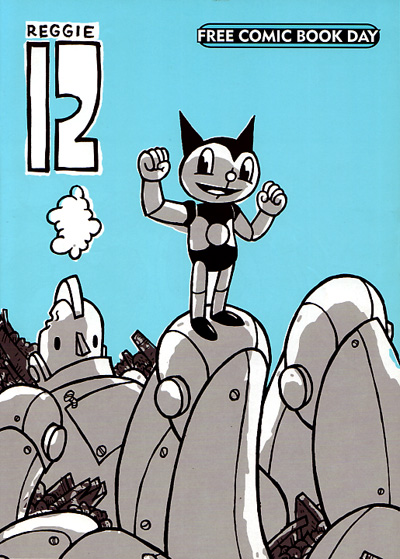 REGGIE-12 FREE COMIC BOOK DAY SPECIAL
Highwater books
(W, A, CA) Ralph Stevenson
Brian Ralph brings his popular comic strip from the pages of Giant Robot into its own magazine. Reggie-12 is a boy robot created by Professor Tinkerton to fight giant robots who keep destroying his city. Like a cross between Astro Boy and Futurama, Reggie-12 is a laugh a panel.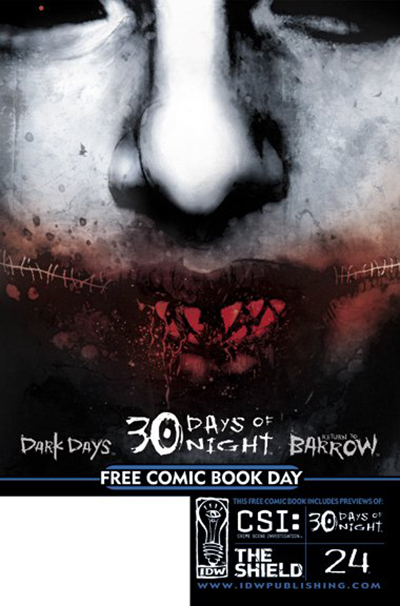 IDW 2004 FREE COMIC BOOK DAY
IDW PUBLISHING
(W) Matthew V. Clemens, Max Allan Collins, Mark L. Haynes, Jeff Mariotte, Steve Niles, J.C. Vaughn
(A) Jean Diaz, Renato Guedes, Gabriel Rodriguez, Ben Templesmith, Ashley 'Ash' Wood, Fran Gamboa, Robbie Robbins
(CA) Ben Templesmith
This all-ages appropriate sampler includes material from comics based on TV's number one drama CSI: Crime Scene Investigation and the critically acclaimed The Shield, as well as from IDW's break-out hit, 30 Days of Night. Plus: a special sneak peek, as IDW unveils the first pages to be seen from the upcoming comic based on 24, the winner of this year's Emmy for Best Drama. 24 launches in July, and you can get a free peek on Free Comic Book Day!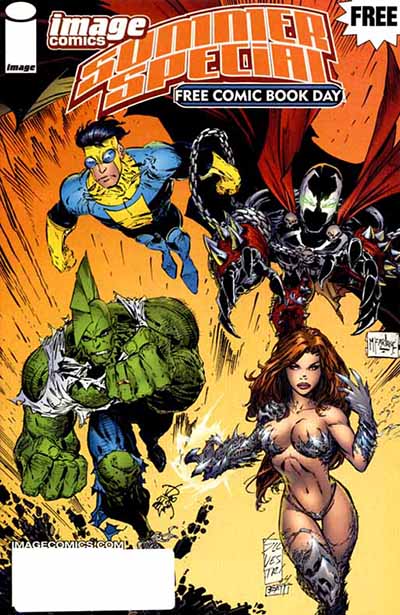 IMAGE COMICS SUMMER SPECIAL #1
IMAGE COMICS
(CA) Erik Larsen, Todd McFarlane, Marc Silvestri
This sampler is the perfect introduction to four of Image's most enduring characters, with a quartet of all-new stories featuring Savage Dragon, Spawn, Witchblade, and Invincible! Whether you're a longtime reader or a newcomer to the world of Image Universe, these four tales are the perfect introduction to the inimitable Image style of comic book goodness, from the offbeat superhero action of Savage Dragon, to the dark and urban horror of Spawn, to the modern fantasy of Witchblade, and the unique coming-of-age story of a young superhero in Invincible. Cover by Erik Larsen, Todd McFarlane, and Marc Silvestri!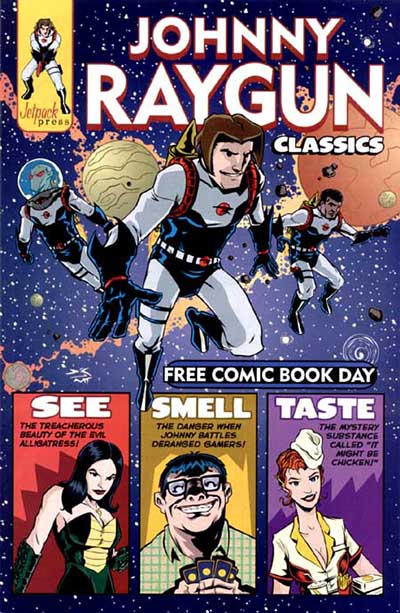 JOHNNY RAYGUN: CLASSICS #1
Jetpack press
(W, CA) Rich Woodall
(A, CA) Matt Talbot
Johnny Raygun is an action-comedy that looks affectionately back on the super-hero comics of the 60s while maintaining a satirical edge that plants it firmly among today's comics. Join Johnny and the Raygun agents as they take on a variety of intergalactic space threats, including living video games, a militant group of parental protesters, off-duty super powered crooks, and a beautiful woman with the strength and temper of an alligator! Includes new and reprinted short stories.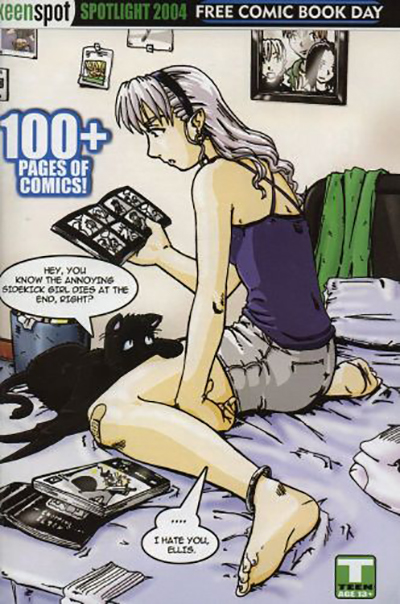 KEENSPOT SPOTLIGHT

Keenspot entertainment
(CA) Michael Poe
This 100+ paperback features both all-new comics and sample pages from Keenspot's 2004 slate of graphic novels and comic strip collections. Chock-full of easily-accessible humor and manga-style work, this book is perfect for that newcomer to comics who may be uninterested in super-heroes or artsy alternative comics.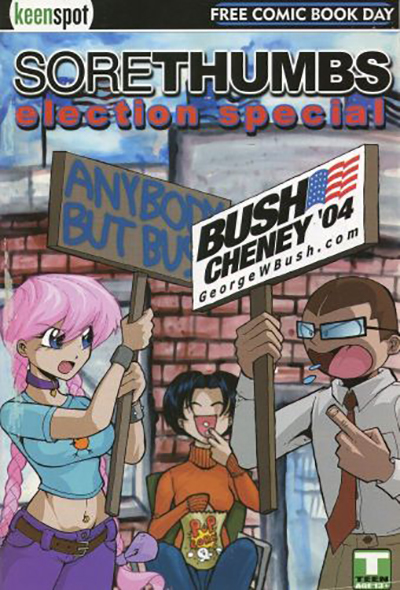 SORE THUMBS ELECTION SPECIAL

Keenspot entertainment
(W, A) Chris Crosby
(A, CA) Owen Gieni
(CA) Don J. MacKinnon
Nutty liberal activist Cecania has just been forced to work at a video game shop called Sore Thumbs, owned and operated by her crazy conservative brother Fairbanks. Collects the first storyline from the series and features an all-new, fair and balanced story. It's just like Crossfire…if it were drawn in an anime-style and James Carville was a young pink-haired woman!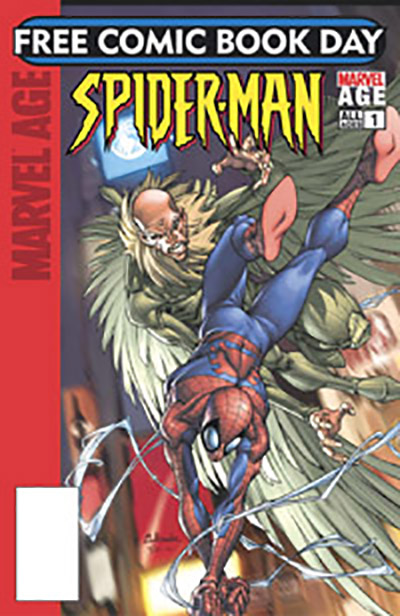 MARVEL AGE SPIDER-MAN #1

Marvel COMICS
(W) Steve Ditko, Stan 'The Man' Lee - 'Stanley Martin Lieber', Daniel Quantz
(A) Jonboy Meyers, Pat Davidson, Larry Molinar, Simon Yeung, Randy Gentile
(CA, A) Mark Brooks
Not a "retcon." Not a "new universe!" Watch your Friendly Neighborhood Spider-Man battle his arch-foe the Vulture for the very first time in this new, all-ages, contemporary revisiting of Stan Lee & Steve Ditko's classic story. Marvel Age: Spider-Man introduces new and young readers to some of the greatest stories of the legendary Marvel Universe with dynamic brand new art and a modern flair!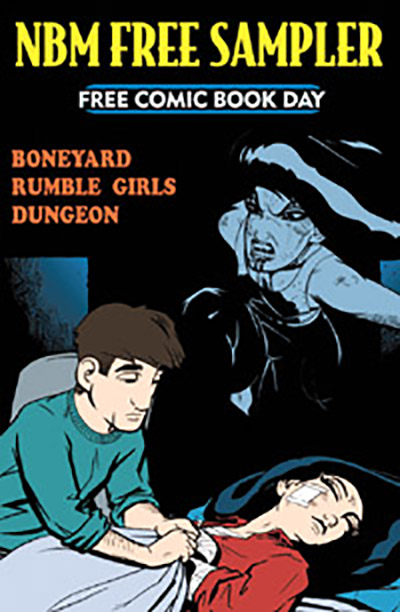 NBM FREE SAMPLER

NBM publishing
(W) Patrick Atangan, Joann Sfar
(A) Patrick Atangan, Laurent Chabosy - 'Lewis Trondheim', Richard Moore
(CA, W) Richard Moore
This sampler features ten pages from three different series: Boneyard, Rumble Girls, and Dungeon. Special flip covers by Richard (Boneyard) Moore and Lea (Rumble Girls) Hernandez. The perfect way to jump on-board in advance of the new Rumble Girls comic book (starting in August), the Dungeon graphic novel collections (also starting in August), and the third volume of Boneyard (slated for October)!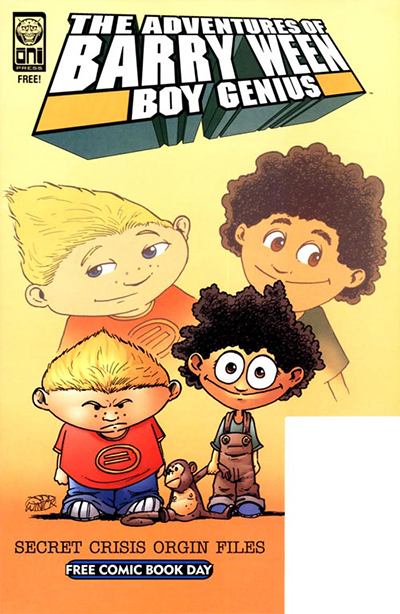 THE ADVENTURES OF BARRY WEEN, BOY GENIUS: SECRET CRISIS ORIGIN FILES

ONI
(W, A, CA) Judd Winick
(CA) Arthur Dela Cruz
Reprinting the story of when Barry Ween met his hyperactive best friend, Jeremy, giving new readers the chance to sample the series and discover how Barry's life as the world's most intelligent boy got rolling. Plus, this story leads directly into the Gorilla Warfare trade paperback, Barry's most ambitious adventure yet!

LOVE FIGHTS #1

ONI
(W, A, CA) Andi Watson
(A) Woodrow Phoenix
(CA) Scott Morse - 'C. S. Morse'
A special edition preview flip-book just for Free Comic Book Day! On one side, you get the complete first issue of the Andi Watson ongoing super-hero romance series, Love Fights; on the other, the first 8 pages of the new Greg Rucka and Scott Morse mini-series, Everest, which kicks off in full-color in August!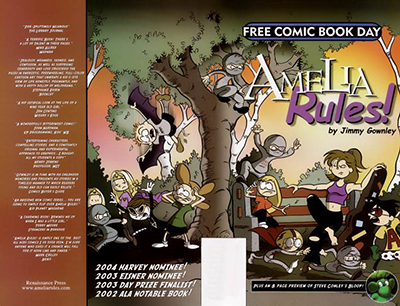 AMELIA RULES!

Renaissance Press
(W, A, CA) James J. Gownley - 'Jimmy Gownley'

This full color custom comic has Amelia taking readers on a tour of the highlights of her story so far. Laugh along as Amelia discovers she's a "nerd by Association" and thrill to the first conflict with "the Park View Terrace Ninjas." This Eisner-nominated series is a perfect book to introduce young readers to comics. Called "a Peanuts for the 21st Century" by CBG, Amelia Rules! has been praised by everyone from Harlan Ellison and Mike Allred, to Mark Crilley and The Library Journal.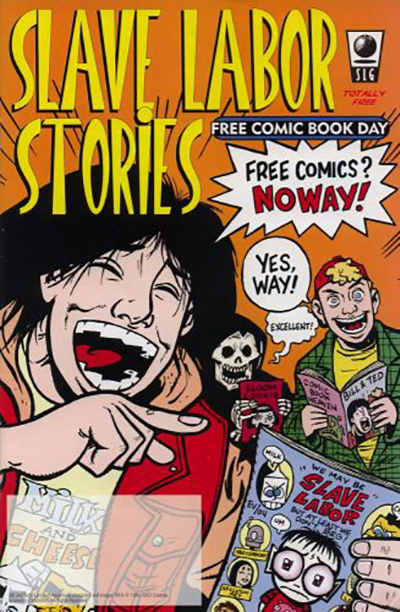 SLAVE LABOR STORIES #2
SLG PUBLISHING
(W) Jennifer Feinberg, Jim Rugg, Landry Quinn Walker
(W, A) Aaron Alexovich - 'Aaron A', Kerry Callen, Derek Hunter, Tommy Kovac, Scott Saavedra, Jamie Smart, Black Olive
(A) Eric M. Jones - 'EMJ', Brian Maruca, Todd Meister
(W, CA, A) Evan Dorkin

Slave Labor jumps back into the FCBD fray with a new edition of the anthology that set the world abuzz last time! Cover-featured in this issue is a preview of Bill & Ted's Most Excellent Adventures, a graphic novel series reprinting the Evan Dorkin Bill & Ted's comic book series which was originally published by Marvel Comics. Also featured in the comic: new work by Scott Saavedra (Dr. Radium), Jamie Smart (Bear), Aaron A (Serenity Rose), Derek Hunter (Pirate Club) and many more…including two pages of Milk & Cheese!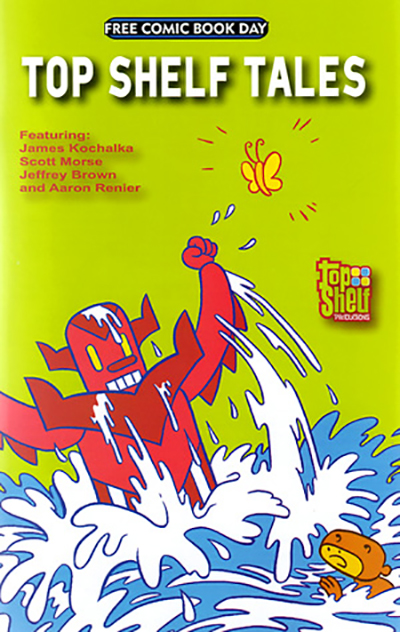 TOP SHELF TALES
Top Shelf productions
(CA) James Kochalka, Aaron Renier
Featuring four of Top Shelf's rising stars: James "Sketchbook Diaries" Kochalka, Jeffrey "Clumsy" Brown, Scott "Barefoot Serpent" Morse, and talented newcomer, Aaron "Spiral-Bound" Renier, Top Shelf Tales is a splendiferous sampler of simply stunning comics. Perfect for customers new to comics, as well as long-time comics aficionados. With a cool cover by fan-favorite James Kochalka, this is one comic you won't want to miss!
---
Make sure to get to your local comic book shop on May 6, 2017 and participate in the exciting event that is FCBD!