FCBD 2003: Batman, Courtney Crumrin, and Ultimate X-Men
Feb 02, 2017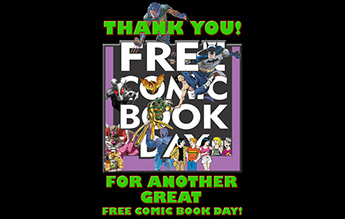 Everyone loves Free Comic Book Day! Who wouldn't? Awesome comics available free of charge provided by the best publishers in the business and the most incredible comic stores across the world make Free Comic Book Day a holiday like none other. This year, Free Comic Book Day celebrates its sixteenth year introducing millions of people to the wonders of comics!
It all started in 2002, where retailer Joe Field, owner of Flying Colors Comics & Other Cool Stuff, saw the success of other days like Free Cone Day and posed the question to other retailers and publishers: shouldn't we do this too? By having a day where publishers offered up their best and most accessible titles to retailers at a low price, comic stores could give away comics for free to the public and encourage those who loved superhero films and multimedia to pick up the comics! Sixteen years later, Free Comic Book Day has become one of the most beloved events in the entire industry!
The second Free Comic Book Day had more comics by more publishers both big and small. With the blockbuster hit film X-2 released in time to coincide with the event, Free Comic Book Day 2003 was a huge success.
Here are the books and publishers that participated in the second Free Comic Book Day! Which one would you have picked up? Let us know on Facebook and Twitter--if you have any of these comics around, post them to social media with #FCBD2003 so everyone can take a look!
---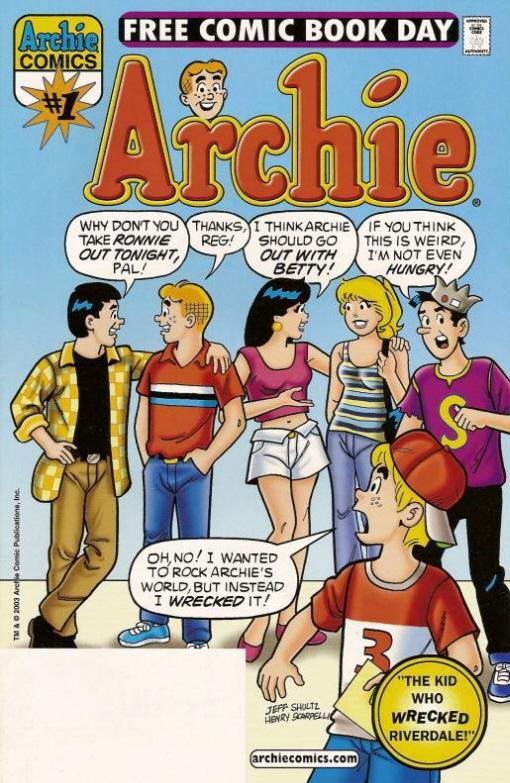 Archie FCBD (2003) #1
ARCHIE COMICS
(W) Angelo DeCesare
(A) Jeff Shultz and Al Milgrom
(CA) Shultz and Henry Scarpelli
This hilarious tale touches upon the magic of comic books and their ability to inspire imagination and creativity. A young boy is so immersed in reading Archie Comics that he actually believes they are real. Falling into a deep sleep, he finds himself in Riverdale, fabled hometown of Archie and his friends! Seeing this as an opportunity to "fix" all of Riverdale's problems, he convinces everyone to put aside their differences and get along. A nice little dream... or is it? He awakens to find his copies of Archie Comics have completely changed, with no conflicts at all! Gone is the fun and the humor... unless he can fall back asleep and set things "straight" again! Will the damage be irreversible?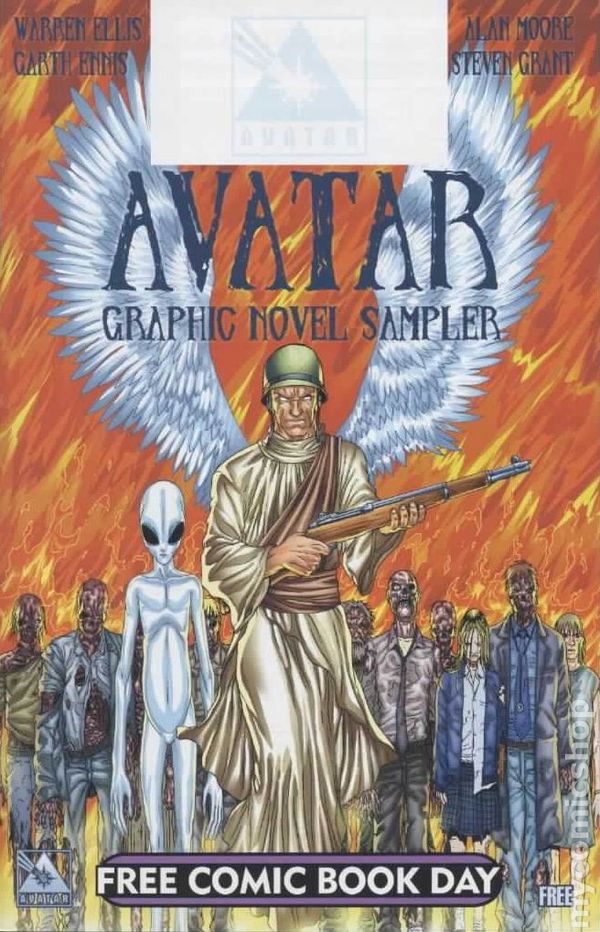 Avatar Graphic Novel Sampler FCBD (2003) #0
AVATAR PRESS
(W) Warren Ellis, Garth Ennis, Alan Moore, and Steve Grant
(A) Jacen Burrows, Ken Meyer, Mike Wolfer, Philip Xavier, Juan Jose Ryp, Oscar Zarate and John McCrea
Check out work from Warren Ellis, Alan Moore, Garth Ennis and more! This special sampler features several pages from many of the currently in print Avatar Graphic Novels by the greatest talents in the industry! Included are works from writers Warren Ellis, Garth Ennis, Alan Moore and Steven Grant with artists Jacen Burrows, Mike Wolfer, Juan Jose Ryp and more. Each section will feature several pages of the story, the cover graphic, and codes for easy ordering from book stores and comic book stores. The perfect way to enter the library of Avatar!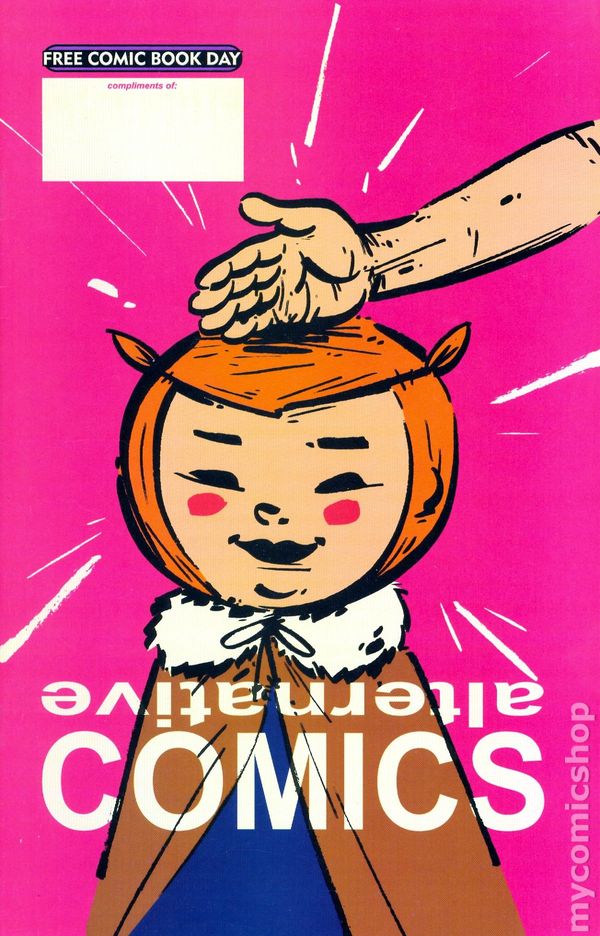 Alternative Comics FCBD (2003) #2003
ALTERNATIVE COMICS
(W/A) Nick Bertozzi, James Kochalka, Josh Neufeld, Dean Haspiel, and Steven Weissman
(CA) Steven Weissman
Alternative Comics has put together a brand new anthology of all-new material by cartoonists including Nick Bertozzi, Sam Henderson, Leela Corman, James Kochalka, Dean Haspiel, Josh Neufeld, Matt Madden, Sara Varon, Gabrielle Bell, Jon Lewis, Steven Weissman, David Lasky, Greg Stump, Graham Annable, Lauren Weinstein, Jen Sorensen, and Joel Orff! This cool anthology is a must for fans of independent comics!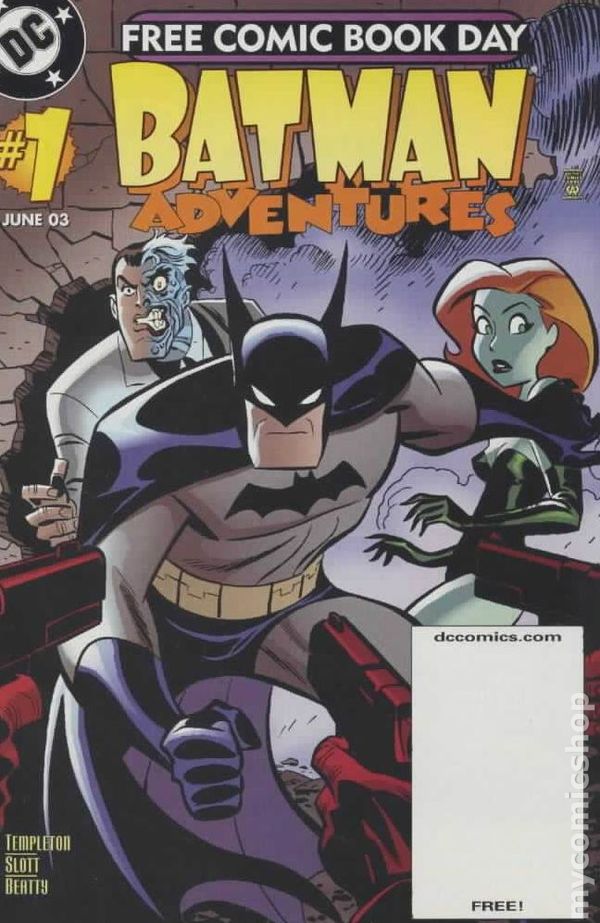 Batman Adventures (2003 2nd Series) FCBD #1
DC COMICS
(W) TY TEMPLETON AND DAN SLOTT
(A) RICK BURCHETT, TERRY BEATTY AND TEMPLETON
(CA) BRUCE TIMM
A great new all-ages comic makes its debut! The busiest day of Batman's life begins here, as someone breaks into Arkham Asylum, intent on hunting down everyone from the Joker to Poison Ivy. Batman must protect and recapture his biggest foes all at the same time ? even though he's just been outlawed by Gotham's surprising new mayor! Plus, in the 5-page backup story, find out who Batman's hero is!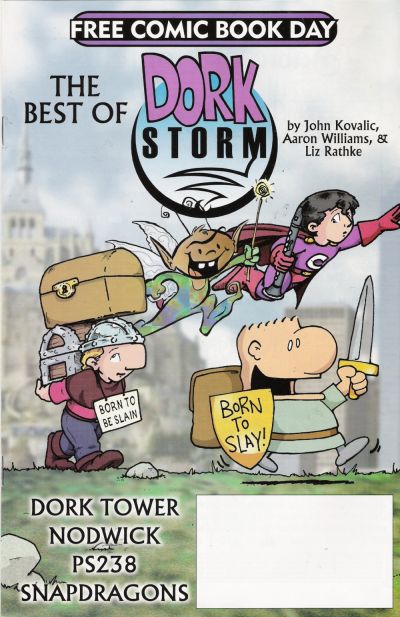 The Best of Dork Storm (2003) - #1
DORK STORM PRESS
(W) John Kovalic, Aaron Williams
(A) Chris Jones, John Kovalic, Aaron Williams
(CA) Chris Jones
Dork Tower! Nodwick! SnapDragons! PS 238! The award-winning comics of Dork Storm Press are together for the first time in this brilliant new sampler from John Kovalic and Aaron Williams! Find out why these hilarious comics have garnered critical acclaim, and have made Dork Storm Press the hottest independent publisher of the last few years! And don't blame us when your sides hurt from the laughter!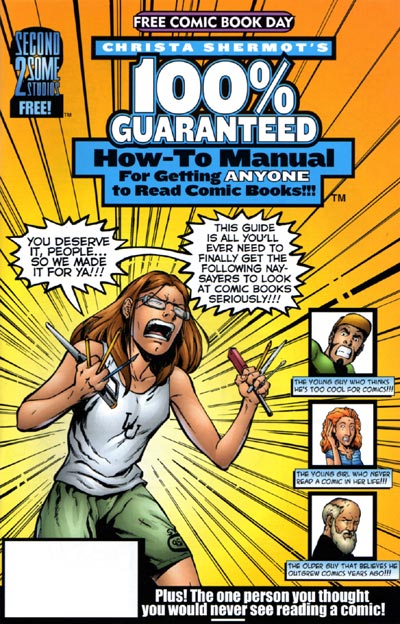 Christa Shermot's 100% Guaranteed How-To Manual for Getting Anyone to Read Comic Books!!! #1
SECOND TO SOME STUDIOS
(W) Myatt Murphy
(A/CA) Scott Dalrymple
It's no "1 of 37" trick to suck you into a story arc. No, it's a 32-page strategy guide, just bursting to win over people who don't read comics at all. Want to turn the tables on "the guy who thinks comics are uncool?!?" Looking to finally convince "the girl who's never read comics ever" to read one?!? Need to lure back "the old guy who outgrew comics?!?" It's all right here!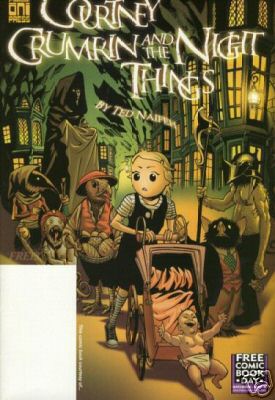 Courtney Crumrin & the Night Things FCBD Edition
ONI PRESS INC
(W/A/CA) Ted Naifeh

Courtney Crumrin only lives in the cruel and unfun world of normal people begrudgingly. And when her first babysitting gig goes horribly wrong, she gets to leave it and travel into Goblin Town. A special issue of ghouls and ghastlies, suitable for fans of any age who read Hellboy or Squee, courtesy of Ted Naifeh (Gloomcookie)!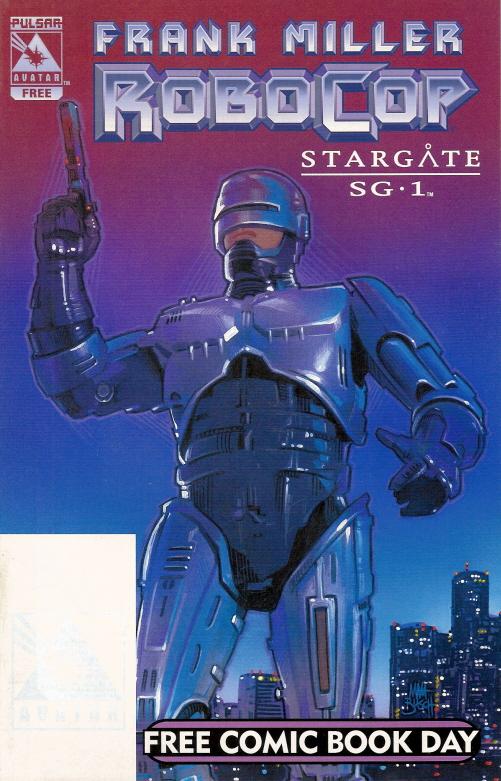 FRANK MILLERS ROBOCOP STARGATE SG1 FCBD EDITION
AVATAR PRESS INC
(W) Steven Grant, Frank Miller
(A) Juan Jose Ryp, Renato Guedes
(CA) Matt Busch
At long last, Frank Miller's Robocop finally sees the light of day! Robocop was one of the truly great bits of movie and pop culture magic from the 80's, and the cult of Robocop continues strong to this day. In full-on action, the Robocop story is told as Frank Miller always intended, composed straight from the master's original writings and scripts! With sequential adaptation from Steven Grant and art by superstar Juan Jose Ryp, the series will feature covers by Frank Miller, who is personally supervising the creation of the entire project. It's guaranteed to be pure Miller insanity! Also included in this book are pages from other upcoming Robocop books, due out soon. This amazing sampler book also features the debut of Stargate SG-1 from Avatar! With six seasons of shows currently on air and a seventh season coming, Stargate SG-1 has become a bona-fide media phenomenon. Now the smash science fiction series is brought to sequential life for the first time with this special preview of the upcoming series. Starring the original cast, these new stories are filled with the action, adventure, and drama that walking through the Stargate creates!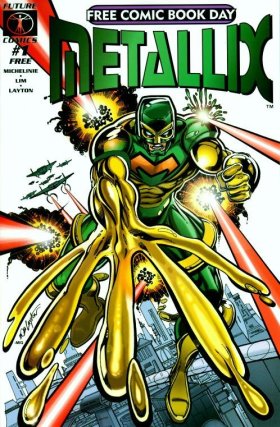 METALLIX #1 FCBD EDITION
FUTURE COMICS
(W) David Michelinie
(A) Ron Lim, Bob Layton
(CA) Bob Layton
David Michelinie and Bob Layton, the creators who redefined the Invincible Iron Man for a generation of readers, introduce the newest hero in the Future Comics Universe - Metallix! Four members of an elite corporate team volunteer to wield Redstone Research's most innovative technological breakthrough - a battlesuit composed of a programmable alloy known as Metal X. Intuitively adapting to its host, the Metallix armor enhances each warrior's natural abilities to an astonishing degree. Thus each wearer displays different powers and abilities. In a world of corporate intrigue and espionage, the Metallix Team stands ready to defend their organization against those who would pervert Metal X's power for evil purposes.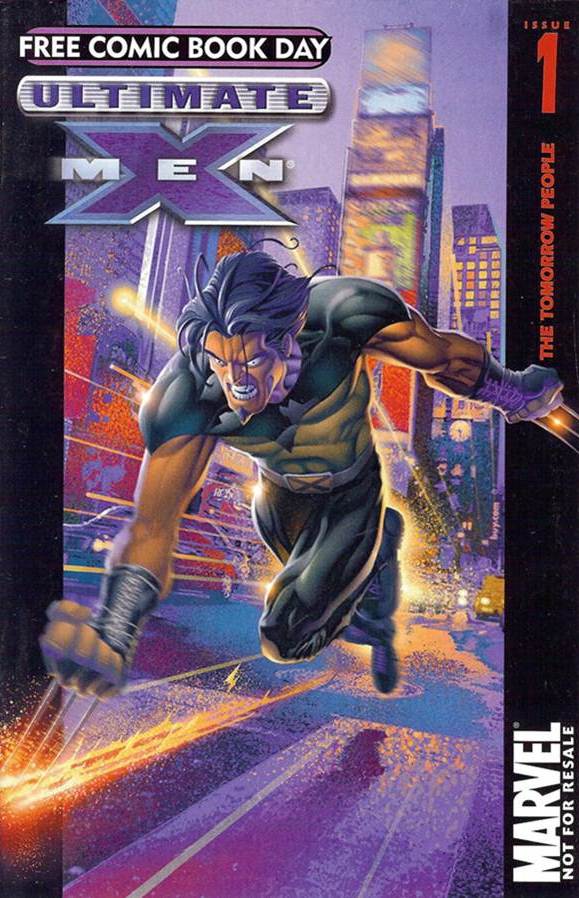 ULTIMATE X-MEN #1 FCBD EDITION
MARVEL COMICS
(W) Mark Millar
(A) Adam Kubert
(CA) Joe Quesada
The perfect comic book for X-Men movie fans! The day after X2 - the highly anticipated sequel to the X-Men movie - opens, new readers can get in on the ground floor of the X-Men's comic book adventures. In this new offering of the always-in demand Ultimate X-Men #1, moviegoers will be introduced to the comics' version of their favorite film characters - Wolverine, Professor X, Cyclops, Jean Grey and Storm - and the team's conflict with their arch-nemesis, Magneto.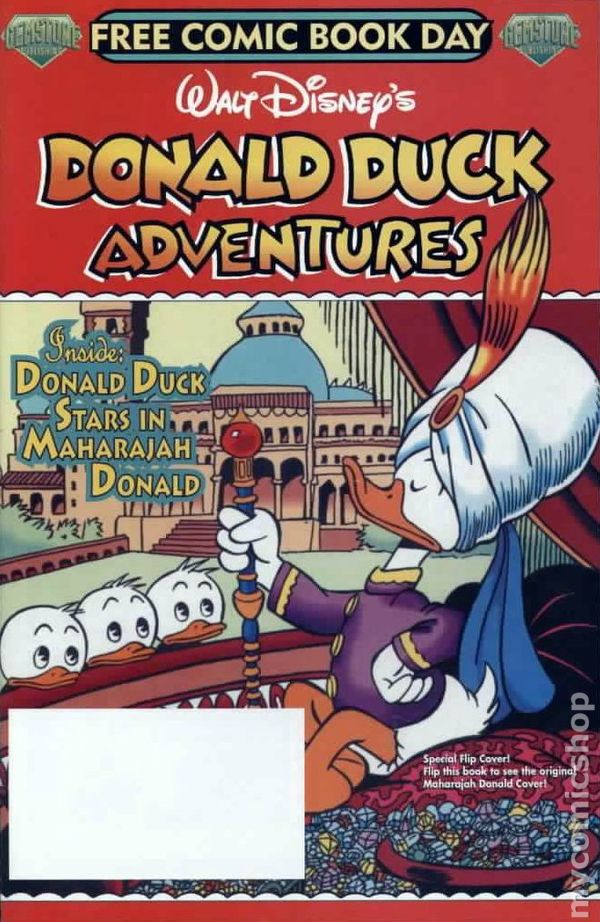 Donald Duck Adventures FCBD (2003) #1

GEMSTONE PUBLISHING
(W) Arnold T. Blumberg
(A/CA) Carl Barks
Donald leaves the boys with nothing but a pencil stub for cleaning the garage, but they trade it up to a steamer ticket to India. They stowaway when Donald goes to India and save him from tigers when he becomes Maharajah for a day, by trading up another pencil stub to something valuable.
---
Make sure to get to your local comic book shop on May 6, 2017 and participate in the exciting event that is FCBD!