Injustice 2 Story Trailer Released!
Jan 17, 2017
This morning, Warner Bros. Interactive released the first story trailer for the anticipated upcoming game Injustice 2, sequel to the acclaimed Injustice Gods Among Us.
It's clear that things will ramp up even further in the sequel as our favorite heroes go toe-to-toe again in this explosive alternate universe. For those who didn't play the game or read the comics tying into the series, the Joker—bored with being foiled by Batman—kills Lois Lane while playing a game with Superman. That death, along with the fact that Lois was pregnant at the time, consumes Superman and drives him to kill the Joker, setting in motion a confrontation between Batman on one side and Superman and Wonder Woman on the other.
This new trailer features an enigmatic narrator describing the events leading up to Injustice 2 as if viewing a chess board. We see the Trinity, Damian Wayne in his Robin costume, Supergirl, Bane, and Poison Ivy, along with Brainiac at the end, revealed to be the narrator.
According to Warner Bros., "the line between hero and villain has become blurred… While Batman has emerged the victor in his battle against [Superman's] Regime, a new threat arises and poses the ultimate threat to Earth." It appears that threat might be Brainiac, Darkseid, or even Wonder Woman. Towards the end of the trailer, Batman, Superman, and Supergirl all turn on Wonder Woman, who was defeated by her prime counterpart when the regular universe stepped in to help Batman fight the Regime.
Injustice 2 is an upcoming fighting game developed by NetherRealm Studios and published by Warner Bros. Interative. A sequel to the popular Injustice Gods Among Us, the game is five years after Batman and the Insurgents toppled Superman's Regime and follows Batman's fight against the Regime's remnants as a new threat puts Earth at risk. The game features new playable heroes like Atrocitus, Gorilla Grodd, Blue Beetle, Darkseid, Deadshot, and more. The game releases on May 16, 2017—ten days after Free Comic Book Day!
If you can't wait for the game, here are some comics available at your local comic shop:
---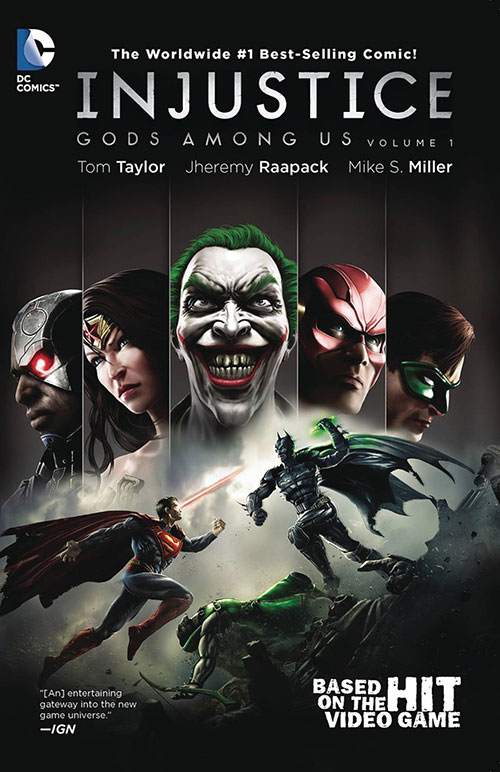 INJUSTICE GODS AMONG US YEAR ONE COMPLETE COLLECTION
DEC150338
(W) Tom Taylor
(A) Bruno Redondo & Various
The first year of the acclaimed prequel to the video game Injustice: Gods Among Us is collected! The world is changed forever when Superman is tricked into destroying the thing he loves most. Now, the heroes of our world must decide if they are with Superman or against him.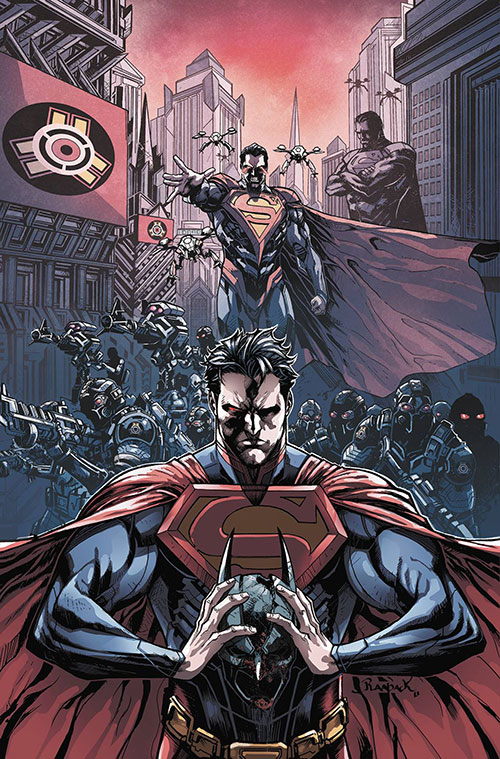 INJUSTICE GODS AMONG US YEAR TWO COMPLETE COLLECTOIN
OCT160308
(W) Tom Taylor, Marguerite Bennett
(A) Tom Derenick & Various
(CA) Stéphane Roux
The death of one of their own has divided Earth's protectors in these stories from INJUSTICE: GODS AMONG US YEAR TWO #1-12 and ANNUAL #1. As Superman's iron grip on the world tightens, another threat approaches the Earth! Plus, the Green Lantern Corps is forced to take extreme measures in an attempt to dethrone Superman and restore order to the universe.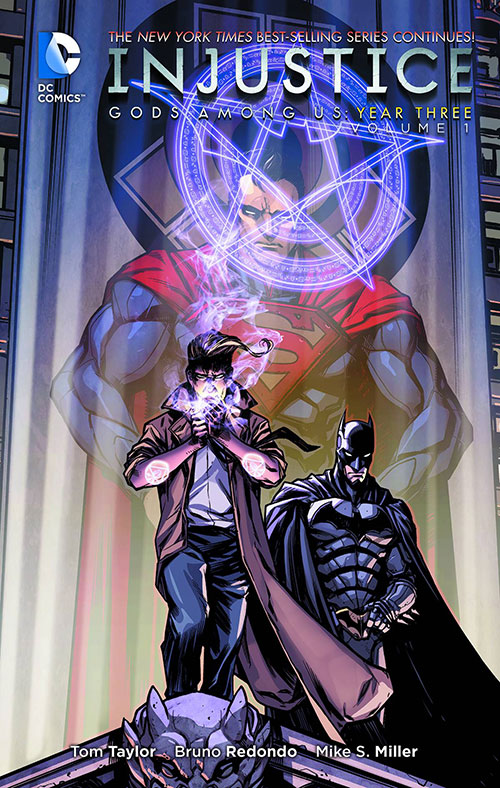 INJUSTICE GODS AMONG US YEAR THREE VOL 1
NOV150270
(W) Tom Taylor
(A) Mike S. Miller & Various
(CA) Neil Googe
The war is over, but it claimed a civilian victim whose death John Constantine will not let go unavenged. Joining forces with Batman, Constantine unites a team of magical beings, super heroes, and ordinary humans to finish off Superman. Collects issues #1-7 of the hit series!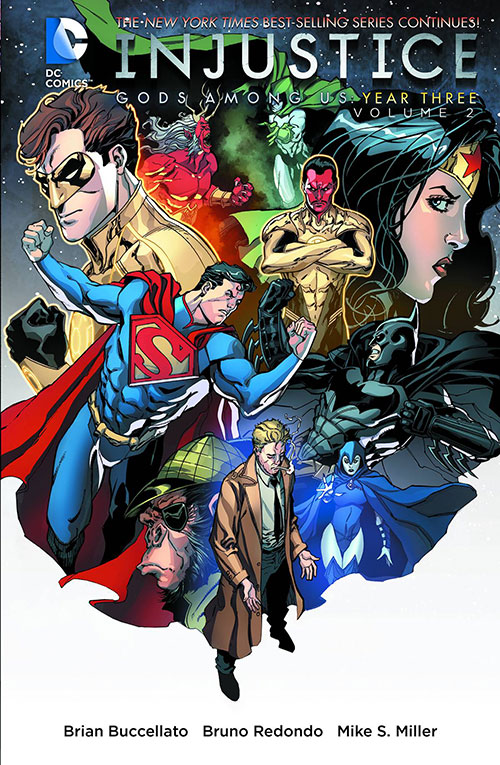 INJUSTICE GODS AMONGS US YEAR THREE VOL 2
JAN160330
(W) Ray Fawkes, Brian Buccellato
(A) Mike S. Miller & Various
(CA) Aaron Lopresti
In these tales from issues #8-12 and ANNUAL #1, Batman must ask for help against Superman from the one person he would never trust: John Constantine! But will even the might of the dark mage's power be enough against the forces that stand against them?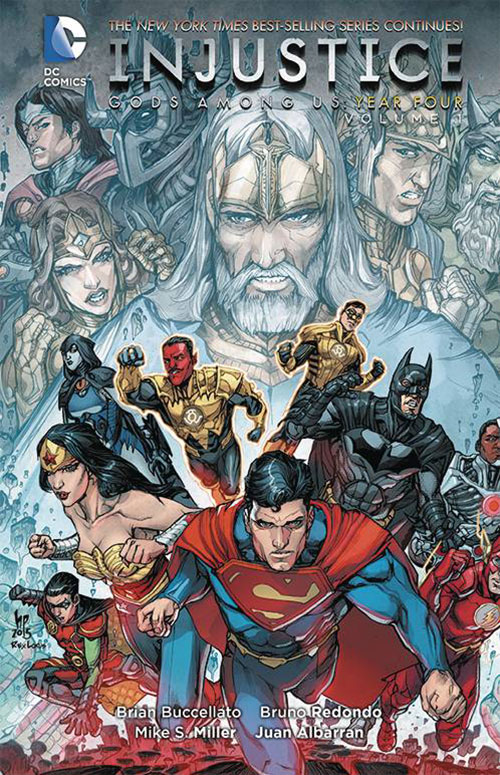 INJUSTICE GODS AMONG US YEAR FOUR VOL 1
DEC150337
(W) Brian Buccellato
(A) Bruno Redondo & Various
(CA) Howard Porter
In these stories from issues #1-6, it's the year of gods! Joining the insurgence against Superman, Zeus makes a bid for Earth, bringing the Amazonian Army into the fight. But who will Wonder Woman side with? And, how will Batman take advantage of all this godly interference?
INJUSTICE GODS AMONG US YEAR FOUR VOL 2
SEP160344
(W) Brian Buccellato, Tom Taylor
(A) Bruno Redondo & Various
(CA) Bruno Redondo
In this title collecting issues #8-12 plus ANNUAL #1, the balance of power may be tipped by the arrival of a force that could challenge even the Gods of Olympus. Also, Wonder Woman must make a stand, and the final fate of Ares is revealed. Another year of the INJUSTICE saga concludes, as writer Brian Buccellato further explores what takes place before the events of the hit video game phenomenon.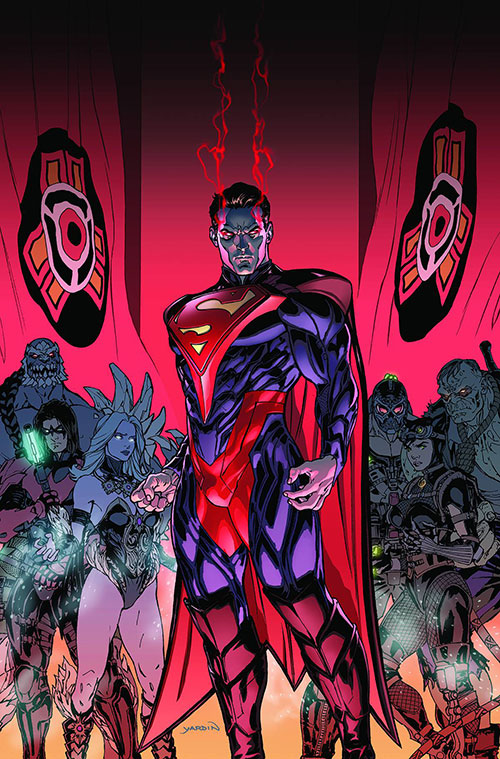 INJUSTICE GODS AMONG US YEAR FIVE VOL 1
AUG160330
(W) Brian Buccellato
(A) Mike S. Miller & Various
(CA) David Yardin
Having defeated the Green Lantern Corps, the forces of magic, and now the gods themselves, Superman's totalitarian regime seems to have eliminated all threats. Yet uneasy lies the crown on the head of the Man of Steel. Still obsessed with the outlaw Batman and worried about having enough troops to police his world, the Man of Steel begins to recruit some of Earth's deadliest villains to his side. Does the Dark Knight have any chance of ending the Man of Steel's rule? Collects issues #1-6 of Year Five.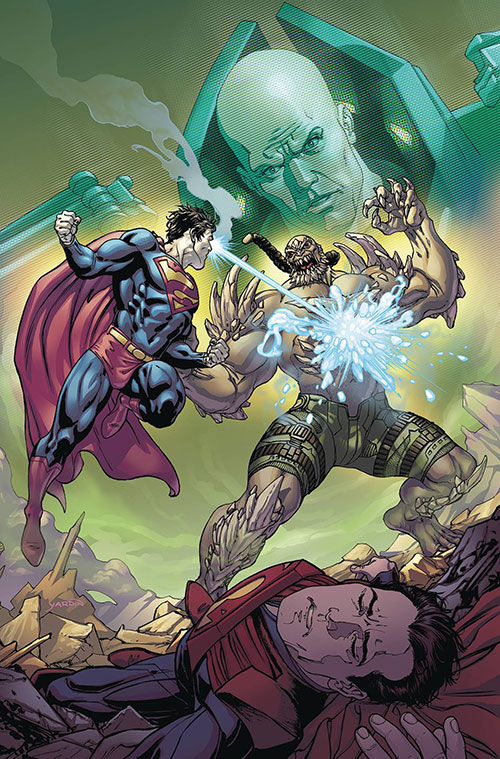 INJUSTICE GODS AMONG US YEAR FIVE VOL 2
NOV160334
(W) Brian Buccellato
(A) Mike S. Miller & Various
(CA) David Yardin
In these stories from issues #8-14, Catwoman returns to her life of crime, joined by Harley-but why is Damian transforming himself into the new Nightwing? Plus, can Superman and the Regime stop Bizarro before his destructive blunders leads to a major disaster? And what happens when Batman and the new Nightwing find themselves on opposing sides of the conflict that's tearing their world apart?
---
Be sure to find all of these at your local comic shop! If you're not sure where your local comic shop is, use the
Comic Shop Locator Service
.