Get Into Comics with Sabrina the Teenage Witch
Jan 16, 2017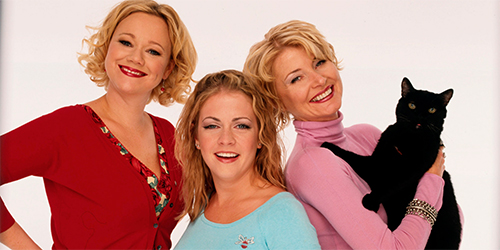 In 1996, Sabrina the Teenage Witch cast a spell on people of all ages when she appeared on television--not as the tv series that would come out of it--but as a tv movie starring Melissa Joan Hart as the eponymous teenage witch herself. What followed was the hit ABC series staring Hart, Caroline Rhea, Beth Broderick, and Nick Bakay as the quirky Spellman family.
However, many people don't know that Sabrina the Teenage Witch actually started as a comic book! An Archie comic book, no less! Premiering in 1962 in Archie's Madhouse #22, Sabrina was created by George Gladir and Dan DeCarlo, eventually becoming one of Archie's major characters. The first volume of Sabrina's own series came out in 1971 and, since, has been the standard by which all other young magic users are judged.
Despite how popular both the comic book and subsequent media property were, there were stark differences between the two. Take a look for yourself!
---
Film/TV Series: A teenager going to school in what was then the modern day who discovers she's half-witch on her father's side on her 16th birthday
Comics: A teenager going to school in the 60s & 70s alongside the classic Riverdale gang
The starkest difference between the two is the different eras in which they live. The 90s that Hart's Sabrina inhabits is widly different from the Sabrina in Archie Comics. Both regularly get into magical hijinks and juggle their daily lives with learning their witchcraft, as well as pining after the same Harvey Kinkle.
Film/TV: The cool aunts that teach Sabrina how to use her powers for good
Comic: The aunts that urge Sabrina to stay away from mortals, and encourage her to user her powers for self-gain
Hilda and Zelda Spellman have gone through the most significant changes since they first debuted as Sabrina's aunts. Whereas they were originally presented in a more stereotypically witch-like fashion, disliking mortals and advocating for Sabrina to be swayed towards their "evil" ways, they were portrayed as more caring and human in the film and television show. That being said, the recent rendition of the aunts in Afterlife with Archie and Sabrina are decidedly a mix of the two: more human in portrayal, but willing to do decidedly more evil things, like banishing Sabrina and keeping the real truth about her father under wraps.
Film/TV: The sassy cat we all know and love that tried to take over the world
Comic: The one orange cat--then recolored to fit with the film and television show--that shares most of the personality
When Salem first debuted, he didn't look much like the film and television show at all. In fact, he was an orange-colored cat unable to talk, though he did share the punishment from the Witches' Council: being turned into a cat for trying to take over the world. It wasn't until the late 1990s that he inherited his live-action counterpart's color and demeanor, not that we're complaining.
---
Sabrina the Teenage Witch is still one of the most beloved comic book television series from the past. Everyone can get behind how incredibly fun the show is and how likeable the cast of characters are. Fans of the comics, the film, and television series can check out these comics, available now at your local comic shop.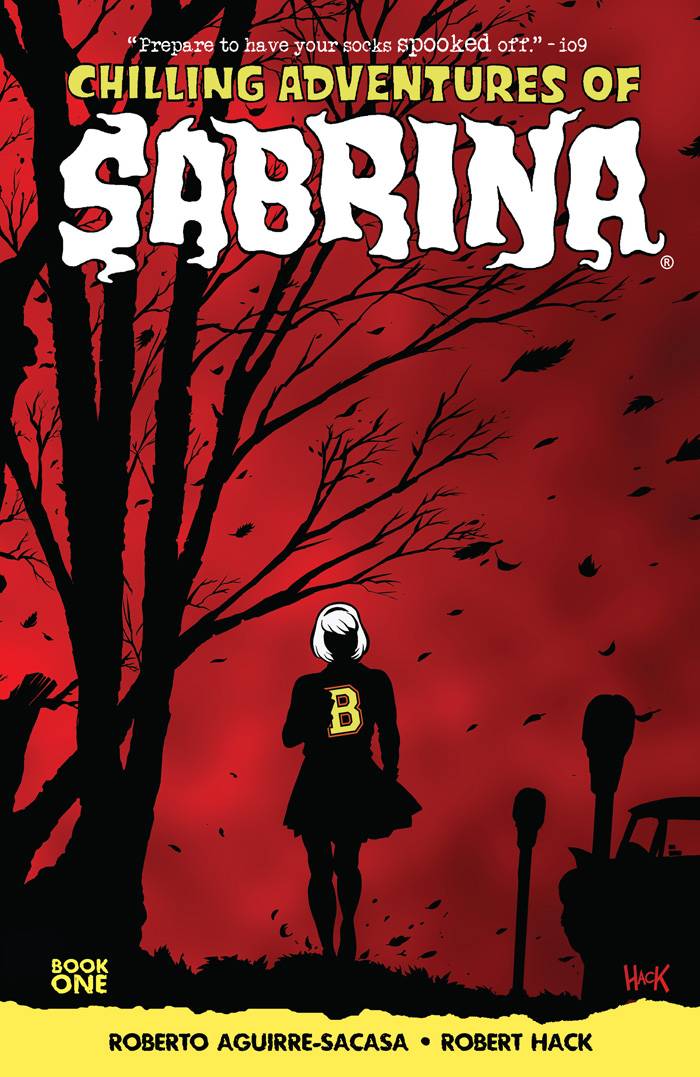 THE CHILLING ADVENTURES OF SABRINA, ARCHIE COMICS
MAY161133
What It's About: On the eve of her sixteenth birthday, the young sorceress Sabrina Spellman finds herself at a crossroads, having to choose between an unearthly destiny and her mortal boyfriend, Harvey. But a foe from her family's past has arrived in Greendale, Madame Satan, and she has her own deadly agenda. Archie Comics' latest horror sensation starts here! Compiles the first five issues of the ongoing comic book series Chilling Adventures of Sabrina. For TEEN+ readers.
Why Sabrina the Teenage Witch Fans Will Love It: This is the grown-up take on Sabrina Spellman, one that takes all the magic adventures and ramps them up to eleven. Fans will get to see Sabrina, Hilda, Zelda, Salem, and Harvey like never before. This is definitely ones for the older fans who grew up with Sabrina the Teenage Witch.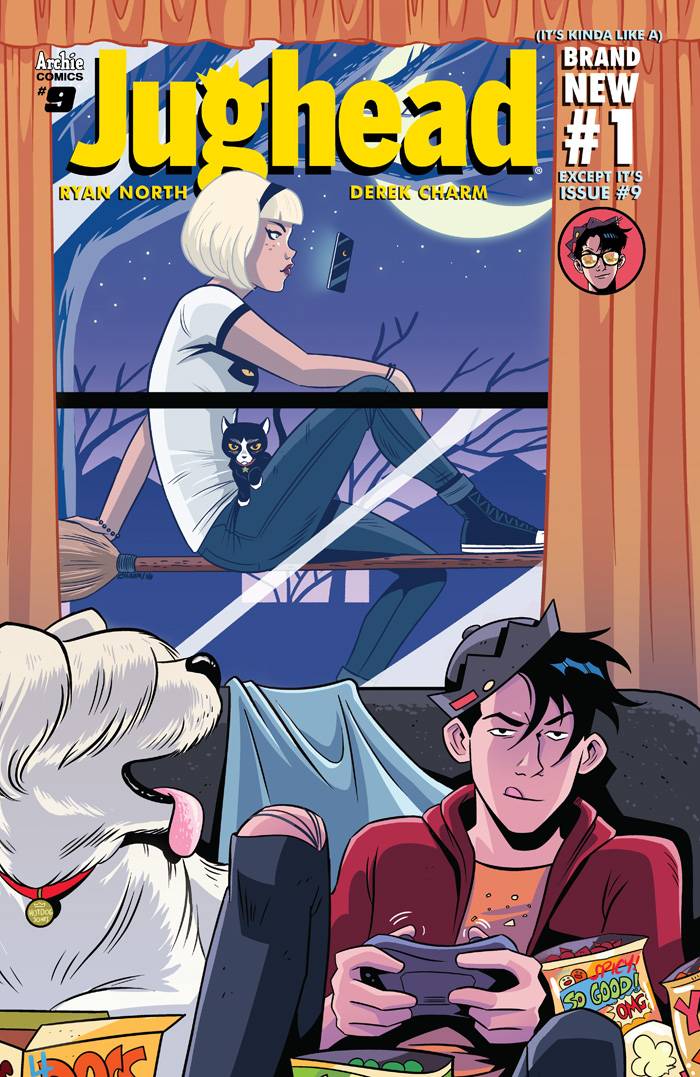 JUGHEAD #9, ARCHIE COMICS
JUN161137
What It's About: Sabrina makes her debut in the New Riverdale and things are about to get insane! Pop Tate's has a new mascot: it's a lady in a burger costume with a giant burger for a head! And she never takes off that giant burger head! And she and Jughead really hit it off, probably for that very reason! But is it possible Burger Lady is more than she appears? Find out what happens when Jughead meets a burger he really likes - and a powerful and unexpected new force in Riverdale is revealed! P.S.: that powerful and unexpected new force is Sabrina the Teenage Witch! She's the Burger Lady!
Why Sabrina the Teenage Witch Fans Will Love It: The reboot of Archie has gotten rave reviews because it's fresh and innovating--the new Jughead series is no different, especially when it introduces Sabrina for the first time in this new continuity!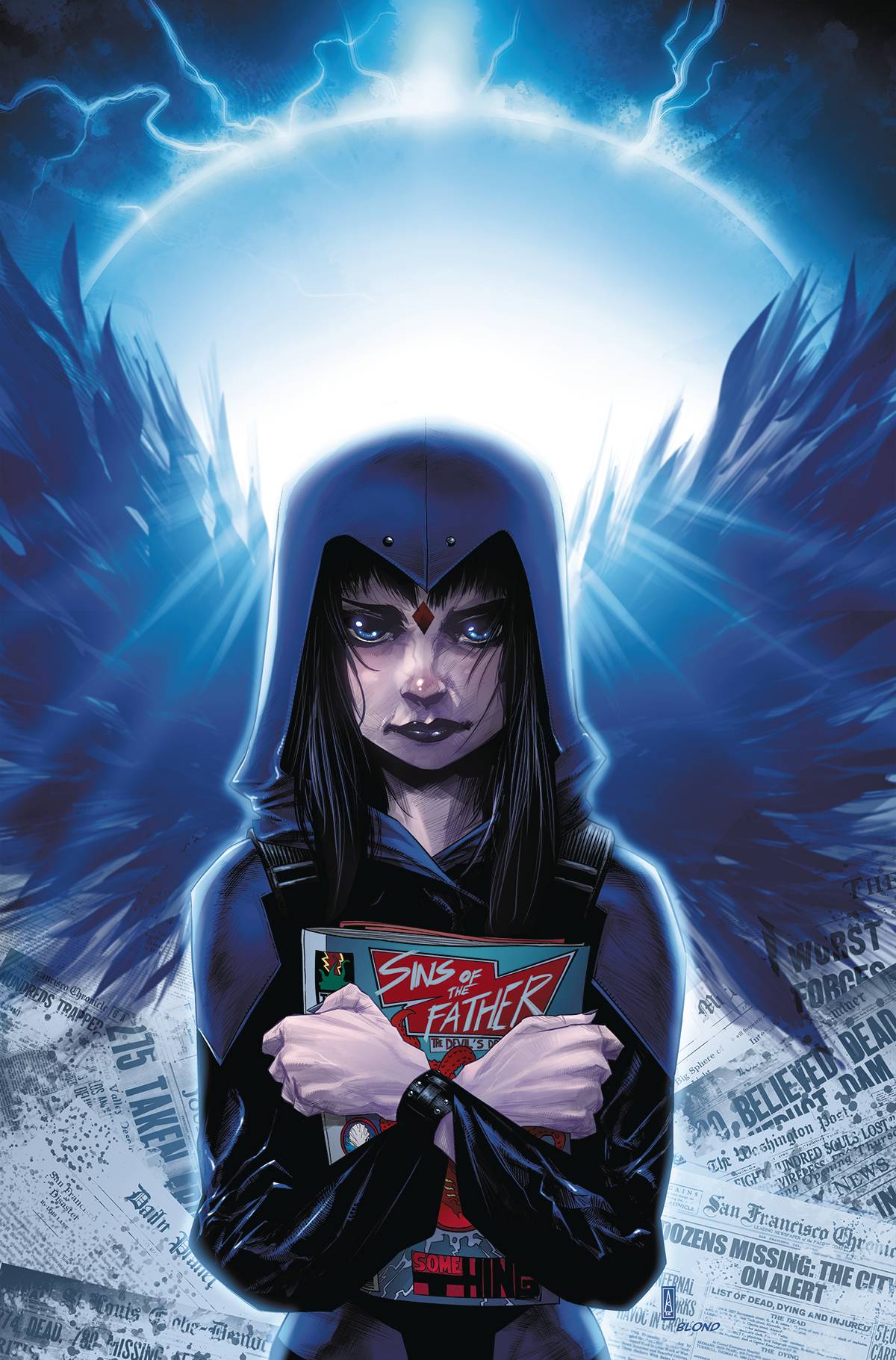 RAVEN #1 (OF 6), DC COMICS
JUL160365
What It's About: "The White Carnival" part 1! In a tale set between TEEN TITANS #24 and TEEN TITANS: REBIRTH #1, Raven takes a break from the team and moves to San Francisco to stay with her estranged aunt and face her most perilous challenge yet: high school! As Raven discovers more about her human side, one of her classmates goes missing under mysterious circumstances, and she must face an evil like none she's known before!
Why Sabrina the Teenage Witch Fans Will Love It: Like Sabrina, Raven is another teenage witch simply trying to fit in. In between Teen Titans teams, Raven takes a break to do exactly what Sabrina did! Fans of the film and show will love the similar situation Raven finds herself in and will grow to love her just as much as the classic teenage witch.
YOUNG AVENGERS ULTIMATE COLLECTION, MARVEL COMICS
MAY100705
What It's About: Acclaimed O.C. writer and TV veteran Allan Heinberg makes his comics debut, melding his unique ear for realistic teen characters with the trademark action and adventure of the Marvel Universe. Lauded as "a great piece of entertainment" by Silver Bullet Comics, YOUNG AVENGERS became the sleeper hit of 2005 and the critical darling of 2006! When the original Avengers disband, a team of teenage heroes comes together to fill the gap. Their first order of business: surviving the wrath of Kang the Conqueror and weathering the disapproval of the adult Avengers! Next, the newly formed Young Avengers take on super-powered sadist Mister Hyde, the extraterrestrial Super-Skrull and a full-scale alien invasion, juggling their parents and their private lives at the same time! Collecting YOUNG AVENGERS #1-12 and the YOUNG AVENGERS SPECIAL.
Why Sabrina the Teenage Witch Fans Will Love It: Young Avengers features another teenage witch: Billy Kaplan, who's trying to juggle being the son of Scarlet Witch, his boyfriend Teddy/Hulkling, and the new team of heroes he's trying to get together. There's a lot to love about Billy and the situations he's put in as a member of the team: he has just as much heart and passion as Sabrina, with a little more kick to his magic.
---
Be sure to check out these comics at your local comic shop! If you don't know where your local comic shop is, you can use the Comic Shop Locator Service. Be sure to also check out Archie's two Free Comic Book Day 2017 books: Betty & Veronica and Riverdale!