Free Comic Book Day 2017 Gold Sponsor Comic Books Announced!
Dec 12, 2016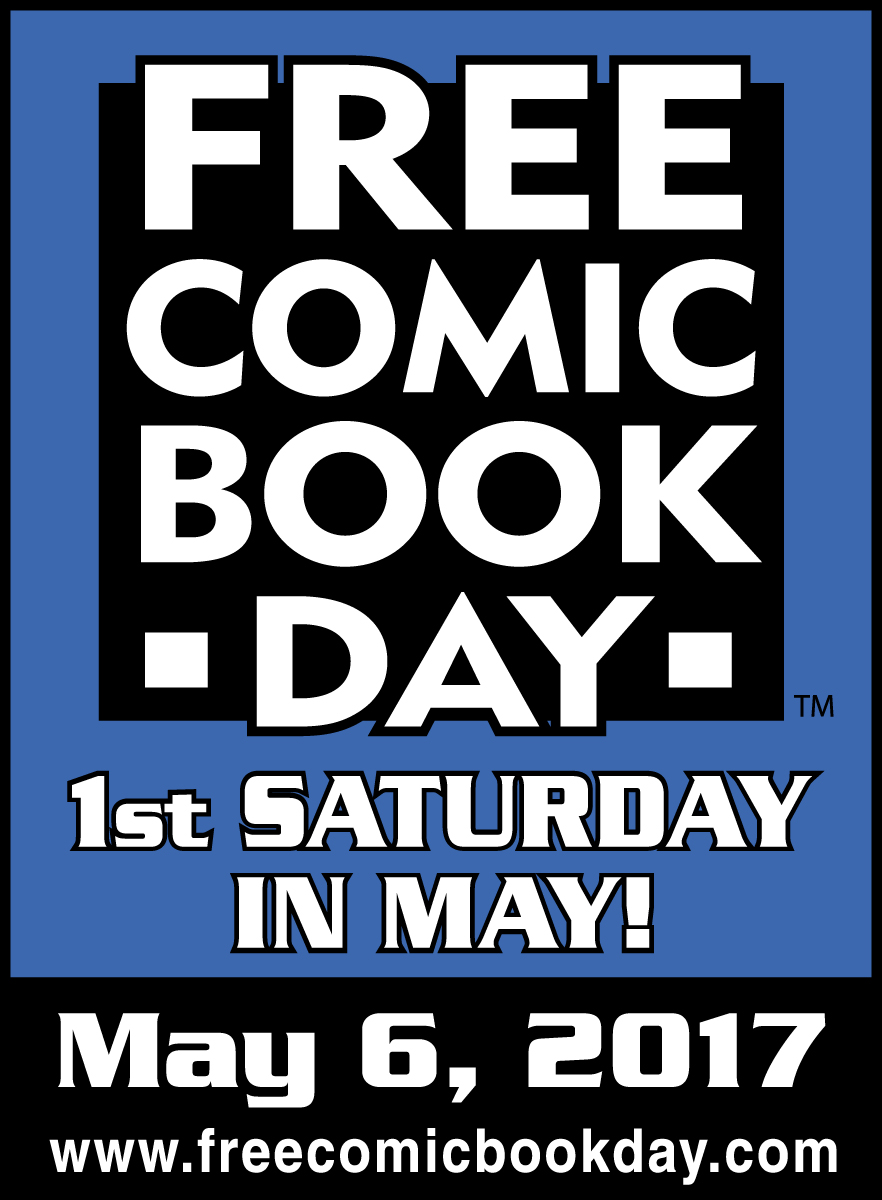 ---
Free Comic Book Day (FCBD) is proud to announce the twelve Gold Sponsor comic book titles for the comic book industry's most anticipated annual event, Free Comic Book Day. FCBD takes place every year on the first Saturday in May at participating comic book shops worldwide with next year's event taking place on May 6th, 2017. The comics were carefully chosen by comic shop retailers on the FCBD Selection Committee and feature something for everyone from superheroes, to action-adventure, and all-ages favorites. The Gold Sponsor publishers include Marvel Comics, DC Comics, Dark Horse Comics, IDW Publishing, Image Comics, Archie Comics, Bongo Comics, BOOM! Studios, ONI Press, Titan Comics, Valiant Entertainment and Viz Media.
"There's so much to love in all the engaging titles being offered for the 16th annual Free Comic Book Day," said Joe Field, head of the Retailer Selection Committee and owner of Flying Colors Comics in Concord, CA. "The fantastic line up of Gold-level publishers, the continuing great work of thousands of independent comic book retailers, and the enthusiasm of new and returning fans all over the world will make May 6, 2017 a monumental day in comics history!"

This year's Silver Sponsor comic books will announced on Monday, December 19th. A complete listing of all fifty FCBD titles, including the twelve Gold Sponsor comic books and thirty-eight Silver Sponsor comic books, can be found in the January issue of Diamond Comic Distributors' PREVIEWS catalog, on sale at all comic book shops December 28th, 2016.
Free Comic Book Day 2017 Gold Sponsor Comics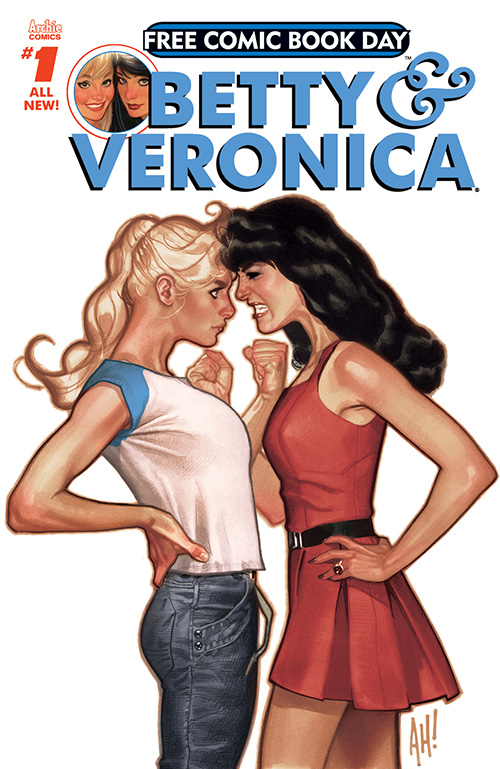 FCBD 2017 Betty & Veronica #1
ARCHIE COMICS
(W) Adam Hughes (A) Adam Hughes, Jose Villarrubia, Jack Morelli (CA) Adam Hughes
IT'S BETTY VS. VERONICA! Betty and Veronica are America's sweethearts… until they turn on each other! "Pops' Chocklit Shoppe is being taken over by a huge coffee company. When Betty and Veronica go head-to-head over the issue, all bets are off! Friendships will shatter. Cities will burn. Nails will be broken. Betty and Veronica are back in this ALL-NEW #1 from comics legend Adam Hughes (Wonder Woman, Catwoman)!
32 pages, FC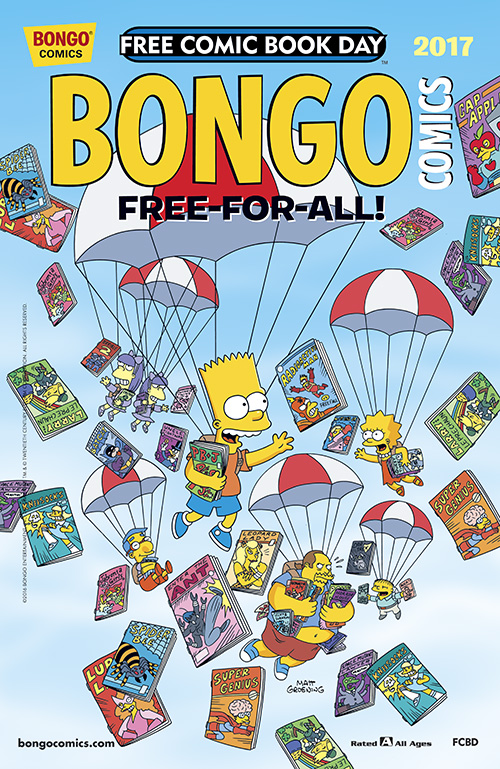 2017 Free Comic Book Day Bongo Comics Free-For-All!
BONGO COMICS
(W/A/CA) Matt Groening

Get in line for the foremost Free Comic Book Day four-color giveaway of the year! When Bart injures his back and has to use a rolling backpack, he turns weakness into strength as the "Leader of the Backpack Pack." Then, Homer and Bart pull an all-nighter and put themselves on high alert to prevent a potential home invasion. Rod and Todd Flanders get separated from Ned Flanders in downtown Springfield and find themselves on an odyssey fraught with many mostly imagined dangers. All that and much, much more, and it's all free!

32pgs, FC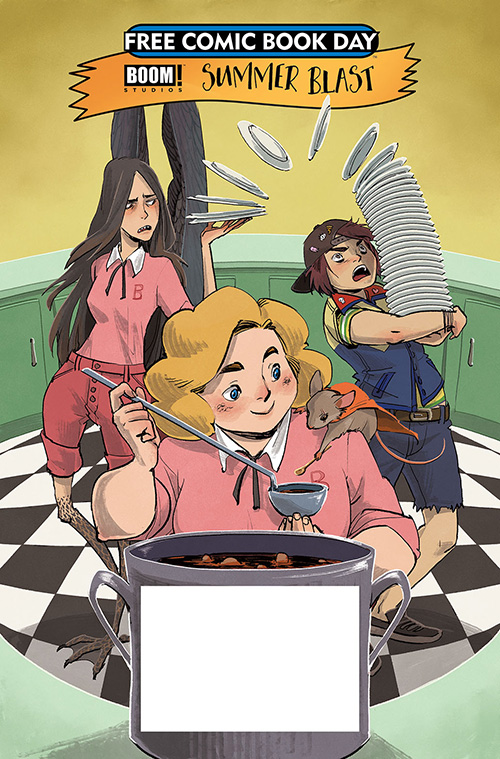 BOOM! STUDIOS SUMMER BLAST FCBD 2017 EDITION
BOOM! STUDIOS
(W/A) David Petersen & Various (CA) Kyla Vanderklugt

BOOM! Studios Summer Blast is jam-packed with three stories of mice, monsters, and one supernatural punk band. In an original Archaia short story of David Petersen's Mouse Guard, a pair of youngfurs learn a lesson from a grizzled guardmouse on what it means to be a hunter. Next, get a sneak peek of the upcoming KaBOOM! series Brave Chef Brianna. To prove herself as a great chef, Brianna starts her own restaurant... but the only town she can afford to set up shop in is Monster City! Finally, the Lumberjanes introduce your new favorite BOOM! Box series Coady and the Creepies. Coady and her sisters are members of a band heading for the gig of their lives… so long as no one realizes that Coady is actually a ghost!

32pgs, FC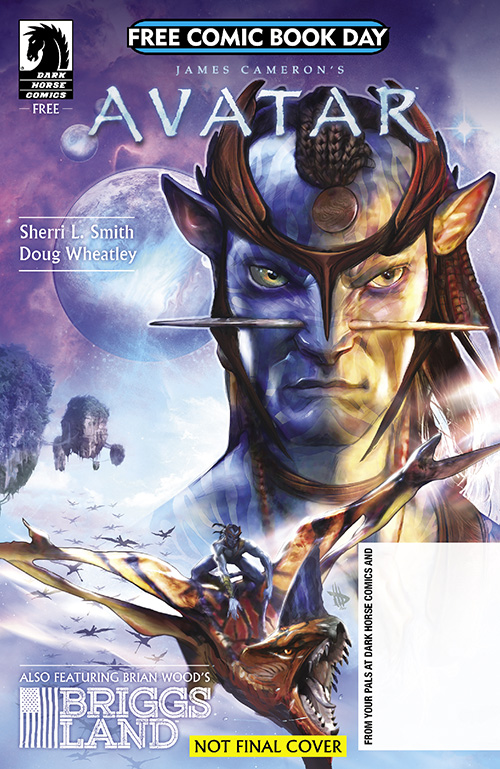 BRIGGS LAND/JAMES CAMERON'S AVATAR — FCBD 2017 EDITION
DARK HORSE COMICS
(W) Sherri Smith, Brian Wood (A) Doug Wheatley, Werther Dell'Edera
Return to the wilds of Pandora and the world of the Nav'i from James Cameron's groundbreaking film Avatar as Jake Sully connects with the flying Toruk, the majestic Great Leonopteryx, by remembering the depth of his bond with his twin brother and great partnerships of history and legend. Also included in this issue: Set in a secessionist community in rural America, Grace Briggs is trying to guide her family peacefully through trying times. But when confronted with armed milita running an opioid ring on her land, she must take commanding steps. Briggs Land is currently in development for television at AMC.
MATURE THEMES
32pgs, FC
DC COMICS GOLD BOOK—FCBD 2017 EDITION
DC COMICS
(W/A/CA) TBD

A special, Top Secret project too big to announce! Please check back in the February issue of PREVIEWS and at freecomicbookday.com for future updates!

32pgs, FC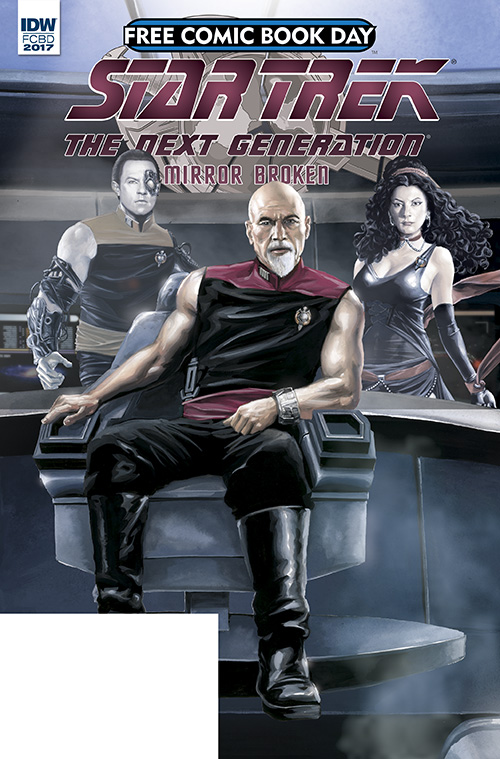 STAR TREK: THE NEXT GENERATION: MIRROR BROKEN — FCBD 2017 EDITION
IDW PUBLISHING
(W) Scott Tipton, David Tipton (A/CA) J. K. Woodward
Space... The Final Frontier. These are the voyages of the I.S.S. Enterprise. Its continuing mission: to conquer strange new worlds, to enslave new life and new civilizations... to boldly go where no one has gone before! Return to the Mirror Universe with the Next Generation crew in a way you've never seen them before in this prequel to the upcoming Star Trek: The Next Generation miniseries, Mirror Broken! Captain Jean-Luc Picard will stop at nothing to get his hands on the Terran Empire's newest starship, the Enterprise-D. And no one had better stand in his way!
32pgs, FC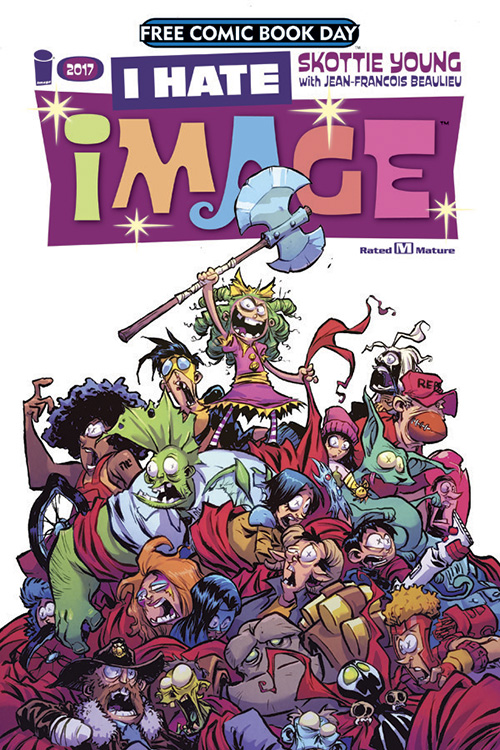 I HATE IMAGE — FCBD 2017 EDITION
IMAGE COMICS
(W/A/CA) Skottie Young
Gertrude has been stuck in Fairyland for decades when she finally hears of a secret passage that may be her way back home. But reaching it is easier said than done as she crosses the border into IMAGE where she'll have to chop her way through you favorite characters from Saga, The Walking Dead, Savage Dragon, Spawn, Descender, Black Science, Southern Bastards, and any other character I can add to make sure the original art for this issue sends my children to college!
MATURE THEMES
32pgs, FC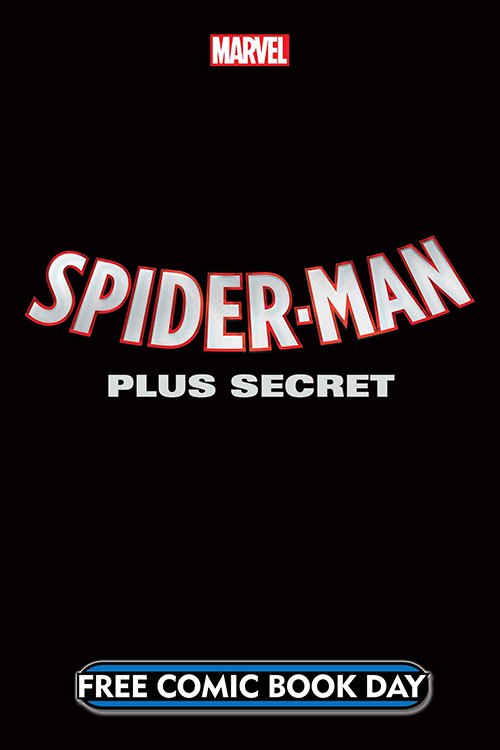 FCBD 2017 MARVEL SECRET
MARVEL COMICS
Top Secret
32pgs, FC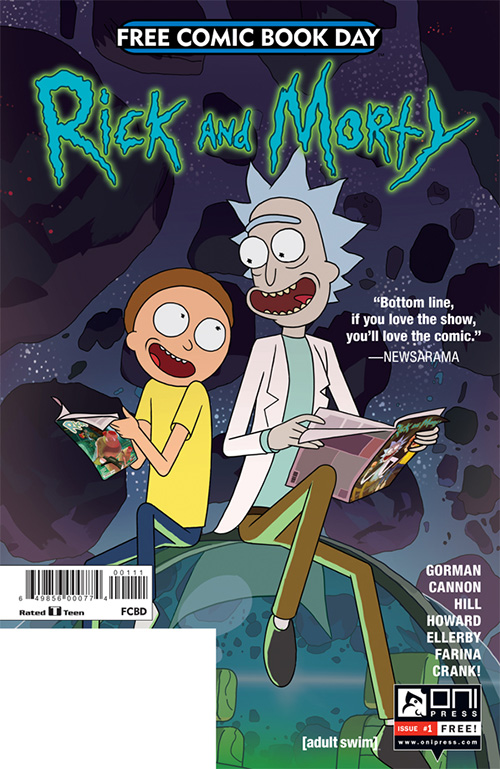 RICK & MORTY — FCBD 2017 EDITION
ONI PRESS
(W) Zac Gorman, Tini Howard (A) CJ Cannon & Various (CA) Maximus Pauson
Dan Harmon & Justin Roiland's hilarious hit Adult Swim animated show Rick and Morty has its own critically-acclaimed comic book series from Oni Press! Join degenerate superscientist Rick Sanchez as he embarks on all-new insane adventures with his awkward grandson Morty, his teenage granddaughter Summer, his veterinary surgeon daughter Beth, and his hapless son-in-law Jerry. Catch up on their escapades with this special Free Comic Book Day issue, which includes the story that started it all: Part One of "The Wubba Lubba Dub Dub of Wall Street." Plus, an exclusive first look at the upcoming miniseries Pocket Like You Stole It!
32pgs, FC
DOCTOR WHO — FCBD 2017 EDITION
TITAN COMICS
(W) Alex Paknadel (A) Mariano Laclaustra (CA) Photo
Take a spin through the past, present, and future of Doctor Who universe, in the company of the twelfth Doctor and his brand-new companion, Bill! Featuring Bill's first Titan Comics appearance, this all-new story is an unmissable experience for fans new and old, with plenty of tantalising teases from Doctors past and present, including incredible clues to the year ahead for all of Titan's Doctor Who series! Keep your Sonic Screwdriver at the ready and unlock a world of adrenaline-fuelled time traveling adventure!
32pgs, FC
X-O MANOWAR SPECIAL — FCBD 2017 EDITION
VALIANT ENTERTAINMENT
(W) Matt Kindt, Jeff Lemire (A) Tomas Giorello & Various (CA) Tomas Giorello
First: The biggest Valiant debut of all time begins with an all-new prelude to X-O Manowar from visionary storyteller Matt Kindt and blockbuster artists Tomas Giorello, Doug Braithwaite, Clayton Crain, Ryan Bodenheim, and Mico Suayan! Then, comics superstar Jeff Lemire begins the march toward Bloodshot Salvation with the first appearance of A Major New Character! Plus: Faith, Harbinger Renegade, Ninjak, Psi-Lords, Secret Weapons, Shadowman, and surprise revelations for Harbinger Wars 2!
32pgs, FC
THE LEGEND OF ZELDA: TWILIGHT PRINCESS/OCARINA OF TIME — FCBD 2017 EDITION
VIZ MEDIA
(W/A/CA) Akira Himekawa
Once upon a time, wizards tried to conquer the Sacred Realm of Hyrule. The Spirits of Light sealed the wizards' power within the Shadow Crystal and banished them to the Twilight Realm beyond the Mirror of Twilight. Now, an evil menace is trying to find Midna, Princess of the Twilight Realm, and the fragments of the Shadow Crystal to gain the power to rule over both the Twilight Realm and the World of Light. This FCBD special features excerpts from the manga adaptations of The Legend of Zelda: Twilight Princess and The Legend of Zelda: Ocarina of Time.
32pgs, B&W
For more FCBD news and updates, visit www.freecomicbookday.com and become a fan on Facebook at www.facebook.com/freecomicbook and follow on Twitter at www.Twitter.com/freecomicbook or Instagram at freecomicbookday.