#NCBD 12/14/16: FCBD's 10 Comics for New Comic Book Day!
Dec 09, 2016
Free Comic Book Day was founded on the belief that there's a comic book perfect for everyone out there! Every Wednesday is New Comic Book Day (#NCBD) in comic book shops, where new comics release hit the shelves of comic book shops for eager fans to pick up and purchase.
We've highlighted ten comics that are perfect recommendations for anyone looking to get into comics!
In this week's list, for books coming out 12/14/16, there's definitely something for everyone. From a major event in Inhumans vs. X-Men, to holiday cheer in the DC Rebirth Holiday Special, to comics based on popular television like Steven Universe and toys like Transformers. What are you picking up at your local comic shop this week? Let us know on our Facebook or Twitter!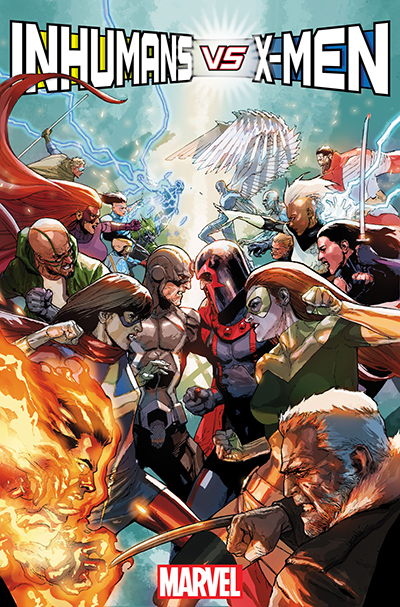 IVX #1
SEP160868

MARVEL COMICS
(W) Charles Soule, Jeff Lemire
(A/CA) Yu Leinil
THIS IS IT!

The X-Men and Inhumans have been on a collision course since the link was proven between the Inhumans' precious Terrigen Mist and the sickness and death of many mutants. When Beast discovers that the mutants have only two weeks before the planet is uninhabitable for them, an Inhuman/mutant war is unavoidable. Co-written by Charles Soule (Uncanny Inhumans, Daredevil) and Jeff Lemire (Extraordinary X-Men, Moon Knight), IVX delivers sensational set pieces, gargantuan grudge matches, all drawn by the sensational Leinil Francis Yu! Whether you're for the X-MEN or the INHUMANS, IVX promises to shatter the Marvel Universe as you know it!

Rated T+
DC Rebirth Holiday Special #1
OCT160155

DC COMICS
(W) Paul Dini, James TynionIV, Steve Orlando, Vita Ayala, Cullen Bunn, Tim Seeley, James Asmus, Heath Corson, Kate Perkins
(A) Robbi Rodriguez, Gustavo Duarte
(CA) Jorge Jimenez
DC's biggest and brightest heroes celebrate the holidays in this new special! Don't miss a Chanukah crisis for Huntress, a Flash family Christmas, Wonder Woman interrupting JohnConstantine's hellblazing pagan party and more-including the return of Detective Chimp! Today's top talents bring you a very special holiday gift that'll keep on giving through the New Year! And writer Paul Dini crafts a Harley holiday tale featuring DCU guests that bridges all the stories in the weirdest, wildest way.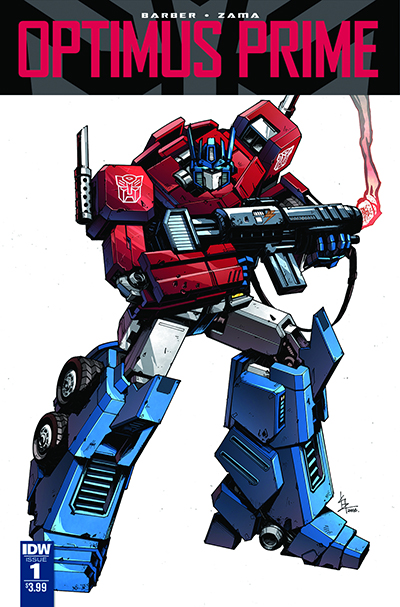 Optimus Prime #1
SEP160404

IDW PUBLISHING
(W) John Barber
(A/CA) Kei Zama
REVOLUTION is over-but the danger to Earth is just beginning. As OPTIMUS PRIME pulls Earth into the larger universe, he's painted a target on Earth... and a new alien incursion begins when a corkscrew shaped craft drills into our world!
• The next evolution of TRANSFORMERS is here!
• OPTIMUS PRIME's past on CYBERTRON haunts his present on Earth!
• Amazing artist Kei Zama (Scarlett Witch) makes her debut with veteran writer John Barber (Transformers)!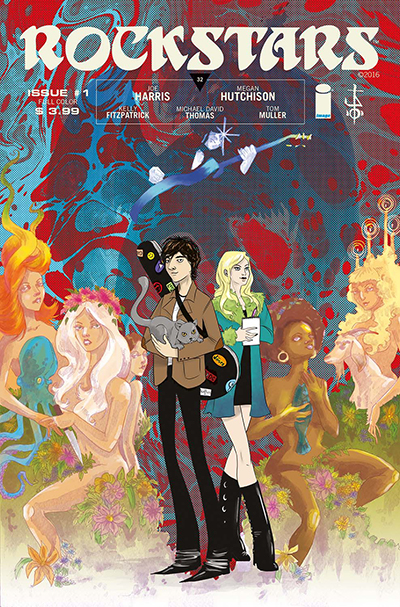 Rockstars #1
OCT160555

IMAGE COMICS
(W) Joe Harris
(A/CA) Megan Hutchison
SERIES PREMIERE
Fan-favorite JOE HARRIS (GREAT PACIFIC, The X-Files) and mega-talented newcomer MEGAN HUTCHISON deliver a new ongoing series exploring rock 'n' roll's untold mysteries and secrets!
"NATIVITY IN BLACKLIGHT," Part One
When a pattern of unsolved 'groupie' murders from the 1970s resumes in present-day Los Angeles, nobody makes the connection except Jackie Mayer, a rock nerd with a strange connection to music's urban legends and lost history. Together with muckraking music writer Dorothy Buell, they soon uncover a vast conspiracy involving a legendary band, demonic possession, and sacrifices to the dark gods of rock.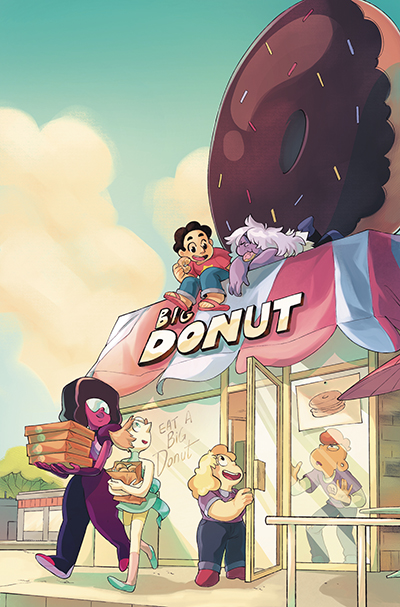 Steven Universe 2016 Special #1
OCT161288

BOOM! STUDIOS
(W) Ayme Sotuyo, T. Zysk, Queenie Chan, Sara Talmadge, Katie Jones, Nicole Andelfinger
(A) T. Zysk, Queenie Chan, Sara Talmadge, Katie Jones, Cara McGee
(A/CA) Ayme Sotuyo
This is it! The Big Donut Special! This special one-shot focuses on Lars, Sadie, the citizens of Beach City, and the Crystal Gems as they hang out at their favorite donut place. Featuring off-model stories, and alternative portrayals of Steven and the entire gang. 40 pages of story and art!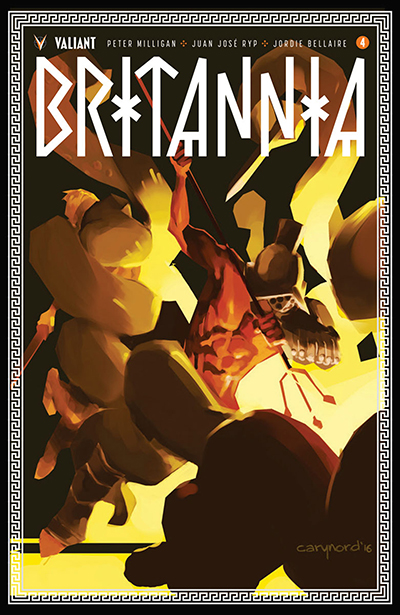 Britannia #4
OCT161989

VALIANT ENTERTAINMENT
(W) Peter Milligan
(A) Juan Jose Ryp
(CA) Cary Nord
Final Fates! Antonius Axia's nightmarish journey through the heart of the remote Roman colony of Britannia has brought him to death's door. But when the world's first detective confronts his deepest fears about gods, men and civilization, will he be able to complete the mission given to him by Emperor Nero, or will his mind collapse under the unfathomable weight of the void that now stands revealed before him?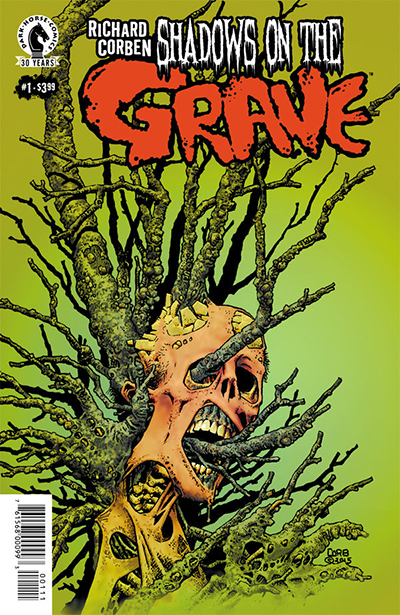 Shadows on the Grave #1
OCT160064

DARK HORSE COMICS
(W) Richard Corben
(A/CA) Richard Corben
The master of supernatural horror is back with bizarre tales of terror in his signature black-and-white style. Running through the entire series is the continuing story of Corben's new warrior character, Denaeus, reminiscent of his best-loved creation, Den from the classic Heavy Metal series. New stories from 2012 Eisner Hall of Fame award winner Richard Corben!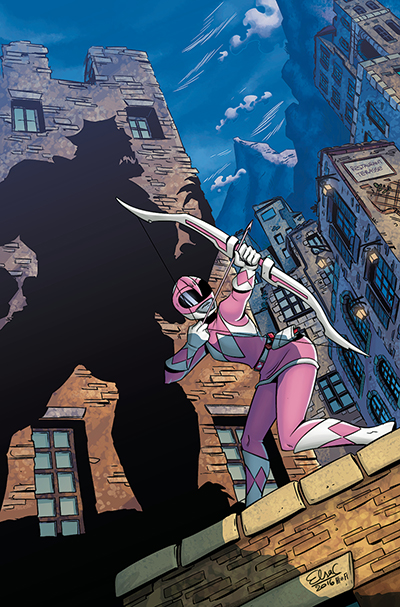 Power Rangers Pink #5
JUL161367

BOOM! STUDIOS
(W) Brendan Fletcher, Kelly Thompson, Tini Howard
(A) Daniele Di Nicuolo
(CA) Elsa Charretier
The unlikeliest of team-ups may just be required to save the world from a new terror.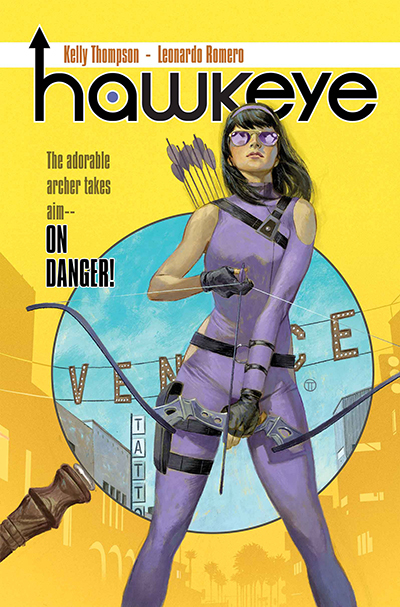 Hawkeye #1 NOW
MARVEL COMICS
(W) Kelly Thompson
(A) Leonardo Romero
(CA) Julian Totino Tedesco
Remember Hawkeye? No not that Hawkeye, our favorite Hawkeye, the chick who puts the hawk in Hawkeye, the butt-kicking hero who had to save the other Hawkeye's butt all the time. Yup, you know her, it's the dazzling Kate Bishop making her solo comics debut! Kate is heading west and returning to Los Angeles, with her bow and arrow and P.I. badge in tow. There are crimes to solve and she's the best archer to handle 'em! The City of Angels has a new guardian angel.
The talented duo of Kelly Thompson (A-Force, Jem) and Leonardo Romero (Squadron Supreme, Doctor Strange) bring you a Kate Bishop like you've never seen her before, in a brand-new ongoing series that really hits the mark!
Rated T+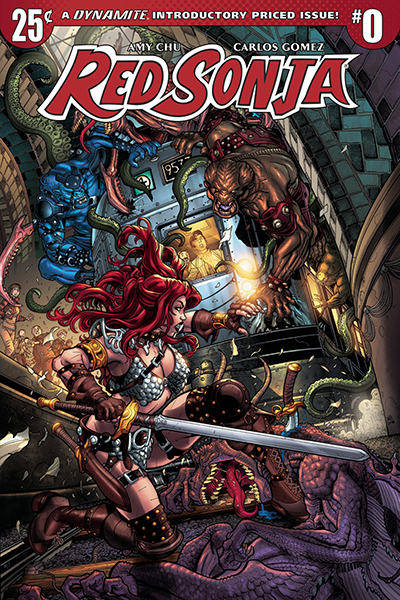 Red Sonja #0
OCT161419

DYNAMITE ENTERTAINMENT
(W) Amy Chu
(A) Carlos E. Gomez
(CA) Nick Bradshaw
25¢ INTRODUCTORY PRICED ISSUE! The barbarian She-Devil with a Sword faces a whole different world and challenges in this new adventure written by Amy Chu and drawn by Carlos Gomez. Somewhere deep underground, strange and powerful demons clad in metal armor attack and roust Red Sonja from a deep magical sleep. Confused and weaponless, she must find a way to defeat these mysterious creatures, escape from her solitary prison, and make her way to the surface to discover where she is, and why she was put there...
All of these comics are available at your local comic shop! To find a comic shop near you, visit Comicshoplocator.com!