Read These Graphic Novels From FCBD 2016 Titles
Dec 05, 2016
Free Comic Book Day 2016 has come and gone and all the FREE comics you picked up at your local comic shop have continued on for several more issues. After five or so issues of a comic book has been released a publisher typically collects those stories and reprints them into a graphic novel, commonly called a trade paperback (shortened to TP or trade).


Let's take a look at the 2016 Gold Comics to see what trades you can get at comic shops that continue the story or relate to the characters featured in those issues from Free Comic Book Day.


---

If you liked ARCHIE #1 FCBD 2016 EDITION pick up: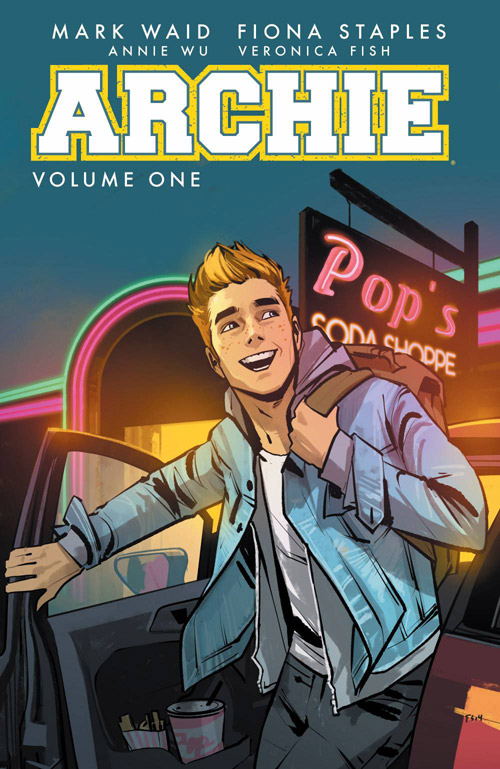 ARCHIE TP VOL 01
DEC151006
ARCHIE COMIC PUBLICATIONS
(W) Mark Waid
(A) Fiona Staples & Various
(CA) Fiona Staples

Archie, one of the longest-running titles in comic book history, is rebooted here by two of the most talented creators in comics, Mark Waid and Fiona Staples. Together they create a surprising and definitive take on the origins of everyone's favorite redheaded teen and his friends while showcasing the beginnings of the historic love triangle between Archie, Betty, and Veronica. The book captures the bite and hilarious edge of Archie's original tales in a modern, forward-looking manner, while still retaining the character's all-ages appeal. Collects Archie #1-6 and bonus content including scripts, sketches, and variant covers.

SRP: $19.99
Available now at comic shops!
---

If you liked BONGO COMICS FREE-FOR-ALL FCBD 2016 EDITION pick up: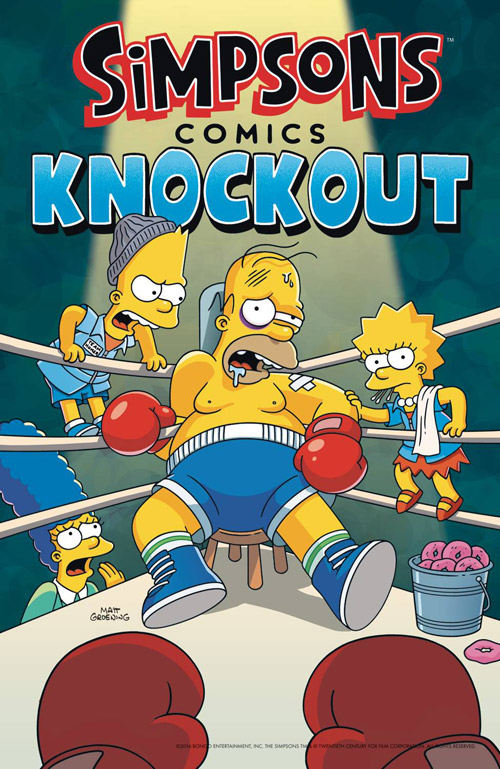 SIMPSONS COMICS KNOCKOUT GN
OCT161278
BONGO COMICS

Go the distance with the Simpson family as they join everybody's favorite moonraking megalomaniac, Hank Scorpio for a globetrotting adventure that will not only take you around the world but, literally, into orbit around the Earth. And when the lovelorn losers of Springfield feel like throwing in the towel on romance, they pick themselves off the mat and get an adrenaline rush by living life to the extreme! And as if Homer wasn't already a glutton for punishment, watch him discover his killer instinct as he goes toe-to-toe with C. Montgomery! It's a unanimous decision! These pulse-pounding Simpsons stories and more will have you rolling with the punch lines!
SRP: $15.99
Available 12/14/2016 at comic shops!

---
If you liked BOOM! STUDIOS SUMMER BLAST FCBD 2016 EDITION pick up: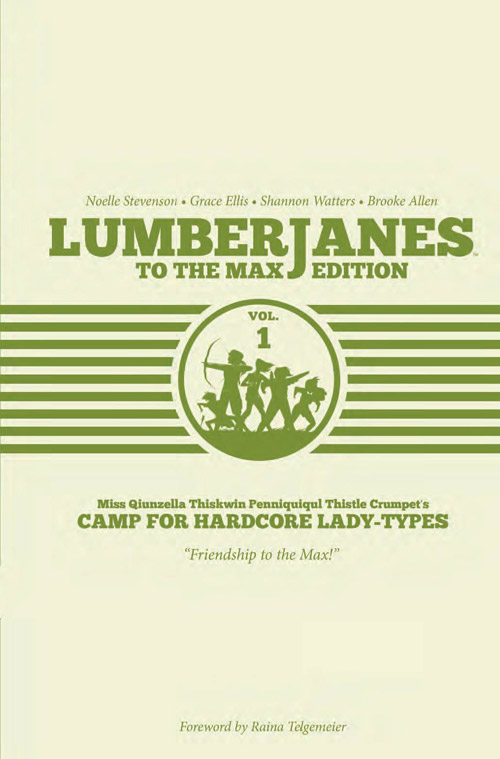 LUMBERJANES TO MAX ED HC VOL 01
SEP151107
BOOM! STUDIOS

(W) Shannon Watters & Various
(A) Brooke A. Allen
(CA) Noelle Stevenson

What's to Love: We're overwhelmed by the love, support, and enthusiasm from Lumberjumbies all over the world for this Eisner Award-winning series! Shannon Watters, Grace Ellis, Noelle Stevenson (Nimona), and Brooke Allen (A Home for Mr. Easter) have crafted a heartfelt series built on the power of friendship and positivity, and we're thrilled to present the original eight-issue story arc in a deluxe hardcover for the first time.
What It Is: At Miss Qiunzella Thiskwin Penniquiqul Thistle Crumpet's Camp for Hardcore Lady Types, things are not what they seem. Three-eyed foxes. Secret caves. Anagrams! Luckily, Jo, April, Mal, Molly, and Ripley are five rad, butt-kicking best pals determined to have an awesome summer together...and they're not gonna let a magical quest or an array of supernatural critters get in their way! The mystery keeps getting bigger, and it all begins here. Collects issues #1-8, the two-page short from BOOM! Box 2014 Mix Tape, all eight mix-tape lists, and more!
"Completely unpredictable, ridiculously charming, and laugh-out-loud funny." - Entertainment Weekly

SRP: $39.99
Available now at comic shops!

---

If you liked DARK HORSE SERENITY/HELLBOY/ALIENS FCBD 2016 EDITION pick up: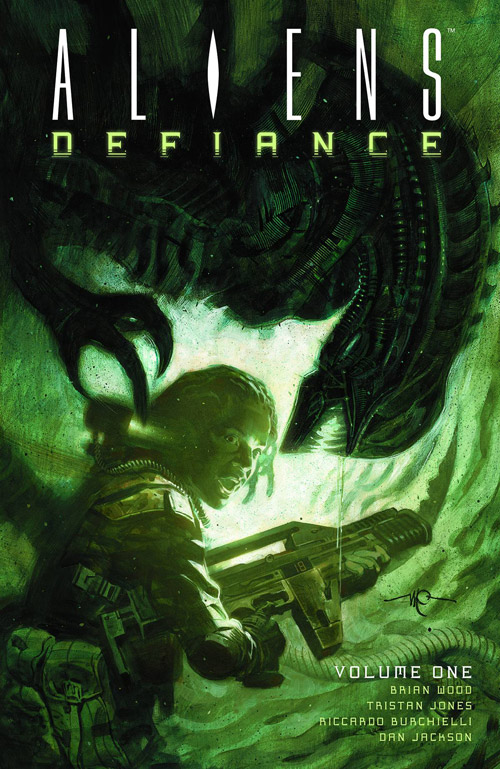 ALIENS DEFIANCE TP VOL 01
SEP160039

DARK HORSE COMICS
(W) Brian Wood
(A) Tristan Jones
(CA) Massimo Carnevale

In the aftermath of the intense battle against the Colonial Marines, Zula Hendricks and Davis have gone from being merely AWOL to full-blown traitors. As they drift into a quiet part of space to recover and regroup, new crew member Dr. Hollis discovers something in the medical bay that changes everything. Sometimes evil comes from within.
o Artist Stephanie Hans joins the team on covers!
o The second arc begins here!

SRP: $19.99
Available 1/25/2017 at comic shops!
---

If you liked DC COMICS SUICIDE SQUAD #1 FCBD SPECIAL EDITION pick up: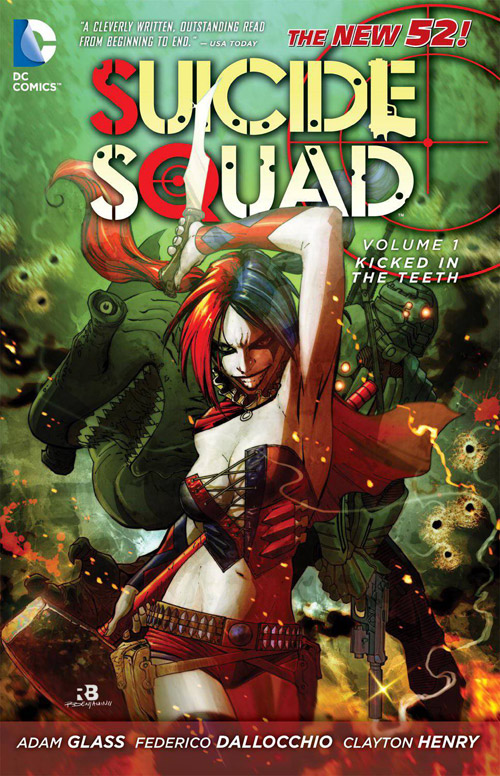 SUICIDE SQUAD TP VOL 01 KICKED IN THE TEETH
APR120250

DC COMICS
(W) Adam Glass
(A) Federico Dallocchio & Various
(CA) Ryan Benjamin

HARLEY QUINN, DEADSHOT, KING SHARK and others are a team of death-row Super-Villains recruited by the government to take on
missions so dangerous - they're sheer suicide!
After a prison riot at BELLE REVE PENITENTIARY, the hunt for the escaped HARLEY QUINN is on!
Collects SUICIDE SQUAD #1-7!

SRP: $14.99
Available now at comic shops!
---
If you liked BOB'S BURGERS FCBD 2016 EDITION pick up: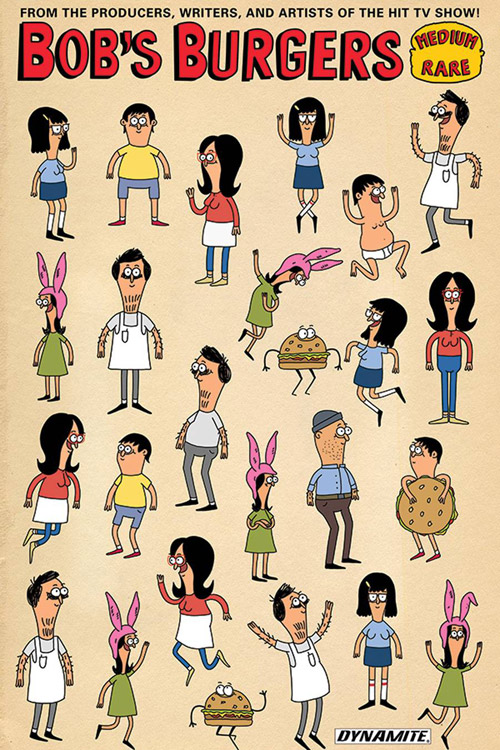 BOBS BURGERS ONGOING MEDIUM RARE
SEP151222

DYNAMITE ENTERTAINMENT

(W) Chad Brewster & Various
(A) Robin Brigstocke & Various
(CA) Frank Forte

While Bob and Linda Belcher have their hands full running the family business, their kids Tina, Gene, and Louise have adventures that you won't believe! The producers, writers, and animators of the hit animated show Bob's Burgers proudly present all-original comic book stories, including hilarious installments of "Louise's Unsolved Mysteries & Curious Curiosities", "Tina's Erotic Friend Fiction", and "Gene's Rhymey Rhymes That Could One Day Be Songs." Whether it's Tina's daydreams of cloning back-up dancers or jungle misadventures, Louise's explorations of underground tunnels and time-stopping Wonder Wharf rides, Gene's lyrics that reimagine boring Aunt Gayle visits as epic journeys to fantasy worlds, the Belcher family hijinx are guaranteed to make you laugh! Collecting issues #1-5 of the ongoing series.

SRP: $14.99
Available now at comic shops!
---
If you liked ROM: SPACE KNIGHT #0 FCBD 2016 EDITION pick up: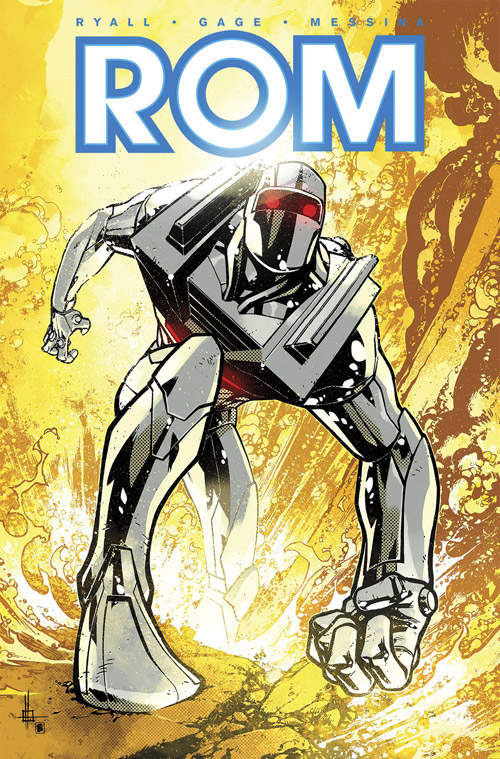 ROM TP VOL 01
NOV160382

IDW PUBLISHING
(W) Christos N. Gage, Chris Ryall
(A) David Messina
(CA) Zach Howard

Far away, in another galaxy, the knights of the Solstar Order, defenders of justice and truth, were ambushed by the evil magicians, the Dire Wraiths. In the end, the Solstar Order prevailed and began seeking out its scattered enemies. One of these knights has followed the trail of the Dire Wraiths all the way to Earth. This knight, the one the Dire Wraiths fear more than all others has hounded them and kept them underground for centuries and could wipe them off the face of creation. He is ROM, Lord of the Solstar Order; Rom, the Wraithslayer. Collects issues #0-4 and Rom: Revolution.

SRP: $19.99
Available 1/11/2017 at comic shops!
---
If you liked CAMP MIDNIGHT FCBD 2016 EDITION pick up: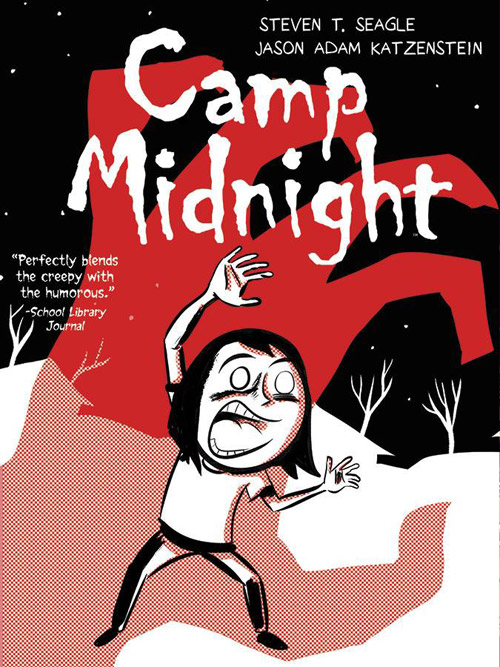 CAMP MIDNIGHT GN
FEB160616

IMAGE COMICS
(W) Steven T. Seagle
(A/CA) Jason Adam Katzenstein

Ben 10 and Big Hero 6 creator STEVEN T. SEAGLE returns to comics with New Yorker cartoonist JASON ADAM KATZENSTEIN for a new graphic novel! Reluctant Skye is accidentally sent to the wrong summer camp. Not wanting to please her "step monster," Skye is dead-set on not fitting in. That won't be a problem, as everyone at Camp Midnight-with the exception of fellow camper and fast-friend Mia-is a full-fledged monster! The perfect book for fans of RAINA TELGEMEIER's Smile, but wish it had more bowls of gooey eyeballs.
SRP: $16.99
Available now at comic shops!
---
If you like FCBD 2016 CIVIL WAR II #1 pick up: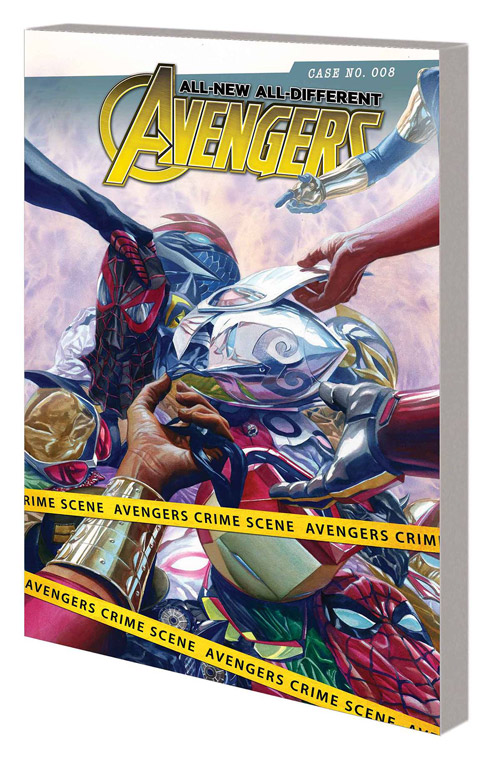 ALL NEW ALL DIFFERENT AVENGERS TP VOL 02 FAMILY BUSINESS
JUL161083
MARVEL COMICS
(W) Mark Waid
(A) Adam Kubert & Various
(CA) Alex Ross

Captain America, Iron Man, Thor, Vision, Spider-Man, Ms. Marvel and Nova are the All-New, All-Different Avengers - but can they stay together long enough to be more than a footnote in the team's great history? Maybe not, when the events of STANDOFF pit them against the Uncanny Avengers. Who will prove themselves the mightiest Avengers of all? And things get worse as the mysteries of Pleasant Hill deepen! Then, as the team joins Nova on an intergalactic quest, they'll find themselves in chains on the Stalag of Space! Plus: The Avengers must face someone new with an old name - one that goes all the way back to the beginning. Who is the All-Different Wasp? And is she friend or foe? Collecting ALL-NEW, ALL-DIFFERENT AVENGERS #7-12 and material from FREE COMIC BOOK DAY 2016: CIVIL WAR II.
Rated T+

SRP: $19.99
Available now at comic shops!


---

If you liked DOCTOR WHO: FOUR DOCTORS SPECIAL FCBD 2016 EDITION pick up: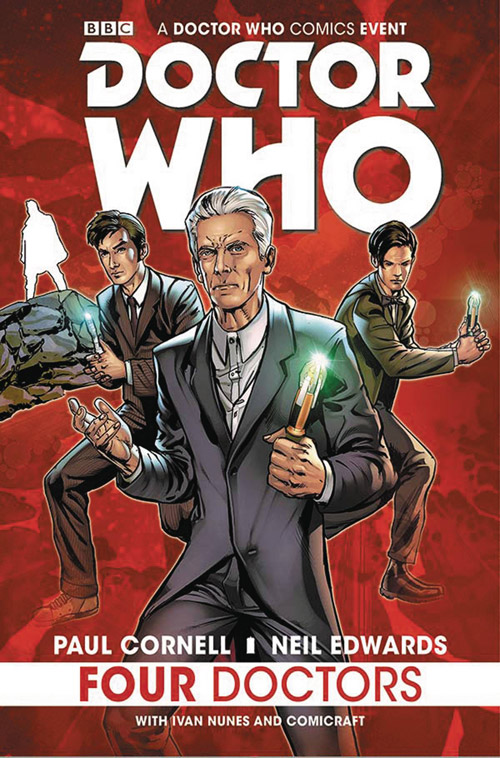 DOCTOR WHO 2015 FOUR DOCTORS TP
APR161933
TITAN COMICS
(W) Paul Cornell
(A) Neil Edwards
(CA) Neil Edwards, Ivan Nunes

Don't miss this unforgettable first meeting between the Tenth, Eleventh and Twelfth Doctors, with guest cameos from past incarnations, and an astonishing mystery at its heart! Under attack by the Reapers, antibodies of the universe! A photo that should never have been taken, that spells doom for reality! A breathless chase through three TARDISes! A hidden enemy lurking outside of known time! Three Doctors, three companions, and a whole host of heated discussions, flailing arms, and perfectly-phrased insults between immortal Time Lords who really should know better!
SRP: $14.99
Available now at comic shops!
---
If you liked VALIANT 4001 A.D. SPECIAL FCBD 2016 EDITION pick up: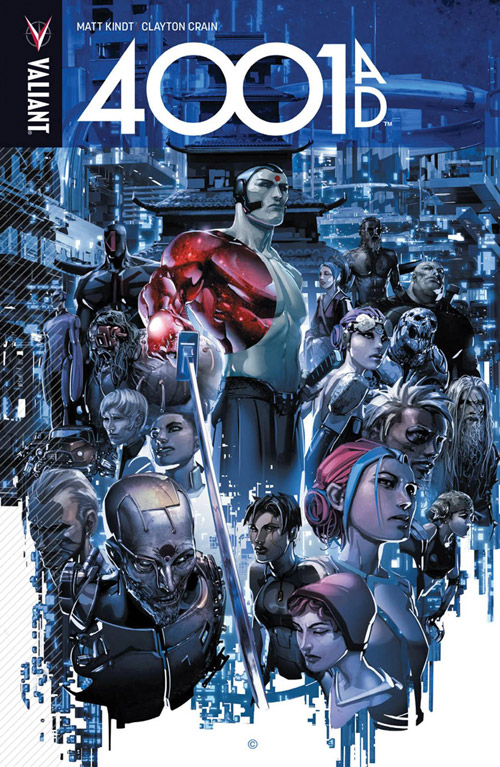 4001 AD TP
AUG162073

VALIANT ENTERTAINMENT LLC
(W) Matt Kindt
(A) Clayton Crain, David Mack
(CA) Clayton Crain

The most ambitious comics event of 2016 brings war to the 41st century - with Rai leading the charge!
One hundred years from today, Father - the benevolent artificial intelligence that governs the island nation of Japan - will gain sentience. To defend its borders, Father will take drastic action by launching Japan into space...where its people will thrive in isolation, away from the overpopulated and resource-deprived planet below. Over the centuries, as New Japan orbits our increasingly unstable world, it will become a model society - one built on peace, prosperity... and Father's control.
A thousand years from today, Father will create the first Rai, founding a lineage of technologically enhanced heroes engineered to defend New Japan and sworn to protect it from all enemies. For hundreds of years into the future, the Rai will single-handedly enforce New Japan's justice well...and serve Father without question.
Now, at the dawn of 4001 A.D., the latest Rai is about to inherit the dark truth behind the origin of his kind...and discover the sinister secret at the heart of Father's existence. For New Japan to live, Earth must die...and as Rai challenges his former master for the first time in more than a millennium, the lone guardian of New Japan will be cast out of his own Father's kingdom...
Exiled from the only realm he's ever known, Rai now walks the ravaged world of 4001 A.D. in search of forgotten heroes like himself... on a mission to collect the last surviving legends of a broken planet...and to forge a rebellion with the power to bring the most advanced civilization in history crashing back down to Earth.
New York Times best-selling writer Matt Kindt (DIVINITY II) and superstar artist Clayton
Crain (X-Force) bring their startling vision of the year 4001 A.D. to new heights...with the fate of New Japan floating in the balance!
Collecting 4001 A.D. #1-4

SRP: $14.99
Available now at comic shops!
---
If you liked PERFECT SQUARE PRESENTS: POKÉMON POCKET COMICS FCBD 2016 EDITION pick up: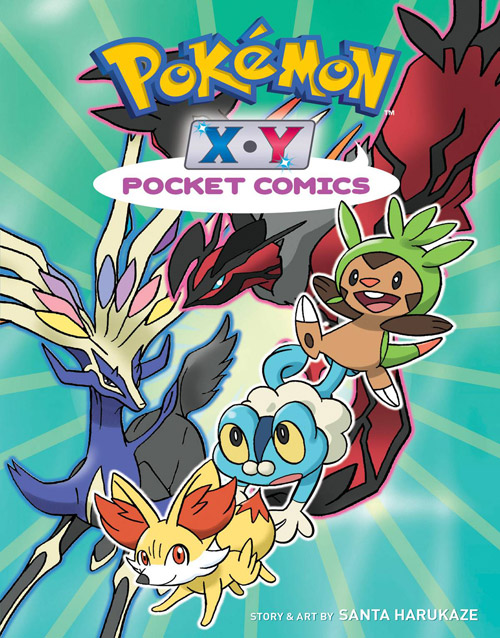 POKEMON POCKET COMICS XY GN
OCT162036
VIZ MEDIA LLC
(W/A/CA) Santa Harukaze

Two books in one! Pokémon stories, puns and jokes! Fun multiple-choice quizzes! The Pokémon of the Kalos region are all gathered together in this hilarious collection starring Fennekin, Froakie, Chespin, the rest of the new XoY Pokémon, Mega-Evolved Pokémon and more! Quiz yourself and your friends on Pokémon Abilities, moves, types, Mega Evolution and tons of other vital statistics! Who will be the next Pokémon quiz champion?!
For all ages.

SRP: $10.99
Available now at comic shops!