Inspiration Day: 10 Inspirational Comic Book Characters
Jan 02, 2017
Today is Inspiration Day! Now that the New Year has rolled in, people are raring up to achieve their New Year's Resolution or dedicate their year to their One Word. National Inspiration Day was introduced by US Congressman Felix Crucci in 2001, as a call for renewed sense of national inspiration and hope following the events of 9/11. Now, it serves as a reminder and a springboard into the rest of the year to be the best self you can be.
To help, we've compiled Free Comic Book Day's list of the 10 Inspirational Comic Book Characters, in no particular order, including characters that originated in comics and those that now exist in comic form. Let us know over social media who you think is the most inspiring comic book character!
---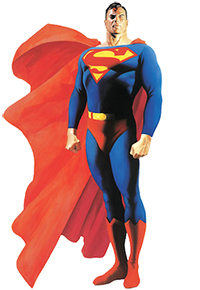 Superman, DC Comics
You'll be hard pressed to find another character as iconic, beloved, and inspiration as the Man of Steel himself. From his infectious idealism to his copious amounts of compassion, Superman has made his mark across nearly every character in the DC Universe. He serves as a mentor and friend at some point or another to nearly every character: acting as Batman's brighter half; taking the time to get to know sidekicks like Dick Grayson to forge lifelong friendships and trust; to helping a seemingly random girl. His inspiring and motivational self transcends the comics: fans continually hold his portrayals in shows like Superman: The Animated Series and Justice League as some of the best characterizations of Superman.
"Superman is and will always be an inspiration to comic book fans. He stands as the 'true north' in a world of morally murky characters living in a morally relevant world." -- George Newbern, Superman voice actor Superman: The Animated Series & Justice League
Quote To Inspire You:
"Dreams save us. Dreams lift us up and transform us. And on my soul, I swear... until my dream of a world where dignity, honor, and justice becomes the reality we all share--I'll never stop fighting." -- Action Comics #775
Where You Can Find Superman: Superman: Son of Superman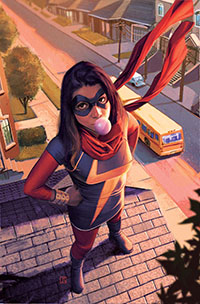 Ms. Marvel, Marvel Comics
One of the newest created characters on the list, Kamala Khan--despite her age--remains one of the most inspiring comic book characters today. She's Marvel's first Muslim character with her own solo title and, as the daughter of Pakistani immigrants, Kamala gives readers who haven't seen themselves reflected in media the opportunity to see themselves in a huge brand like Marvel. Her affable personality and relatable journey to become a superhero mirrors one of Marvel's most recognizable heroes: Spider-Man. Even by the second issue, Marvel recieved so many positive letters from fans on how Kamala already inspires them.
"Kamala's inspiring because Ms. Marvel is every single one of us." -- Sana Amanat, Co-Creator and Director, Content & Character Development
Quote To Inspire You:
"This is saying our generation will never matter. But we have to matter. If we don't, there is no future worth saving." -- Ms. Marvel #10
Where You Can Find Ms. Marvel: Champions #1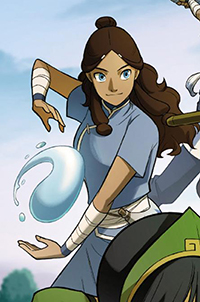 Katara, Dark Horse Comics, Avatar: The Last Airbender
Let's be real: without Katara, nothing would have gotten done in the fight against the Fire Nation. She's consistently the glue that holds the group together, provides advice and support to everyone at one point or another, and saves the group more times than we can count. Katara, when there was no one to teach her Waterbending, taught herself; when the ancient traditions of the Water Tribe said no, she fought to be taught alongside the men. When the world needed the Avatar most, Katara was always there to make sure he would be, despite the insurmountable odds she faced. She continues to do so through Dark Horse's Avatar graphic novels, guiding Aang and the team through the tough times of restoration.
Quote To Inspire You:
"I will never, ever turn my back on people who need me!" -- The Painted Lady
Where You Can Find Katara: Avatar: The Last Airbender: North and South Part One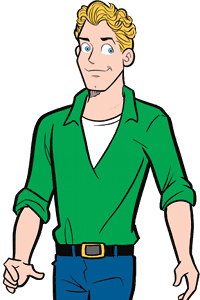 Kevin Keller, Archie Comics
Also a relatively new addition to the comic book world, Kevin Keller debuted in 2010 and the LGBTQIA+ community collectively said, "About time." Archie has been known as one of the publishers to push boundaries and advocate for an inclusive Riverdale. Kevin serves as an inspiring character because he represents the call for more diverse characters. More than that, Archie continues to make him more than a stereotype, giving him his own solo series Life with Kevin and giving him starring roles in other titles such as Afterlife with Archie and Life with Archie.
Where You Can Find Kevin Keller: Keven Keller: Welcome to Riverdale

Master Splinter, IDW Publishing, Teenage Mutant Ninja Turtles
What's harder than raising four teenage boys? Raising four ninja teenage boys that happen to be mutated turtles with an insatiable appetite for pizza, video games, and kicking villain butt. Master Splinter serves as the sensei and father figure to the Teenage Mutant Ninja Turtles, giving them well-needed advice and assistance in their fight against foes like The Shredder.
Quote To Inspire You:
"You live, you die, you fight as brothers. Remember, nothing is as strong as family..." -- Teenage Mutant Ninja Turtles (2014)
Where You Can Find Master Splinter: Teenage Mutant Ninja Turtles Vol 1
Princess Leia, Marvel Comics, Star Wars
Let's take stock: at the age of 18, Leia becomes a member of the Rebellion, gets captured by the Empire, is tortured, and then forced to watch the destruction of her home world. All traumatizing events; however, Leia continues to fight for what's right and serve as a leader and inspiration to the entire Rebellion. This is shown again in The Force Awakens when, after Kylo Ren kills Luke's students and turns to the Dark Side, Luke leaves in self-exile and Han retreats to a smuggler's life to deal with his guilt. And what does Leia choose to do? Continue to serve the galaxy and fight tyranny and oppression wherever it may be.
Quote To Inspire You:
"I don't know who you are or where you came from, but from now on you do as I tell you. Okay?" -- Star Wars: A New Hope

Where You Can Find Princess Leia: Star Wars Princess Leia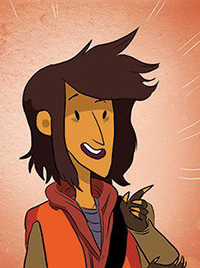 Jo, BOOM! Studios, Lumberjanes
Jo is one of the six campers that make up the core cast of Lumberjanes, the award-winning all ages title from BOOM! Studios. She's the most cool-headed and analytical member of the group, often acting as the leader. Jo's inspiring because she not only faces supernatural threats head on, but does so while looking after the rest of the group. Like Kevin, Jo provides awesome LGBTQIA+ representation in comics as a trans girl who helps Barney--a member of the Scouting Lads--find his place among the Lumberjane Scouts.
Quote To Inspire You:
"Friendship to the max!" -- Multiple Lumberjanes issues
Where You Can Find Jo: Lumberjanes To The Max Edition

Spider-Man, Marvel Comics
How could you make a list of the top inspirational superheroes and not include our favorite neighborhood-friendly web crawler? Peter Parker is one of the most beloved comic book characters because he represents the journey that all of us must take in life: asking ourselves if we're going to do something good and positively impact the world. When Peter first gets his powers, he uses them to serve his own needs and, with some wisdom from Uncle Ben, decides to dedicate his life to heroics and helping people. His journey inspires all of us to do the best we can and put something good in the world.
Quote To Inspire You:
"We're not just our failures. As much as they hurt, we learn from them. Then we go out there and do our best to make up for them-- Even though we never will. We save people. We save as many as we can to make up for the ones we couldn't. That's all we do." -- All-New Captain America Special #1
Where You Can Find Spider-Man: Amazing Spider-Man Epic Collection: Great Responsibility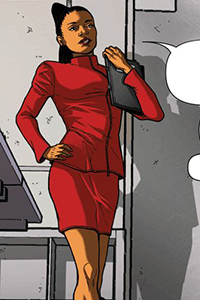 Lt. Uhura, IDW Publishing, Star Trek
When the first African-American woman to go into space says that Star Trek's Lt. Uhura inspired her, that's a clear indication she belongs on the list. In all incarnations of her character, including her run in IDW's Star Trek comics, Uhura has always been an impressive presence on the USS Enterprise. As the foremost linguist on board, Uhura is always at the center of the action, even if it would be safer elsewhere. She keeps the team going and puts herself in dangerous situations to protect the crew of the Enterprise, inspiring us all to look out for those important to us.
Quote To Inspire You:
"No. I'm assigned to the Enterprise." -- Star Trek (2009)
Where You Can Find Lt. Uhura: Star Trek: Boldly Go #1
Wonder Woman, DC Comics
It would be a travesty for any "inspirational comic book characters" list to exclude Wonder Woman. She's the epitome of everything we look for in inspiration: she's strong, compassionate, kind, and empathetic. She's not afraid to call people out when they're wrong or pick up a sword and shield to defend her friends and family; she's also not afraid to extend a hand to her enemies and try to help them as well. Without a doubt, Wonder Woman is someone we can always look to in troubled times for guidance and hope.
Quote To Inspire You:
"If the prospect of living in a world where trying to respect the basic rights of those around you and valuing each other simply because we exist are such daunting, impossible tasks, then what sort of world are we left with? And what sort of world do you want to live in?" -- Wonder Woman #170
---
Many of these comics are available at your local comic shop! If you're unsure where your local comic shop is, use the Comic Shop Locator Service.
Be sure to also check out these publishers' Free Comic Book Day books, which you can see here.