Get Into Comics with Big Hero 6
Dec 26, 2016
It won't be long until Hiro, Baymax, and the rest of the Big Hero 6 crew return in their upcoming television series on Disney XD. When the film came out in 2014, fans were excited at the idea of a new superhero Disney film not tied to the Marvel Cinematic Universe. Disney--as usual--didn't disappoint: they delivered an action-packed, heart-wrenching superhero tale praised as "impossible not to love" and "sweet and sharp and exciting and hilarious."
What fans might not realize is just how different the film was compared to the comics. Created in September 1998 by Steven T. Seagle and Duncan Rouleau, Sunfire & Big Hero 6 #1 featured a much different cast than the one from the film. In the comics, when the Japanese government needs a team of superheroes at their disposal, they recruit and train heroes to become the superhero team Big Hero 6. Whereas the original roster included characters like Silver Samurai and Sunfire, the 2012 Big Hero 6: Brave New World featured the lineup consistent with the film; however, there are still a whole lot of differences. Take a look for yourself.
---
Film: Hiro Hamada, boy genius with little drive
Comics: Hiro Takachiho, boy genius who dove into academia after pre-school
Unlike the film, Big Hero 6's Hiro Takachiho didn't grow up in San Fransokyo. Instead, he grew up in the Tokyo suburb of Yoga, City of Setagaya. Still a child prodigy, Takachiho was accepted into a prestigious private institute, where he discovered his aptitude for invention. Whereas Hiro Hamada had his brother, Hiro Takachiho had his mother, Maemi. His father, Tomeo, had died when Hiro was still young, leading him to create Baymax in an effort to replace his dad.
Film: Squishy robot created by Tadashi, Hiro's brother
Comics: Armored robotic synthformer created by Hiro to fill the void left by his father
Originally, Baymax was intended to be Hiro's personal bodyguard, butler, and chauffeur. But, when Hiro's father died, Hiro put his father's personality into Baymax's core programming, making him into Hiro's friend and father figure. Unlike his movie counterpart, Baymax can assume a humanoid form while out in public, but can transform into a "Battle-Dragon" and "Action-Mecha."
Film: Son of a wealthy San Fransokyo couple
Comics: Nicknamed Fredzilla, able to turn himself into a giant lizard-like creature
Whereas Fred in the film lead a lavish lifestyle of joy, Fred in the comics grew up on a secret S.H.I.E.L.D. base in Japan. While he wasn't present during the original team's incarnation, he joined the team at the same time as Wasabi and fought alongside Big Hero 6 many times. Fred in the comics, also, doesn't wear a monster suit for his powers: he becomes a Godzilla-like creature, which greatly enhances his speed, strength, and durability.
Film: GoGo Tomago, tough and athletic scientist
Comics: Leiko Tanaka, raised on the streets and does what she must
Only codenamed "GoGo" in the comics, Leiko's a character that's a little more than rough around the edges. By the time she was 18, she was arrested for a botched robbery after entangling herself in motorcycle gangs and Yakuza. When the Japanese government searched for recruits for their team, they asked her to test pilot the experimental exosuit shown on the left. Although she was abrasive at first, and didn't follow orders from the first team's leader Silver Samurai, she came to respect her teammates and formed genuine friendships with each.
Film: Honey Lemon, cheerful and brilliant chemical engineering student
Comics: Aiko Miyazaki, invented a cluster of artificial, miniature wormholes to be contained inconspicuously in her purse
Just as intelligent and kind hearted as her film counterpart, Aiko was a top student at the Tokyo University of Science. So much so that the Japanese government recruited her to join a top research and development team, which ultimately created an ingenious method of storing virtually any item by using artificial, miniature wormholes and Pym Paticles. Aiko's charm and sensibility made her the perfect candidate for espionage, eventually becoming a part of Big Hero 6.
Film: Talented applied physics student at the San Fransokyo Institute of Technology
Comics: Master chef and weapon master
Wasabi no Ginger is one of the characters most drastically different from his film counterpart. Like Fred, Wasabi joined Big Hero 6 later in the team's history. He's a master chef and trained samurai who can concentrate his Qi into energy, forming sushi knives he can throw at his opponents and render them unconscious.
---
Despite the differences between the film and comics, the essence remains the same: a rag-tag group of heroes come together to do what's right and protect the city in which they live. Of course, the comics team gets to do mildly cooler things, like team up with Spider-Man to defeat a global attack from Doctor Octopus.
---
Fans of the film can check out these comics, available now at your local comic shop, to get their fix of Big Hero 6 while waiting for the television series.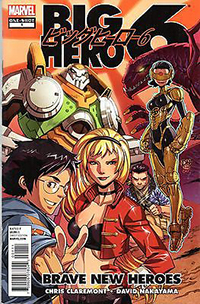 Big Hero 6: Brave New Heroes, Marvel Comics
JUL120594
Why Big Hero 6 Fans Will Love It: What better way to tap into the magic of the film than by going to the source material? Big Hero 6: Brave New World by Chris Claremont features the lineup from the film: Hiro, Baymax, GoGo, Honey Lemon, with new additions Fred and Wasabi. This collects the first five issues of the newer Big Hero 6 storyline.
"... an old-fashioned, lighthearted, comic book superhero story..." -- CBR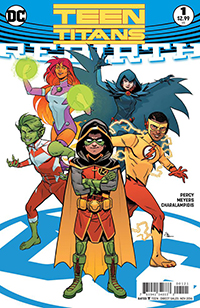 Teen Titans: Rebirth #1 , DC Comics
JUL160280
What It's About: With the Teen Titans further apart than ever, Robin recruits Starfire, Raven, Beast Boy, and the new Kid Flash to fight his own grandfather, Ra's al Ghul.
Why Big Hero 6 Fans Will Love It: Fans of Big Hero 6 will love the team focus of the book, and can get behind the wildly different characteristics that make each character unique. Like the film, these characters will have to learn how to work together if they have any hope of becoming an effective team.
"...a Teen Titans series that has life, joy, and family." -- Comicosity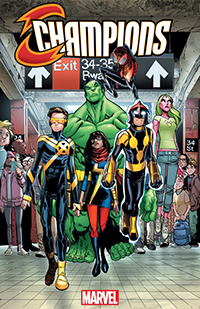 Champions #1, Marvel Comics
AUG160733
What It's About: Following the fallout of a schism between Marvel's hero community, these young heroes strike out on their own to change the world. Fan favorites Cyclops, Ms. Marvel, and Spider-Man round out the team's roster, making it one of the books to watch in the coming months.
Why Big Hero 6 Fans Will Love It: That "change the world" mentality is heavy in Big Hero 6 after the team comes together to fight to save San Fransokyo. These young heroes are as idealistic as Honey Lemon, as tough as GoGo, and as resourceful as Hiro. While the Totally Awesome Hulk is no substitute for Baymax, we're sure his hugs are just as good.
"...a breath of fresh air..." -- ComicBook.com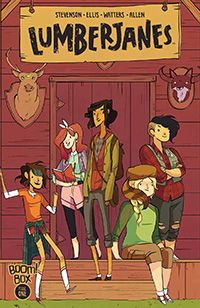 Lumberjanes, BOOM! Studios
SEP151107
What It's About: Think Buffy the Vampire Slayer meets Gravity Falls at an all-girl summer camp. These fearless campers team up to investigate the supernatural going-ons of the camp and get to the bottom of the mythical mysteries surrounding them.
Why Big Hero 6 Fans Will Love It: Remember how good you felt about the world after Big Hero 6 when Hiro was able to move through his grief and band together with the rest of the team to accomplish something meaningful and great? Lumberjanes will give you that feeling ten times over as these very different campers come together to support each other and team up to save the day.
"It's fun stuff and definitely a book to keep your eye on." -- IGN
---
Be sure to check out these comics at your local comic shop! If you don't know where your local comic shop is, you can use the Comic Shop Locator Service. Be sure to also check out Marvel's two Free Comic Book Day 2017 books: Spider-Man and Guardians of the Galaxy!