Comic Shop Spotlight: Mighty Moose Comics
Dec 09, 2016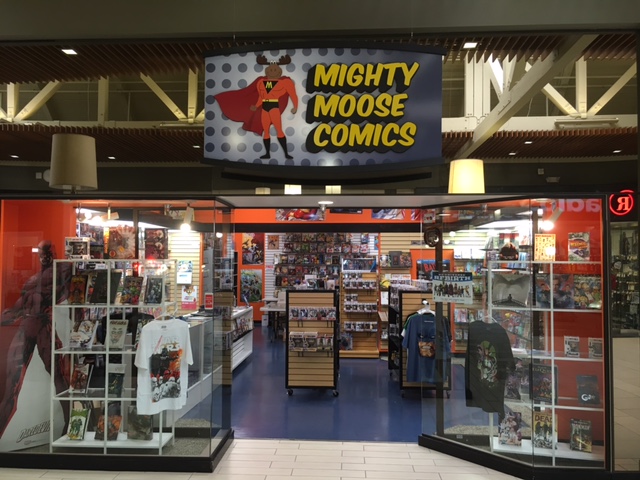 Click to see larger image.
Mighty Moose Comics in Bellevue, Washington.

OWNERS: Ilan Strasser
NUMBER OF LOCATIONS: 1

NUMBER OF EMPLOYEES: 2
YEAR OPENED: 2015 (1982 for original NJ store)
STORE SIZE (SQFT): 840

Favorite Recent Comic Book: Oni Press' Letter 44
How was your Halloween ComicFest event? It was a busy day, but we need to find ways to bring more of those customers back.
What has been your best promotion or event? Free Comic Book Day for sure, but our anniversary sale is another big day for us.
What recent changes have you made in the store? We increased our POP Vinyl selection quite a bit and we are also buying more comic collections.
What steps have you taken to expand your customer base or to reach out to individuals unfamiliar with your store or comics in general? We are always updating our web site and we do a trade paperback program we call "10 trades you're guaranteed to love".
What are your plans for the near future? We will be upgrading our web site to be more of an e-commerce site.
How did you choose your store name? Long story. My girlfriend at the time had started calling me 'Moose', which was a nickname that stuck. Later, when I was looking for something to call my store, I wanted something that was catchy and that kids could easily remember and relate to. My finance said "You're a pretty Fat Moose, why don't you call it that"? So that became the name of my New Jersey store. When I relocated to Washington state I wanted the name to be similar and liked Super Moose, but went with Mighty Moose. From a fat moose to a mighty moose.
What superpower would you most like to have? The ability to read minds.