Comic Shop Spotlight: A. Pennyworth's Comics
Dec 01, 2016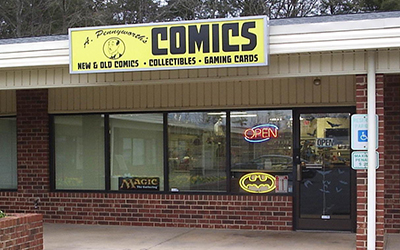 Click to see larger image.
A. Pennyworth's Comics in Matthews, North Carolina.

OWNER: Tami & Tony Matzke
YEAR OPENED: 1999
STORE SIZE (square feet): 2,400

Favorite Recent Comic Book: Saga
What has been your best promotion or event? Free Comic Book Day
What recent changes have you made in the store? ComicSuite
What steps have you taken to expand your customer base or to reach out to individuals unfamiliar with your store or comics in general? Movie theater screen ad, Facebook
What are your plans for the near future? Expand into more gaming
How did you choose your store name? Batman-related; to get us listed first in the phone book
What superpower would you most like to have? Invisibility
HeroClix line the counter while statues sit behind glass underneath

Back issues are in the middle with merchandise on all sides

Wide aisles and nice shelving make shopping easy

The new releases wall

Toys are neatly lined up

Statues and trade paperbacks claim this corner

Graphic novels are easy to reach in well laid out racks.

Young readers get their pick of an entire rack full of comics

Click here to see more stores featured in the Comic Shop Spotlight!