Comic Shop Locator: SMASH! Comics and Games
Dec 01, 2016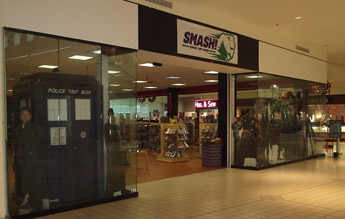 Click to see larger image.
SMASH! Comics and Games in Stanford, Florida.

OWNER: David Corporon, Bill Clar
MANAGER: Brian Garber
NUMBER OF LOCATIONS: 1
NUMBER OF EMPLOYEES: 6
YEAR OPENED: 2008
STORE SIZE (square feet): 5,100

Favorite Recent Comic Book: George Perez's Sirens
How was your Halloween ComicFest event? It was a phenomenal event where we had over a dozen costumed characters passing out Halloween treats to over 700 kids of all ages.
What has been your best promotion or event? We are proud to have the best Free Comic Book Day in the state of Florida, with our slew of industry professionals and local talent as well as more costumed characters than you can shake a stick at.
What recent changes have you made in the store? We are proud to welcome Bill Clar as our new co-owner!
What steps have you taken to expand your customer base or to reach out to individuals unfamiliar with your store or comics in general? We have launched a new website as well as increasing our presence on social media.
What are your plans for the near future? Continue to provide our customers with the best service and an inclusive atmosphere that is fun for everyone.
How did you choose your store name? We were brainstorming the name outside of the store at the foot of our life-sized Incredible Hulk when the idea SMASHed us over the head.
What superpower would you most like to have? Time-travel so when a smartass comes in and asks if we have a copy of Action Comics #1 we can say, "YES!".
Banks are neatly arranged

Housewares, including mugs and glasses, have their own display

Popular items including board games

A wall full of new releases

An open display for the statues

Islands and endcaps full of toys

Lots of trade paperbacks and graphic novels to choose from

Comics for younger readers

Click here to see more stores featured in the Comic Shop Spotlight!