FCBD 2017 Site Downloads
Jan 05, 2017
It's never too early to prepare for Free Comic Book Day. In that spirit, here are a host of useful promotional tools to help you start spreading the good word about Free Comic Book Day 2017 (Saturday, May 6th)!
Show your FCBD spirit Get the news out to your family, friends, coworker, classmates, community, whoever!
Social Media
A variety of tools are available to use for your social media pages. Please post your Free Comic Book Day event pictures to Facebook and Twitter!
Promotional Material
Celebrate Free Comic Book Day with printables for your home, office, library, or school. And, a special Thank You to our 2016 Title Sponsor, Comic Con HQ!
Web Ads
A variety of sizes are available to use for your websites and outreach. Please have these ads point back to www.freecomicbookday.com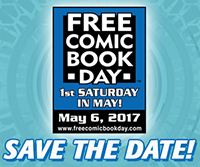 Button [120x90] Vertical Banner [120x240] Logo Rectangle [300x100]
Medium Rectangle [300x250] Skyscraper [120x600] Leaderboard [728x90]
Official Logo
Put it on postcards, flyers, signs, friends...just about anything.
Free Comic Book Day Video
What is Free Comic Book Day? A video overview of the worldwide celebration of comics and comic culture.
For additional videos about Free Comic Book Day, visit the FCBD Youtube channel at https://www.youtube.com/user/freecomicbook