Comic Shop Spotlight: Bazinga Comics
Dec 01, 2016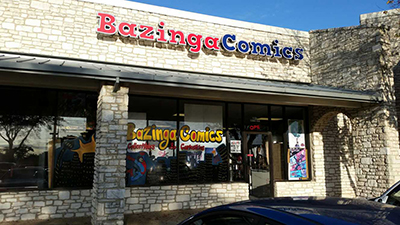 Click to see larger image.
Bazinga Comics in San Antonio, Texas.

OWNER: Mark Clark
MANAGER: Raul Predo
NUMBER OF LOCATIONS: 1
NUMBER OF EMPLOYEES: 2
YEAR OPENED: 2012
STORE SIZE (square feet): 2,600

Favorite Recent Comic Book: Low by Rick Remender
How was your Halloween ComicFest event? Mediocre. Too many competing Halloween activites going on.
What has been your best promotion or event? It's always FCBD. Second best was in store siging with John Tule-Christopher
What recent changes have you made in the store? Added more art prints and atrist editon books, plus original comic art.
What are your plans for the near future? Partnering with local comic con to increase profile and combine industry connections
How did you choose your store name? Heavily influenced by The Big Bang Theory TV show.
What superpower would you most like to have? Mind control with just a touch of benevolent evil genius. Or flight, I mean, let's be realistic.