Comic Shop Spotlight: 8th Dimension Comics & Games
Dec 01, 2016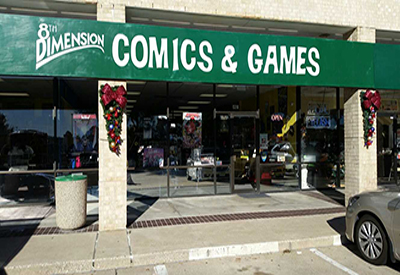 Click to see larger image.
8th Dimension Comics & Games in Houston, Texas.

OWNER: Jereny & Anna Bulloch
NUMBER OF LOCATIONS: 1
NUMBER OF EMPLOYEES: 9
YEAR OPENED: 2011
STORE SIZE (square feet): 3,400

Favorite Recent Comic Book: Marvel Comics' Star Wars & Image Comics' Southern Bastards
How was your Halloween ComicFest event? It was great! We gave out a ton of comics to kids. We partnered with the Montessori, had a costume contest and played spooky board games.
What has been your best promotion or event? We do quite a few in-store promotions and pretty much all of them have turned out to be successful.
What recent changes have you made in the store? We moved, which added 1,400 square feet. This gave us the room we needed to expand into more product lines including manga and Games Workshop, as well as increasing our kid's section and giving us a bigger room for in-store gaming and other events.
What steps have you taken to expand your customer base or to reach out to individuals unfamiliar with your store or comics in general? We have a great relationship with the Alamo Draft House movie theater and we recently reserved it for a customer appreciation Star Wars movie night.
What are your plans for the near future? We are starting a 'Young Heroes' (ages 8 – 14) league for D&D. Will also plan to do more special events such as Ladies Night.
How did you choose your store name? We wanted a name that didn't have a specific meaning. I like the number 8 and I thought the name evoked a fun and silly mood.
What superpower would you most like to have? I'd like to be able to stop time so I could get more done!
Toys and action figures

Bookcases and racks dot the sales floor

New comics on one side, back issues on the other

Rows of new comics to choose from

Toys and comics for young readers

Pegs full of miniatures and other gaming supplies

Funko POP figures greet customers near the register

Shelves of board games

A large gaming space perfect for tournaments

Click here to see more stores featured in the Comic Shop Spotlight!